Standing Tall
---
Illinois' Big Tree Registry lists the largest of 130 native trees.
BY GARY THOMAS
PHOTOS BY CHAS. J. DEES
Though struck by lightning, this Mason County hackberry is still the state and national champion.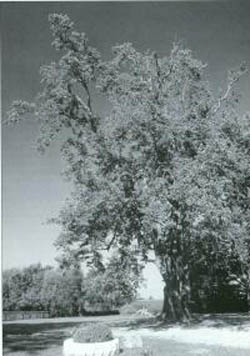 There is a giant sycamore tree in a small creek valley on the property where I hunt deer each fall. I walk by it on my way into the area and marvel at the size of the large trunk. While I'm sitting in my deer stand atop a bluff overlooking the creek bottom, I can see its crown reaching up above the bluff line—its gray-white bark is a rich contrast to the brown autumnal forest.
I often have found myself wondering how large the sycamore really is. I keep telling myself that one of these days I'll measure the tree to see if it might be a state record tree. But I'm a procrastinator. When deer season comes to an end, I leave the woods and forget the big tree until the following autumn when I return and reacquaint myself with the massive sycamore.
Fortunately, some Illinoisans are not procrastinators. They see large trees, and they measure them and nominate them for big tree status. The ones that make it are included in the Illinois Big Tree Register. This registry of the state's largest trees has been kept by DNR's Division of Forest Resources since 1962, when foresters developed the listing. They thought that encouraging people to search for record-
November 2000 17
---
This 20-foot tree at New Salem is the state and national champion wild goose plum.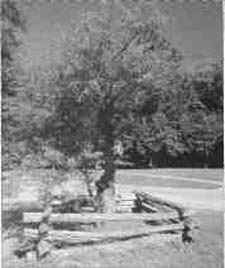 sized trees would make them more aware of the importance of trees in their life.
And they are important. Trees provide us with food, shelter, fuel, lumber and even the paper you're reading from right now. Trees give off oxygen, store carbon dioxide and add to the beauty of our landscape. And think of the value trees provide to our wildlife. Unfortunately, Illinoisans haven't always thought so kindly about trees. The state had about 14 million acres of timber when Europeans first began settling her. There are only about 4.25 million acres of forest in the state today.
Currently, the Big Tree Register lists state records for about 130 different species of native Illinois trees. And they are constantly changing.
"This is an evolutionary process," said DNR State Forester Stewart Pequignot. "Old trees die, younger trees grow. Each year we learn that a standing that they have died or been cut down or have fallen in a storm. By the nature of being the state's largest, they also are old trees. It's just part of the life cycle."
In fact, during the research for this article, we learned of a record tree that had fallen during a storm a year or so ago. So even though the list has been going since 1962, the oldest state record trees on the register are a red mulberry, a shingle oak and a black walnut, each of which was named as the state champ in 1970.
Several new record trees have been confirmed this year—including a new red cedar, sugar maple and blue ash.
"DNR district foresters try to check each of our record trees about every five years to make sure they're still there and still a state record," Pequignot said. "We don't check them to see if they've grown. Record trees don't really add much growth, but wind and storms can take out limbs or radically change a tree's crown so it might no longer be a record."
Due to the scoring system, being the tallest of its species doesn't necessarily make a tree the state champion. To illustrate, Illinois' tallest record tree is a 165-foot northern
Four Illinois trees are national records
("American Forests" magazine has been compiling the National Register of Big Trees for 60 years. Its current booklet lists 826 species and native and non-native varieties of trees found in the continental United States. Among them are four national record holders from Illinois, including:
• Common hackberry (Celtis occidentalis), entered in 1993 by James Ream. The tree is in Mason City in Mason County and has a circumference of 249, a height of 94, a spread of 88 for a total of 351 points.
• Pear hawthorn (Cratciegus calpodendron), entered in 1991 by Larry Stritch and Scott Grigoroff. The tree is in Pope County and has a circumference of 23, a height of 20, a spread of 25 for a total of 49 points.
• Wildgoose plum (Prunus munsoniana), entered in 1991 by Sue Wydick and Guy Sternberg. The tree is located in New Salem Historical Park in Menard County and has a circumference of 56, a height of 20, a spread of 20 for a total of 81 points.
• White poplar (Populus alba), entered in 1992 by Bret Slavicek and Kimberly Mortimer. The tree is in St. Charles in Kane County and has a circumference of 263, a height of 93, a spread of 86 for a total of 378 points.
In case you're interested in nominating a new national champion tree, there are a number of species that have no listed champion. Unfortunately, most of those trees are not found in Illinois. The one exception: barberry hawthorn.
18 OutdoorIllinois
---
The champion cherrybark oak in the state can be found along the Cache River in southern Illinois.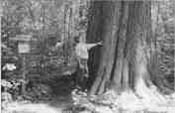 red oak found in Dixon Springs State Park in Pope County. To give you an idea of its height, if it fell it would cover more than half a football field. That tree scores 373 points on the register, which is considerably less than the 524 points scored by a 119-foot-tall sycamore located in Montgomery County.
The scoring system used to determine record trees comes from a formula that measures the circumference of the tree's trunk in inches 4 1/2 feet above the ground, the tree's vertical height to the nearest foot and the average diameter of the tree's crown to the nearest foot (measuring the widest spread of the crown and the narrowest, then adding them together and dividing by two). The total score comes when you add the number of inches in the circumference to the number of feet in height and one-quarter of the number of feet in the crown. By the way, any time a score is within 5 percent either way of the current record holder, both trees are listed as co-champion trees. However, only the top two co-champions are listed for the same species.
What constitutes a tree? The Division of Forest Resources says a tree is a woody plant having one erect, perennial stem or trunk at least 9 1/2 inches in circumference at a point 4 1/2 feet above ground, a definitely formed crown of foliage and a height of at least 12 feet. If the plant doesn't meet this criteria, it's considered a shrub.
DNR employee Guy Sternberg measures the girth of a potential record tree.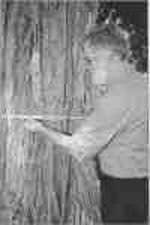 A tree doesn't have to be huge to attain record status. A wildgoose plum in Menard County is only 20 feet tall, but is the national record for that species.
Where do you find the most state record trees? In southern Illinois. That's because they have a less harsh climate that translates into a longer growing season. For example, there are about 19 species of oak growing in southern Illinois, whereas only 7 or 8 species are found in the northern part of the state. They also have less people which means less development, and more timber in the southern half of the state.
Johnson County leads the list with nine record trees, followed by Pope and Pulaski counties with seven each. By the way, 12 of the state record trees are found in the 60,000-acre Cache River wetlands area that runs through a number of southern Illinois counties.
Which county has the fewest record trees? More than three dozen counties have none.
DNR employee Guy Sternberg can boast of finding the most record trees. He has been the nominator of 32 record trees and has nominated 12 of the current champions. He's followed by Wayne Gillespie and the Citizens Committee to Save the Cache River with eight each.
Meanwhile, I'm thinking about grabbing a tape measure and making a drive to visit that sycamore that's hidden away in the creek bottom.
For more information...
You can get more information about the Big Tree Register, learn how to score a tree and get a nominating form by writing for the "Guide to the Illinois Big Tree Register." The free booklet is available from: DNR Clearinghouse, 524 S. Second St., Springfield, Ill. 62701-1787; or by calling (217) 782-7498; or emailing: clearing@dnrmail.state.il.us. For a listing of big tree records, write DNR, Division of Forest Resources. 524 S. Second St., Springfield, Ill. 62701-1787; or phone: (217) 782-2361.
November 2000 19
---