By Catrina McCulley Young
A humble beginning
Abraham Lincoln and his impact on Illinois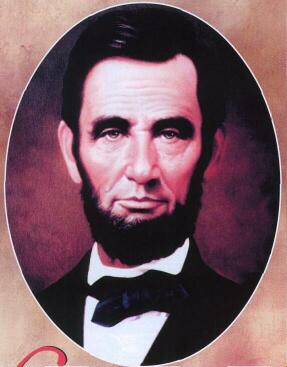 Looking back on the life of Abraham Lincoln, it's amazing what a huge impact his existence has made on the economical development of Illinois today. "Lincoln is known throughout the world, and I think that has been very important to Illinois' economy," says Susan Haake, Curator for Lincoln Home National Historic Site. Chet Rhodes, Illinois Historic Preservation Agency staff development specialist, says "We literally get guests who come from all over the world to see the Lincoln sites, and the money they spend throughout the state is substantial."
The greatest tribute yet to our 16th president is expected to become a reality in the fall of 2003. The new Abraham Lincoln Presidential Library had its groundbreaking in downtown Springfield to celebrate Lincoln's 192nd birthday on February 16. The new Library is expected to launch visitors into the life and times of Mr. Lincoln, who was quite possibly the greatest leader America has seen.
''This new library will have a tremendous impact on Illinois," says Haake. "People are constantly asking where they can find more history on Lincoln's life," she says. Expected to be included in the library's collection, are treasured personal and official records from the President, such as his hand-written manuscript of the Gettysburg Address, as well as other rare and priceless historical Lincoln artifacts. "To be able to have the number of artifacts that will be on display is remarkable," says Rhodes. "I wouldn't be surprised if Springfield's tourism doubles," he adds.
But who is this remarkable man, and why, even 145 years after his death, do we memorialize his life? We all know that Lincoln was the 16th president of the United States. But before Lincoln became the great politician he was, he made his humble beginnings here in Illinois, first as a laborer, working for pennies a day in New Salem and then as a lawyer in our state's capital, Springfield. His life's story is a truly American story we can learn from even today.
In 1831, Lincoln was a young
ILLINOIS COUNTRY LIVING • JUNE 2001
---

man of 22 when he and a couple of workers sailed a flatboat full of cargo down the Sangamon River headed toward New Orleans. Unexpectedly, their flatboat became stranded on a milldam by a small village called New Salem. With Lincoln's leadership, the group of men worked diligently to free the boat. Denton Offutt, a local New Salem man, was impressed by Lincoln and awarded him with a clerk position in his store. Lincoln finished his trip to New Orleans and returned to New Salem to clerk for Offutt, but the store didn't do well.
Lincoln always pondered what he was really meant to do. "He thought of learning the blacksmith trade and he thought of trying to study law, but he feared he could not succeed at that without a better education," says Chris Schnell, assistant editor for Lincoln Legal Papers.
Towards the end of 1832, Lincoln made an unsuccessful run for the Illinois legislature, and gained an enthusiasm for politics that would always remain with him. With the election over, Lincoln looked for other opportunities. With the encouragement of a Springfield lawyer and friend, John T. Stuart, he began studying law. He borrowed books from Stuart, and he purchased a book of legal forms. He began drawing up mortgages, deeds and other legal documents for his friends at no charge. He even argued minor cases.
Meanwhile, Lincoln received an appointment as Postmaster of New Salem. As Postmaster, Lincoln was always eager to please customers and would go out of his way to do so. "He was known for his kindness," says Haake. For example, when he knew someone was waiting for a letter, he would walk several miles one way to deliver it. This job was not confining and allowed him to pursue other jobs on the side. During this time he won his first election to public office as a representative in the Illinois legislature.
Lincoln began studying law with enthusiasm. In September of 1836, his diligence had been successful, and Lincoln was granted his license to practice law. "And in March of 1837, the Illinois Supreme Court awarded him a certificate of admission to the bar," said Schnell. So on April of 1837, he borrowed a horse, and loaded everything he owned in saddlebags, said good-bye to New Salem and headed towards Springfield.
Lincoln's legal fortunes continued to grow. He commenced a law partnership with John T. Stuart, and joined him in his office. Later that year, "The Illinois legislature approved the transfer of the Illinois capital from Vandalia to Springfield," says Rhodes. "This move was the result of intense political efforts made by Lincoln and other Springfield legislators," he says.
Lincoln's love life had been pretty unsuccessful up until this point. But one evening in 1839 he joined a group of single men and
JUNE 2001 • ILLINOIS COUNTRY LIVING 11
---
women at the home of Elizabeth and Ninian Wirt Edwards for socialization and dance. Elizabeth's sister, Mary Todd, was visiting her from Lexington, Ky. and joined the party. Lincoln had not seen her before and was quite drawn to her. He asked Mary to dance, and from that night their relationship grew. In the fall of 1842 they decided to marry. It was a decision that Mary's sister found difficult to accept. In her eyes, Lincoln didn't measure up to Mary. Lincoln was born and raised in a one-room log cabin; Mary Todd in a 14-room house. Lincoln received less than one year of formal education; Mary received education throughout her childhood.
The couple separated, and Lincoln went into a great depression. Mary stayed in Springfield, but she avoided Lincoln for a year. Eventually, mutual friends brought them back together, and on the morning of November 4, 1842, Lincoln went to the home of Rev. Charles Dresser and asked him to marry them that evening. "In those days," says Haake, "you were actually married in the pastor's house." But as soon as Mary's sister heard the news, the Edwards insisted that the couple be married in their home.
During their first year together, the Lincolns lived in a hotel boarding house, the Globe Tavern. In these humble dwellings, Mary gave birth to their first child, Robert Todd Lincoln, on August 1, 1843. During the next winter, they rented a three-room cottage at 214 S. Fourth St. Finally, in May of 1844, the Lincoln's purchased their first and only home from Rev. Dresser. "What's funny about that is that they almost were married in their own home," laughs Haake.
In 1841, Lincoln teamed up with his second partner, Stephen T. Logan. "Logan was a big name, and for many years he was known as the best lawyer in the state of Illinois," says Schnell. So Lincoln's partnership with Logan was a good career move for him. "Logan left the partnership in 1844 to partner with his son David, and Lincoln picked William Herndon to be his junior law partner, and they remained partners until Lincoln's death," says Rhodes. Although in many law firms, the senior partner received a majority of the fees, "Lincoln held this as a true partnership. He split all of the fees right down the middle," says Schnell.
The Lincolns lived on a tight budget. "To keep the money coming in, he chose to go on the circuit, which meant traveling around central Illinois throughout 14 counties including Springfield," says Schnell. "It was a tremendous circuit in terms of size, and he rode it in his buggy exposed to all of the elements until the railroads came in and made it a lot easier to travel," he says. There were more than 28 courthouses in Illinois in which Lincoln practiced. Among those were the Postville Courthouse in Lincoln and the Mount Pulaski courthouse in Mt. Pulaski. "Postville was the first county seat," says Richard Schachtsiek, Illinois Historic Preservation Agency's Site Manager of Postville Courthouse and Mount Pulaski Courthouse. It was used in the circuit for approximately seven or eight years in the 1840s.
| | | |
| --- | --- | --- |
| | | Pictured with Richard Schachtsiek, Postville Courthouse Site Manager (center) are Cathy Hawkinson, wife of Dave Hawkinson of Corn Belt Energy Corporation, and Stu Churchill of Menard Electric Cooperative. Hawkinson and Churchill are involved in the volunteer program at the Postville Courthouse in Lincoln. |
"In 1853, the county seat was moved to Mount Pulaski because it was the largest and busiest town in Logan County," says Schachtsiek. The Mount Pulaski Courthouse was only used for about seven years.
Lincoln was elected as a representative in the 30th U.S. Congress in 1846 and moved to Washington. That same year, the Lincolns' second son, Edward Baker Lincoln was born.
Having not been very successful in congress, Lincoln came back to Springfield to his law practice. "People weren't thrilled with him because he was in Washington during
12 ILLINOIS COUNTRY LIVING • JUNE 2001
---
the Mexican war, and Lincoln was an anti-war Whig," says Rhodes. "People were very patriotic, and a lot of men died during that war, so when Lincoln went to Washington speaking out against war, people were mad because many of them had lost their loved ones for what they felt was a worthy cause," he said.
On February 1, 1850, Eddie Lincoln died after a 52-day fight with tuberculosis. The arrival of the Lincoln's third son, William Wallace, on December 21, 1850, lessened, but did not dissipate the pain for the loss of Eddie. The family greeted their fourth son, Thomas (Tad) on April 4, 1853.
Lincoln continued to travel the circuit. "By this time, Lincoln was really at the height of his practice," says Schnell. He was well known, and considered to be one of the most sought-out lawyers in Springfield. "He was literally handling hundreds of cases per year."
By the late 1850s, the national sectional slavery crisis thrust Lincoln back into politics. He was elected to the Illinois legislature, and a few years after that, he ran and was elected to the presidency. The Lincoln family packed up their belongings, rented out their home and were ready to start their lives in Washington D.C. On February 11, 1861, Lincoln delivered his Farewell Address to the people of Springfield and boarded the train. This was the end of Lincoln's life in Illinois. He would never return alive because on April 14 1865, his life was cut short when he became the first American President to be assassinated.
A shocked nation was thrown into mourning. And some, to this day, are still mourning the loss of this significant and noble man.
Years have passed and generations of people have grown up, and yet his memory and the impact he had on Illinois is still living. And at the root of everything, a sense of pride should fall upon every one of us - Proud to be an American, land of the free; proud to live in Illinois, land of Lincoln.
Illinois is filled with historical Abraham Lincoln sites. "A program was started throughout Illinois a while back called Looking for Lincoln," says Stu Churchill, director of member services at Menard Electric Cooperative and volunteer at Postville Courthouse in Lincoln. "It's a program that began to try to market Lincoln from a tourism standpoint," he says. So gather your family and spend your vacation looking for Lincoln. Here are a few places to start.

Lincoln Home National Historic Site

Located on 8th and Jackson Streets in Springfield. (217)492-4241 ext.221.
This is a great place to start your Looking for Lincoln tour. Free tickets are required for the tour and may be obtained at the Lincoln Home Visitor's Center.

Lincoln Depot (Great Western)

Located on Monroe Street in Springfield. (217) 544-8695.
Lincoln delivered his Farewell Address Speech at this site.

Lincoln-Herndon Law Offices

Located on 6th and Adams Streets in Springfield. (217) 785-7289.
Constructed in 1840, it stands as the only surviving structure in which Lincoln maintained as a law office.

Lincoln Tomb

Located at the Oak Ridge Cemetery in Springfield. (217) 782-2717.
This is the final resting place of Lincoln and his family.

Lincoln's New Salem

Located 20 miles NW of Springfield near Petersburg. (217) 632-4000.
This reconstructed log cabin village contains 23 authentically reproduced buildings.

Postville Courthouse

Located on 5th Street in Lincoln. (217) 732-8930.
A reproduction of the original 1840 courthouse visited by Lincoln while he traveled the Eighth Judicial Curcuit. Stu Churchill from Menard, and Cathy Hawkinson, wife of Dave Hawkinson from Corn Belt Energy are involved in the Postville volunteer program. If you are interested in joining the volunteer program, contact Shirley Bartelmay.

Lincoln College Museum

Located in the Library of Lincoln College in Lincoln. (217) 732-3155.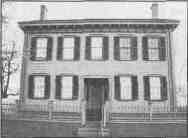 This museum houses a valuable collection of Lincoln memorabilia.
Mount Pulaski Courthouse
Located on the square in Mount Pulaski. (217) 732-8930.
One of the only two surviving Eighth Judicial Circuit courthouses in Illinois where Abraham Lincoln practiced law. If you are interested in joining the volunteer program, contact Richard Schachtsiek.
Lincoln Home National Historic Site
JUNE 2001 • ILLINOIS COUNTRY LIVING 13
---