Illinois'
FINEST COOKING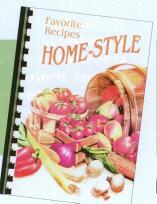 Moments Remembered in Watseka
Moments Remembered - Dried Flower Wreaths in Watseka submits its soft-backed, spiral-bound cookbook filled with 144 pages of tasty recipes. The cookbook sells for $12.50, which includes postage. To order, contact Donna Young at 101 Circle Court, Watseka, 1L 60970, or call her at (815) 432-2307.
Cheddar Parmesan Potatoes Danette Bohlmann
1/4 C. butter or margarine
1/4 C. all-purpose flour
2 C. milk
1/2 tsp. salt
1 C. shredded Cheddar cheese
1/2 C. Parmesan cheese
5 C. sliced, cooked and peeled potatoes
1/4 C. bread crumbs
In a saucepan, melt butter over low heat. Stir in flour until smooth. Gradually add milk; cook and stir over medium heat until mixture thickens. Remove from heat and add salt and cheeses. Stir until Cheddar cheese melts. Place potatoes in a greased 2-quart baking dish and add cheese mixture, stirring gently to mix. Sprinkle bread crumbs on top. Bake uncovered at 350" for 30 to 35 minutes. Makes 6 to 8 servings.
Corn Dog Cupcakes Janet Francoeur
1 (8 to 10-oz.) pkg. corn muffin mix
5 hot dogs
Prepare muffin mix according to package. Spray 10 muffin cups with Pam. Spoon about 1/4 cup of batter into each prepared muffin cup. Cut hot dogs into 1-inch lengths. Place about 3 pieces into each muffin cup. Bake at 375° for 20 to 25 minutes or until cooked through. Makes 10 cupcakes.
Glorious Mess Tom Gonzales
3 to 4 lb. ground beef
1 stalk celery, chopped
2 to 3 medium onions, chopped
2 cans stewed tomatoes
3 cans chili beans
4 bay leaves
2 tsp. chili pepper
Salt and pepper
1 tsp. oregano
1 can mushroom soup
Brown hamburger. Toss all ingredients in crock pot and simmer all day. Serve over corn chips or flour tortillas with lettuce, cheese, tomatoes, sour cream, etc. Serves 10.
Slow Italian Pork Chops Cyndi Gonzales
6 to 8 pork chops
2 C. spaghetti sauce
1 med. onion, chopped
1/2 C. green pepper, chopped
2 cans French-cut green beans
Brown pork chops in a skillet. Place remaining ingredients in slow cooker; add pork chops and a little water to cover. Cook on low 6 to 8 hours.
Chimichangas Karen Forth
1 lb. ground beef
1 med. onion, chopped
1 clove garlic, minced
1 can tomato soup
1 (4-oz.) can chopped green chilies, drained
1 T. vinegar
1 tsp. chili powder
1/2 tsp. ground cumin
8 (8-inch) flour tortillas
1 C. shredded Monterey Jack cheese
Vegetable oil
Shredded lettuce
Sour cream
In a 10-inch skillet, over medium heat, cook beef, onion and garlic until meat is browned. Pour off fat. Stir in tomato soup, chilies, vinegar, chili powder and cumin; reduce heat. Simmer 10 to 15 minutes or until most of the liquid evaporates. Cool slightly. Spoon 1/4 cup of the filling down the center of one tortilla. Top with 2 T. shredded cheese. Fold in sides of tortilla; roll up tortilla around filling. Secure with a toothpick. Assemble 2 or 3 at a time. In your skillet, heat 1-inch oil to 350 . Fry chimichangas 2 minutes or until golden, turning once. Remove and drain on paper towel. Garnish with shredded lettuce, sour cream and taco sauce.
Hamburger and Corn Casserole Lois Schmidt
3/4 pkg. noodles
1 lb. hamburger
1 onion
1 can cream of mushroom soup
1 can cream of chicken soup
1 lg. container sour cream
1 can whole kernel corn, drained
Cook noodles, drain. Brown hamburger and onion and add to noodles. Add rest of ingredients. Bake at 350° for 30 minutes.
Margarita Pie JoAnne Howard
8-oz. pkg. cream cheese, softened
2 pkg. margarita mix
1/4 to 1/2 C. sugar
8-oz. whipped topping, thawed
Beat cream cheese until fluffy. Add margarita mix and sugar; beat. Mix in whipped topping. Pour into crust. Freeze. Slice and serve frozen.
22 ILLINOIS COUNTRY LIVING • JUNE 2001
---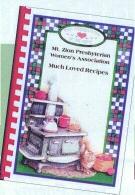 Mt. Zion Presbyterian Women's Association
The Mt. Zion Presbyterian Women's Association in Mt. Zion submits its soft-backed, spiral-bound cookbook filled with 185 pages of delicious recipes. The cookbook sells for $10.00, which includes postage. To order, contact Ginny Gosnell at box #199, Mt. Zion, IL 62549, or call her at (217) 864-2171.
Chili Cheese Ball Jim Beckhart
1 (3-oz.) pkg. cream cheese
8-oz. Velveeta cheese, shredded
1 T. lemon juice
1 tsp. chili powder
1/4 tsp. garlic powder
Dash of red pepper
1/4 C. chopped pecans
1 tsp. paprika
Combine softened cheeses, lemon juice, garlic powder and red pepper; beat with electric beater until light and fluffy. Stir in nuts. Shape in ball and sprinkle with mixture of chili powder and paprika. Chill.
Liz's Butternut Squash Susan Barcalow
1 good-sized butternut squash
1 stick margarine
1 (5-1/3-oz.) can evaporated milk
3/4 C. sugar
2 eggs, beaten
Peel, cut and cook squash 15 minutes to make 2 cups mashed squash. Add margarine, evaporated milk, sugar and beaten eggs. It's very runny before baking. Bake uncovered at 350 for 1 hour.
Pizza Casserole Ginny Gosnell
1 lb. ground beef
1 med. onion
1/2 tsp. garlic salt
1 tsp. salt
1/2 tsp. black pepper
1/2 tsp. Italian seasoning
1 (12-oz.) pkg. rigatoni noodles
1 C. milk
1 egg
1-1/2 C. Mozzarella cheese, shredded
3 (10-1/2-oz.) pizza sauce with cheese
Brown ground beef and onions; add seasonings and sauce. Cook noodles and drain. Mix milk and egg; add to noodles. Put noodle mixture in 9X13-inch greased pan. Cover with meat-pizza sauce mixture and top with cheese. Bake at 350° for 30 to 40 minutes.
Peek-A-Boo Chicken Herb Hart
1 C. rice
Chicken breasts
1 pkg. dry onion soup mix
2 cans cream of mushroom soup
Mix rice and soup together and pour in a buttered baking dish. Lay chicken breasts on top and sprinkle with onion soup mix. Cover tightly with foil and bake at 300° for 2-1/2 hours...and don't peek.
Chicken Dressing Casserole Women's Association
3 lg. chicken breasts, cooked, and cubed
1 can cream of chicken soup
1 can cream of celery soup
1 can French onion soup
1 can Milnot
1 box cornbread Stove Top dressing
1 box chicken Stove Top dressing
Mix together soups, Milnot and chicken. Spread in bottom of two 8X12-inch greased pans. Mix dressing according to package directions; cool and drop by spoonfuls onto chicken mixture. Bake at 350' for 40 to 50 minutes or until lightly browned. Let stand before serving.
O'Henry Bars Lori Coleman McKenzie, Bev Sutherland Coleman
1 C. sugar
1 C. dark Karo syrup
1 (12-oz.) pkg. chocolate chips
1-1/2 C. peanut butter
6 C. Special K cereal
Cook sugar and syrup until bubbling. Add peanut butter. Stir until melted. Pour over Special K cereal. Spread over large cookie sheet. Melt chocolate chips and spread over mixture.
Lemon Cheesecake Flossie Fletcher
1 (3-oz.) pkg. lemon Jell-0
1 C. hot water
1 tsp. vanilla
1 lg. (13-oz.) can Milnot, cooled
8-oz. pkg. cream cheese
1 C. sugar
Graham cracker crumbs
Grease large round or rectangular regular size cake pan. Sprinkle lightly with graham cracker crumbs until bottom is covered. Mix Jell-0 and hot water; set until thick soupy stage. Mix cream cheese, sugar and vanilla together and refrigerate. Add Jell-0 when right consistency. Whip Milnot in large bowl, starting at low speed and increasing to a beat. Beat until very thick or until it stands in large firm peaks. Fold in other mixture and pour in pan. Top with graham cracker crumbs. Refrigerate several hours. Note: Be sure not to underbeat Milnot.
Fresh Strawberry Squares Gloria Marshall
1 C. flour
1/4 C. brown sugar
1/2 C. walnuts
1/2 C. melted butter
2 egg whites
2 T. lemon juice
1 C. sugar
1 C. whipping cream
2 C. fresh strawberries or 1 (10-oz.) frozen berries, partly thawed*
Stir flour, brown sugar, walnuts and butter together. Spread evenly in 13X9X2-inch pan and bake at 350 for 20 minutes, stirring occasionally. Combine egg white, sugar, lemon juice, and berries in large bowl. Beat at high speed with electric mixer until it forms stiff peaks (about 10 minutes). Fold in whipping cream, already whipped. Spoon over nut mixture. Freeze overnight. Trim with berries. *lf using frozen berries, reduce sugar to 2/3 C.
WANTED: A Few Good Recipes
Calling all cooks! Illinois Country Living needs your help. Send us your favorite recipe and it could be used in the Illinois Country Living cookbook - Coming soon to a kitchen near you! Send recipes to: Catrina McCulley Young, Illinois Country Living, P.O. Box 3787, Springfield, IL 62708. Or e-mail them to mcculley@aiec.org. Please make sure recipes are either typed or printed neatly. Please include your name and phone number in case we need to contact you.
JUNE 2001 • ILLINOIS COUNTRY LIVING 23
---