Illinois
Currents • News • Legislation • Trends • Research •
---
Tree care display a hit at fair

R

ight-of-way maintenance is sometimes a controversial subject. Trees too close to power lines have to be trimmed or removed to provide safe and reliable power without blinks and outages. To help members understand proper pruning techniques and tree care, the Illinois Touchstone Energy" co-ops sponsored a display at this year's state fairs in Springfield and DuQuoin.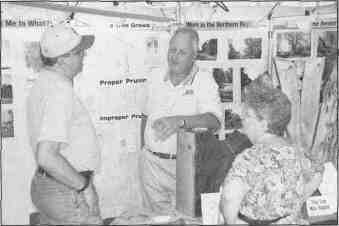 Cal Williams (center) of Corn Belt Energy talks to state fair goers about proper tree pruning techniques. Proper pruning can train a tree to grow away from power lines or a house, and keep it healthy and strong.
Cal Williams, manager of vegetation and safety for Corn Belt Energy, Bloomington, built the display. It's obvious he really appreciates and understands trees. Not only does he live in a log home, one of his hobbies is carving massive wood creations, like a 7-foot grizzly bear, with a chainsaw. "My grandfather started my interest in trees," says Williams. "He used to have a nursery. We would gather nuts in the fall and he helped me learn to identify different trees." Williams has helped train other coop right-of-way employees so they understand how to make selective cuts as an arborist would. "Number one we have to deliver reliable service at the lowest possible cost, but at the same time we try to not make a severe impact on trees," he says. An improperly pruned tree can become weak and diseased. Eventually it may fall into a power line or house.
For more information go to: www.aroborday.org or www.isa-arbor.com.
6 ILLINOIS COUNTRY LIVING OCTOBER 2001
---
Energy bill passes the House
The House passed a national energy policy bill—H.R. 4, Securing America's Future Energy Act—in early August. It resembles parts of the President's energy strategy.
The bill raises automobile fuel economy standards; authorizes increased spending for Department of Energy research and development programs; provides tax incentives to the tune of $33.5 billion over 10 years for clean coal, renewable energy and energy efficient technologies; and allows for oil and gas drilling in the Arctic National Wildlife Refuge (ANWR).
Co-op gains included limited tax relief—specifically relief from the 85/15 non-member income test. Under current tax laws, 85 percent of an electric cooperative's income must come from its members in order for the co-op to retain its tax-exempt status. However, in a restructured electricity market, coops may be required to engage in activities that could put their tax-exempt status in jeopardy.
Source: NRECA; Electric Power Daily
Sign up for a hunter safety education class
All hunters born on or after Jan. 1, 1980, must successfully complete this course before they can receive their first hunting license. For more information or to put your name on a waiting list for the next scheduled class in your area, phone (800) 832-2599. Information about these classes can also be found on the IDNR's web site at http://dnr.state.il.us/lands/education/safety/index.htm.
Co-op role continues to grow as industry changes
The electric cooperative movement will have an important role in the deregulated energy markets, says National Rural Electric Cooperative Association (NRECA) CEO Glenn English.
In a recent press briefing for electric industry and consumer reporters, English, said that precedents set by deregulation of other industries were not encouraging for rural residential consumers and small businesses. The main beneficiaries of restructuring are often large companies, leaving residential customers and smaller businesses to miss out on the promised lower prices.
"After restructuring, we're going to find lawmakers scrambling to deal with all these people that get left by the side of the road," said English. And electric cooperatives, he concluded, have always been there to provide electricity for people that IOUs find to be unprofitable. Sources: NRECA; BNA Daily Report for Executives
Energy plan moving in right direction
President Bush's national energy policy, which calls for producing more energy, revitalizing the electric utility transmission system, developing clean coal technology and other broad energy goals, is "moving in the right direction, generally speaking," said National Rural Electric Cooperative Association (NRECA) Chief Executive Officer, Glenn English.
"We're very pleased with the approach the administration is taking toward recognizing that coal-fired generation can be made cleaner," English said. He noted that while coal-generated energy has tripled over the past 20 years, emissions from coal-burning plants have been cut by one-third.
Turning to the issue of regulating the electric industry, the NRECA chief said he is concerned about the plan's recommendation to repeal the Public Utility Holding Company Act.
Although the law is decades old, the "need for consumer protection still exists," he said perhaps even more today with the power that utility holding companies wield in the market.
Bush formally released his policy on May 17 at Touchstone Energy Place, St. Paul, Minn.
Source: Electric Cooperative Today, Bill Pritchard
Affordable housing key to rural growth
One limiting factor to growth in rural Illinois communities is access to affordable housing. It is also key to retaining youth and in meeting the special needs of the elderly. The Illinois Rural Housing Task Force was formed as a Rural Partners working group to develop strategies for improving access to affordable rural housing.
As one of its first steps the task force is sponsoring a conference on affordable housing, which is scheduled for December 4 and 5 at the Crowne Plaza Hotel in Springfield. The conference is designed to provide community leaders needed information and to identify resources that will help them address this critical rural issue. For more information, contact Cynthia Struthers at CB-Struthers@wiu.edu or go to www.iira.org and select News and Events.
8 ILLINOIS COUNTRY LIVING OCTOBER 2001
---