| | |
| --- | --- |
| Childhood memories of lock-solid points like this are only possible when wildlife habitat is increased | Wild Illinois |
Farmers, homeowners and co-ops bringing back a little bit of prairie paradise
by John Lowrey
"Most of us recall our childhood when there were a lot of rabbits and a lot of wild game," says Keyser.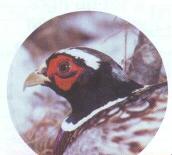 Programs like CRP Pheasants Forever help increase game bird and non-game populations alike.
Watching the sun come up, my son Andrew and I drove south to meet Sheldon Keyser and his son Alex for our first quail hunt of the season. An overgrown and abandoned railroad bed ran between the road and open fields of rich, black Illinois dirt. I nearly spilled my coffee when, out of the corner of my eye, I noticed a flash of color. It was a brightly colored cock pheasant strutting his stuff on top of a large round bale.
Although he looked like the king of the hill, that poor pheasant really didn't have much of a kingdom. The railroad right of way was overgrown with weeds and grass, but it wasn't very wide. Yet it offered the only food and shelter for miles.
At Keyser's farm near Hoyleton it is a different story. Land around a creek and other areas of erodable land have been enrolled in the Conservation Reserve Program (CRP), and it's become a wildlife paradise in just a few years.
The CRP is a natural win-win program for the environment, wildlife and farmers. Keyser says, "You may not make quite as much money on the Conservation Reserve Program as you would farming in a good year, but farming highly erodable land has a high risk factor anyway. With the Conservation Reserve Program, you know what you are going to get for the next 10 years. If you enjoy hunting and you enjoy wildlife like I do, it is a natural."
Keyser also likes the challenge of learning what it takes to promote wildlife habitat. "Most of us recall our childhood when there were a lot of rabbits and a lot of wild game," says Keyser. "Today it simply isn't there. We went from many farmsteads and a lot of woven wire fencerows, to a situation now where we have more open land, less shelter, less cover and more predator problems. The chal-
10 ILLINOIS COUNTRY LIVING OCTOBER 2001
---
lenge now is to try to bring back some of that wildlife."
It's worked. Wildlife has come back. "I have higher populations of deer, quail, turkey and some rabbit than in any other place in the surrounding area," says Keyser.
Wildlife habitat enhancement has been a success, but one of the core reasons for CRP, and many other conservation programs, is watershed improvement. By planting habitat-enhancing trees, grasses and food plots, landowners are also reducing soil erosion and improving water quality. "Water coming off my ground enters the streams, and that is the water supply for the town next door," says Keyser. The program also benefits native fish populations and can assist in flood control.
Governor Ryan signed an agreement with the U.S. Department of Agriculture in August that expands the state's Conservation Reserve Enhancement Program (CREP) to the entire Illinois River watershed. An additional 32,000 acres can now be enrolled. This is in addition to the 100,000 acres that were part of the initial 15-year, $459 million program that started in 1998. Already 88,000 acres have been enrolled and Illinois is approaching the 100,000 acre cap. CREP payment, at 130 percent of the dry land cash rental rate for the county, offers roughly twice the annual rent of CRP. Nationwide last year the average CRP payment per farm was $4,833. Illinois is number eight out of the top 10 CRP states.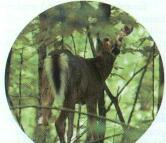 Forests provide shelter but grassland habitat is needed for grazing.
"I have higher populations of deer; quail, turkey and some rabbit than in any other place in the surrounding area" says Keyser.
It seems like everyone wants to reform the 1996 "Freedom to Farm" bill, and the U.S. House Agriculture Committee recommended passage of "The Farm Security Act of 2001" (H.R. 2646). The House is ahead of the Senate on its version of a farm bill and H.R. 2646 devotes $16 billion over 10 years to soil, water and wildlife programs. This is a 75 percent increase in spending, and reauthorizes CRP through 2011 with a 39.5 million acre enrollment cap. This is less than many habitat enhancement groups like Pheasants Forever and many farm organizations hoped for, but it does recognize the success of a program that was set to expire in December 2002.
H.R. 2646 also reauthorizes the Wetlands Reserve Program, the Wildlife Habitat Incentives Program and the Grassland Reserve Program. These programs can help landowners by providing cost-sharing payments for establishing the conservation practices. CRP is administered through the Commodity Credit Corporation and Farm Service Agency, with support provided by Natural Resources Conservation Service, Cooperative Research and Education Extension Service, state forestry agencies and local soil and water conservation districts.
Co-op's powerful habitat project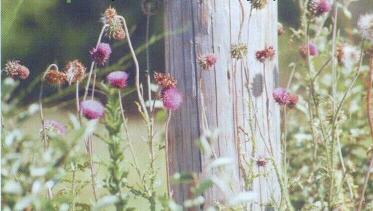 Project Habitat is converting co-op right of way to wildlife food, nesting and cover.
Illinois electric co-ops manage 54,740 miles of right of way in a never-ending cycle of cutting, trimming and mowing. Just imagine maintaining an overgrown backyard that is thousands of miles long. Mechanical methods of right-of-way maintenance are expensive, labor intensive and have to be repeated.
Corn Belt Energy Corporation, a cooperative headquartered in Bloomington, has found a better way. It's called Project Habitat. By using low-volume selective herbicides after mechanical clearing, the co-op is taking out tall growing woody plants and allowing natural grasses to take over the right of way. These native grasses then help choke out future growth of trees and brush that cause blinking lights and outages. The result is a grassy fringe area perfect for wildlife food and nesting areas.
OCTOBER 2001 ILLINOIS COUNTRY LIVING 11
---
Running along the 760 acre Green Oaks Research Station, which is managed by Knox County College, is a power line maintained by Corn Belt Energy. Not long ago the line was overgrown with trees, and blinking lights and outages were common, says Mike Nelson, manager of construction and maintenance for the co-op's northern region. "We've seen a real decrease in our outages and blinking lights throughout our northern region," says Nelson. And he adds that a well-maintained right of way with fewer obstacles makes it easier for linemen to repair outage problems when they do occur.
Working with the college, Corn Belt Energy first enlisted the help of Chamberlain Tree Service to clear the trees. Next, the co-op started the Project Habitat demonstration. Project Habitat is sponsored by Quail Unlimited, the National Wild Turkey Federation, Quality Deer Management Association, Buckmasters, Butterfly Lovers International and BASF. Project Habitat enhances wildlife habitat and creates a long-term, low-cost answer for dramatically reducing blinking lights and outages.
"Once we establish control, we just go in with backpack sprayers and do low-volume treatment and just treat the small woody plants," says Cal Williams, right of way superintendent for Corn Belt Energy. Williams takes his work seriously and is one of the state's first certified utility arborists.
Knox College restored about 40 acres out of the 760 to native prairie grass. Now the old abandoned strip mine area is a wildlife oasis and an asset for the college and community. Stuart Allison, director of the Green Oaks Research Station, says, "This spring I was walking through the woods and I almost stepped on a wild turkey. He came up just like a pheasant and almost gave me a heart attack."
Your backyard habitat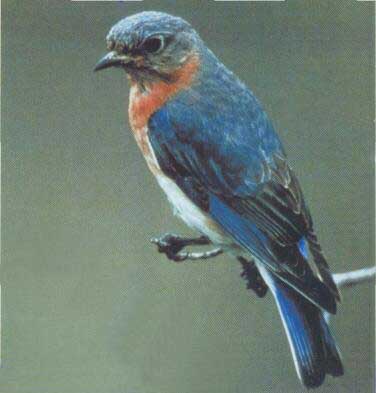 Mike Davidson, manager of Oak Run, a golf course and residential community of 500 homes, also likes the results of Corn Belt Energy's Project Habitat work. Although he says it may make it harder on golfers who can't keep the ball in the fairway, he likes the texture of the natural grasses and wildflowers in the right of way. He has also noticed a wildlife comeback. "On my way over from the golf course to meet with Cal, I saw a momma Turkey and eight little ones following behind," he says. He is also working with a local Pheasants Forever chapter to establish native grass habitat.
Consumer education is essential to both wildlife enhancement percent and right-of-way management. It is a strong suit for Williams. He has developed a show and tell program for member meetings that shows the cross section of trees that have been pruned properly and improperly. He shared his arborist training and knowledge with thousands of consumers at this year's state fairs in Springfield and DuQuoin. He advises members to plant low growing species like Red Bud near power lines and homes, and to have a trained arborist properly prune tall growing species.
Natural landscaping provides fruits, nuts, seeds and nectar that can attract birds and other wildlife to your yard.
We all love our nice green lawns, but they are a pretty sterile habitat for wildlife. Nationwide these small areas of green represent an area twice the size of Pennsylvania (50 million acres), consume 30 to 60 percent of the water we use and create 18 of the landfill waste. And lawns are a pain to mow.
It really doesn't matter where you live or how much land you have, you can improve the wildlife habitat on your property with little effort or expense. Start by cutting your lawn in half. Then select na-
12 ILLINOIS COUNTRY LIVING OCTOBER 2001
---
tive grass, ground cover, shrubs, flowers and trees. Native plants will support 10 times more species of wildlife and be easier to maintain than non-native plants. It costs $700 per acre per year to maintain a lawn, but just $30 per acre for a wildflower meadow.
Remember, besides food and shelter, water is essential. Instead of a birdbath, why not create a small pond that will benefit more than just the birds in your area?
Finally, you can benefit wildlife and your aching back by leaving that brush pile. Next, put out some high calorie foods such as sunflower seed and suet. Then get out your binoculars and enjoy the wild show.
Native plants will support 10 times more species of wildlife and be easier to maintain than non-native plants.

This Southeastern Illinois Electric Cooperative right of way in the Shawnee National Forest was cleared and planted in partnership with the National Forest Service and National Turkey Federation.
OCTOBER 2001 ILLINOIS COUNTRY LIVING 13
---