Safety
AROUND YOUR HOME

Protecting trick-or-treaters from non-monster dangers

I

t's time again for ghosts and goblins, fairy princesses and cowboys to come creeping through your neighborhood, trick-or-treating their way to as much candy as will fit in their sacks. Children love Halloween. Outfits are planned months ahead of time and mouths drool in anticipation of all the candy to come. When the day finally arrives, they can hardly contain their excitement. But, too often, what should be a fun evening can turn deadly. The real danger to trick-or-treaters comes not from monsters lurking in the night, but from unsafe costumes and the hazards associated with traveling from house to house.

You can help make your home safer for visiting trick-or-treaters by clearing your yard of anything difficult to see in the dark, such as dog leashes and flower pots. Secure your pets as they often become frightened by the Draculas and Dr. Evils that invade your yard.

Light the jack-o-lantern's fiercesome face using a battery powered candle, or place pumpkins well away from where children will be walking or standing. Be sure any flammable decorations won't blow into the flame.

When you're driving your children around or running to the store to replenish the candy bowl, remember to drive slowly. Small Batmans and Pokemons may dart between parked cars, cross the street slowly, be wearing dark colors, or just be too excited by the prospect of more candy bars to look and listen properly for cars.

Be sure your own trick-or-treaters are safe as they traipse through the surrounding streets. Start by making safe decisions about their costumes. Look for a flame resistant label on all masks, beards, etc. Avoid billowing skirts or long baggy sleeves.

Decorate costumes with reflective tape that will glow brightly in a car's headlight beam. This tape is usually available in hardware or sporting goods stores.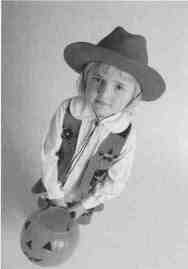 Make sure your children can walk properly by shortening long pants/skirts and decorating strong, sturdy shoes that fit properly, even if it takes away from the costume. Falls are the number one cause of injuries on Halloween.
Be sure your child can see clearly by tying hats and scarves so they don't slip down over their eyes. Provide them a flashlight and make sure masks fit securely. A better choice for visibility may be face paint. Accessories should be soft and flexible, no hard pointy swords for your little pirate as he/she or another child could be harmed by it.
Walk with your children, especially those under 12. But, if your children are going out on their own, make sure they have quarters or a cell phone in case they need to phone you. Also, provide them with a watch that is easily visible in the dark so they can commit to the curfew you provide. Be sure they know how to properly cross the street at night and they know to walk on sidewalks where available. Urge them to avoid walking through people's yards, as unseen hazards may be lying about.
Remind them not to approach any pets. Though the animal may know your child, it may be edgy on this night. Children should only approach houses with porch lights on. They should never enter anyone's home or take unwrapped candy. Also, be sure to check all your child's candy before allowing him/her to eat it. Though it is rare, sometimes tampering does occur. Make your child eat dinner first so their temptation to sneak a piece may not be so overwhelming.
Stomach aches from too much candy are common on Halloween night, and hopefully, by following these safety tips, that is the only tragedy your child will have this year.
14 ILLINOIS COUNTRY LIVING OCTOBER 2001
---