Today's
TECHNOLOGY AND YOU
Bathroom remodeling that conserves energy and water
Q :
Dear Jim: We are planning a full remodeling job of our master bathroom. We want it to be comfortable and contemporary, yet energy and water efficient. What efficient products and heating methods should we consider using in it?
- Ann M.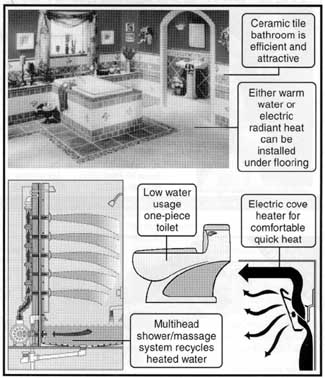 Methods to remodel bathroom efficiently
A : Dear Ann: "With all the new products available, bathroom remodeling is one of the most common major home improvement projects today. In addition to creating a relaxing, enjoyable room, improving your bathroom can substantially increase the future resale value of your home. If you are doing much of the work yourself and your budget is limited, just make gradual improvements over a year or two.
Other than your kitchen, your bathrooms (especially a master bath) are the rooms that consume the most energy and water in the typical home. By making the proper design improvements and selecting the proper new products, you can make your bathroom much more efficient. Luckily, many of the newest, most efficient products and improvements also provide the best comfort.
When remodeling a bathroom, the first item to consider is how you will heat it. Selecting the best heating method is somewhat complicated because bathrooms are used at many different times. You know it will often be used early in the morning when you wake and late at night, when you retire. You must also plan for it being used at sporadic times during the night and day.
A combination of various types of radiant heat is often the most efficient and comfortable heating method for all uses. It is gentle, quiet and can provide rapid heating for the best comfort. These radiant heating methods include wall and ceiling heating panels, and cove and electric warm floor heating units.
A wall or ceiling radiant panel provides heat quickly without chilly breezes. It heats like walking into the sunshine. This allows you to keep the bathroom cooler when it is not being used which results in energy savings. These heating units can be hidden in the ceiling or mounted against a wall or ceiling. It would be difficult to accomplish the same rapid, quiet heating effect with forced-air heating units.
Electric warm floor radiant heating provides the
---
James Dulley is a mechanical engineer who writes on a wide variety of energy and utility topics. His column appears in a large number of daily newspapers.
Copyright 2001 James Dulley
18 ILLINOIS COUNTRY LIVING OCTOBER 2001
---
ultimate comfort when you step out of a shower. It is ideal for use under decorative ceramic tile that tends to hold the heat and radiate it slowly and continuously. Since a radiant floor does not provide rapid heat like the wall or ceiling panels, consider putting it on a timer. Turn it on only during regular high usage times in the morning and at night.
If you have ever used a towel warmer after bathing in a hotel, you know how great it feels. There are many attractive home-size models available that plug in to a standard wall outlet. If you are tearing out the walls during your remodeling, hard wire them in. They are made of brass, real oak and chrome and are designed to mount on a wall or on door hinges to save space. Using one lets you set the bathroom air temperature lower.
Most people add a whirlpool or hydro-massaging, multi-head shower when remodeling. Some five-head showers use a small pump that re-circulates the warm water to reduce water usage and the energy to heat it. If you use a single showerhead, select a low-flow model. Most of the new special filtering heads remove chlorine and save water.
Select one of the new super-quiet automatic combination vent fan/lights. If you tend to forget to switch the fan off like most people, consider getting one with motion and humidity sensors. These insure that the light and fan run neither too long nor too little. If you get up often at night, consider a model that also has a built-in nightlight. Many new models use decorative and ornate beveled glass to complement the fanciest bathroom decor.
In addition to obviously using water, a toilet can consume energy in the winter. Each time you flush a toilet, all of the incoming cold water from the city supply or a well, gradually heats up to room temperature by drawing heat from the air in the bathroom.
Definitely install a new low-water-usage toilet. The one-piece models, although more expensive than two-piece models (separate bowl and tank) are usually the most attractive. Pressure-assist toilet designs provide a positive, quick flush with low-water usage, but they are sometimes slightly noisier than standard gravity toilets.
Write for (instantly download - www.dulley.com) Utility Bills Update No. 910 - buyer's guide of 14 manufacturers of efficient/comfort bathroom products: radiant heating, towel warmers, unique showers, whirlpools, toilets, quiet vent fans and ceramic tile. Please include $3.00 and a business-size SASE James Dulley, Illinois Country Living, 6906 Royalgreen Dr., Cincinnati, OH 45244.
OCTOBER 2001 ILLINOIS COUNTRY LIVING 19
---