Illinois'
FINEST COOKING

The Ladies Aid of Bell Ridge Christian Church The Ladies Aid of Bell Ridge Christian Church in Paris submits their 95th anniversary cookbook, which is a hard-backed easel,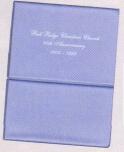 three-ring-binder style and contains 191 pages of delicious recipes. The book sells for $10 plus $3.50 postage. To order, contact Debbie Wilson, 10345 E. 250th Rd., Paris, IL 61944 or call her at (217) 465-5161.

Easy Hot Snacks Holly Cash
Plain bagels (Lenders are good)
Margarine spread
Shredded Cheddar cheese
Toast bagels to desired doneness. Butter the bagels with margarine. Sprinkle shredded cheese over the bagel and microwave for 15-25 seconds to melt cheese. Eat plain or sprinkle your favorite topping over and enjoy. Optional toppings - minced garlic, taco cheese, salsa or bacon bits.
Taffy Apple Salad Sherry George
3 C. diced apples, not peeled
1 can crushed pineapple
1 C. dry roasted nuts
1 tub Cool Whip
1 (3-oz.) pkg. butterscotch pudding Mini marshmallows
Mix all ingredients together and chill.



Tuna Sunflower Casserole Hilary Higginbotham
2 (7-oz.) cans tuna fish, flaked
1 (4-1/2-oz.) jar sliced mushrooms, drained
2 (10-1/2-oz.) cans of cream of mushroom soup
1/2 C. crushed potato chips
3/4 C. Fisher salted roasted sunflower nuts
2/3 C. milk
1/4 C. chopped pimento
Combine the tuna, mushrooms, cream of mushroom soup, sunflower seeds, milk and pimento. Spoon into a buttered 1-1/2 quart casserole dish. Sprinkle with potato chips. Bake at 350° for 30 minutes.
Chicken Enchiladas Heather Dean
12 corn tortillas
1 (10-oz.) jar red chili sauce
1 whole chicken, cooked and de-boned
3 C. Monterey Jack cheese, shredded
1 C. lettuce, shredded
3/4 C. onion, chopped
1/2 C. tomato, diced
In a small saute pan cook onion until tender in a small amount of vegetable oil. Shred chicken meat and combine with cooked onion. Set aside. Preheat oven to 350°. Quickly fry corn tortillas in a hot vegetable oil for approximately 15 seconds. Tortillas should remain soft. Dip each tortilla in red chili sauce and fill with chicken and onion mixture. Place in baking dish seam side down and repeat procedure. Pour remaining red sauce over tortillas and top with cheese. Serve immediately with lettuce and tomato on the side.
Yogurt Pie Sara Goddard
1 sm. box sugar-free strawberry gelatin, dry
1 sm. strawberry yogurt
1 (8-oz.) tub Cool Whip, regular or light
1 graham cracker crust
Combine dry gelatin and yogurt, mix thoroughly. Mix in Cool Whip. Pour into graham cracker crust and refrigerate. Other flavors can also be use such as raspberry gelatin and raspberry yogurt, cherry gelatin and cherry yogurt, etc.
Brownie Swirl Cheesecake Lori Higginbotham
1 tsp. vanilla extract
2 eggs
Whipped cream (opt.)
Mini chocolate kisses (opt.)
1 (8-oz.) pkg. brownie mix
2 (8-oz.) pkgs. cream cheese, softened
1/2 C. sugar
1 C. milk chocolate chips, melted
Prepare brownie mix according to package directions for chewy fudge brownies. Spread into a greased 9-inch springform pan. Bake at 350° for 15 minutes (brownies will not test done). Cool for 10 minutes on a wire rack. Meanwhile, in a mixing bowl, combine cream cheese, sugar and vanilla and mix well. Add eggs, one at a time, beating well after each addition. Pour over the brownie crust, top with melted chocolate; cut through the batter with a knife to swirl chocolate. Bake at 350° for 35 to 40 minutes or until center is almost set. Run a knife around the edge of pan to loosen. Remove sides of pan and refrigerate for at least 3 hours. Garnish with whipped cream and chocolate kisses.
Pumpkin Bread Susie Drake
1/3 C. shortening
1-1/2 C. sugar
1/2 C. water
2 eggs
1 C. canned pumpkin
1-2/3 C. flour
3/4 tsp. salt
1/4 tsp. baking powder
1 tsp. baking soda
1/2 tsp. cinnamon
1/2 tsp. nutmeg
1/2 C. nuts
Mix shortening, sugar, water and eggs. Sift dry ingredients together and add to egg mixture, mix well. Pour into greased loaf pan. Bake at 350° for 1 hour.

22 ILLINOIS COUNTRY LIVING OCTOBER 2001
---

Hamilton County Homemakers Extension Association
The Hamilton County Homemakers Extension Association submits their cookbook containing 116 pages of wonderful recipes.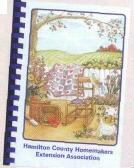 The book is soft-backed and spiral bound and costs $9.50, including postage. To order, contact Cheyri Ventress, 111 Silas Avenue, McLeansboro, IL 62859 or call her at (618) 643-4004.

Strawberry Punch Norma Collins
4 (16-oz.) bottles strawberry soda
1 lg. bottle ginger ale
1 qt. orange sherbet
Pour strawberry soda and ginger ale into punch bowl. Scoop orange sherbet in chunks and place on top of mixture. Do not mix. Ice cream will fizz and float on top of punch.
Five-Minute Fruit Salad Cheryl Ventress
1 can peach pie filling
1 can pineapple chunks
1 can mandarin oranges, drained
1 pkg. frozen strawberries, thawed
4 bananas
Combine all ingredients into a large bowl and mix. Chill before serving. You may add pecans and whipped cream, if desired.




Incredible Rice Frittata Geraldine Barker
1/2 C. finely chopped onions
1 T. butter
8 eggs
1/2 C milk
1 tsp. salt
1 tsp. Worcestershire
4 to 5 drops hot pepper sauce
2 C. cooked rice
1 (4-oz.) can chopped green chilies, undrained
1 med. tomato, chopped
1/2 C. shredded Cheddar cheese
In a 10-inch skillet over medium heat, cook onions in butter until tender. Beat eggs with milk and seasonings. Stir in rice, chilies and tomato. Pour in pan. Reduce heat to medium-low. Cover and cook until top is almost set, about 12 to 15 minutes. Sprinkle with cheese. Cover, remove from heat, and let stand about 10 minutes. Makes 4 servings.
Chicken Tetrazzini Becky Howe
2 C. chicken diced
1 (8-oz.) pkg. raw spaghetti
1/2 sm. onion chopped
1/4 C. pmentos, chopped and drained
1/4 C. chopped green pepper
1 can mushroom soup, undiluted
1/2 C. chicken broth
1/2 tsp. salt
1/2 tsp. pepper
1-3/4 C. shredded sharp Cheddar cheese
Cook spaghetti as directed on package. Drain and rinse well. To spaghetti, add all of the above ingredients except 3/4 C. cheese. Mix well. Put in 9x13-inch pan and sprinkle the remaining cheese on top. Bake in 350° oven for 30 minutes. Serve hot.
Magic Cookie Bars Jerry Jones
1/2 C. margarine or butter
2 C. graham cracker crumbs
1 (14-oz.) can sweetened condensed milk
1-1/2 C. semi-sweet chocolate chips
1 C. flaked coconut
1 C. nuts, chopped

Preheat oven to 350° (325° for a glass dish). In a 13x9-inch baking pan, melt margarine in the oven. Sprinkle crumbs over margarine and press to form a crust. Sprinkle with chocolate chips, then coconut and nuts. Top with sweetened condensed milk poured evenly over all ingredients. Bake 25 to 30 minutes or until lightly browned. Cool. Chill if desired. Cut into bars. Store loosley covered at room temperature.





A Few Goob Recipes!

Calling all cooks! Illinois Country Living needs your help. Send us your favorite recipes and they could be used in the Illinois Country Living Cookbook - Coming soon to a kitchen near you! Send recipes to: Catrina McCulley Young, Illinois Country Living, P.O. Box 3787, Springfield, IL 62708. Or e-mail them to mcculley@aiec.org. Please make sure recipes are either typed or printed neatly. Please include your name and phone number in case we need to contact you.
OCTOBER 2001 ILLINOIS COUNTRY LIVING 23
---