Heroes are all around us. They are the people who work every day to make our lives better. They are your electric utility linemen, police officers, firemen, doctors, nurses and even your rural mail carrier. Though you may not see their heroic duties, your mail carrier keeps you connected to the world, and sometimes comes into the line of fire because of it. Who would have ever thought that bombs and deadly poisons like Anthrax would be sent through the mail along with Christmas cards and packages? And the rural mail carrier you may have never met is put at risk when the mail is tampered with.

But the postal system works to keep you safe from any of this with strict regulations and postal investigators that scan any suspicious mail. And don't forget they are guardians of your privacy.

Postal employees never give out your address or any personal information about you. They pass your personal information through their hands every day, and don't take advantage of your trust.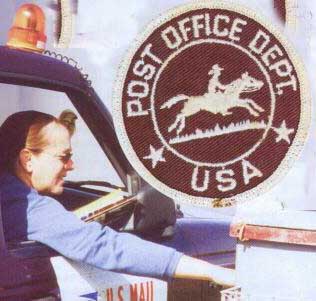 Top: This is an original patch from the uniform of pony express carriers.
Bottom: Karen Pope, a rural mail carrier in Petersburg, helps keep her customers connected to the world by delivering and mailing information safely and securely.
Postmaster General John E. Potter stated in a recent news release, "We understand the importance of America's mail to its people and the economy and we will continue to deliver our promise of safe and secure mail services. As always the security and safety of the mail is of the utmost importance and we will continue to prosecute those who violate these principles to the fullest extent of the law."
People who are suspicious of giving out their credit card information or mailing address over the Internet think nothing of sending the same information through the mail. Why? Because the Postal Service has proven itself a trustworthy source since it began in 1775, when Benjamin Franklin became the first Postmaster General. At that time, the Postal Service helped to tie a new nation of colonies together to form the United States. Today, it connects us with the world.
In a time before radio, telephones, television or the Internet, letters, catalogs and newspapers kept rural residents linked to the outside world. Some folks only made it into town once a week or less, picking up their mail when they went for other supplies. These residents wanted to stay connected to the rest of the world and be aware of the nation's news. Just like fighting for electric service, rural residents fought for rural free delivery.
Free city delivery began in 1863, but rural residents in Illi-
10 ILLINOIS COUNTRY LIVING DECEMBER 2001
---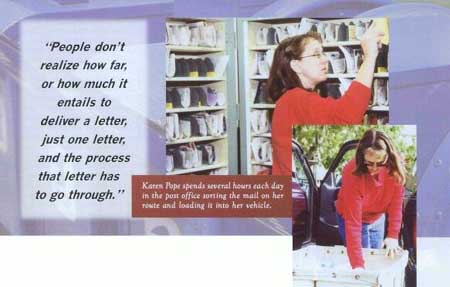 nois had to wait until 1896 for rural free delivery to even be tried. In December of that year, the town of Auburn was the experimental post office for Illinois. Two years after the experiment succeeded in Auburn, a second route was established at Victoria. It wasn't until 1902 that rural free delivery was considered a permanent part of the Postal Service.
Today, Illinois has about 2,457 rural mail routes, with an average length of 50 miles and 340 boxes. In the United States, there are more than 58,000 rural routes delivering to more than 26 million customers. But rural mail carriers do more than just deliver the mail. Pete Harrington, a rural carrier in Riverton and Dawson, and secretary/treasurer of the Illinois Rural Letter Carriers Association says, "We call ourselves a post office on wheels. We can do everything out of our vehicles that you can do at the post office." This includes selling stamps and certifieds and mailing packages.
Jesse Schirding, a rural resident of Petersburg, talks about the convenience of her rural mail delivery. "Once in a while I will leave money in the box and the carrier will mail the letters for me. If something needs more postage she'll put it on there for me and leave me a note."
Mrs. Schirding is only one of the 285 rural residents her mail carrier, Karen Pope, delivers to every day. Pope drives 88 miles to deliver about 2,200 pieces of mail every day, primarily to rural residents also served by Menard Electric Cooperative. She delivers mail to residents, collects their mail, sells them postage and delivers packages to their front door. And her work begins before she even gets in her vehicle. "A lot of people think we have our mail automatically cased to the route and we just pick it up and take it with us, which we don't. We normally have three to four hours in the post office before we start delivering," says Pope. In that time she sorts the mail to each residence and bundles it up in the order of her route.
Rural carriers must supply and maintain their own vehicles. Many of them have become artisans at sitting in the middle of their front seat and reaching over to drive. Harrington says, "I know carriers that carry two spare tires with them, and its nothing for them to have two flats a day." Despite any car problems, the mail must go through. "The only time we can't deliver is because of the weather, and once in a while because someone's box is down or blocked, but that would be just on an individual basis," says Pope. On bad weather days when no one else is on the road, you will likely see your rural mail carrier's yellow flashing light through the fog, sleet or snow. "Last year I was out there when the snow was blowing and it was just me until I met the road commissioner. He said he didn't have any business out there and wasn't doing anyone any good but I told him he had to stay, because I needed to be out there and I needed him."
But there are also those good weather days when the countryside is beautiful and the carriers can enjoy the scenery. "A good day is when I see the deer, fox, coyotes, turtles and turkeys out by the road. You're out there and you realize, it's just me and the animals, and that's nice," says Pope. Besides the occasional glimpse of wildlife, the job can be very repetitious. Drive,
DECEMBER 2001 • ILLINOIS COUNTRY LIVING 11
---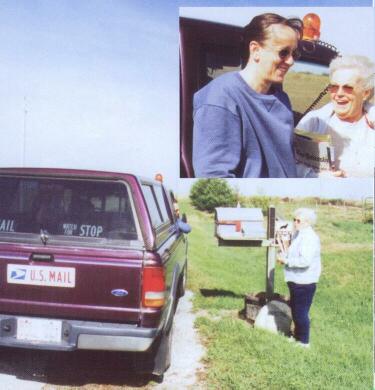 Karen Pope has developed friendships with many customers on her route. Jesse Schirding is one such friend, shown here as Karen delivers her mail.
stop, deliver mail, take mail, drive, stop, etc. Pope claims, "If it weren't for the people on the route, I wouldn't do this job. I like dealing with people one on one every day."
The residents she delivers to have become more than just names scribbled on envelopes, they are her friends. She knows their children and grandchildren and have watched many of her customers grow up. "Some days I feel old because the kids who used to run out to get the mail are now driving or leaving for college."
The families have become so well known to Pope that most of the time she can figure out where an improperly addressed letter goes. "I can go by return addresses, handwriting and sometimes even by the area it came from." For example, she may get a letter to Grandpa Smith, and will know that one of the four Smith families on her route has a grandson who lives where the letter originated. "And once in a while you have to know the dog and cat's names, because they get mail too," she adds.
Along with knowing the families so well, comes caring for them and becoming concerned about them. Carriers watch out for their customers. "When the mail is still in the box after two days you think, they're just not thinking about the mail. The third day, you think, what do I do now?" Pope says, "I used to have an older woman on the route who lived alone, and a number of times the mail would still be in the box after three days. So I would have the postmaster call her or drive out to check up on her. It was always a false alarm but she was always very appreciative." On many days, Pope's vehicle may be the only one to travel down a resident's road and she may be the only person a customer sees in a day. Jesse Schirding values the extra care her carrier shows. She says, "Karen really goes above and beyond the call of duty. I know a lot of people on her route who really appreciate all she does for them."
Many rural residents also go above and beyond for their carriers. They offer them something to drink, help out if their vehicle breaks down and call the post office to check up on them if they are running very late. The time a carrier arrives can vary daily. Harrington says, "Twenty-five years ago you could look at your clock and say 'Joe's coming by with the mail' because we always came at the same time. But we had the same volume every day and we don't have that anymore. If you get 14 feet of mail one day and 35 feet the next, there will be a couple of hours difference."
Pope says, "People don't realize how far, or how much it entails to deliver a letter, just one letter, and the process that letter has to go through. A lot of people spent a lot of hours getting that letter where it was going, and we're doing it for 34 cents." Universal delivery comes up for debate every now and then, along with the price of stamps, and no one likes to see an increase. But keep this in mind, the pony express originally charged $5 per letter. Today, U.S. stamp prices are among the lowest in the world; and the U.S. carries more mail to more people over a larger geographic area than any other country. According to statistics for the year 2000, the Postal Service delivered more than 208 billion pieces of mail a year, to more than 134 million addresses, with 1 million new addresses added each year. And despite this growth, the cost of stamps has increased only a few cents in the last six years, de-
12 ILLINOIS COUNTRY LIVING • DECEMBER 2001
---
spite the increases in gas and fuel necessary for the delivery of the mail.
But the mail must go through, and it will, thanks to the caring individuals who deliver it every day. Rural carriers help their communities out in ways beyond their job as well. Harrington says, "I would say probably more than 60 percent of rural carriers are on volunteer fire departments and rescue squads in our towns. A lot of us have permission to go off our routes when there has been a fire in our town. We help out with floods and food drives too."
The Postal Service as an organization does a lot of things to help the nation as well. They have issued stamps to raise awareness of drug abuse, AIDS, breast cancer, environmental protection and conservation. The breast cancer stamp issued July 1998 has earned $21 million as of June 2001 for research. The Postal Service is also very energy conscious. They have the nation's largest compressed natural gas delivery fleet, have electric-powered vehicles, have solar powered systems in several states, use geothermal technology in several states, are among the nation's leaders in using renewable energy and are using the largest commercial fuel cell system in Alaska as part of Chugach Electric Association cooperative's grid. They are also very interested in recycling, using recycled products and promoting them. They have received numerous environmental awards including 30 awards from the White House for pollution prevention and recycling work.
But the biggest award we receive from the Postal Service is that we stay connected to the world. We receive safe, secure service six days a week from carriers who actually care about their customers. The next time the heat is blistering, the fog is thick or the snow blowing, look out your windows, you will likely see your rural mail carrier rolling past, just one of our local unsung heroes, delivering more than just the mail.
WHAT TO DO WITH SUSPICIOUS MAIL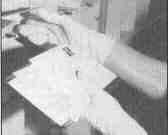 At the time this article was written, Anthrax was just becoming a well known, and much feared weapon. Two Postal Service employees in Washington, D.C. were exposed to the disease through contact with contaminated mail. They lost their lives. Medical officials screened more than 10,000 postal employees for possible exposure. Who would have thought that the security of such a trusted organization as the Postal Service would be violated, and that diseases would be spread through the mail?
But that is not to say that you should fear every piece of mail you receive. The Postal Service has mailed postcards to every address in the nation explaining how to identify and isolate suspicious mail. That information listed below.
WHAT SHOULD MAKE ME SUSPECT A PIECE OF MAIL?
• It's unexpected or from someone you don't know.
• It's addressed to someone no longer at your address.
• It's handwritten and has no return address or bears one that you can't confirm is legitimate.
• It's lopsided or lumpy in appearance.
• It's sealed with excessive amounts of tape
• It's marked with restrictive endorsements such as "personal" or "confidential."
• It has excessive postage.
WHAT SHOULD I DO WITH A SUSPICIOUS PIECE OF MAIL?
• Don't handle a letter or package that you suspect is contaminated.
• Don't shake it, bump it or sniff it.
• Wash your hands thoroughly with soap and water.
• Notify local law enforcement authorities.
On the Postal Service Web site, www.usps.com, officials have made some encouraging statements. "We will not be defeated. We will not surrender. We will do everything humanly possible to make the mail safe and keep it moving. We will not tolerate any act that spreads fear through the mail."
The Centers for Disease Control and Prevention offers some additional suggestions:
• All of us are used to the kind of mail we get regularly whether it's junk mail, our bills, or occasional cards and letters from friends. Other things need to be looked at quite carefully.
• If you find something suspicious in your mail, be calm. If you've picked it up, put it down. If you have a plastic bag, cloth or even newspaper, cover the mail so it is protected over its boarders. Wash your hands with soap and water. Call your local law enforcement and describe what you've received.
• Notify the US Center for Disease Control Emergency Response (www.bt.cdc.gov) or (770) 488-7100 for more instructions.
DECEMBER 2001 • ILLINOIS COUNTRY LIVING 13
---