C U R R I C U L U M M A T E R I A L S
Don Cavallini
Overview
Main Ideas
Who said, "If man was meant to fly, God would have surely given him wings?" Down through the ages it has been the same group of individuals: the critics, the skeptics, the doubters, and the nay-sayers. Over and over again they have recited the same litany of doubt and denial. They are the dream crushers; they are found in every society the world over.
On the other hand there are the dream chasers and dream catchers. Their unquenchable thirst for new knowledge, for a better and different tomorrow, allows them to wonder why and ponder the possibilities. We are reminded of that famous statement by John F. Kennedy, "You see things as they are and wonder why; I dream things that never were and ask why not."
Who are the dream chasers and catchers? Down through history, but especially during the Renaissance, individuals challenged the status quo. Their names ring out across time: da Vinci, Newton, Copernicus, Galileo. Closer to our time we recognize the names of Bell, Edison, Ford, Marconi, and Wright. Not as well known as Orville and Wilbur Wright, but surely a dream chaser in his own right, was Octave Chanute. To recognize and honor him, an airforce base in Rantoul, Illinois was named for him. When that base closed, the Chanute Aerospace Museum opened in a part of the facility, and it is available to tourists and schoolchildren alike. Chanute certainly would have been proud of a community that took economic adversity and turned it into opportunity. Rantoul had a dream and turned it into reality.
Connection with the Curriculum
These teaching materials are aimed at students enrolled in U.S. history, world history, state and local history, and geography classes with an emphasis on recent (within the last century) historical events. The activities may be appropriate for the Illinois Learning Standards 16.A.2C, 16.A.5a, 16.A.2b, 16.A.5b, and 17.A.2b.
Teaching Level
Grades 7 to 12. With some minor adjustments and adaptations these materials could be useful to middle school students.
Materials for Each Student

• A copy of this article's content portion

• All handouts related to Activities 1, 2, 3, 4, and 5

• Internet access for "Extending the Lesson"
16
---
Objectives for Each Student

• Recognize reasons for success and failure within people.

• Identify those qualities that shaped Octave Chanute's character.

• Understand the interplay between a person and his times.

• Explain basic principles of flight.

• Visit a museum to realize that a museum is an extension of the classroom, a place where knowledge is gained.
SUGGESTIONS FOR
TEACHING THE LESSON
Opening the Lesson
Ask students what their dreams are for the future. Next, ask them what often stands in the way of peoples' dreams. Finally, ask them what can overcome obstacles in the path of human dreams.
Tell them that the man they are about to meet was a dream chaser who ultimately paved the way for two dream catchers, Wilbur and Orville Wright. Ask them to write on a sheet of paper some examples from science fiction that have, in fact, become reality. Have individual students go to the board and write one example from their lists.
The class is now ready to read the content portion of the article. This can be done by an oral reading or by a silent reading where students must answer "open book" questions, which could elicit a discussion as the questions are answered in class.
Developing the Lesson
• Activity 1 will encourage students to improve their vocabularies, think critically, and give reasons for decisions.
• Activity 2 goes beyond Octave Chanute and introduces students to other dreamers and inventors. Students now must decide how to measure the impact of an invention and analyze what determines success and what leads to failure.
• Activity 3 helps students visualize what different inventions looked like and offers them a sense of chronology and time. Again they are asked to make some value judgments and decisions. They are expected to write their own quiz, which will require a higher level of thinking ability and sharpen their organization and writing skills.
• Activity 4 encourages group participation and cooperation in the creation of the "experimental" aircraft models. This exercise is a blend of lighthearted "fun"—flying paper airplanes—and some solid thinking about seven different research topics. Students will learn the essential truth behind Edison's definition of genius. Behind every dream much diligent work is required.
• Activity 5 is the portal students must pass through on their way to a field excursion to a remarkable museum. They not only will sharpen their map reading skills, but also prepare themselves for an out-of-classroom learning experience.
Concluding the Lesson

• The field excursion is the culminating learning experience. All of the classroom exercises are preparing students for a real learning adventure.

• After the class returns from the Chanute Aerospace Museum, hold a "debriefing." Ask the class to complete an evaluation form to determine how much they gained from the museum tour.
Extending the Lesson

• Before visiting the museum, write to museum personnel in order to receive highly valuable materials such as maps, pamphlets, and guides. Write to: Jim Eldridge, Education Coordinator, Octave Chanute Aerospace Museum, 1011 Pacesetter Drive, P.O. Box 949, Rantoul, Illinois 61866-0949.

• There are a number of other information- gathering options. If you have access to a computer and the Internet, go to http://www.cu-online.com/~leonhard/chanute/ or http://www.aeromuseum.org At this latter site, you can take a virtual tour of the museum. Students can be directed here as further preparation for the field excursion.
Assessing the Lesson
See answers to the various activities at the end of this section.
17
---


Chanute's Character Traits:
A Values Continuum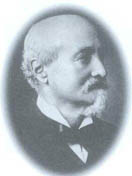 Octave Chanute
Courtesy:
Octave Chanute
Aerospace Museum
Foundation
Edison said it so well when he defined genius: "Genius is 1% inspiration and 99% perspiration." How does that famous quote apply to the life of Octave Chanute?
From your reading of the content portion of this article, determine to what extent Chanute possessed the following qualities. Use the continuum scale numbered from 1 to 5; 1 is low; 5 is high. First, in your own words, define each quality trait; then defend your value position on the scale by writing a sentence explanation. Do you see other distinguishing character traits in Chanute? If so list them at the end of this activity.
Chanute's character qualities

1.

integrity

1

2

3

4

5

Define integrity: Value/Position defense:

2.

persistence

1

2

3

4

5

Define persistence: Value/Position defense:

3.

generosity

1

2

3

4

5

Define generosity: Value/Position defense:

4.

arrogance

1

2

3

4

5

Define arrogance: Value/Position:

5.

jealousy

1

2

3

4

5

Define jealousy: Value/Position defense:

6.

selflessness

1

2

3

4

5

Define selflessness: Value/Position defense:

7.

visionary

1

2

3

4

5

Define visionary: Value/Position defense:

8.

supportiveness

1

2

3

4

5

Define supportiveness: Value/Position defense:

9.

stubbornness

1

2

3

4

5

Define stubbornness: Value/Position defense:

10. Your observations of Chanute's traits:
18
---

Now that you know something about Octave Chanute and his contributions to the development of flight, you are ready to "take off" in a related yet important direction. Chanute lived during a time of intense research, development, and production of a number of life-changing inventions.
On the left is the name of the inventor. By circling a number from 1 to 5 (1 being low; 5 being high) determine the impact of the invention on society. On the right is the name of the inventor; decide if the inventor should be rated as a failure, a success, or something in between. Number 1 represents a failure; number 5 is a success. Justify your decision with a short paragraph explanation. If you need to research any of these inventions or inventors, list the source(s) you consulted for background information.
Invention

barbed wire

1

2

3

4

5

Joseph Glidden

1

2

3

4

5

Explanation:

Resource consulted:

air brake

1

2

3

4

5

George Westinghouse

1

2

3

4

5

Explanation:

Resource consulted:

automobile

1

2

3

4

5

Henry Ford

1

2

3

4

5

Explanation:

Resource consulted:

Telephone

1

2

3

4

5

Alexander G. Bell

1

2

3

4

5

Explanation:

Resource consulted:

phonograph

1

2

3

4

5

Thomas Edison

1

2

3

4

5

Explanation:

Resource consulted:
19
---

The following inventions are clustered into three groups: A, B, and C. Within each group six inventions from different time periods are listed. You decide which are the most important within each of the three clusters and number them from 1 (the most important) to 6 (the least important).
Next select the top 2 inventions from each of the clusters and write them in the space provided under cluster D. Assign a rank of importance to this group from 1 to 6. Be prepared to discuss the reasons for your ranking.
Now find out who invented each of these devices from your top 6 list. Develop a matching quiz where you list the inventor on the left-hand column with the invention on the right-hand column. Exchange your quiz with another student in class. Take each other's quiz, grade it, and discuss the results and the reasons why the lists are probably different for each student.
20
---


Those Magnificent Men in Their
Flying Machines: The Principles
of Flight
In this activity the class is divided into groups of 3 (triads). Each triad is to design its own airplane out of paper. Three types of paper should be available to the students to experiment with: typing, lined writing, and construction paper. After experimenting with each type of paper, each triad must select one of the three to enter into competition with other triad groups. Each triad has complete freedom to create its own unique design. After test trials are completed, each triad enters a final competition. Airplanes will be measured for total time in flight and distance.
After the competition, each group will be assigned a research topic covering some aspect of flight including: 1. How an airplane flies, 2. Flying an airplane, 3. Kinds of airports, 4. A general history of flight, 5. Early airships, 6. Military aircraft, 7. Airline companies. These topics should be presented orally to the class.
Quite a number of domestic and foreign airline companies exist. Students should take the following "Logo" quiz to see if they can recognize these companies by their famous trademarks.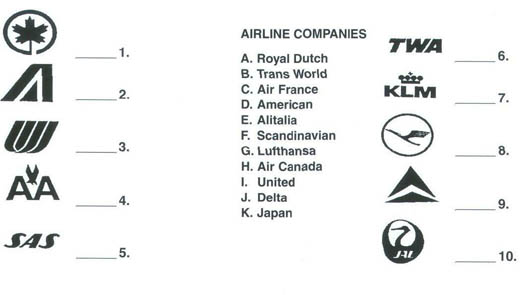 21
---


Getting to Rantoul and the
Chanute Aerospace Museum
This activity is designed to assist students in gaining a sense of direction and an awareness of local geography. Students are to closely study the following maps of the Rantoul area and answer the following questions:
What highways take you to Rantoul?

How many railroads go through Rantoul?

Is the airport north or south of Route 136?

What interstate highway is south of Rantoul?

From where you live, what direction is Rantoul?

What interstate highway is located west of Rantoul?

Is there a golf course near the airport?

What directions do the railroads run?

What is the most direct way to reach Aviation Center Drive?

From where you live, estimate the travel time to Rantoul.
_________________________________________

_________________________________________

_________________________________________

_________________________________________

_________________________________________

_________________________________________

_________________________________________

_________________________________________

_________________________________________

_________________________________________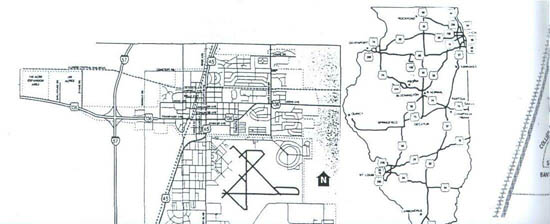 22
---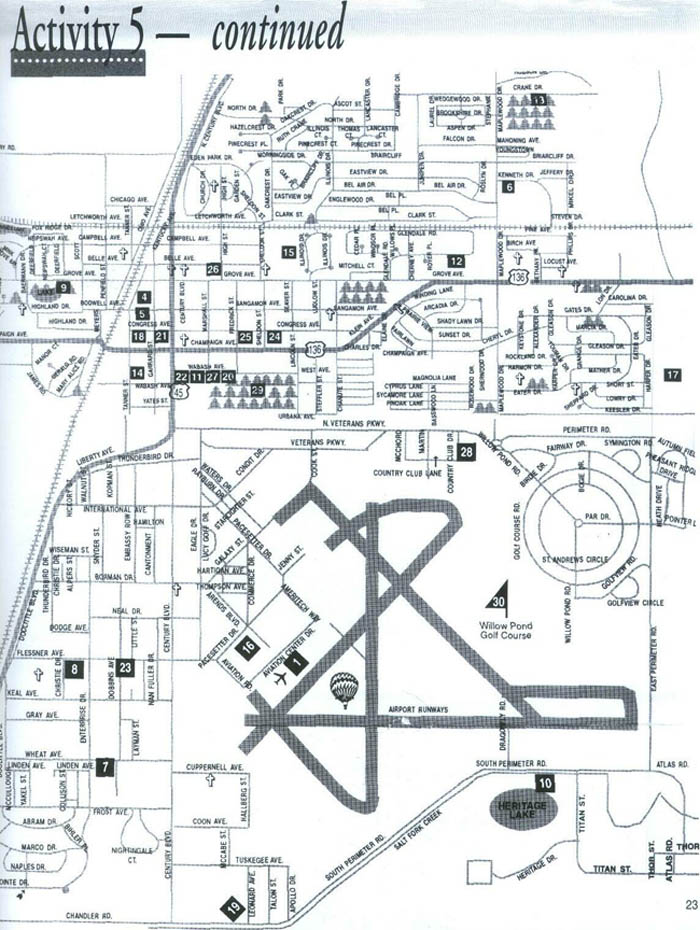 23
---

For Activity 4

Identification of airline
trademark logos.

H................1.

E ............... .2.

I ................3.

D............... .4.

F ............... .5.

B ............... .6.

A ............... .7.

G............... .8.

J ............... .9.

K .............. .10.

For Activity 5

Map questions.

136 and 45 ........ .1.

two ............. .2.

south .............3.

1-74 ..............4.

answers will vary .... .5.

1-57 ..............6.

yes ..............7.

east and west

north and south ......8.

Flessner Ave. ...... 9.

answers will vary ... .10.
Click Here to return to the Article
24
---