PEOPLE AND PLACES
Decatur Wins National Arts Award
The Decatur Park District received a 2001 Dorothy Mullen National Arts and Humanities Award from the National Recreation and ParkAssociation for its Performing Arts programs, which include the Decatur Park Singers, the Greater Decatur Chorale, the Summer Decatur Youth Band, Summer Strings Orchestra, the Park District Bell Choir, and a Summer Stock program for grade-school-age children. The Dorothy Mullen Arts and Humanities Awards Program honors the most innovative and effective arts and humanities programs across the nation. Through the national awards, recognition is given to both the importance of arts and humanities programs and to the leisure service agencies that provide them.
Four Illinois Agencies Receive National Marketing Awards
The National Recreation and Park Association announced the winners of the 2001 Kudos Award for excellence in marketing and communications. Illinois award winners include:
Elmhurst Park District
Best Recreation Catalogue
Schaumburg Park District
Best Short Film Promoting Recreation
Bensenville Park District
Best Web site / Home Page Promoting Recreation
Bolingbrook Park District
Best Overall Communicator


Florey Named to NRPA Board of Trustees
Roger Florey, a 24-year commissioner for the Rolling Meadows Park District and president of the Illinois Association of Park Districts, was named to the Board of Trustees of the National Recreation and Park Association, which is comprised of 69 citizen and professional members. Florey was elected to the Rolling Meadows park board in 1977 and has served as treasurer for 14 of those years and as board president four terms. Florey became active in IAPD more than 10 years ago and has served on a number of committees, chairing the Seminars Committee in 1995 and co-chairing the Joint Conference Committee in 2000. On a regional level, Florey has served on the Great Lakes Regional Council Board since 1996. He has been an active, participating member attending summer meetings, mid-year meetings and national Congresses. Florey was honored locally by the city of Rolling Meadows when he was named the Community Volunteer Leader of the Year in 1998 and received lAPD's highest commissioner designation in 1998 with the Board Member Achievement Award, Master Board Member. Florey is retired from Barco Manufacturing Corporation of Cary, Ill, where he worked for 44 years and served as president of the Local Chapter of 2125 International Association of Machinists for 28 years. He lives in Rolling Meadows with his wife, Sharon.

(Left to right) Phyllis Cossarek, Great Lakes Award Chair, Wilmette, Ill.; T. Destry Jarvis, executive director, NRPA: Ted Flickinger, Ph.D., IAPD executive director: Bettie Yahn Kramer, chairman. Great Lakes Regional Council, Blue Springs, Mo.
Flickinger Receives Professional Award
The Great Lakes Regional Council of the National Recreation and Park Association (NRPA) announced Ted Flickinger, Ph.D. as recipient of the Outstanding Professional Award for 2001. Flickinger is executive director of the Illinois Association of Park Districts in Springfield and a past president of the NRPA board of directors.
" As a professional, Ted has done more to mobilize citizens for parks and recreation than any other professional," said Walter Johnson, NRPA Great Lakes Regional Director. "He has attained nearly every professional honor in this nation because of his fine work."
The award honors a professional who has had a significant record in the parks and recreation field and who has actively contributed to the work of the NRPA and the Great Lakes Regional Council. Great Lakes is the largest regional council in the United States representing professionals in parks and recreation in an eight-state area, including Illinois.


Kessler Named IPRA President-elect
Elizabeth Kessler, superintendent of recreation for the Skokie Park District since 1994, was elected president-elect of the Illinois Park and Recreation Association (IPRA) board of directors. The term of president is a one-year commitment commencing January of 2003. Kessler received her B.S. with Honors in Recreation and Park Administration from Illinois State University and M.B.A. with Distinction from Keller Graduate School of Management. Kessler has served on the IPRA board since 1998 and the APRS board of NRPA since 2000. Kessler has served as a board liaison or committee chair for numerous IPRA committees including Finance, Technology, Continuing Education, Success Summit and Partners for the Future. Kessler has received numerous personal, program and agency awards which include IPRA Recreation Section's Young Professional Award (1992), Al Hattendorf Professional of theYear (1996), IPRA Meritorious
September/October 2001 45
---
Service Award (2000) and the President's Award (2001). Kessler was most recently named one of three finalists in the nation for the George P. Doherty Award for academic excellence and leadership from the Keller Graduate School of Management. She lives in Mundelein with husband Dr. Kenneth Kessler a Licensed Clinical Psychologist and sons Christopher, age 12, and Andrew, age 7.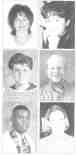 2001 Student Scholarships Winners
The IPRA College and University Relation Committee announced the winners of its 2001 educational grant/scholarship program designed to assist individuals in furthering their educational endeavors. Scholarships up to $1,500 were awarded to six students from four universities. Applicants were judged on academic achievement (minimum 2.5/4 or 3.13/5 grade point average), related professional experiences, leadership, and demonstration of professional involvement. Funds raised from the Silent Auction at the annual IAPD/ IPRA Annual Conference go toward the scholarships. (Award winners pictured left to right) TOP: Mary P. Crout, University of St. Francis, senior from Chicago Ridge; Tricia Brooke Jamison, Western Illinois University, a graduate student from Carthage, Ill. MIDDLE: Holli L. Rapp, Illinois State University, a senior from Mendota; Nathan A. Schaumleffel, Southern Illinois University, a Ph.D. candidate from Carbondale, Ill. BOTTOM: Charles Thomas Weldy, Jr., Western Illinois University, a senior from Peoria; Anna M. Wollin, Southern Illinois University, a senior from St. Peter.


Dan Schimmel, CPRP, was recently appointed as director of recreation and facilities for the Buffalo Grove Park District. Schimmel was promoted from the position of-superintendent of recreation, a position he had held since 1990. His new position includes oversight of all recreation programs and facilities as well as community relations and strategic planning. He is an active member of IPRA and NRPA and currently serves as the chairman of the IPRA Mentor Committee. Before joining Buffalo Grove, Schimmel was the superintendent of recreation for the Hanover Park Park District.


Sue Beard, CMP, was hired as the director of education for the Illinois Association of Park Districts. Beard will serve as conference manager and be responsible for all IAPD educational programs. Previously, Beard was sales manager for the Westin Peachtree Plaza in Atlanta, Ga., the tallest convention hotel in North America. Beard has more than 10 years of experience at major U.S. hotels and resorts and has honed skills in contract negotiation, conference and event management. Among her accomplishments, Beard has managed meeting space and events related to the 1996 Summer Olympics and Super Bowl XXXV She is a Certified Meeting Planner with a Bachelor of Arts degree in Business with a Major in Hotel, Restaurant and Institutional Management from Michigan State University. Beard has childhood roots in Illinois; she was born in Oak Park and attended grade school and high school in Park Ridge.
Theresa Shields joined the Special Recreation Association of Central Lake County (SRACLC) staff as a recreation specialist. Shields holds a B.S. in Recreation Administration with a Therapeutic Recreation Option from Eastern Illinois University. Shields is the association's day camp coordinator. She is also in charge of Senior and Youth programs. Shields completed her fieldwork at SRACLC while still in college and performed a variety of duties for the Association. She then went on to do her internship at Missouri Rehab Center where she planned and led activities for patients with traumatic brain injuries.
Heather Stark joined the staff of the Special Recreation Association of Central Lake County (SRACLC). She is responsible for Youth and Adult Special Events and is the association's risk management coordinator. Stark graduated from Eastern Illinois University with a B.S. in Recreation Administration choosing the Therapeutic Recreation Option. During college, She interned at the Accolade Adult Daycare Center, where she planned and led activities for Adults with Alzheimer's disease. Previously, she worked at the West Suburban Special Recreation Association as a recreation program leader.
Todd Ranum, PPRP, joined the Palatine Park District as athletic coordinator. Ranum is responsible for planning, organizing, implementing, supervising, and evaluating of all district-sponsored sports and athletic programs and leagues. He holds a B.S. in Recreation Administration with a minor in Business Management from Eastern Illinois University. Ranum also is a certified clinician with the National Youth Sports Coaches Association (NYSCA). He previously was employed at the park districts of Medinah and Decatur.
Dr. Gwendolyn Rogers retired as the Chicago Park District directory of community relations. During her tenure, Dr. Rogers distinguished herself as a leader and bridge builder. She convened a number of public/private partnerships that brought together citizens from across the city to work
46 Illinois Parks and Recreation
---
Dick Goss is a Friend of the Joliet Park District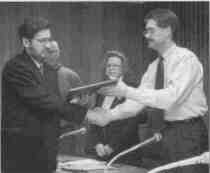 Dick Goss (left) receives an IAPD/IPRA Community Service Award from the board of the Joliet Park District.
For more than 20 years, Dick Goss, sports editor of The Herald News, has covered local sports and recreational activities in the Joliet area. The Joliet Park District nominated Goss for a 2001 IAPD/IPRA Community Service Award because local sports outlets, such as the park district, have benefited from the local sports coverage in the newspaper. The news stories regarding community sports continue to garner interest in these important activities.
Tell us about your friends.
People from all walks of life are making a difference in parks and recreation. These "friends" make monetary contributions, give their time to clean-up parks and forest preserves, teach classes or coach sports teams. Tells us about friends of your agency and we'll publicize them in this space.
Friends of Illinois Parks is a nonprofit organization that strives to involve more citizens statewide as friends in these ways and others, such as legislative advocacy. To learn more about Friends of Illinois Parks, call toll-free 1-877-523-4558 or see www.ILparks.org.

together to achieve a common goal. Her accomplishments include her leadership work in securing support for the Garfield Park Conservatory, Osaka Garden, Perennial Garden, the Cecil Partee Golf House and many other projects in numerous parks. In 1995, Dr. Rogers received the city's highest award for the employees: The Kathy Osterman Award "in recognition of her superior public service as an outstanding executive employee." From 1955 until 1981 Dr. Rogers worked as a teacher and administrator with Chicago Public Schools. She left to become the director of the Chicago Urban League's Education Department. After 12 years of distinguished service, Dr. Rogers was appointed director of the Chicago Park District's External Affairs Department in 1993.
Michael Scott, Chicago Park District board president, was appointed by Mayor Richard M. Daley as the president of the Chicago Board of Education. Scott was appointed to the park district board in 1992 and became president in 1999. During his tenure, Scott increased M/WBE participation, assured equal funding for parks in all areas of the city and played a pivotal role in the revitalization of the Garfleld Park Conservatory. Scott is vice president of Local Government Affairs for AT&T Broad-I band. Those not familiar with his name are nonetheless touched in myriad ways by his many high-profile accomplishments. For example, he organized and effectively branded such key events as the Taste of Chicago, Chicago Gospel and Jazz Festivals, Mayors Neighborhood Festivals, Mayor's Inauguration Ceremonies, Bishop Tutu's historic visit to Chicago and the unforgettable Chicago Bears Superbowl Championship Celebration.
September/October 2001 47
---
Jamie Anderson has been promoted to deputy director of Beaches and Pools for the Chicago Park District. As head of the department, Anderson will manage 1,000 lifeguards stationed at the district's 32 beaches and 94 indoor and outdoor pools. Anderson began his career as a seasonal lifeguard for the district in 1976, and during his 25 years of service has worked every position in the Beaches and Pools unit. He moved up the ranks as a senior lifeguard, supervising lifeguards assigned to the park's busiest sites. Over the past year, Anderson served as the district's aquatics supervisor overseeing district-wide programs, trainings and events. Anderson received his B.A. in Criminal Justice from Northeastern Illinois University.
Matt Marino was promoted to deputy director of Health and Physical Activities, responsible for the budgeting, staffing and development of the department, managing a staff of 13. Marion will supervise a variety of programs including city-wide sports, therapeutic recreation programs, fishing, Sports 37 and Federal CHA programs while also conducting sports training institutes for the districts 250 staffed locations. Marino has been with the park district since 1997, holding positions as parks operation manager, area manager and facilitator for the Neighborhood First Program. Previously, he served as a teacher trainer in Fiji for the U.S. Peace Corps and was the superintendent of recreation and facilities for the Prospect Heights Park District. Marion has a B.S. in Leisure Studies from Northeastern Illinois University.
Lionell Martin joins the Chicago Park District as a marketing communications manager for the Central Region Parks. Martin will assist 54 parks with marketing communications, event planning and permits. He began his media career in 1993 in promotions and programming for WJBT Radio in Jacksonville, Fl., and served as an on-air personality for WIDB Radio in Carbondale, Ill. He was the executive director of Concerts and Comedy at Southern Illinois University, promotions manager for Fox/ UPN Television in Cape Girardeau, Mo., and most recently production manager for Nitram Entertainment and Marketing Group in Chicago. Martin is a Desert Storm veteran who served in the U.S. Navy for three years. He received his B.A. in Mass Communications from Southern Illinois University and is a member of a number of affiliations including Blacks in Communication Alliance, American Business Association and a NAACP and Red Cross volunteer.
Colleen Muller joined the Chicago Park District as Lakefront director. Previously, she was an associate with the law firm, Meckler, Bulger and Tilson. Before attending law school, Muller spent seven years working with the city of Chicago as marketing manager in the Chicago Office of Tourism, assistant to the director of Protocol for the Mayor's Office of Special Events and assistant scheduler/advance for the Mayors Office. Muller graduated from Loyola University of Chicago School of Law and holds a B.S. in Business Administration from Miami University in Oxford, Ohio.
Melissa Wharton joined the Chicago Park District as a marketing communications manager for the North Region parks, where she will provide support for 65 parks in the areas of marketing, sponsorship, public relations and event management. Wharton has worked in her field for a number of years, most recently as an account supervisor for Dome Communications in Chicago. Previously, she managed commercial real estate accounts as a senior account executive for Brukoff-Chaffee Marketing Communications, was the production/traffic assistant for Dallas-based Marcoa Publishing, and was production editor for Chicago's Duff & Phelps Credit Rating Co. Wharton has a B.A. in sociology from Trinity University in San Antonio, Texas.
Ann N. Ziolkowski joined the Chicago Park District as marketing communications manager for the Lakefront. In this position she will provide marketing, public relations and sponsorship support to 25 parks and assist with a variety of city-sponsored special events along the lakefront. Previously, Ziolkowski held positions as communications manager at the Schaumburg Park District and public relations supervisor at the Northbrook Park District. She currently serves on the board of regents for the National Recreation and Park Association Pacific Marketing School and is an IPRA Communications and Marketing Section director. Ziolkowski has also served as an IPRA board representative and presented and chaired various IPRA conference sessions. She received her B.A. from Western Michigan University with a dual major in Communications and English.
Sue Markgraf was named public relations manager for the Chicago Botanic Garden. Markgraf has 18 years of experience in journalism and communications. Her background includes newspaper and magazine experience, as well as public relations positions in education, non-profit, corporate and agency settings. Most recently, Markgraf was a managing supervisor with Fleishman-Hillard/Chicago. Previously, Markgraf was director of corporate communications at Dairy Management Inc., the dairy producer-funded organization that manages the National Dairy Council, the American Dairy Association, and the U.S. Dairy Export Council. An award-winning journalist, who began her career at Chicago's Lerner Community Newspapers, Markgraf also covered the dairy processing industry as news editor with Dairy Foods magazine, a leading trade publication. Markgraf has written numerous free-lance articles for leading newspapers and national publications.
48 Illinois Parks and Recreation
---
- LETTER TO THE EDITOR -
It appears that new and exciting times are upon us. The new executive director of our National Recreation and Park Association has the Great Lakes region very excited about his visionary ideas and plan to make them work. We are very fortunate one of our very own has recently been installed as director of the National Parks Service. For a change, the director of the National Parks Service has an understanding of what park and recreation services are all about.
I think we will be able to experience some excellent cooperative measures between the National Park Service and the National Recreation and Park Association in the coming years.
It is a very exciting time. The younger people coming up through the ranks of public parks and recreation, in my opinion, have some tremendous opportunities ahead. I think, and I hope, the days of our preaching the "benefits" of parks and recreation to ourselves are over. I hope the days of books and pamphlets written at our expense by authors with zero practical experience in providing recreation and park opportunities are over.
Jerry Handlon Director, Schaumburg Park District
---
Countdown To America Recycles Day

Thursday, November 15, 2001 marks the fifth annual celebration of America Recycles Day, a day set aside to increase public awareness of the social, economic and environmental benefits of recycling and buying recycled-content products. In Illinois, consumers are encouraged to "Rededicate Yourself to Recycling." Local America Recycles Day (ARD) coordinators who register their promotional events with the national ARD and the Illinois Recycling Association (IRA) are eligible to win cash and a laptop computer.
For more information about holding an event, contact the Illinois Department of Commerce and Community Affairs.
To be eligible for prizes, events must be registered on the Illinois Recycling Association Web site (www.ilrecyclingassn.org).
For more information, contact Ron Swager, 217.785.3498, rswager@commerce.state.il.us.
The Elmhurst Park District announced the promotion of four candidates at The Courts Plus fitness facility: Nancy Fraveletti (Administrative Services), Greg Utaski (Operations Manager), Carolyn Kelley (Kids Plus Supervisor), and Pam Stoike who was promoted from Programming Manager to Fitness and Racquet Sports Manager. The park district congratulates its employees on their promotions.
Dmitry Feofanov has become a partner in the law firm of Brooks, Adams and Tarulis. Feofanov concentrates his practice in auto lemon law, consumer fraud and litigation. He has been associated with the firm since 1996 and previously was a law clerk for the Iowa Supreme Court and the Illinois Appellate Court, 4th District. Feofanov also is an internationally known pianist and musicologist. He is a graduate of the Musical College of the Moscow Conservatory, University of Illinois, and Chicago-Kent College of Law.
Sharmila Roy has become associated with the law firm of Brooks, Adams and Tarulis. Roy's practice includes appellate, corporate, and employment law. She has a M.S. in Physics from Rutgers, a Ph.D. in Education from the University of Texas at Austin and a J.D. from the University of Arizona in Tucson. She was formerly a judicial clerk for Justice Feldman of the Arizona Supreme Court, an Illinois Assistant Attorney General, and a law professor at Chicago-Kent College of Law and at Chapman University School of Law in Orange, California.

Lori Magee, APRP, joined the Buffalo Grove Park District as the public relations and marketing manager. A Bartlett resident, Magee received her education in International Business/French & Russian from Youngstown State University, Youngstown, Ohio. Her most recent position was as the communications and marketing supervisor for Streamwood Park District, where she received the 2000 NRPA award for "Best Overall Communicator" at the NRPA Congress in Phoenix, Az. Her responsibilities include the promotion of the programs, facilities and events at the district. She is a member of the Chicago Marketing Association, Publicity Club of Chicago, SPRA, IPRA, NRPA, and is also active in the IPRA Communications & Marketing Section as the Mentoring Committee chairman and as secretary for the Suburban Park and Recreation Association.


John Short, CPA, joined the Buffalo Grove Park District as the business manager. A resident of Palatine, Short received his bachelor's degree in Economics from Ripon College, Ripon, Wis., and earned an MBA in Finance from De Paul University, Chicago. His most recent position was at the Association for Government Accounting, Inc., a firm that provides accounting services for park districts and other units of local government. His
September/October 2001 49
---
responsibilities include the supervision of the accounting department, preparation of the annual budget and management of park district investments. He is a member of IPRA, GFOA, and the Illinois CPA Society.

Kim Cashmore, CPRP, was promoted to superintendent of recreation at Buffalo Grove Park District. Cashmore previously served the district as a recreation supervisor, and was promoted to division manager in 1995. Before coming to Buffalo Grove Park District, she was an area coordinator for Northwest Special Recreation in Rolling Meadows. Her responsibilities at Buffalo Grove Park District include overseeing the Fine Arts and Camp programs as well as all General Interest programs. She is actively involved with the Suburban Park and Recreation Association (SPRA) as the Membership/Directory committee chairperson and is a member of both IPRA and NRPA.


Ryan Risinger, CPRP, was promoted to superintendent of recreation at Buffalo Grove Park District. Risinger received his B.S. at Illinois State University in Recreation Administration, and completed his internship at Buffalo Grove Park District in 1992. He was hired by Buffalo Grove Park District in the fall of 1992 as a recreation supervisor and was promoted to division head in 1995. His responsibilities at the park district include overseeing the MIS/Technology division and Athletic Department personnel. A Grayslake, Ill., resident, Risinger is a member of SPRA, NRPA, and IPRA, where he serves on the Mentoring Committee.
Chicago Park District Creates New Department of Natural Resources
In an effort to better serve the needs of the general public, the Chicago Park District has created a new division, the Department of Natural Resources. The Department will focus on the beautification and landscaping of the parks citywide while working with other departments on programming coordinating programming and events at outdoor locations.
"In the past we had our landscaping teams split up throughout the parks, working individually on projects as needed," says Chicago Park District General Superintendent David Doig. "The new Department of Natural Resources gives us a core group of highly trained staff that can work together with other departments to develop large scale landscape initiatives, help local park staff understand and meet their landscape needs, and create standards and educational opportunities for an elevated landscape program. We see the new department as the flagship of the Chicago Park District serving the very basic, but most essential, areas of the parks." The new department has six core areas staffed with highly accredited landscape and gardening professionals.
Landscape Operations Support: This team is headed by two operation support managers to work as liaisons with the local parks landscaping teams to monitor on-going projects and contracts with outside agencies. They also help park supervisors and communities in the field to understand their landscaping goals and meet them. This division will also head up the park district's new pilot program Keeper of the Parks.
Natural Areas: A Natural Area Manager will oversee the design and management of the Chicago Park District's 50 natural areas, including lagoons, Nature Gardens, Bird Sanctuaries, River Edges and special locations like the West Pullman Park Savanna, Ridge Park Wetland and Winnemac Park Prairie.
Conservatories: Director of Conservatories manages both the Lincoln Park and Garfield Park Conservatory. Both historic conservatories are in the midst of rather extensive restoration projects including heating, glass replacement and overall capital improvements. The conservatories are also developing programming and special events to attract more visitors to the architecturally significant structures.
Floral: The Horticulture team manages the district wide floral design for the Park District. Working with contractors the floral team is developing a comprehensive program to upgrade the look of the many gardens throughout the city.
Forestry: The forestry team is an essential link for local parks assisting with tree assessment and removal. The division manages a tree inventory database that includes thousands of trees, logging every tree in a park in the city.
Training and Development: The goal of the Chicago Park District is to become the source for landscape and natural areas information with the best staff and practices in the field. To help reach those goals the Department of Natural Resources has created the Training and Development Division with a Professional Development Manager. This division will help regional staff by coordinating professional training opportunities and certification classes for landscape staff, making them aware of opportunities to learn more about their field.
PARKS & Illinois RECREATION
2002 Editorial Calendar
Writers guidelines are available on the Web at www.liparks.org OR by calling editor Ann Londrigan at 217.523.4554. ADVERTISING RATES also are available on the Web OR by contacting rep Donna Massey, 847.657.6700 donnam@tcag.org
January/February
Skate Parks

March/April
Golf

May/June
Personnel Issues

July/August
Water Resources

September/October
Local Government's New Look

November/December
Economics of Parks and Recreation
50 Illinois Parks and Recreation
---
Thanks to IPRA's Advil Western Open Volunteers
The Illinois Park and Recreation Association would like to thank its nearly 400 volunteers who helped to make the Advil Western Open Golf Tournament a huge success. This event, held July 2-8, 2001 at Cog Hill Golf & Country Club in Lemonr, 111., drew an outstanding field of golfers who competed for more than 3.7 million dollars in prize money. The proceeds from the tournament benefit the Evans Scholars Foundation, which has provided a college education to more than 7,000 high school students and former caddies.
IPRA volunteers staffed the player's shuttle and media tent and worked in the clubhouse, hospitality areas, gates and ticket operations greeting the 200.000+ spectators who entered the grounds. Sue Bear (M-NASR) and Karen Kiester (River Trails Park District) were the co-chairs of IPRA's Western Open Committee which coordinated nearly 5,000 hours of volunteer service at the event. A majority of IPRA's volunteers have participated in past tournaments and based on a recent post-tournament survey, over 99 percent of IPRA's volunteers want to be contacted about participating in next years event.
"Having an IPRA volunteer force that we can count on is an extraordinary benefit to the Tournament," said John Kaczkowski, tournament director. "Their organizational and people skills have improved our efficiency and our public relations. We look at these volunteers as our tournament ambassadors."
---
Give Us Your Best Shot By Oct. 15!

Send in your best photographs from this summer and fall for the 2001 Illinois Parks & Recreation "Give Us Your Best Shot" photo contest. First and second place honors will be awarded in four categories: Recreation, Sports, Nature, and Wildlife. Entry deadline is October 15, 2001. For guidelines and a look at last years winners, go to www.ILparks.org/ pubmagazine.htm. Or call IAPD or IPRA to request a copy of the 2001 rules.
Apply Now for a Commissioner Scholarship
Are you unable to attend a commissioner training program because you can't afford it?
IAPD has scholarships available for commissioners to attend the following training programs:
• 2001 IAPD Legal Symposium, Nov. 8, Hamburger University, Oak Brook
• 2002 IAPD/IPRA Annual Conference, Jan. 24-26, Hyatt Regency Chicago
• 2002 IAPD Legislative Conference, April 23-24, Springfield
Scholarships are funded through the Donald F. Bresnan Commissioner Scholarship Fund, which was established this year to promote commissioner education and recognize Don Bresnan (1922-1999), a 36-year board member for the Champaign Park District and an advocate for commissioner training.
For an application, call IAPD.
September/October 2001 51
---
Legislative Awareness Day Golf Outing 2001
On a gorgeous summer day, Friday, July 19, more than 200 golfers took to the course in the popular, annual Legislative Awareness Day Golf Outing at the Bensenville Park District's White Pines Golf Course. The event is presented by the Illinois Association of Park Districts and the Illinois Park and Recreation Association, with more than 40 corporate sponsors. The IAPD/IPRA Joint Legislative Committee is the major planning group for the event, which is designed to give Illinois legislators and their park district and forest preserve constituents the opportunity to get acquainted and have fun playing golf.
52 Illinois Parks and Recreation
---