Yule Love It
If you have cabin fever, White Pines is the place to be.
STORY BY LIZ PENSONEAU
It's a cold wintery day in December—the perfect time to snuggle up next to the fireplace with a good book inside your own log cabin. Say what? You don't have a log cabin—or even a fireplace? Well, White Pines Inn at White Pines Forest State Park can solve these problems—at least temporarily.
The northern Illinois site is a two-hour drive from Chicago or a four-hour trip from our state capital, and a visit is worth every minute it takes to get there. You can enjoy quiet moments inside one of the park's 25 charming, one-room log cabins at a spot so beautiful it rivals Maine. The food at the inn is great, and there's even a dinner theatre that draws rave reviews.
Scrooge the Comedy, a White Pines tradition now in its 13th year, stars Rick Johnson from Bartlett as Scrooge. At press time, reservations still were available for some holiday performances.
(Photo courtesy of Beth Henderson, White Pines Inn.)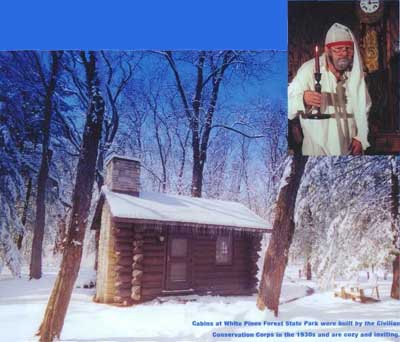 Cabins at White Pines Forest State Park were built by the
Civilian Conservation Corps in the 1930s and are cozy and inviting
---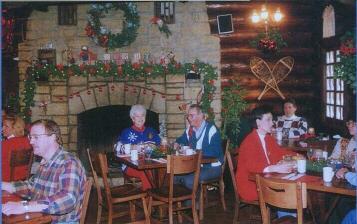 (Photo courtesy of Beth Henderson, White Pines Inn.)
Appropriately decorated for the holidays, the festive restaurant White Pines Inn is noted for its excellent food and dinner theatre performances.
That's the good news. The bad news is that the extremely popular lodging complex closes for the winter the Sunday before Christmas (reopening the first Friday in March). And to ensure dinner theatre reservations and lodging accommodations during the holidays, a person needs to book them well in advance—like early in the year. With this realization in mind, it's not too early to start making plans for your 2002 holiday getaway.
Interested? Let me tell you more!
The Park
Nestled in the heart of the Rock River Valley, 8 miles west of Oregon, the 385-acre state park is best known for its serene beauty, its pine forest and the unique concrete fords that were built to cross its streams. Unsuspecting drivers are oftentimes startled to find water flowing across the roadway and are hesitant to "ford" the crossing until they realize it will be a safe passage.
The park is open year-round and lends itself to a variety of activities, one of the most popular of which is bank fishing at Pine Creek for smallmouth bass and channel catfish. Each spring, the creek is stocked with rainbow trout, and trout fishing becomes a popular pastime. Fishing for bullhead, bluegill, carp and suckers also is an option.
The park is a haven for picnickers with its shaded picnic areas along Pine Creek, fireplaces, tables and playgrounds for the children. Two of the four shelters can be reserved for an advance fee of $20, and two are available on a first-come, first-served basis.
Camping is a year-round activity at the two family campgrounds, Cedar Ridge and Sunny Crest. Cedar Ridge offers 33 designated campsites, all of which can be reserved, including two that are handicapped accessible. (Reservations are advised during the holiday weekends.) Sunny Crest has 72 campsites available on a first-come, first-served basis, and four are handicapped accessible. The campgrounds are Class B/S, which means there is vehicle access, but no electricity.
Both campgrounds share a shower building located at Cedar Ridge.
"Camping is allowed year-round, but when it freezes hard, people have to walk in as the campgrounds are closed to vehicular access," said Site Superintendent Alan Steele, who has been at the park for 28 years. "We also close them in the spring when the ground is too soft. That usually occurs from mid-March to mid-April."
Steele pointed out that White Pines also has two youth campgrounds, Fox Canyon and Spring Creek, offering 15 and six sites respectively. Both are adjacent to a scenic limestone bluff. Reservations are recommended for both youth campgrounds in the spring and fall.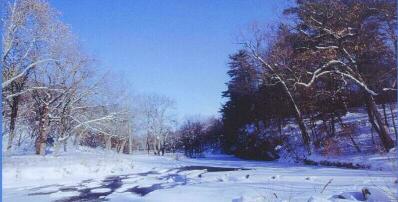 Steele said campground reservations can be made through the mail or in person at the park office. He strongly recommends reservations for large groups who want to be placed together and said the White Pines web page has an application form that can be printed out and mailed, or one can be obtained by calling (815) 946-3717.
A problem that historically has plagued the park is the flash flooding of Pine Creek.
A winter snow results in a scenic panorama at White Pines Forest State Park near Oregon.
(Photo by Adele Hodde.)
---
(Photos by Chas. J. Dees.)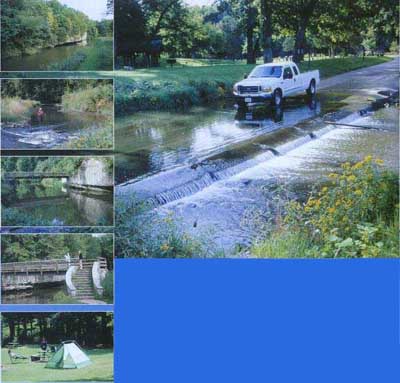 Driving across the ford is a unique experience for many visitors to White Pines State Forest, which is a popular spot for hiking, fishingand camping
"Pine Creek drains a large watershed up north," Steele said. "We have to close the fords frequently, so we have an emergency exit from the campgrounds." (When the fords flood, those in the campgrounds are sealed off from the main entrance and must use the emergency road to exit the park.)
"The stream is real deceiving," said Steele. "You can't imagine the havoc it can wreak. We have to close the gate.... We also have an emergency exit at the lodge."
Back to Nature
Nature lovers will enjoy a visit to White Pines Nature Preserve, which is located on the east side of the park and encompasses 43 acres. In September, at the time of its dedication, it was recognized as Illinois' 300th nature preserve. Areas dedicated as nature preserves may be used for wildlife viewing, hiking and nature photography.
White Pines Nature Preserve is the only state-owned upland forest that has native white pine as a forest component. It contains the largest remaining tract of naturally occurring white pine in Illinois. Dolomite cliffs in the preserve provide habitat for rare plants, including the Canada yew and sullivantia, a state-threatened species.
As for wildlife, deer, turkey and small mammals, such as red squirrels, chipmunks and raccoons thrive in the undergrowth, and pine thrush and warblers can be found in the trees. Flocks of migratory northern birds can be seen in the winter.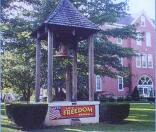 Worth noting
Aside trip to Mount Morris's town square will give you a view of Illinois' official Freedom Bell. Thousands gather around the replica of the Liberty Bell each year at 1 p.m. on July 4th, when the bell is rung in celebration of America's freedom.
Also nearby is the restored boyhood home of President Ronald Reagan. Open April through November, the house is located at 816 S. Hennepin Ave. in Dixon.
---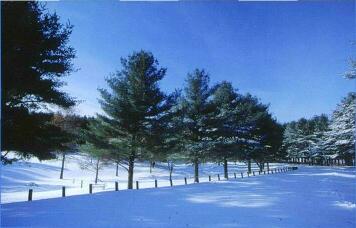 Trailing Along
Guests at the White Pines Inn will find it very convenient to enjoy five of the park's seven trails, since they depart from the lodge and cabin area. The other two have trailheads at the picnic area. Five of the seven trails are less than a mile long and provide ample opportunity to see the beautiful vine-covered limestone bluffs, blossoming spring flowers and whispering pines.
History
A love affair with Ogle County's white pine forest, then known as the Pines, began with the first settlers to the area and it hasn't changed much since.
According to a document about the history of the park that was supplied by Site Superintendent Steele, the idea for having the region's most southernmost stand of native white pines preserved as a state park was placed into action in 1903 by the Oregon Womens Council, which obtained the support of two state representatives, J.P. Wilson and Johnson Lawrence. The legislators' bill called for an appropriation of $30,000 to purchase 300 to 400 acres for the state park. Governor Yates vetoed the bill, viewing the purchase as unaffordable.
Information you can use:
Address: White Pines Forest State Park Office, 6712 W. Pines Road, Mount Morris, IL 61054
Telephone: (815) 946-3717
Website:http://dnr.state.il.us/lands/land-mgt/PARKS/whitepns.htm
Hours: The park is open year-round, 8 a.m. to sundown.
Winter sports: Two trails are groomed for cross-country skiing, and sledding is popular on the steep hills at the campground.
Snowmobiling: Not allowed
Hunting: Not allowed
Special Attractions: Tree-identification area; the fords
White Pines Inn and Gift Shop Address: White Pines Inn, 6712 W. Pines Road, Mount Morris, IL 61054
Telephone: (815)946-3817
Website: http://www.whitepinesinn.com

White Pines Dinner Theatre: Billed as "afternoon matinees for those who enjoy nostalgic musicals, charming entertainers, lots of laughter and delicious food served in a log cabin lodge."
Performance schedule: Visit the inn's website or write for more information.
Directions: From the crossroads of highways 2 and 64 in downtown Oregon, go south on Highway 2 to the stoplight. Turn west (right) on Pines Road and go 6 miles west to the park entrance. Detailed maps appear on the inn's website, listed above.
The "Pines Wood Bill" was introduced several times without success between the years of 1903 and 1927. In 1912, the state purchased Starved Rock State Park—a move that reportedly frustrated supporters of the Pines movement. But in 1927, after proponents obtained the support of the Chicago Tribune and WGN Radio, Gov. Len Small moved to buy the Pines for $63,949.
By 1933, the country was in the middle of the Great Depression, and the Department of the Interior developed a program called the Civilian Conservation Corps (CCC), whereby the National Park Service, in cooperation with state government, would put unemployed people back to work doing construction work.
At White Pines, the main project was to be the construction of a lodge building, and as many as 200 men were hired at one time between 1933 and 1939. Many of them were World War I veterans. Once the lodge was completed, the depression was still ongoing, so it was decided that a restaurant and breezeway addition would be added to the lodge.
Logs for the project, western red cedar and douglas fir, were brought in from the states of Oregon and Washington on railroad flat cars. Some were so long they required two consecutive flatcars. Logs were unloaded at Stratford, 2 miles west of the park, and dragged to the site by teams of horses.
The crews also constructed 13 single-room log cabins and three four-bedroom cabins for overnight use. The materials for cabin construction came from a salvage company that had purchased poles from a bankrupt utility company that were available for 30 cents each. Also constructed were picnic shelters, trail shelters and foot bridges.
In the 1930s, as many as 10,000 people reportedly visited the park on given weekends. In 1958, a record-setting attendance of 874,000 was documented. Today, annual attendance is estimated at approximately 400,000.
---