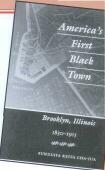 | | |
| --- | --- |
| | Small town, big vision |
America's First Black Town: Brooklyn, Illinois 1830-1915
Sundiata Keita Cha-Jua
University of Illinois Press, Chicago
2000, 276 page
Cloth $37.50, Paper $19.95
By Vibert White
Dr. Sundiata Keita Cha-Jua, Associate Professor of History' at Southern Illinois University at Edwardsville, transformed his dissertation into America's First Black Town: Brooklyn, Illinois 1830-1915. In it he reviews and critiques the early development of an African-American township in the southwestern section of Illinois. Utilizing Marxist ideological principles to explore race, class, and sex dynamics, Cha-Jua maintains that while Brooklyn was founded on the ideals of race solidarity, nationalism, and self-determinism, it was undermined by white racism, black conservatism, and internal political corruption.
The story of Brooklyn, Illinois, is a vital review of how and why African Americans searched and founded villages and later municipalities in the 19th century. However, different from many African Americans who sought freedom from white bigotry to western expansionist communities such as Nicodemus, Kansas, blacks who migrated to what became known as Brooklyn were attracted to the possibilities of working in an industrialized settlement that would enjoy race autonomy and self-determinism. The author clearly illustrates how and why Afro-Brooklynites saw their community, not just as an experiment in self-rule and democracy, but rather as an example of how a black community can survive and succeed as an industrialized town in a nation that endorsed slavery, segregation, and discrimination.
Cha-Jua uses a revisionist approach in the definition of what made Brooklyn a black town. For instance, contrary to Juliet Walker's Free Frank: A Black Pioneer on the Ante-Bellum Frontier (University of Kentucky Press, 1983), which declared New Philadelphia as the first black incorporated village in Illinois, Cha-Jua observes that, just because a black person founded a community does not make that settlement black. Instead, an ethnic city is one that is controlled, led, and promoted by the majority of the ethnic population residing in that quarter. As articulated by the 1960s black militant Stokely Carmichael (Kwame Toure), a black town is based on black political, economic, and social power. Thus, within this scope, Cha-Jua argues, that Brooklyn was the first "real" black town to develop in the United States. But, this brings forth a serious issue and concern not fully explained in the book. If blacks searched and founded a black city, why did leaders in Brooklyn so often attempted to dismantle their own power.
Cha-Jua maintains that while Afro-Brooklynites valued the federal government's policies to promote the rights of African-Americans in the passage of the 13th, 14th, and 15th Amendments while condemning state laws that discriminated against blacks in Illinois, they allowed the minority white residents of Brooklyn to establish a segregated school system in 1894. The white citizens who disproportionately owned the majority of the city's businesses, real estate, and home-ownership had become the real powerbrokers in Brooklyn. Thus, the actions of the black political leaders to allow for city apartheid were not logical for a city that "endorsed" civil rights activism.
Cha-Jua attributes the black citizens' decision to the ideals promoted by Booker T. Washington, whose non-confrontational conservatism represented the general thrust of the African-American population. However, looking at the pattern of corruption in the body politic in the late 19th and early 20th century, it appears that black leaders might have allowed themselves to be exploited and manipulated for personal gratification.
In 1896, the U.S. Supreme Court allowed for national segregatory laws when it ruled in Plessy v. Ferguson that "separate is equal." The ruling essentially made black Americans second-class citizens, which meant that whites could treat their dark neighbors in any manner or fashion as they chose. Extra legal activities increased, which allowed for scores of race wars and thousands of lynchings within the first twenty years of the new century. However, Brooklyn, a town that was disliked by the white power structure within the state of Illinois, was not consistently confronted by racial conflicts and riots. Why?
Cha-Jua examines this issue in vivid detail by recounting the isolated but brutal lynching of David F. Wyatt, a black accused of murdering a white man whose death was avenged by thousands of whites in 1903. The question remains, however, given the state's hostile history toward black Americans between 1830 and 1915, why there were not more assaults on the city's black residents.
The author explores other interesting subjects, such as black independent political parties, progressivism, migration, social family development, and the role of black women in the development of Brooklyn, giving us the most thorough work on black community development to date. Cha-Jua's Brooklyn is a refreshing look at the unique ways blacks found to fight the forces of bigotry and hatred on their quest for the American Dream.
Vibert L. White ]r. is Associate Professor of African-American Studies at the University of Illinois at Springfield and the author of "Inside the Nation of Islam: A Historical and Personal Testimony of a Black Muslim." He is also engaged in the research of New Philadelphia, Illinois, one of the first black incorporated cities in the United States.
ILLINOIS HERITAGE 17
---