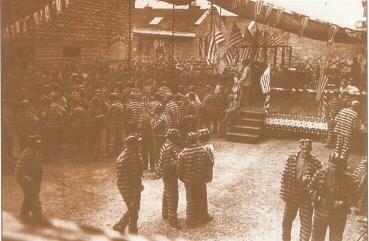 Prison grounds, 4 of July Celebration, circa, 1905.
The ghosts of Joliet
The Illinois State Penitentiary at Joliet closed in January 2002, but the institution's shadow yet dominates the physical, cultural, and spiritual landscape of Will County. That might change, at least in the first regard, as the state determines how it will manage the site in coming months. Demolition is one possibility, which recently provoked the Landmarks Preservation Council of Illinois to add the site to its "Ten Most Endangered Historic Places" list for 2002.
Built in 1858 of Joliet-Lemont limestone, Joliet was the state's first prison and is one of the oldest in the nation. It also led the way in prison reform. In 1907, a new Illinois State Penitentiary was begun at Joliet and when finished boasted that it "contains the most advanced and forward-looking construction ideas developed in prison work in the United States or any European country." Prisoners lived in "healthful, sanitary 'rooms,'" that were "cheerful, wholesome, and not coldly 'institutional,'" according to August Maue in his 1928 History of Will County. The Joliet prisoner, he noted, "has such privacy and accommodations as to be protected against the physical and moral foulness of an adjoining criminal," in a condition that "although sanitary, is far from luxurious, and in which he can retain his self-respect."
The photographs reprinted here are from the collection housed by the Illinois State Historical Library in Springfield, and were recently part of an informal exhibit there. All date to the turn of the century; unfortunately few, if any, were identified by either photographer or by subject matter. Though perhaps lost to memory, the history of the Illinois State Penitentiary won't stay buried long. There are too many stories, too many ghosts, to keep the walls silent. Crime doesn't necessarily pay, but it almost always makes good reading.
óWilliam Furry

Prison Band, Illinois State Penitentiary, Joliet.

Prison Library reading room, Illinois State Penitentiary
Photos courtesy of Illinois State Historical Library
22 ILLINOIS HERITAGE
---