Okawville's Heritage House Museum
by Warren Stieg
The Schlosser Harness Shop and family dwelling, circa 1900.
When maiden sisters Elsie and Stella Schlosser died in 1982 at the ages of 92 and 88, they left behind a home and complex of buildings that was a turn-key museum. Located at 114 West Walnut Street in Okawville, the property interested a small group of local residents, who acted quickly to strike a deal with the heirs, mostly first cousins-once-removed, to buy the property complete with contents. The Schlosser sisters had been rather reclusive and investigation confirmed the suspicions of many locals that "they never threw anything away."
Perhaps the most interesting feature of the museum is the intact harness shop operated by Elsie and Stella's father, Frank Schlosser, from 1890 until his sudden death at age 74 in 1941. The shop was then locked, with the dark green shades pulled, concealing and protecting from damaging ultra-violet light the tools and new old stock harness and related agricultural items in place, many with price tags of the day affixed. The family had also lived on the second floor of the harness shop from 1890 until 1908.
The eight-room home next door was built in 1908 and is complete with its original furnishings—very few date later than 1930, from the blue Quick Meal range in the kitchen to the upright piano on which Stella gave lessons in the parlor. Other rooms contain interesting quilts, antique toys, new dishes and kitchen items still in original boxes, Stella's amateur photographic equipment, and much more.
Another building, just outside the back door, housed their mother Sophia Schlosser's small commercial laundry, dating from 1903 and operative, at least on a small scale, until the early 1970s—all with vintage laundry equipment. The close proximity of the laundry to the two large mineral springs hotels and bathhouses made it a convenient place for many of the hotel guests to drop off their laundry. Guests often spent weeks at a time taking baths, the recommended procedure being a three-week "course" of baths. Though always involved in the laundry, the two daughters took over the business completely after their mother became a semi-invalid due to a broken hip.
Behind the laundry building is the barn, which contains not only the family's "surrey with the fringe on top" but also their last new car, their 1930 Buick, which cost $1,674.00 when new, an indication that the family, through hard work and frugality, was doing rather well financially. It was parked in 1956 with less than 24,000 miles on the odometer, due to the difficulty of obtaining parts at the time. Thus far, it has needed only a partial restoration. The surrey was taken to an Amish buggy shop for restoration in 1984 and is used for giving rides at special events.
The Heritage House Museum property, listed as the Frank Schlosser Complex, was placed on the National Register of Historic Places in 1983, joining the already-listed Original Mineral Springs Hotel and Bathhouse. The hotel is located just three blocks east on the same street and is believed to be the last operating mineral water spa in the state.
Heritage House owns two other museum properties as well as the Schlosser Complex.
Across the street at 109 West Walnut is the Civil War Era Joseph Schlosser house. Built of locally made brick, it is the town's last remaining example of the simple Old World style "street house," built close to the sidewalk. Schlosser emigrated from Bavaria in 1854 and operated a cobbler's shop in one room of this home. He was the father of Frank and Henry, both of whom learned leather-working at their father's knee. Henry, who died in his thirties, joined his father in shoemaking, while Frank went on to harness making. This house is furnished with simple period pieces in keeping with the home's heritage, but not with original items.
A third property owned by the museum is the Dr. Poos Home located at 202 North Front Street in Okawville. Dr. Robert C. Poos came to Okawville in 1887 after graduating from the American Medical College in St. Louis. He purchased a local drugstore and operated it along with his medical practice, which was conducted in the back rooms of the store. When the Washington Springs Hotel and Bathhouse, rival to the Original, was established in 1895, he became its staff physician, a position he held until his death in 1928. As staff physician it was his duty, among other things, to prescribe the temperature of the bath water, duration of the bath, and the amount of water to be drunk.
Dr. and Mrs. Poos had five children, four of whom lived to adulthood. Two sons, Grover and Edgar, became eye, ear, nose, and throat specialists, but did not practice in Okawville. The eldest daughter Beulah, who had a year of art training and married in middle age, was the family housekeeper. Youngest daughter and father's namesake, Roberta, was a professor at Eastern Illinois University in Charleston for many years. When it became necessary to place her in a nursing home, the Poos property became available and was purchased for use as another museum, but the
18 ILLINOIS HERITAGE
---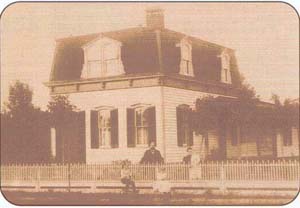 The Dr. Robert Poos Home is now a museum.
contents were sold at an auction. A number of individuals purchased a few of the furnishings and either donated them or put them back in the home on loan.
This home, built in 1888 and purchased by the doctor in 1890, is of the Second Empire style with the mansard roof line and is furnished with Victorian era pieces. The second floor rooms contain displays of more than 300 vintage photographs of the town's people and places, as well as some vintage clothing and other artifacts.
An unusual-looking outbuilding on the property was intended by Dr. Poos to be used as a privately-operated bathhouse. He had a two-story addition built onto his present summer kitchen, bought some bath tubs and was ready for business, except for one thing—water. After several failed attempts to find mineral water on his property, he was forced to abandon the project and was left with "the fanciest washhouse and summer kitchen in town." The building today contains a small medical museum with medical instruments from Dr. Poos and other physicians, including a static electricity generator for electrical treatments. A list of fees for various services also draws a lot of attention. A number of other Okawville artifacts are also displayed in the building.
In the back yard stands a windmill that replaces one that once pumped water to Mrs. Poos' kitchen. Near the windmill stands a bell that Dr. Poos reportedly loved to ring three times daily. Located just outside his bedroom window, it was probably also used to rouse him from sleep if his services were needed at night. He was very hard of hearing, as his ear trumpet on display indicates, but he, along with the rest of the neighborhood, probably heard the bell.
A new building, constructed during the summer of 2001 on the Poos property, houses a 1929 Model A Ford once owned by Herman W. Foerste, early Okawville jeweler, optometrist, and insurance agent. Next to the car is the horse-drawn hearse from the former Rixmann Brothers Funeral Home in Okawville. More photographs and other memorabilia are also displayed in this building.
Tours of the various museum properties are available beginning at the main Heritage House complex at 114 W. Walnut. Volunteers are on duty from noon to 4 p.m. every Saturday and Sunday. The curator/caretaker is on duty most Monday, Wednesday, and Friday afternoons from 1 to 4 p.m. Group tours should make reservations in advance. A $2 donation per adult is suggested.
Heritage House sponsors two special events each year. A Christmas House Tour featuring four decorated private homes, a church, and the three appropriately-decorated museum properties is held in conjunction with the community's annual Country Christmas Stroll on the first weekend in December.
A second event, twenty years running, is the Heritage Days weekend at the museum's Walnut Street properties on the weekend preceding Father's Day in June. Heritage Days features old-time demonstrations and crafts, good food, including hand cranked ice cream, butter made on the premises served on warm bread from the oven, bratwurst and kraut and other sandwiches, surrey rides, musical entertainment, children's games, tours of all properties, and much more.
Okawville is located at Exit 41 on Interstate 64 about halfway between St. Louis and Mt. Vernon. Follow the brown information sign to Walnut Street. For more information call the Chamber of Commenerce at (618) 243-5694.
Warren Stieg is Curator of the Heritage House Museum in Okawville.
Only Centenarians need apply
Businesses and other organizations that turn at least 100 this year are eligible to apply for the Centennial Awards program of the Illinois State Historical Society.
Each year the Society honors those companies and enterprises that have operated continuously for a century or more in Illinois, enriching the state's economic heritage. Since the program began in 1984, it has honored more than 1,000 Illinois businesses. Last year's winners included Walgreen's, the Illinois Nurses Association and U.S. Gypsum. This year's winners will be feted at a banquet October 11 at the Palmer House Hilton Hotel in Chicago.
Eligible organizations should contact the Illinois State Historical Society, 210 S. 6th St., Suite 200, Springfield, IL 62701 for an application form. Forms are also available online at www.historyillinois.org. A minimal amount of primary documentation is required. The deadline for submitting applications is July 31. For more information, applicants may contact the Society at 217-525-2781 or ishs@eosinc.com.
ILLINOIS HERITAGE 19
---