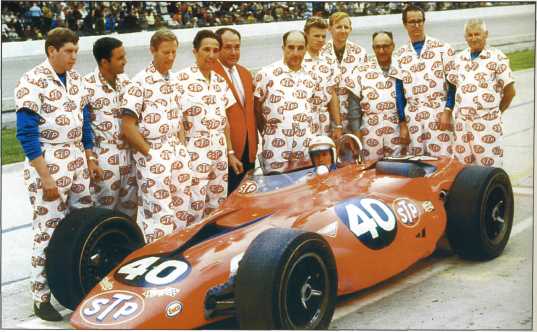 Andy Granatelli (red jacket) with pit crew and STP Turbo car at the Indy 500.
From Route 66 to the Indianapolis 500
by Tom Teague
Andy Granatelli gained worldwide fame in Indianapolis racing and with the STP auto additive. But the former Chicagoan cut his racing and entrepreneurial teeth on and near Route 66 in Illinois.
Andy's father, Vincent, emigrated from Sicily to America at age 18. For many years he ran a successful grocery business in Dallas. Andy was born in 1923, four years apart from his older brother, Joe, and his younger brother, Vince. Then the stock market crashed and the grocery business went bankrupt. Andy's first trip on 66 came when the family drove to Chicago to live with relatives. Their apartment was at 5200 North Winthrop. During the Chicago World's Fair of 1933-34, the first great festival of the Route 66 era, Andy and his brothers would walk all the way downtown to collect soda pop bottles discarded by fairgoers. Then they'd trudge back home and "return" the bottles to neighborhood grocers. In 1937 when work proved too scarce in Chicago, Vincent Granatelli drove his family to California. There he hoped to find farm work. Their car was an over-the-hill '32 Oldsmobile as heavily laden as any Okie family's. When the job hunt was unsuccessful, the family returned to Chicago. There Andy delivered bags of coal up the steps of tenements. With Joe and Vince he sold vegetables door to door along North Halsted from the trunk of a Buick. The three also become expert mechanics. Often they would fix cars right on the street. If they needed to use a power tool, they'd just knock at the door of a first-floor apartment and ask to pass a cord in. Later Andy would attend Weaver Alignment School in Springfield. But essentially his formal education ended when he was 14. All the rest came from under the hood or behind the wheel.
When a housing shortage hit the west coast early in World War II, Andy and Joe set record after record for towing house trailers from Chicago to Glendale, California, on 66. Joe drove a 1940 Mercury and Andy had a 1940 Ford. Both cars had souped up engines and could hit 100 miles an hour with a trailer in tow. Often Andy would get right behind Joe and ride in his slipstream. For a few extra dollars they took on soldiers and other people as passengers. But Andy can't remember any of those folks lasting past St. Louis.
Back in Chicago, the Granatelli brothers borrowed $500 and opened a service station at 4506 North Clarendon. When Andy joined the Army Air Corps, they named it Andy's Super Service in his honor. The name stuck even though Andy failed his physical at Fort Sheridan and returned home just three days after a tearful farewell.
10 Illinois HERITAGE
---
Shortly after the war, the Granatellis opened a speed parts store, Grancor, at 5058 North Broadway. When that site was burglarized, they moved to 5650 North Broadway. There they'd work until 3 a.m. and then go drag racing on Illinois Highway 83. They used a then-desolate stretch between Irving Park Boulevard and Oakton Avenue. As many as 300 spectators would be on hand.
One day a customer asked the brothers to build a rocket car. They'd never tried such a project before, but that didn't slow down the Granatellis. They removed the rear end of a 1934 Indianapolis racecar and put in steel casings for eight rocket tubes. Their rockets were war surplus booster devices used to help seaplanes take off. Calling himself Antonio the Great, Andy drove the rocket car at the Illinois State Fairgrounds track in Springfield, plus dozens of other Hacks in the Midwest. Powered by a gasoline engine, he would slide past the grandstand before firing the first rocket. In the echo of that first blast, he'd fire the second rocket. By the time the smoke cleared, Andy would be wheeling the rocket car back into the pits.
"The announcer and my posters said I would drive 650 miles an hour," Andy remembers. "But who could tell? I could have been going a thousand."
In 1947 the Granatellis brought hot rod racing from Highway 83 down to Route 66 and Soldier Field. For several years they ran two races a week there. Crowds ranged from 30,000 to 60,000. By 1948 the brothers were paying $1 million a year in purses. Their drivers included Jim Rathmann and Pat Flaherty, future winners at Indianapolis. And when Soldier Field wasn't available, the Granatellis lead racing caravans to Springfield, St. Louis, or anyplace else with a good track. They also sponsored some of the Midwest's first legal drag races on an abandoned Navy airstrip near Half Day, Illinois. Then each morning they'd be back at work at their parts store. The Indianapolis 500 proved to be the magnificent obsession in Andy's life. He won it twice as an owner. But Route 66 also continued to weave in and out of his life. He drove or sponsored races in more than a dozen cities and towns along the road. He had his famous but illfated Novi engines built in Glendale, California, on 66. He ran the STP Corporation from Des Plaines, just a few miles north of 66. He's worked and lived in the 66 cities of Chicago, Joliet, St.
Louis, Los Angeles, and Santa Monica. He even got married near the start of 66 and spent his wedding night in Joliet. Today he lives in Montecito, near Los Angeles. A citizen of the world, he's been inducted into a 20 Halls of Fame. But like anyone else who's ever set wheel to pavement along its way, he'll never forget his adventures on the Main Street of America.
The Indianapolis 500 proved to be the magnificent obsession in Andy's life.
Illinois Heritage 11
---