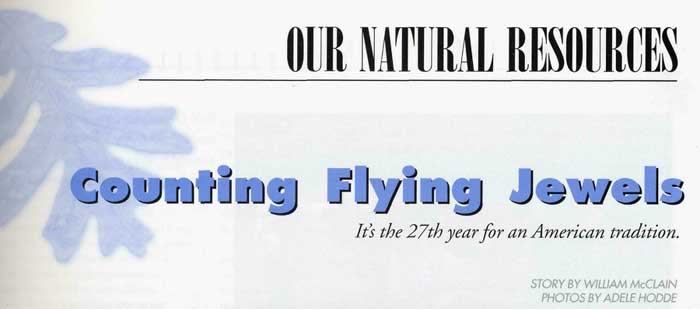 Butterflies top to bottom: Tiger Swallowtail, Great Spangled Fritillary, Monarch, Spicebush Swallowtail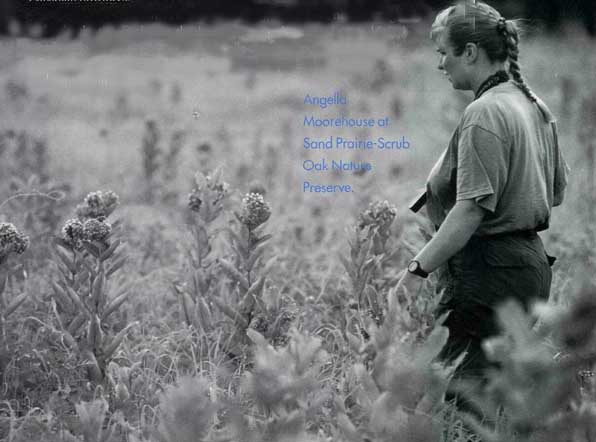 The hat of 10-year-old Allison Scroggin was a clue as to what was about to take place. It was decorated with butterflies.
Allison was among the 15 people congregated in the parking lot at Revis Hill Prairie Nature Preserve south of Easton in Mason County last July. Some held clipboards and pencils, while others held either one or two pocket-sized books. Weather conditions were good as it wasn't windy and no rain was in the forecast. In a matter of minutes, everyone was hiking through loess hill prairie, shouting names to a person holding a clipboard. Snout! Pearl crescent! Viceroy! Hackberry! The annual butterfly count was underway!
Butterfly counts began in the United States in 1975, when only 29 counts were conducted. By the year 2000, the number of counts had increased to 421 in 44 states, three Mexican states and five Canadian provinces.
Yes, butterflies are counted annually, much like waterfowl nesting songbirds and upland game. Each year, the date of the event is centered around July 4 on selected sites that occur within a 15-mile-diameter count circle. The information that is obtained is used to determine species distribution and population sizes.
July/August 2002 41
---
OUR NATURAL RESOURCES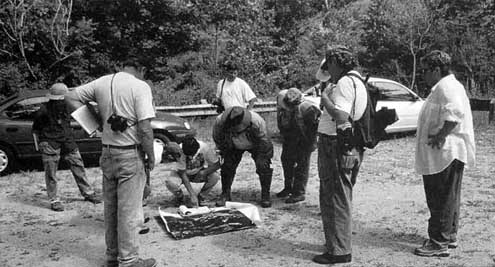 (Left) Census takers are assigned areas. (Below) They follow a standard protocol to attain an accurate snapshot of the butterfly population.
On this particular count, the number of adult, live butterflies was counted by species at Revis, Sand Prairie-Scrub Oak and Long Branch nature preserves in Mason County. In most cases, census workers had to be able to identify individual butterfly species on sight.
The selection of these areas as census sites was not an arbitrary decision. Besides being known for their diverse butterfly populations, the sites also have a large number of plant species. Many butterflies, like other insects, depend upon a specific host plant for food during their larval stages. The host plant for the zebra swallowtail is paw paw, snout caterpillars prefer hackberry leaves, Ottoe skipper larvae eat little bluestem grass, and the Creole pearly eye dines exclusively on giant cane.
The relationship between the caterpillars and the host plant is sometimes so strong that the caterpillars will starve to death before they will eat anything else. Other butterflies, like the painted lady, aren't so particular. The larva of this butterfly is known to feed on more than 100 plant species!
By noon, the count at Revis was completed, and people gathered in the parking lot to compare notes.
"I saw a great spangled fritillary and a wood satyr," said one person.
Others saw zebra swallowtails and summer azures, but it was the day of the pearl crescents. Overall, it had not been a good count at Revis. Only a few butterfly species were observed, as compared to counts in the recent past when as many as 35 species were seen. But the biggest concern was that there were very few skippers.
Skippers are known for their club-shaped antennae that have curved or hook-shaped ends. The larvae of skippers tend to be specific to one or a few host plants. Although six skipper species were observed, there was only one Ottoe skipper, compared to hundreds in the past. Just as everyone was preparing to leave, a single dusky-winged skipper flew into the parking lot and landed near the feet of one of the workers.
"I guess it is letting us know that there are still a few left here," someone said.
But there may not be any Arogos skippers left at Revis. Although diligent searches have been made for this insect, none has been seen for six years. The reasons for its disappearance are not completely known.
Then it was on to Sand Prairie-Scrub Oak on the western side of Mason County. This sand prairie contains cacti and other plants typical of the western states. The different flora would mean different butterfly species. Once everyone was in the sand prairie, they were soon shouting: "Grayling! Regal fritillary! American lady! Question mark! Monarch!"
"What is this one?" someone asked.
"I would guess it is an ETB," came the reply.
So, what is an ETB? It is an eastern tailed blue, a small butterfly found in prairie communities. Everyone raised their heads when someone shouted that there was a painted lady near the milkweeds if anyone wanted to look. Some people moved quickly in that direction, only to be startled when a wild turkey flushed from the knee-high grass. After seeing the painted lady, everyone began
42 Illinois Parks and Recreation
---
OUR NATURAL RESOURCES
Schedule of Illinois Butterfly Counts
• Butterfly enthusiasts interested in participating in the following counts should contact these individuals:
• June 28, Beardstown, coordinator: Angella Moorehouse, e-mail: amoorehouse@dnrmail.state.il.us.
• June 29, Revis Hill Prairie Nature Preserve, contact Susan Dees, e-mail: susandees@yahoo.com.
• July 1, Shawnee Hills Butterfly Count, coordinator is Kathy Phelps, email: deecee@midwest.net. Phone: 618. 252.7311.
• July 4, Green River Wildlife Area, contact Cynthia McKee, e-mail: cmckee@theramp.net.
• July 13, greater Peoria area. Tracy Fox, coordinator, e-mail: tracyfox@mtco.com.
• July 14, at the home of the Day family near Forbes State Park. Contact Richard Day, e-mail: ofFice@daybreak.com or phone 618.547.3522.
• August 24, Horseshoe Lake, Jim Ziebol, coordinator, e-mail: homeyer@earthlink.net.
For the latest information on butterfly counts in other areas visit www.naba.org.
to think about Long Branch, the final stop.
This preserve always has been known as the best site for regal fritillaries, a large, fast-flying butterfly whose host plant is the Bird's Foot Violet or an annual violet species known as Johnny Jump Ups.
Although 231 regal fritillaries were counted at Sand Prairie-Scrub Oak and Long Branch, the annual census data for the nation indicates that this spectacular butterfly is becoming scarce. It no longer occurs in Indiana and is rare in northern Illinois.
Soon, the sun was sinking low on the horizon, and it was time to turn in the tally sheets. The results of the count would be sent to the North American Butterfly Association to be included in the total count for the nation. During the day, 855 butterflies representing 41 different species were counted, including a spectacular zebra swallowtail, one of the largest butterflies in Illinois.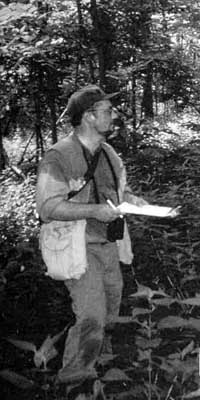 As the tally sheets were turned in to the compiler, everyone said they would like to help again the following year. And, it is easy to understand why people are fascinated with butterflies. With names like viceroy, admiral, American painted lady and goatweed, their names are just as colorful as the insects themselves. People also admire and perhaps envy the way butterflies are free to fly about the colorful flowers of the prairies and woodlands.
It was not good news to learn that some butterflies are declining in numbers.
Knowing that many butterfly species are dependent upon specific host plants, it is understandable why some are now very rare or even extirpated from the state. Many prairie sites continue to shrink in size, which means the loss of many of the host plants that the butterflies depend upon for food. Keeping our butterfly populations healthy also means maintaining our prairies, wetlands and woodlands.
The year 2001 represented the eighth annual butterfly count for these three prairie sites. Counts also were conducted at Beardstown, Peoria and North Park Village, and in LaSalle and McDonough counties and the Shawnee Hills.
On your next outing, consider investigating the colorful world of flying jewels. It will prove to be a most rewarding experience. And who knows? You may discover a comma, question mark, dogface, or even a frosted elfin.
WILLIAM McCLAIN is the Natural Areas Stewardship Program manager in DNR's Division of Natural Heritage.
This article is reprinted from the June 2002 issue of OutdoorIllinois with permission granted from the Illinois Department of Natural Resources.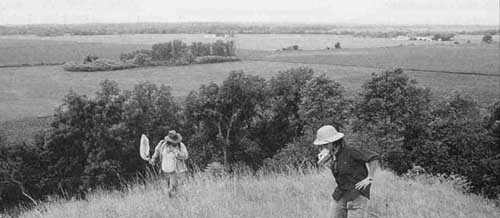 Consistent butterfly counts allow biologists to track short and long-term population trends and note any significant population changes that might indicate a serious environmental problem.
July/August 2002 43
---
Pilot project begins
A 10-horsepower motor limit was lifted recently at five lakes in Illinois as a pilot project to determine whether greater access to the lakes can be provided without disrupting the traditional users of these lakes.
The change allows boats with any size motors on the five lakes, provided that the more powerful motors are operated at idle speed only and the boats create no wake while on those bodies of water. Boats with motors of 10 horsepower or less are not subject to an idle speed/no wake restriction on those lakes.
The change will be in place for one season at the following lakes: Pierce Lake at Rock Cut State Park, Winnebago Co. (162 acres); Wolf Lake at William W. Powers Conservation Area, Cook Co. (419 acres); Dawson Lake at Moraine View State Park, McLean Co. (158 acres); Washington County Lake at Washington County Conservation Area (248 acres); and Mermet State Lake at Mermet Lake Conservation Area, Johnson Co. (452 acres).
Shabbona Lake in DeKalb County also was proposed for the pilot, but was removed following public opposition to the plan. A 10-horsepower motor limit remains in effect for that lake.
Traditional state regulations provide that, on bodies of water under the Department's jurisdiction, a 10-horsepower limit applies when the surface water area is between 60-500 acres. Only electric trolling motors may be used on bodies of water of less than 60 acres.
Import off deer and elk banned
Emergency rules were filed recently banning the importation of captive deer and elk into Illinois in a continuing effort to prevent chronic wasting disease (CWD) from coming into the state.
The new rules filed by the Illinois Department of Agriculture also require a permit to be obtained by an owner before captive deer or elk change ownership or move within the state. In addition, the animals must come from a herd enrolled in a monitored herd program. The new rules take effect immediately.
"We must take this action to keep chronic wasting disease out of Illinois, to protect our farmers who raise captive herds of deer and elk and to protect our wild herds," said Illinois Agriculture Director Joe Hampton. "We appreciate the assistance we have received from owners of captive herds and sportsmen in implementing these changes and in monitoring the health of deer and elk in the state."
The import ban was recommended by a task force of key staff from the departments of Agriculture and Natural Resources. The emergency rule will remain in place for no more than 150 days, until a new rule is adopted. The task force is continuing to gather information and develop strategies for addressing CWD issues.
"There are still a lot of unknowns regarding chronic wasting disease. We want to take every necessary precaution to prevent it from coming into Illinois," DNR Director Brent Manning said. "This step is not a permanent solution, but allows us time to assess what's occurring on the national landscape. During the coming weeks and months, we will be working together to put additional safeguards in place."
To date, no animals from Illinois have tested positive for CWD, but surveillance efforts for the disease are being expanded in response to the diagnosis of the disease in Wisconsin.
Antler traps are illegal in Illinois
A recent review of state law and regulations by the IDNR confirms that antler traps are an illegal manner of taking deer in Illinois and are prohibited for use or possession in the state.
Antler traps often are designed using a bait bucket strapped to a tree with a metal hoop, wire-mesh, tarp straps, rope or cabling above the bucket. The devices are intended to lure deer with bait and trap the lured animal by catching or snaring its antlers in the straps, wire or cabling.
The Illinois Wildlife Code provides for specific means by which hunters may take deer, including shotgun, muzzleloading rifle or bow and arrow, within the seasons, bag and possession limits established by administrative rule. There are no provisions for use of antler traps or any device that results in the taking of deer by trapping, snaring or entangling.
DNR considers antler traps illegal devices used in an attempt to trap deer and to take them with bait. Illegal taking or attempting to take deer is a Class B misdemeanor. Illegal possession of deer outside of the legal season is a Class A misdemeanor with a minimum $500 fine.
Apply now for fall hunts
REMINDER: A limited number of non-resident archery hunters will be permitted to hunt white-tailed deer at Jim Edgar Panther Creek State Fish & Wildlife Area, Siloam Springs State Park and Sangchris Lake State Park this fall. Hunter quotas will be set for the following periods: 1st season, Oct. 25-31; 2nd season, Nov. 1-7; 3rd season, Nov. 8-14; 4th season, Nov. 15-21.

44 Illinois Parks and Recreation
---
All archery deer season dates that occur before and after these control dates will be open and unlimited.
Applications will be accepted until the close of business on June 24. A random daily drawing will be held at 10a.m. on June 25 and will continue until all available spots are allocated. All applicants will receive written notice of their drawing results. Please do not call the site office for verification of drawing results.
To keep abreast of the most current hunting information, visit the Web site at http://dnr.state.il.us, or call the appropriate site office: Jim Edgar Panther Creek State Fish & Wildlife Area 217.452.7741; Siloam Springs State Park 217.894.6205; Sangchris Lake State Park 217.498.9208.
Homeowners and gardeners are reminded that the purchase, sale or planting of Japanese honeysuckle (Lonicera japonica), multiflora rose (Rosa multiflora) and purple loosestrife (Lythrum salicaria) is prohibited in Illinois. These plant species are highly invasive and cause harm to Illinois' ecosystems by crowding out native plant species. Though these plants may sometimes be found for sale in Illinois nurseries, they should not be purchased or planted in your home landscape.
Volunteers count in biodiversity blitz
The Calumet Biodiversity Blitz will be held from 2 p.m. Friday, Aug. 23 to 2 p.m. Saturday, Aug. 24 at William W Powers State Recreation Area, 12949 Avenue O (123rd Street an dAvenue O), Chicago. The event is a 24-hour inventory to find as many species of flora and fauna as possible.
Participants will be able to observe scientists engaged in a biological inventory; join special tours of Eggers Woods, Wolf Lake and Powderhorn Lake; attend short presentations by experts on birds, mammals, fishes and fungi; participate in volunteer stewardship activities and learn how to become involved in the Calumet Stewardship Initiative. For more information, contact bioblitz@fieldmuseum.org or call 312.665.7450.
Public invited to tour Midewin prairie
Public tours are underway at Midewin National Tallgrass Prairie. Sponsored by the USDA Forest Service and guided by staff interpreters and trained volunteers, the tours will appeal to a broad range of interests. New this year is a detailed, interactive tour calendar on Midewin's Web site at http://www.fs.fed.us/mntp/. Reservations are required and can be made by calling 815.423.6370. There is a $2 fee per person for all tours.
Recognize security zones on Lake Michigan
Due to the security resulting from the terrorist attacks on Sept. 11, security zones have been set up on Lake Michigan in Illinois waters by the U.S. Coast Guard. If you boat on Lake Michigan, you need to be aware of these restrictions as potential fines are substantial.
Information about the restrictions can be found on the U.S. Coast Guard Web site at: http://www.uscg.mil/d9/wwm/mso/chicago/ security%20zone%20flyer.htm.
Mosquitoes increase risk of West Nile Virus
If you enjoy the outdoors, be alert to the possibility of West Nile Virus(WNV). While not a common occurrence, individuals can become infected with the virus after being bitten by an infected mosquito.
Most people infected with West Nile virus have no symptoms of illness, but some may become ill, usually three to 15 days after being bitten. Symptoms can be mild, such as a fever and headache. In some individuals, particularly the elderly, West Nile virus can cause serious disease that includes muscle weakness, brain inflammation, stiff neck, stupor, disorientation, tremors, convulsions, paralysis, coma or death. No human case has been reported in Illinois to date.
WNV is transmitted from infected birds via mosquitoes to humans. It is not spread by person-to-person contact or directly from birds or mammals to people. However, hunters are urged to take proper precautions and to wear rubber gloves when field dressing game. Proper cooking kills WNV, so health officials believe there is no danger associated with eating wild game that might be infected.
To reduce the risk of being bitten by mosquitoes, the following precautions are recommended:
•Whenever outdoors between dusk and dawn, wear shoes and socks, long pants and a long-sleeved shirt. Loose-fitting, light-colored clothing is best.
•Use mosquito repellent containing 25-percent to 35-percent DEET when it is necessary to be outdoors. Apply it sparingly to exposed skin or clothing, as indicated on the repellent label. Consult a physician before using repellents on young children.
• Check residential screens, including porches and patios, for tears and other openings.
• Eliminate stagnant water in bird baths, ponds, flower pots, wading pools, old tires and any other receptacles in which mosquitoes might breed.
July/August 2002 45
---
Commemorative pin sales provide assistance
The Illinois Department of Natural Resources and Illinois Conservation Foundations "Illinois Parks for Red Cross" fund-raising drive generated a total of $80,000 to assist individuals devastated by the Sept. 11 terrorist attacks.
Funds went to the American Red Cross Liberty Disaster Relief Fund, specifically to assist children impacted by the attacks.
The fundraising effort included a commemorative lapel pin featuring the World Trade Center and the American Flag wrapped in a black ribbon.
OutdoorIllinois wins Award of Excellence
The December 2001 issue of OutdoorIllinois magazine is the recipient of the Crystal Award of Excellence in The Communicator Awards 2002 Print Media competition. The magazine was one of more than 3,600 entries from throughout the United States and numerous foreign countries competing for this prestigious honor. Only 11 percent of the entries were judged to be deserving of the competition's top honor.
The full-color December issue featured a striking cover photo of a bluejay in a juniper tree and opened with Director Brent Manning's editorial about "Illinois Parks for Red Cross" in response to the Sept. 11 event in New York City.
Special features in the issue highlighted Chicago's Adventurers Club, White Pines State Park at Oregon, the Illinois Natural History Survey's biodiversity blitz, a holiday feast using the "staff chef s" wild food recipes, and cold weather fishing for hot trophy catfish. It also featured, as an insert, a beautiful, full-color year 2002 wall calendar filled with Illinois wildlife, scenic views of the state and information about what's happening in the wild each month.
Based in Austin, Texas, The Communicator Awards is an international competition honoring excellence in the communication field. The competition is open to all companies, organizations or individuals involved in producing any kind of communication materials for external or internal audiences. Entries are judged against a high standard of excellence, rather than against each other. The Crystal Award of Excellence is given to those entries whose ability to communicate places them among the best in the field.
A complete listing of award winners can be found on the Web site: http://www.communicator-awards.com.
Subscribers can win adventure package
It's a win-win situation for OutdoorIllinois subscribers who enter new or renewal subscriptions at the Illinois State Fair.
When you visit Conservation World, stop by the Directors Tent and subscribe. You'll automatically be entered into a drawing for the OutdoorIllinois Adventure Package.
Last year, Don Zumwalt of Springfield won more than $3,000 of merchandise for renewing his subscription at the fair.
The items in this year's giveaway include a Tracker Boats Grizzly 1448 boat and trailer, donated by The Boat Dock, Springfield.
46 Illinois Parks and Recreation
---