A Lone Wolf
No More
---
William Powers State Fish and Wildlife Area has storied past, bright future.
STORY BY JOHN ALLEN
PHOTOS BY CHAS. J. DEES
For generations Wolf Lake on Chicago's southeast side has been known as a good place for fishing and waterfowl hunting. Thanks to an ambitious site manager and the interest shown by the surrounding Hegewisch neighborhood, the property is beginning to appeal to a broader constituency.
The origin of the Wolf Lake name is lost in the fog of time, but it's been called that for at least 150 years. According to a history of the area written by August J. Ruf in the late 1940s, Abraham Lincoln and his family were frequent visitors, with Mrs. Lincoln nearly drowning there on one occasion.
The site was called the Wolf Lake Conservation Area from 1947, when the state acquired it, until 1965, when it was renamed William W. Powers State Fish and Wildlife Area. However many still call it Wolf Lake.
Saki Villalobos, site superintendent for the past six years, said William Powers was a Chicago alderman and state legislator in the 1920s, and frequently held picnics at the site to feed the needy during the Depression.
Located between 120th and 134th streets along Avenue O, Wolf Lake actually straddles the Illinois-Indiana state line. At one time, the lake was connected to Lake Michigan by a creek running through Hammond on the Indiana side, but the creek has long since been blocked by development. On the Illinois side, Wolf Lake empties into Indian Creek, which feeds into the Calumet River.
Wolf Lake has 800 acres of water, 419 of which are on the Illinois side. The two states are separated by State Line Road, which is a road everywhere else but only a rock-and-gravel dike as it passes through the lake. There are five parking areas for cars, but through traffic isn't possible as State Line Road ends in foot bridges where water enters from the Indiana side.
The Illinois portion of the lake is broken into five smaller impoundments separated by dikes. The longest dike, running roughly parallel to State Line Road and traversing the entire length of the lake, contains railroad tracks belonging to the Indiana Harbor Belt.
Prior to construction of the dikes in 1947, Wolf Lake was a shallow remnant of Lake Chicago (an older,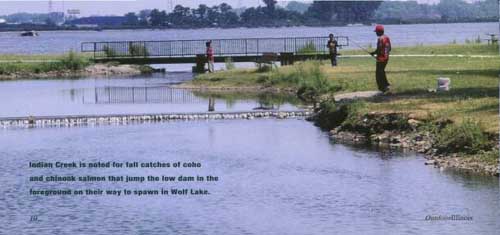 Indian Creek is noted for fall catches of coho and chinook salmon that jump the low dam in the foreground on their way to spawn in Wolf Lake.
---
| | |
| --- | --- |
| | Mike Wisniewski takes aim from one of the 25 waterfowl blinds allowed at Wolf Lake. |
larger version of Lake Michigan) situated in a wetland area. According to Ruf's account, a sister lake on the Illinois side called Hyde Lake and another on the Indiana side called Mud Lake were filled in between the 1890s and World War II to create more ground for the industries that define the area.
Villalobos said the William Powers Fish and Wildlife Area attracts nearly a half million visitors each year, mainly fishermen and picnickers. The lake contains a wide variety of fish, including largemouth and smallmouth bass, bluegill, crappie, sunfish, yellow perch, catfish, bullhead, carp, walleye, northern pike and tiger muskie.
Each fall, anglers also catch salmon and an occasional rainbow trout in Indian Creek. These Lake Michigan fish enter from the Calumet River, jump a low dam and swim upstream searching for a place to spawn. While it wouldn't be accurate to say there are a lot caught, it can be quite a thrill to land a 20-pound chinook salmon while fishing light tackle for crap-pie or bluegill. One caveat: a Lake Michigan salmon stamp is required to keep salmon or trout.
Shore fishermen will find more than six miles of lake access, and there are three launches for boaters. There is currently a 10 h.p. restriction on boat motors; however, the Department has proposed replacing that with a no-wake restriction for boats with motors larger than 10 h.p. (See February NewsFront.) Ice fishing is allowed in winter, providing the ice is a minimum of four inches thick.
An Indiana license is required to fish east of State Line Road, but Villalobos said discussions are underway to create a reciprocal agreement that would let anglers fish either side using their home state's license. However, he could not say when that agreement might be finalized.
In keeping with the area's fishing tradition, the site has become part of the DNR's "Access to Fishing" program. From April 1 to Sept. 30, novice anglers can visit the park's concession stand to borrow fishing gear much like they'd borrow a book from a library. The program's aim is to give newcomers a chance to try fishing without having to invest in rods, reels and other equipment.
About the only time fishermen are at a disadvantage at Wolf Lake is during the northern zone waterfowl hunting season. Though fishing is still allowed from the western shore, the east side of the lake is closed.
There are 25 waterfowl blind sites allocated for one year during drawings held in late July. During the season, daily drawings are held a half-hour before shooting starts to allocate blinds of absentee blind holders. Villalobos said the site averages about 700 hunter days per year, and that last year 220 ducks and 100 geese were taken.
The William Powers State Fish and Wildlife Area has 624 acres of land. While camping is not allowed, there are four picnic shelters as well as picnic tables scattered throughout the park. Two of the shelters can accommodate groups of up to 50 persons, while the other two can handle up to 100. The shelters are available by reservation only.
Passing through the park is the Burnham Greenway, which will
| | |
| --- | --- |
| Area veterans' organizations, long active at Wolf Lake, installed this disarmed Hike Ajax missile as a memorial to the Cold War years when missile batteries were located near the park. | |
March 2002 11
---
| | |
| --- | --- |
| Shore fishermen like Carlos Casdens have more than six miles of access to the lake. | Terri and Alison Zovke use the Burnham Greenway, which passes through the park and will eventually become part of the Grand Illinois Trail. |
eventually connect Chicago's Lake-front Path to the Old Plank Road Trail in Lansing. The seven-mile rail-trail is under construction, with four miles currently open from 106th St. to Wolf Lake and 142nd St. to the Little Calumet River. The trail eventually will become part of the Grand Illinois Trail, a 475-mile loop linking Lake Michigan and the Mississippi River.
Another construction project scheduled to begin this spring will move the park's main entrance from its current location at about 123rd St. to 126th St. as the latter is extended from Torrence Ave. by the city of Chicago. Villalobos said the 126th Street project will greatly improve access to the site, and moving the entrance farther south should make it safer for both vehicles and pedestrians.
Unaffected by the construction will be Veterans Drive, the main road into the park. When it was dedicated in 1946, memorial plaques for all 119 veterans organizations on the south side were placed in front of a living memorial of 119 different species of trees planted along the drive.
Villalobos said the cement markers gradually disappeared, either crumbling away or sinking into the ground. Also, some of the trees died or were cut down. Two years ago, students from a local high school managed to find 110 of the markers and contacted veterans organizations that agreed to fund replacements.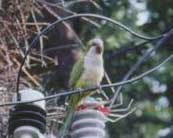 The William Powers State Fish and Wildlife Area is home to a colony of monk parakeets, South American natives whose elaborate nests allow them to survive Chicago winters.
Monks with no monastery
The William Powers State Fish and Wildlife Area is home to a variety of wildlife species. Its urban location attracts such city dwelling mammals as squirrels, rabbits, raccoons, muskrats, opossums, and the occasional coyote and white-tailed deer. Birds include cardinals, blue jays, finches, orioles, woodpeckers, teal, mallards, resident and migratory Canada geese, mute swans and, now and then, a bald eagle.
Perhaps the oddest species to call Wolf Lake home is the monk parakeet. The South American natives arrived at the site three years ago and have since established two nests with seven or eight birds each.
Monk parakeets is the only species in the parrot family that doesn't nest in cavities. Instead, they build elaborate stick structures in tall trees or on utility poles that can contain single nests or dozens of separate nests. The nests are apparently warm enough to allow the birds to survive Illinois' harsh winters.
Monk parakeets get their name from a cowl-like face and chest that are reminiscent of a monk's habit. The birds were brought to this country as pets in the 1960s, with many either escaping or intentionally being set free by owners who had tired of them.
The birds at Wolf Lake are believed to have migrated from Chicago's Hyde Park neighborhood, which has more than 50 nests.
12 Outdoorlllmois
---
| | |
| --- | --- |
| New playground equipment is part of an ambitious project to expand recreational opportunities at the site. | |
A rededication ceremony featuring the Moving Vietnam Wall was held, and since then, local veterans groups have been placing flags next to the markers on the Fourth of July, Veterans Day and Memorial Day.
The veterans also paid to install a defunct Nike Ajax missile at the park in homage to the missile site that occupied the area during the Cold War years.
On the far south end of the lake are the Southeast Sportsmen's Club and the Wolf Lake Rod and Gun Club. These two groups are instrumental in organizing the area's semi-annual clean-up campaigns, working with scouts, community organizations and the Hegewisch Chamber of Commerce.
Getting the community involved has been a goal of Villalobos, who is also president of the Hegewisch Chamber of Commerce. The chamber sponsors an annual 5K "Wolf Run" to raise money for college scholarships awarded to students from area high schools. The event, held on the third weekend of September, draws between 500 and 1,000 runners.
The Southeast YMCA also is active, offering a well-attended day camp program at the park from June to August. The YMCA also has expressed interest in swimming programs when the park gets its new swimming pool, tentatively scheduled for 2003.
"We have $1.2 million allocated, but are looking for more money to build an indoor pool," Villalobos said. "If it's a year-round pool, the YMCA will run it, offering programs for kids, schools and senior citizens."
The swimming pool is part of an ambitious project to expand recreational opportunities and enhance the health of the environment at Wolf Lake and the surrounding area.
In 2000, a series of six bi-state gatherings were organized by the Calumet Ecological Park Association/Friends of Wolf Lake to develop a "vision" for the area's future. Attended by more than 130 participants representing public land managers, federal, state and local public agencies, community and environmental groups, educators, business and industry, and interested individuals, the meetings resulted in an impressive "to-do" list that is reflected in a "Wolf Lake Vision" brochure available at the site.
The "vision" contains five broad categories, each with numerous action items: identification, restoration, remediation and enhancement of natural and recreational resources; recreation; education and outreach; planning and management; and funding.

Some action items already are being implemented, such as reciprocal fishing agreements, fishing education programs, development of bike trails and creating a Wolf Lake Advisory Committee. Others, such as a lodge on the abandoned Nike missile site and an and environmental education center, may take longer.
Either way, Villalobos sees a bright future for Wolf Lake.
"We started cleaning up the area and the community got behind us," he said. "We have their interest because it's an asset to the community."
Information you can use
Address: William Powers State Fish and Wildlife Area, 12949 S. Avenue O, Chicago, IL 60633.
Telephone: (773) 646-3270.
Website: http://dnr.state.il.us/lands/Landmgt/PARKS/wmpow.htm.
Hours: The park is open year-round from 6 a.m. to sunset.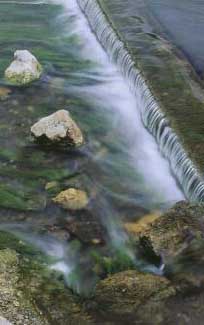 March 2002 13
---