Andrea S. Moore
Moore appointed assistant director
Gov. George H. Ryan has appointed Andrea S. Moore of Libertyville assistant director of the Department of Natural Resources. Moore assumed her new duties on Jan. 1 following her resignation from the Illinois House of Representatives, where she served a five-year term.
"I'm delighted to have someone of Andrea's experience and background at the Department of Natural Resources," Gov. Ryan said. "She brings a deep knowledge of conservation and natural resource issues to this job, as well as vast experience in the General Assembly. She will be a great asset for the agency and a strong advocate for conservationists, sportsmen and environmental protection."
She is a past recipient of the Illinois Environmental Council's Commendation and was named an "outstanding legislator" by the Illinois Association of Park Districts. In 2001, she received the prestigious "Cornelius Amory Pugsley" award from the American Academy for Park and Recreation Administration and the "Commitment to Natural Resources" award from the Illinois chapter of The Nature Conservancy. She has also received the "Friends of Ryerson Woods" award, the "Friends of Agriculture" award from the Illinois Farm Bureau and a community service award from the Gurnee Park District.
A former president of the Lake County Forest Preserve District, Moore was cited by the Daily Herald as one of 100 people who helped shape Lake County in the 20th century. Moore was a local business-woman and served as the village clerk and a village trustee in Libertyville, as well as a member of the Lake County Board.
During her legislative career, she was a member of the cities and villages, environment and energy, labor, public utilities, revenue and telecommunications committees and the Illinois Growth Task Force, Congressman Mark Kirk's Environment Advisory Board and the National Caucus of Environmental Legislators.
DNR recognized for environmental stewardship
The Department of Natural Resources recently received an award from the Illinois Green Government Council in recognition of outstanding environmental activities conducted during the year 2000.
The council was created by Gov. George H. Ryan in April of 2000 to direct executive state government agencies in their work to promote environmental stewardship in the operation of their facilities.
Among other things, DNR was commended for aluminum recycling, offering wild game permit applications on its web-site, utilizing compressed material products rather than natural wood to construct agency signs, recycling at state park sites, using naturally occurring organism (insect predators) rather than chemical/herbicides/pesticides to control exotic species, and purchasing 42,800 gallons of ethanol fuel for the state's flexible fuel vehicles and 2.2 million gallons of gasohol.
The Department also has developed work practices for its employees that prevent pollution and conserve natural resources.
Boat grants offered
The Department of Natural Resources is seeking applicants for grants to be awarded through the Federal Clean Vessel Act grant program. Local governments and operators of private marinas, boat yards and yacht clubs may apply for the grants to build or upgrade marine sewage disposal systems and renovate pump-out stations used by recreational boaters.
Applications must be sent to the Department of Natural Resources, which will forward proposals to the U.S. Fish and Wildlife Service for consideration. Applicants whose projects are approved will be reimbursed for up to 75 percent of allowable expenses to construct or renovate stations and waste reception facilities.
Applicants will compete for a national pool of $10 million in grant funds generated from excise taxes on fishing equipment, import duties on tackle and boats, and motorboat fuel taxes.
Detailed information about the program and application forms are available by calling the DNR at (217) 782-2602 or by writing the Federal Aid and Special Funds Section, 524 S. Second St., Springfield, IL 62701-1787.
Department studying Mahomet Aquifer
A new research project is underway to determine the extent and distribution of arsenic in the Mahomet Aquifer. The Illinois Waste Management and Research Center (WMRC) recently awarded $74,833 to the Illinois State Water Survey for a project titled "Arsenic Geochemistry and Distribution in the Mahomet Aquifer."
The Mahomet Aquifer extends from the Indiana border to the Illinois River and is under large parts of Vermilion, Iroquois, Ford, Champaign, Piatt, DeWitt, McLean, Logan, Tazewell and Mason counties. It is one of the largest and most important aquifers in Illinois, as it supplies drinking water to more than 600,000 people.
Arsenic has been found in the groundwater from parts of the aquifer at concentrations exceeding the new U.S. Environmental Protection Agency water-quality standard of 10 micrograms per liter. One aspect of the project will be to determine the concentrations of arsenic at varying depths within the aquifer. The researchers, in cooperation with WMRC staff, are developing sampling and analytical techniques to efficiently distinguish between the chemical forms of arsenic and accurately measure concentrations. The study also will examine the effectiveness of various water treatment practices in removing arsenic from drinking water.
20 OutdoorIllinois
---
Arsenic is a toxic element and has been linked to adverse health effects in humans. The chemical forms of arsenic in groundwater affect both its toxicity and the manner in which it responds to various treatment processes. By measuring these forms in the groundwater and observing their behavior during water treatment, the researchers hope to gain new insights into management of this naturally occurring chemical.
Samples will be collected from private wells in Tazewell and Champaign counties, and from public wells and municipal water treatment plants withdrawing water from the Mahomet Aquifer throughout the region.
The researchers hope to develop critical information for well drillers, homeowners,
Backers sought for Husar endowment
The Illinois Conservation Foundation has begun a concerted effort to raise $250,000 to fund the John Husar Outdoor Education Endowment. To date, the ICF and the John Husar Memorial Steering Committee have raised approximately $84,000.
The money will support the creation of the John Husar Lookout Point at Mississippi Palisades State Park in Carroll County and the John Husar Under Illinois Skies Endowment.
Husar loved the majesty of the sheer cliffs and views of the river and encompassing valley at Mississippi Palisades. Funds will be used to enhance the current Lookout Point by raising the observation deck 20 feet to ensure that it is accessible for disabled individuals. The panoramic view will be increased from 180 degrees to nearly 270 degrees.
The new deck will be 270 feet above the river and constructed of natural materials to blend into the surroundings. The platform will be approximately four times larger than the current deck. An interpretive kiosk will provide educational information about the history and the natural resources of the area.
Estimated cost of this portion of the package is $200,000.
The second goal is to create the John Husar Under Illinois Skies Endowment. Under Illinois Skies is a Department of Natural Resources program in which urban children are provided with overnight experiences and learning opportunities at Illinois state parks. This program has been a pilot with the Chicago Park District for the last two years, and the goal is to expand it to other urban areas in the state.
"The fund will provide urban children, some of whom have never been outside their city, an opportunity to experience a state park and its natural resources," said John Schmitt, ICF executive director. "John Husar's memory will be honored each time a child participates in the program and has an experience to remember for the rest of his or her life."
The Foundation's policy for creating a designated endowment requires that an initial $50,000 corpus be donated.
John Husar, outdoor writer for the Chicago Tribune, left behind many friends and fans when he passed away July 20, 2000. Known fondly by many as the "gentle giant," he impacted the lives of hundreds of thousands of people. His writings influenced the direction of both state and national natural resources policies.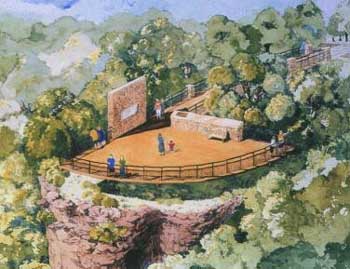 Artist's rendition of the John Husar Lookout Point
His advocacies included: the Illinois & Michigan Canal, recognized as the first federally designated National Heritage Corridor; the conversion of the Joliet Army Arsenal to the 19,000-acre Midewin National Tall Grass Prairie; ensuring that the Savannah Army Depot's 13,000-plus acres remained as open space; professional leadership in the management of natural resources; bringing the BASS Masters Classic to Chicago; as well as many other natural resource and conservation issues that he supported and wrote about.
The desire to honor Husar on the state level prompted the DNR and ICF to create a steering committee of his family, friends and associates to establish goals to honor him.
"Gifts of any size are welcome," Schmitt said. "We urge everyone to consider a gift that will pay tribute to John and the many lives that were touched by his friendship, his writing and his advocacy for natural resource protection so that future generations will enjoy the great outdoors as he did."
Donations should be sent to ICF, John Husar Outdoor Education Endowment, 100 W. Randolph St., Ste. 4-300, Chicago, IL 60601. More information is available on the Foundation's website at www. ilcf.org or by calling (312) 814-7237.
March 2002 21
---
Conservation Congress seeks participants
The Department of Natural Resources is seeking Illinois organizations that want to participate in the fifth Conservation Congress.
Members of the Conservation Congress are representatives from recognized organizations in Illinois, including not-for-profit corporations, businesses and other entities whose goals and actions demonstrate a commitment to the protection, conservation, sustainable use and/or recreational enjoyment of Illiois' natural resources.
Later this year, a series of caucuses will be held in each of the Department's five regions to identify issues, draft recommendations and elect delegates for the next Congress, which is scheduled for September 2003.
Additional information is available on the Department's website at http://dnr.state.il.us or from Constituency Services, 524 S. Second St., Room 500, Springfield, IL 62701. Questions should be directed to Brenda Potts or Curt Conrad at (217) 782-4963; e-mail: bpotts@dnr-mail.state.il.us or cconrad® dnrmail.state.il.us.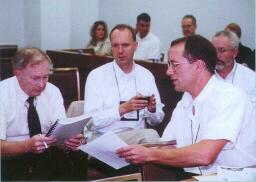 Conservation Congress representatives formulate recommendations that oftentimes lead to implementation of new policies and/or procedures within the DNR.
treatment works and health departments. The research data may motivate changes in well drilling codes by recommending drilling depth, and could provide information on arsenic removal both at treatment plants and in private homes.
The study is being directed by Thomas Holm, a scientist at the Illinois State Water Survey. It began in September 2001, and results are expected in early 2003.
The Waste Management and Research Center is a division of the Department of Natural Resources and is headquartered on the University of Illinois campus in Champaign. It also has offices in Oakbrook, Peoria and Brighton.
State acquires land in DeKalb County
The State of Illinois is acquiring 570 acres of land along the South Fork of the Kishwaukee River in DeKalb County through Gov. George H. Ryan's Open Land Trust Initiative.
"Kishwaukee is a Native American name given to the river meaning 'clear water,' and indeed this river is one of the most biologically significant in the state," Gov. Ryan said. "The state's acquisition, along with acreage purchased by local government, will mean a large stretch of the river and its frontage will be protected for all time."
Correction
In last month's NewsFront section it stated telephone orders for nonresident archery deer permits would be accepted beginning Saturday, March 2. The initial date for accepting permit applications has since been changed to Saturday, July 13, We regret the error.
The property, just west of Kirkland, consists of upland and bottomland forests, marshes, grasslands and the high-quality South Fork of the Kishwaukee River. Turkey, deer and other forest wildlife are common to the site, and the river is known for its smallmouth bass fishery. The DeKalb County Forest Preserve District intends to acquire 293 acres of land north of the river and already owns the adjacent MacQueen Forest Preserve.
"This is an important acquisition, not only for the natural resources on the property, but also because DeKalb County has very little land available for public outdoor recreation," Gov. Ryan said.
The state's part of the acquisition is using $2.68 million in Open Land Trust funding. Once both acquisitions are complete, nearly 900 acres of forested land along 3.2 miles of the river will be in public ownership.
The Illinois Open Land Trust, a $200 million initiative, has resulted in the acquisition of more than 42,200 acres of open space for natural resource protection and outdoor recreation.
Wildlife projects sought for funding
Applications are being accepted through April 15 for the Small Project Program of the Wildlife Preservation Fund, administered by the DNR Division of Natural Heritage. This program is funded through a voluntary check-off designation to the Wildlife Preservation Fund on the state income tax form.
Small Project Program proposals may address many types of projects, including management, site inventories or education. Past projects have included wildlife habitat improvement, species enhancement, education and research projects focusing on species ranging from birds to turtles, and habitat ranging from forests to prairies.
Individual proposals are eligible for up to $1,000 from the Wildlife Preservation Fund. The grants will be effective from July 1, 2002, to June 30, 2003.
The Illinois Wildlife Preservation Fund Small Project Program packet includes an explanation of the program, instructions for completing the application form and the form itself. The packet is available by calling (217) 785-8774 or by email at SpecialFunds@dnr mail.state.il.us.
Trout season begins April 6
The 2002 spring trout fishing season in Illinois begins Saturday, April 6.
The trout stocking program is supported by funds generated from the sale of inland trout stamps. The stamps are available for $6.50 each at DNR regional offices, its Springfield and Chicago offices, sporting goods stores and bait shops and at numerous municipal, township and county offices. Inland trout stamps, as well as fishing licenses, also may be purchased with a
22 OutdoorIllinois
---
credit card through the DNR website at http://dnr.state.il.us.
Anglers must have a valid Illinois fishing license and an inland trout stamp, or a 24-hour fishing license which includes trout fishing privileges. A license is required unless the angler is under age 16, blind or disabled, or an Illinois serviceman or servicewoman home on leave. Annual fishing licenses now being sold for the 2002 season expire on March 31, 2003.
Anglers are prohibited from taking trout from any of the stocked sites until April 6 at 5 a.m. Anyone attempting to take trout before the legal opening will be issued citations. The daily possession limit for the spring trout season is five fish.
For more information about the trout stocking program, contact the DNR Division of Fisheries at (217) 782-6424, TTY (217) 782-9175 or by calling 1-800-ASK-FISH.
Stocking sites (by county) for the spring catchable trout program are:
Adams County: Siloam Springs State Park Lake; Boone County: Mill Race Ponds; Bureau County: Hennepin Canal Parkway; Cass County: Gurney Road Pond at Jim Edgar Panther Creek State Fish and Wildlife Area; Champaign County: Lake of the Woods; Cook County: Axehead Lake and Belleau Lake, both in the Cook County Forest Preserve District; Coles County: Eastern Illinois University Campus Pond; DuPage County: Silver Lake; Grundy County: Gebhard Woods State Park Pond; Jefferson County: Mount Vernon Game Farm Pond: Jo Daviess County: Apple River Canyon State Park; Johnson County: Ferne Clyffe State Park Lake; Kankakee County: Bird Park Quarry and Rock Creek; Kendall County: Big Lake at Silver Springs State Park; Lake County: Banana Lake and Sand Lake; LaSalle County: Illinois and Michigan Canal at Utica; and Macon County: Rock Springs Pond.
Also: Marion County: Boston Pond at Stephen A. Forbes State Park; Massac County: Fairgrounds Pond in Fort Massac State Park; McLean County: Miller Park Lake; McHenry County: Lake Atwood and Piscasaw Creek; Moultrie County: Wyman Lake; Ogle County: Pine Creek in White Pines State Forest; St. Clair County: Frank Holten State Park main lake and Jones Park Lake; Sangamon County: Department of Transportation Lake and Washington Park Pond; Shelby County: Forest Park Lagoon; Stephenson County: Waddams Creek at Lake Le-Aqua-Na State Park and Yellow Creek in Freeport; Vermilion County: Clear Lake at Kickapoo State Park; Wabash County: Beall Woods Lake; Wayne County: Sam Dale Lake Conservation Area Trout Pond; Whiteside County: Coleta Trout Ponds; Will County: Lake Milliken at Des Plaines Conservation Area; and Winnebago County: Kent Creek in Rockford.
"Drive-by shooting"
Huntsville resident, Betty Sheets, turned in this rather distinctive tree stand featuring a four-door sedan as its platform. Described as a Schuyler County "all weather" tree stand, it was constructed in 1986 by Alan Sheets, Dan Lieb and Kirby Benjamin. The trio used a tractor to hoist the car into the trees and it was secured using chains. After more than 15 years of growth, the black oak tree trunks grew into the car, wedging it permanently between them. The 1965 Plymouth sedan features roll-down windows, original bench seats, and excellent ventilation via the missing windshield.
"The only thing wrong with the car stand is that you have to clean it out before you use it," said Betty Sheets, who explained that the local population of raccoons enjoy using the car as their personal lounge.
The Sheets' family and friends have managed to harvest a couple of deer during past firearm seasons and dispatched a number of coyotes as well. OutdoorIllinois salutes this creative recycling of a classic car. If your tree stand can top this one, we encourage you to submit its photo for possible publication in a future issue.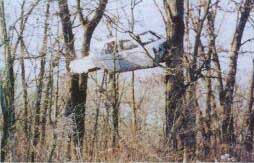 The Sheets family may well have the most unusual tree stand in the state. And, it has weathered 15 years of use.
March 2002 23
---