Bones of Contention
---
Commercial anglers are having a tough time marketing this abundant nuisance species which ranks better than tuna in taste tests.
STORY AND RECIPES
BY P.J. PEREA
PHOTOS BY ADELE HODDE
"The biggest problem right now with bighead and silver carp are the bones," said Rob Maher, head of the Illinois Department of Natural Resources commercial fishing program. "The commercial anglers don't have any machinery that can handle the larger-sized fish and the numerous bones that are interlaced throughout their meat."
The bighead and silver carp are filter feeders, and the bones are part of a fine sensory network that allows the fish to detect minute food particles in the water column.
With the help of Mike Hooe of the Division of Fisheries, Maher spent a morning collecting fish for recipe testing. It did not take long to find a school of bigheads, as several breached around the wake of their boat.
"After a five-minute net set, we had more than 150 pounds of bighead and silver carp in the net," Maher said. "There are literally tons of these fish out there."
A recent marketing test performed at the University of Arkansas on canned bighead carp revealed that taste testers preferred the flavor of canned bighead carp to that of canned tuna.
The flesh of a fresh bighead and silver carp is firm, clean and slightly translucent with a metallic sheen. There is an oily feel to the firm meat, much like that of a whitefish or a freshwater trout. The meat is very mild when cooked and will readily absorb spices and marinades. Every fish used in the recipe testing was very healthy and had a sizeable fat layer on the belly and inside its back. The fat is slightly bitter and should be removed prior to cooking.
Here are three recipes that allow cooks to deal with the bones, whether from a smaller fish of 1 to 5 pounds or from a larger 5- to 30-pound fish.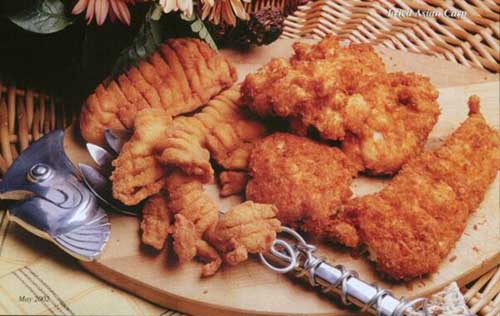 Fried Asian Carp
May 2002 9
---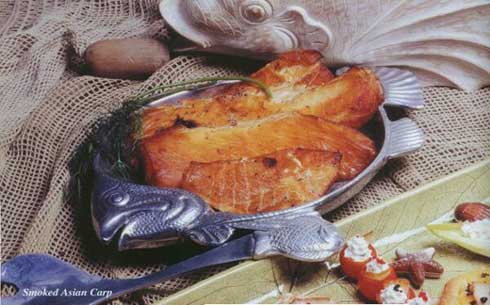 Smoked Asian Carp
Fried Asian Carp
2 pounds of scored fillets
Salt
Fresh ground pepper
Deep fryer with oil heated to 375° F to 400° F
Commercial frying coating (dry)
Smaller 1- to 5-pound fish have fine bones that readily dissolve when exposed to hot oil. Do not use large fish as they have much thicker bones that do not break down as easily. Most fish markets will sell the fish prescored for your convenience. Use light coatings, and avoid heavy batters that smother the scoring and which may leave the bones intact.
Salt and pepper the fillets, and let them rest in the refrigerator for an hour. Dredge the fillets in the commercial frying coating, and place in hot oil. Remove when golden brown, and serve with lemon wedges as a finger food or as a fish sandwich.
Smoked Asian Carp (Savory)
5 pounds bighead or silver carp steaks or fillets (skin on)
1cup coarse kosher salt
1 cup sugar
1 tbsp. fresh ground pepper
1 bunch fresh baby dill
Smoked Asian Carp (Sweet)
5 pounds bighead or silver carp steaks or fillets (skin on)
1cup coarse kosher salt 1 tbsp. fresh ground pepper
1 cup brown sugar
4 cups apple juice
2 sticks cinnamon
Smoker: charcoal and smoking chips (hickory, cherry or apple wood chips)
Smoking is a good way to prepare larger 5- to 30-pound fish. The light, oily texture of the meat readily absorbs the smoke flavor. The smoking process also loosens the bones and allows for easy extraction after cooking. Taste testers found both versions of the carp to be comparable to smoked whitefish or salmon.
Savory: Line up fillets/steaks on non-reactive pan or tray. Coat both sides with salt, pepper and dill. Cover with plastic wrap and refrigerate overnight.
Sweet: Place fillets/steaks in non-reactive bowl. Add remaining ingredients: salt, pepper, brown sugar, apple juice and cinnamon. Mix lightly until sugar and salt dissolve. Cover with plastic wrap and refrigerate overnight.
Soak wood chips in water one hour before smoking. Fire up charcoal until covered with a light ash. Fill water pan to create steam in smoker and keep fish from drying out.
10 OutdoorIllinois
---
Remove fish from marinade. Place on wire racks in the refrigerator for one hour. Be sure to put a pan under the rack to catch drippings. The fish will develop a slight glaze. Lightly oil grill and position marinated fish on the rack. Add a handful of smoking chips to charcoal and close cooker. Replenish chips every 20-30 minutes. Most fish will be cooked in two to four hours, but this will vary with weather conditions and desired depth of smokiness. Finished fillets will have golden honey to mahogany color, depending on preference and type of wood chips used. Cooked fish will flake easily and will become opaque.
Allow fish to cool, and serve "as is" or use in recipes that traditionally call for smoked salmon.
Poached Silver Salad Sandwich
2 pounds bighead or silver carp fillets (skin off)
1 lemon
Fresh ground pepper
Salt
Fresh baby dill
Sandwich Stuff
Mayonnaise
Fresh ground pepper
Celery, chopped
Red and yellow pepper slices
Cucumber slices
Lettuce
Tomato slices
Dill pickle
Cheese slices (optional)
Fresh bagel or favorite sandwich bread
Squeeze the juice of 1 lemon on the fillets. Salt and pepper fillets to taste. Coarsely chop a small bunch of dill, and sprinkle it on the fillets. Steam in an open foil packet until fillets become opaque and flake easily with a fork. Allow fish to cool and remove meat with a fork, separating from the bones.
Mix flaked fish with mayonnaise, ground pepper, celery and red and yellow pepper slices to taste. Chill salad in refrigerator. Serve salad on bread with side ingredients: cucumber slices, lettuce, tomato, pickle and cheese.
If you are interested in trying bighead or silver carp, contact Rob Maher at (618) 466-3451. He will refer you to the nearest supplier.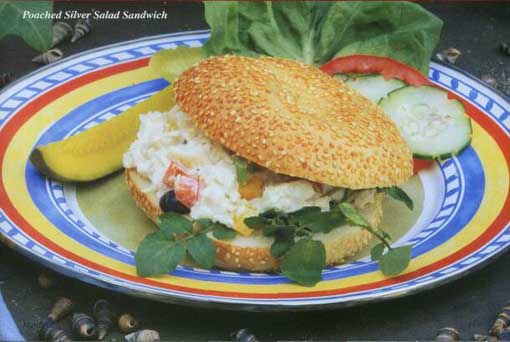 Poached Silver Salad sandwich
May 2002 11
---