Deer Park Today
---
A turn-of-the-century LaSalle industrialist developed one of the state's most scenic sites as a private estate.
STORY BY Liz PENSONEAU
PHOTOS BY CHAS. J. DEES
Frederick Matthiessen of LaSalle was a wealthy man, there was no doubt about that. And he also was an extremely charitable man— well-known for his philanthropy. He provided his community with a high school, a gymnasium, an athletic field, a public library, a hospital and an electric light plant, among other improvements. And, he developed a private jewel of a retreat named Deer Park.
His summer home, a palatial three-story mansion with 16 bedrooms and nine baths, was located at the park and was known within the local community as "The Big House." A smaller 26-room mansion, also at the park, was home of one of Matthiessen's five children, Adele, and her husband. Captain George Blow.
There were other buildings there, too, including a tool shop, a cottage, a four-car garage, a caretaker's house and a private fire station. Matthiessen employed approximately 50 men for the purpose of constructing trails, bridges, stairways and small dams throughout his 175-acre park.
The scenery was far from ordinary, as the site boasted one of the more picturesque attractions in the state—a long, narrow canyon, known among the Matthiessen family as a dell—and a small stream flowing through it. The two levels of the canyon were called the "upper dell" and the "lower dell" and were separated by a 40-foot-high waterfall known as Cascade Falls. Throughout the entire length of the canyon, falling water and marvelous rock formations delighted visitors.
Since the beauty of the area was unparalleled, it became a popular retreat for picnics. Guests oftentimes arrived via horse-drawn buggies and wagons, which were stabled at horse stalls constructed along rocky cliffs. Attired in their Sunday best, guests frolicked across stepping stones in the stream.
Following the deaths of Matthiessen's wife Fanny in 1913 and Matthiessen, himself, in 1918, their heirs donated 175 acres to the state in 1940 with the stipulation that it be preserved as a nature area and wildlife sanctuary. The park was renamed Matthiessen State Park.
Since then, holdings have grown to 1,938 acres, including former prairie land and forest land south of the original park and significant natural areas along the main canyon. The canyon itself provides a perfect habitat for many mosses and liverworts that thrive on the damp, shady walls. Ferns abound.
| | |
| --- | --- |
| Vintage postcards from the collection of Rick Vecchi, site assistant superintendent at Starved Rock State Park, picture Deer Park during the early 1900s. An old souvenir snapshot album (right) bears the site's name. | |
October 2002 11
---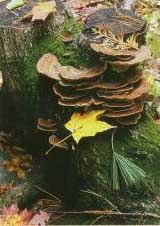 Color bursts forth on the forest floor as maple leaves settle on a stump covered in turkeytail fungus and moss.
Matthiessen State Park is a perfect spot for family outings. Visitors can enjoy the beauty of Lake Falls, chase after butterflies, visit the restored fort blockhouse or have lunch at one if the site's two inviting picnic areas.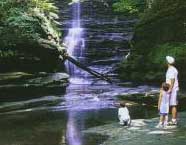 Cliff swallows and rock doves may be seen perching on the walls of the canyon, while the cool, moist canyon floor hosts frogs, toads and salamanders.
In fact, the whole park is filled with wildlife. Raccoons and flying squirrels spend hours among the trees searching for and gathering berries and nuts. The squirrels are nocturnal animals that may be seen scampering on trunks and branches—that is if you're lucky enough to find them within the park.
Matthiessen 2002
Today, Matthiessen State Park remains a place of incredible beauty. Its principal attraction, the mile-long canyon, which is nearly 100 feet deep in places and from 50 to 140 feet wide, was carved in solid sandstone by the Vermilion River. It's a well-developed area for hiking and offers a network of staircases and bridges, where visitors can stand and marvel at the beauty not only surrounding them, but far below. In more than one place, the steps lead to the very floor of a gorge where clear, ice-cold water is dotted with nature's stepping stones.
Despite the fact that Matthiessen attracts one-half million visitors per year, it remains overshadowed by its well-known sister site. Starved Rock State Park, only two miles away. Both are located near Oglesby and Utica, and both can be accessed by Route 178.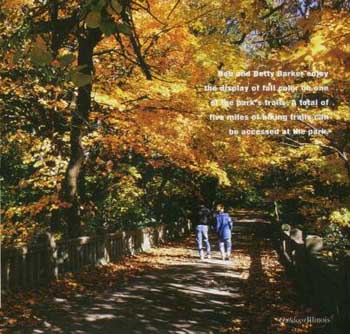 12 OutdoorIllinois
---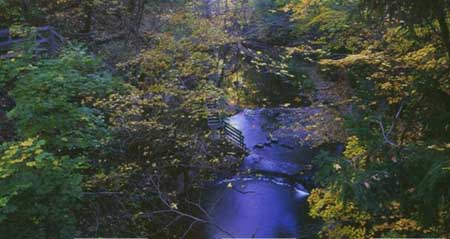 Fall provides dramatic vistas along the Canyon Trail.
Starved Rock has a popular state park lodge that offers accommodations for visitors to the two sites. Brightwood Inn, a privately owned bed and breakfast near the entrance to Matthiessen, also is available to travelers seeking some time in the country.
Jon Blume, who has been site superintendent of both parks since 1976, said Matthiessen is bigger than most people think and has more to offer than people realize.
"This area was the frontier long before Kansas, Oklahoma or Arizona," Blume pointed out. "The French and Indians fought along the Vermilion on property that is now Matthiessen State Park."
The area is still wild and virtually unchanged from the days that the Indians called it home. And today, a restored fort blockhouse, representative of the fortifications the French built in the Midwest during the 1600s and 1700s, provides a glimpse of a frontier structure to visitors. The main trail to the Cascade Falls area originates at this same area.
Blume remarked that Matthiessen's geological features are so unique that people comment it doesn't seem like Illinois. It is a prime attraction for geology field trips and those interested in the subject.
"People show up at the site with two pairs of shoes," Blume said. "Their favorite thing to do is walk up and down in the creek."
All this and more
While the canyon and beautiful scenery may well be the park's main attractions, they certainly aren't the only things Matthiessen has to offer. Here are some other options:
• Hunting: Dove, archery deer and shotgun deer. Dove hunting is in conjunction with a farm lease program. (Some areas of the park are closed to horseback riders during dove season.) Archery deer has a three-month season with archers being very cognizant of
| | | |
| --- | --- | --- |
| | Tony and Max Goodwin return from a trip to the lower dells. (Right) A skyward look from one of the trails reveals a brilliant display of fall color. | |
---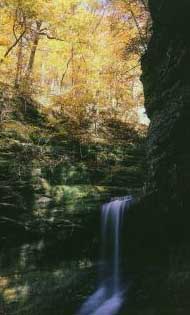 Visitors often remark that it Is hard to believe a spot like Cascade Falls exists In Illinois—The Prairie State.
Information you can use

Address: Matthiessen State Park, Box 509, Utica.IL 61373.
Telephone: (815) 667-4868.
Website: http://dnr.state.il.us/lands/Landmgt/
PARKS/Rl/mttindex.htm.
Directions: From Interstate 80, take Exit 81, Route 178 to Utica, then 5 mile south on Route 178.
Accommodations:Starved Rock Lodge, 1-800-868-7625; Bright-wood Inn, toll free 1-888-667-0600.
To learn more about Matthiessen's geological history and features: http:// www.isgs.uiuc.edu/tours/buffalo/buffalo.htm or http://www.ivcc.edu/phillips/traci/index.html.
other park users. Firearm deer provides for a special seven-day, herd-reduction hunt scheduled for Nov. 18-21 and from Dec. 2-4, just prior to the statewide shotgun season. Matthiessen is closed during shotgun deer hunts; however. Starved Rock remains partially open. For additional hunting information, contact the park office or visit the department's website:http://www.dnr.state.il.us.
• A radio-controlled model airplane field: This feature is one of the park's special attractions.
• Horseback riding trails: Thirteen miles of trails geared to more accomplished riders.
• Equestrian campgrounds: Available by advance reservation. Picket lines, picnic tables, water hydrants, manure bins and privy toilets are provided. $7 per night. Call (815) 667-4726.
• Scenic hiking trails: 5 miles.
• Off-road bike trail: A 3.8-mile loop, multiple-use trail is a new feature at the park this year.
• Cross-country skiing: Offered December thru March. Equipment rental is available at the park on weekends.
• Picnicking facilities: At Cascade Falls Area and Vermilion River Area.
• Matthiessen Dells Nature Preserve: 86 acres along the deep sandstone canyon. White oak, black oak, white ash, black walnut and American elm constitute the forest. A relatively undisturbed sandstone cliff community contains plant species more commonly found in northern climates, including white pine, Canada yew, northern white cedar, marginal wood fern and Canada mayflower. Bird species include the blue-gray gnatcatcher, ovenbird, scarlet tanager, red-eyed vireo and wood thrush.
Gone but not forgotten
The Matthiessen story should not end without mention that "The Big House" was torn down in the fall of 1969. The smaller 26-room mansion first was sold to R.W. Conkey and then to the Department of Conservation, which used it as a training center. In the fall of 1981, it was destroyed by a controlled fire. None of the other buildings built by Mr. Matthiessen remain at the site. However, much of the work completed by his 50-man crew, such as steps leading to the base of the canyon, can still be seen today.
| | |
| --- | --- |
| Ferns dotting moss-covered canyon walls pair up with barren tree roots for an interesting photo opportunity. | |
14 OutdoorIllinois
---