Waterfowl regulation changes
The Natural Resources Advisory Board made three changes to the proposed 2002-2003 Illinois waterfowl season dates and bag limits at its August meeting. Therefore, the proposed waterfowl hunting regulations published in the September issue of OutdoorIllinois have been modified.
Proposed changes include:
The Central Zone Canada goose season dates now run from Oct. 24-27 and Nov. 17-Jan. 31. Canada goose season dates are unchanged in the North and South zones.
The Board recommended Illinois close the pintail season and reduce from two to one the number of hen mallards that can be harvested per hunter. Both actions are important conservation measures to protect these resources.
Except for these three changes, the waterfowl hunting season dates and bag limits published in the September issue of OutdoorIllinois will stand, pending final approval from the U.S. Fish and Wildlife Service. Approval was expected about Sept. 16, after this issue of the magazine went to the printer.
Copies of the Digest of Waterfowl Hunting Regulations 2002-2003 can be obtained from the DNR Clearinghouse by calling (217) 782-7498 or by emailing clearing@dnrmail.state.il.us.
Outdoor Hall of Fame inductees
Three individuals long recognized for their distinguished service and commitment to natural resource protection and outdoor recreation in Illinois have been selected for induction into the Illinois Outdoor Hall of Fame, a program of the Illinois Conservation Foundation.
"Henry Barkhausen, Bill Cullerton and Former Governor Jim Edgar have dedicated their careers to improving the quality of life in Illinois, especially through their work on behalf of the environment and natural resources of our state," said DNR Director Brent Manning, who serves as chairman of the board of directors of the Illinois Conservation Foundation.
Henry Barkhausen of Lake Forest has been described as an industrialist, businessman, author, sailor, public servant and conservationist. Barkhausen served as director of the Illinois Department of Conservation from 1970-1973 and led an unprecedented land acquisition effort resulting in more than 15,000 acres being added and developed in the state park system. New sites included Shabbona Lake and Horseshoe Lake state parks and Franklin Creek and Volo Bog state natural areas. Barkhausen established the Department's natural heritage division to enhance protection of non-game fish and wildlife and unique natural areas. He also worked for more than 30 years on protection, restoration and preservation of the Cache River wetlands in southern Illinois. His leadership resulted in creation of the Cypress Creek National Wildlife Refuge, while his work with the Illinois Chapter of The Nature Conservancy facilitated acquisition of the Little Black Slough in the Cache basin. In recognition of his work on behalf of the Cache, the new Henry Barkhausen Wetlands Center at the Cache River State Natural Area is named in his honor.
Bill Cullerton, Sr. of Oak Brook has spent a lifetime working to improve Illinois' natural resources and recreational opportunities. As a youngster, Cullerton made fishing lures at his grandfather's business and, while in high school, worked as a fishing guide. He was a highly decorated pilot during World War II and later opened a business representing the interests of manufacturers of hunting and fishing equipment. Cullerton has been a strong voice for sportsmen and their issues through his writing, seminars and as host of the "Great Outdoors" program on WGN Radio in Chicago for more than 30 years. Much of his career has included promoting outdoor activities for children, seniors and people with disabilities. Cullerton has served as a member and director on numerous boards, including the Illinois Conservation Foundation. He is a member of the International and Freshwater Sport Fishing halls of fame. In 2000, the complex that includes Illinois Beach State Park and North Point Marina in Lake County was named the Cullerton Complex in his honor.
Former Governor Jim Edgar of Mahomet, well known as an avid hiker, horseback rider and bicyclist, displayed a remarkable commitment to Illinois' natural resources and outdoor recreation during his 1991-1999 tenure as the state's chief executive. Prior to that, as Illinois' Secretary of State, Edgar championed the law establishing the state's bicycle trail grant program. Through Edgar's leadership, the state acquired more than 38,000 acres of land for open space and recreation, including the vast Site M in Cass County, now known as the Jim Edgar Panther Creek State Fish and
| | | |
| --- | --- | --- |
| Henry Barkhausen | Bill Cullerton, Sr. | Jim Edgar |
20 OutdoorIllinois
---
Wildlife Area. Working with federal authorities, Edgar secured management rights for the former Joliet Arsenal and Savanna Army Depot facilities. He founded the Illinois Conservation Congress, initiated the state's Conservation 2000 and EcoWatch natural resources management and monitoring programs, and signed legislation creating the Illinois Conservation Foundation. He also signed an agreement with the federal government that began the state's successful, long-term Illinois River restoration effort.
The three inductees will be honored during ceremonies at the Illinois Outdoor Hall of Fame Banquet on Friday, Feb. 21, 2003, at Drury Lane in Oak-brook Terrace.
For more information on the banquet, contact Ron Allen, Illinois Conservation Foundation at rallen@dnrmail.state.il.us, phone (217) 785-9371, or check the ICF web site at www.ilcf.org.
Report swan sightings
Can you identify a trumpeter swan? Researchers at Southern Illinois University's Cooperative Wildlife Research Laboratory are asking for the public's assistance in reporting all trumpeter swan sightings south of Interstate 64 this winter.
SlU's lab is conducting research to better understand the wintering habits of these rare and protected migratory waterfowl. Much larger than other white birds seen during winter (such as snow geese), trumpeter swans average 20 to 30 pounds and stand four feet tall.
North American populations of these giant swans, whose wingspans can reach 7 feet, once bordered on extinction. Thanks to conservation efforts, nearly 20,000 trumpeter swans exist today—yet little is known about the wintering behavior of these birds in the Midwest. Last winter, 71 swans wintered at Burning Star No. 5 coal mine near Hurst in Jackson County.
Research for the project is made possible by the Department of Natural Resources with a $100,000 grant funded by the Federal Aid in Wildlife Restoration Act.
To report trumpeter swan sightings, call SlU's Cooperative Wildlife Research Lab at 1-800-401-5673.
Fall trout season opens Oct. 19
The state's annual fall catchable trout season opens Oct. 19 at 5 a.m. at 35 locations throughout the state.
No trout may be taken at any of the sites from Oct. 1 until the program's legal opening. More than 70,000 trout will be stocked prior to the opening day of the season. Each of the stocked trout weighs approximately one-half pound and is 10 to 12 inches long.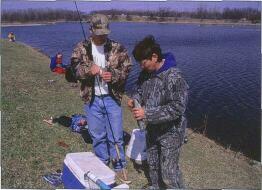 Laverne Loveall (r) and her son, Ray, successfully harvested a trout stocked as part of the catchable trout program. County State Fish and Wildlife Area Lake, Randolph County; and Prospect Pond in Moline, Rock Island County.
To take trout legally, anglers must have a fishing license and an inland trout stamp, unless they are under 16 years of age, blind or disabled, or an Illinois resident on leave from the Armed Forces. The catch limit for each angler is five trout per day.
The 35 locations include: Siloam Springs State Park, Adams County; Greenville Old City Lake, Bond County; Hennepin Canal Parkway State Park, Bureau County; Campus Pond, Coles County; Axehead and Belleau Lakes, Cook County; Crawford County Conservation Area Pond, Crawford County; Villa Grove West Lake, Douglas County; Boston Pond at Stephen A. Forbes State Park, Marion County; Mt. Vernon Game Farm Pond, Jefferson County; Ferne Clyffe State Park, Johnson County; Bird Park Quarry in Kankakee, Kankakee County; Big Lake at Silver Springs State Park, Kendall County; Banana Lake at Lake County Forest Preserve District and Sand Lake at Illinois Beach State Park, Lake County; Faries Park Pond in Decatur, Macon County; Beaver Dam Lake, Macoupin County; Highland Old City Lake, Madison County; Fairgrounds Pond at Fort Massac State Park, Massac County; Argyle Lake at Argyle Lake State Park, McDonough County; Randolph
Also, Frank Holten State Park Lake, St. Clair County; Jones Park Lake in East St. Louis, St. Clair County; Willow Lake at Peabody River State Fish and Wildlife Area, St. Clair County; Jones State Lake at Saline County State Fish and Wildlife Area, Saline County; IDOT Lake and Washington Park Pond in Springfield, Sangamon County; Forest Park Lagoon in Shelbyville, Shelby County; Mineral Springs Park Lagoon in Pekin, Tazewell County; Clear Lake at Kickapoo State Park, Vermilion County; Beall Woods Lake in Beall Woods State Park, Wabash County; Citizen's Lake in Monmouth, Warren County; Sam Dale Trout Pond at Sam Dale Lake Conservation Area, Wayne County; and Coleta Trout Pond, Whiteside County.
For more information, contact the DNR Division of Fisheries at (217) 782-6424 or any of the five DNR regional offices: Region I, Sterling, (815) 625-2968; Region II, Yorkville, (630) 553-6680; Region III, Champaign, (217) 278-5773; Region IV, Alton, (618) 462-1 181; and Region V, Benton, (618) 435-8138.
Kinkaid Lake spillway repairs
The water level at Kinkaid Lake in Jackson County is being drawn down to rehabilitate the dam's natural rock spillway, which has been gradually deteriorating since it was constructed. Work is expected to be completed before March 1, so the lake can be filled to its normal pool during spring rains. Anyone using the lake during this drawdown period should use extreme caution because there will be some very shallow water areas.
October 2002 21
---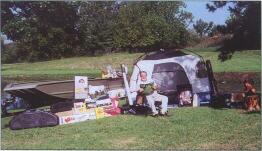 Edward Jones, an avid outdoorsman from Hodgkins, was the lucky winner of the $8,000 Outdoorlllinois Adventure Package at this year's Illinois State Fair.
One happy camper
Congratulations to Edward Jones of Hodgkins, winner of this year's OutdoorIllinois Adventure Package at the Illinois State Fair. Jones won more than $8,000 worth of outdoor gear after he subscribed to OutdoorIllinois at DNR's Conservation World. The promotion was sponsored by the Illinois Conservation Foundation, and was comprised of donated merchandise.
OutdoorIllinois extends a heartfelt thanks to all businesses for their generous donations: Boat Dock: Port of Springfield, Bass Tracker Grizzly 14-foot johnboat and trailer; Avery Outdoors, Quick-set waterfowl blind; Campbell Resources, Inc., Carmi, 6.5-day deer hunting package; Plano Molding Co., tackleboxes, carrying cases and supplies; TL's Archery International, Carbondale, Mathews compound bow; Adventure Dive and Travel, Springfield, SCUBA diving class; Presley's Southside Worm Ranch, Peoria, Winchester storage box and 12-gauge shotgun shells; Buell's Marine, Canton, two life jackets, fire exstinguisher, boat paddle; Gander Mountain, Peoria, rod and reel fishing combo, sport shirt and cap; Magic Products, Inc., minnow bucket and worm box; Boat Shop and East Side Marine, Springfield, waterfowl hunting accessories; Discount House, Jerseyville, Winchester decorative mirror; Rend Lake Shooting Complex, four rounds of sporting clays; Rend Lake College Golf Outlet, three golf shirts; Rend Lake Resort, Whittington, two nights lodging for four, dinners and breakfasts; Conetrol Scope Mounts, gift certificate; Becoming an Outdoors-Woman program, two folding field chairs/coolers; Southern Illinois National Hunting and Fishing Days Committee, Winchester knife; Illinois Conservation Foundation, ICF collector's items, fly-fishing vest; Rend Lake Conservancy District, afghan; and anonymous donors contributed a Wenzel tent, assorted camping items and a carved wooden owl table.
Don't dump leftover bait
Anglers in Illinois are reminded not to release bait minnows, game fish or other native or exotic species into local lakes and ponds.
DNR fisheries biologist Mike Mounce notes that bait fish and other species added to a body of water can actually reduce fishing quality.
"Two- to three-inch golden shiner minnows sold at the bait shop can escape being eaten and quickly grow to eight inches. They successfully reproduce and compete with bluegill and fingerling bass for the same limited food supply, leading to stunted bluegill and the demise of the bass," Mounce said. "Anglers should never dispose of their leftover minnows in the water but should save them for the next trip, give them to another fisherman or leave them on shore."
For more information about bait dumping and invasive species issues, contact the Illinois-Indiana Sea Grant Program, Lake Michigan Biological Station, 400 17th St., Zion, IL 60099, phone (847) 872-8677 or visit the website www.iisgcp. org. Free "Protect Our Waters— Don't Dump Bait" stickers may be ordered from the website or by calling (217) 333-9448.
Award winners
Dale Shriver of Marengo is the recipient of the Illinois Outstanding Tree Farmer of the Year award, and Dana and Dawna McLain of Arenzville have received the Illinois Wildlife Landowner of the Year award.
Shriver uses his 83-acre McHenry County tree farm for timber production, hiking, bird observation, hunting and soil and water conservation.
"Dale gives tours to anyone interested in forestry and natural areas," said Department of Natural Resources District Forester Paul Deizman, who nominated Shriver for the award. "He works with local children and school groups, and with the McHenry County Conservation District as a volunteer steward."
Shriver has undertaken a gypsy moth monitoring and management effort to combat possible infestation and help prevent damage to his trees. He
22 OutdoorIllinois
---
also has established a three-acre tallgrass prairie on an open corner of his woodland, improved wildlife habitat and created improved trails on 50 acres of his property.
Dana and Dawna McLain of Arenzville were named Illinois' Wildlife Landowner of the Year for their work in forest development, prairie restoration and wildlife habitat enhancement on the 480-acre farm in Morgan County where they raise grain and livestock.
Dana McLain's wildlife habitat efforts began in 1992 when he began implementing a forestry development plan under the guidance of Tom Wilson, a DNR district forester. The plan included the erection of fences to prevent livestock from grazing in timber and highly erodible areas of the farm.
The McLain farm has a variety of habitats ranging from riparian areas, hill prairies, old fields, mature hardwood timber and shrubby fence rows that divide many of the cropped fields.
Marseilles SFWA offers hunting opportunities
Hunters again have the opportunity to hunt at the Marseilles State Fish and Wildlife Area in LaSalle County. The Department of Natural Resources jointly manages this area with the Illinois National Guard. All hunting programs are dependent on national security considerations. In the event that heightened security measures are necessary, these hunting programs will again be closed with little or no notice. Any closures will be posted at the site and will be announced through a press release.
All hunters must check in and out at the manned check station at Gate 60 on 2450th Road. They will be required to show two forms of picture ID: their driver's license and a valid FOID card. If archery hunters do not have a FOID card, another form of picture ID will suffice. All hunters must have a valid hunting license and habitat stamp. Hunting licenses will be held at the check station and returned when the hunter checks out. All other applicable site and Department rules must be followed.
Firearm deer season will be open Nov. 22-24 and Dec. 5-8. Muzzleloader deer season will be open Dec. 13-15. All hunting will be on a standby basis. Hunters must check in by 5 a.m., when there will be a drawing to allocate the permits. Permits are $5 and valid for one day only.
Archery deer and turkey season will run from Oct. 21-24. The hunt will then run Wednesdays through Sundays from Oct. 30 through Nov. 27, except for the first firearm deer season (Nov. 22-24) when archery hunting will be closed. The check station will open at 5:30 a.m. and close at 6 p.m. All hunters must be signed out by 6 p.m. or they will be ticketed.
Further information may be obtained by contacting Illini State Park at (815) 795-2448. Hunter fact sheets for state hunting areas are available on the internet at http://dnr.state.il.us.
Newsbriefs
• The Illinois State Geological Survey will hold its fall geological science field trips at Apple River Canyon State Park and the Stockton Area in Jo Daviess County on Oct. 19 and Nov. 2. Field trips are open to the public, but participants must register by calling (217) 333-4747 or online at http://www.isgs.uiuc.edu/. A $5 fee will be collected from participants on the day of the field trip.
• Non-resident archery deer permits are sold out for the 2002-2003 season. A total of 12,843 were available. Hunters who did not obtain a permit are encouraged to plan ahead for the 2003- 2004 season.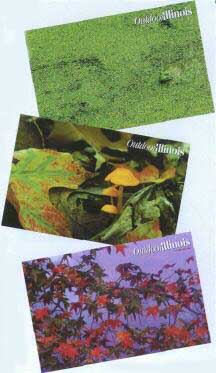 OutdoorIllinois photography wins award
OutdoorIllinois magazine claimed top honors in this year's Association for Conservation Information, Inc.'s annual awards program for color/black and white photography.
The magazine entered three of its cover shots: the frog at Heron Pond (August 2001); an orange mycena mushroom at Spitler Woods Nature Preserve (September 2001); and autumn leaves on a sweet gum tree at Cave-in-Rock State Park (October 2001). All three images were shot by DNR's chief photographer, Adele Hodde.
The annual competition recognizes the efforts of member agencies in conservation education, information and public relations programs and honors individuals and organizations who have distinguished themselves in those fields.

Last chance to enter photo contest
Have you submitted your entry in this year's Outdoor Illinois photo contest? Time is running out as you only have until Oct. 31 at 5 p.m. to enter and be eligible for the prizes.
Professional photographers will judge photos in four categories—wildlife, backyard/urban wildlife, scenic/flora and recreational activities.
The grand prize this year includes two nights lodging at White Pines Inn, Mt. Morris, and the Illinois Conservation Foundation's custom-framed, signed and numbered, limited-edition print, "Winter Refuge," by John S. Eberhardt. First- and second-place winners in other categories will receive three-year and two-year subscriptions, respectively, to OutdoorIllinois and will have their winning photos published in the February issue.
There is no limit to the number of photos that may be entered. A complete set of rules can be found in the May 2002 issue of Outdoorlllinois magazine and on DNR's website. It also can be obtained by writing:
OutdoorIllinois magazine, One Natural Resources Way, Springfield, IL 62702-1271. Phone (217) 782-7454 or email editor@dnrmail.state.il.us.
October 2002 23
---