James H. Magee:
Triumph over Adversity
Roger D. Bridges
Historical Research and Narrative
Few people have heard of James Henry Magee. Yet the Rev. Dr. Magee was an important African American who played a crucial role in leading the race toward full participation in American society. That he and others fell short of that goal in their lifetime was not owing to a lack of will or skill. It was, rather, owing to the unwillingness of the white majority to recognize their claims or abilities. Dr. Magee became a leader in his native state despite his humble birth in Madison County, Illinois, on June 23, 1839. Although Illinois was officially a free state in 1840—just one year after Magee was born—out of a population of 480,000 there were 4,000 African Americans 331 of whom were still slaves. Most African Americans—free and slave—resided along the southern borders of the state from St. Louis south. There were few occupations open to African Americans beyond that of farm laborer or servant. Magee's parents were more fortunate than many because they had managed to acquire a farm.
Most African Americans found that opportunities for education were limited. Magee, however, and a small number of other African Americans in Illinois and elsewhere, through persistence and good fortune, prevailed against immense odds and acquired an education. There were few educational opportunities for Illinois blacks. Generally, they were either not permitted to attend the public schools, were provided separate, inferior schools, or were forced out of public schools by local white hostility. Those who did manage to acquire education included John Jones, H. O. Wagoner, and John Willis Menard; all were descended from white fathers or grandfathers.
Who was James Henry Magee? What does his life tell us about Illinois and/or nineteenth century life?
Magee's father, Lazarus, and mother, Susan, were both Kentuckians. His mother was a slave until Magee's father earned enough to buy her from her Louisville, Kentucky, owner. Upon obtaining Susan's freedom, she and Lazarus married and moved to Illinois. By 1840 Lazarus and his family, consisting of himself, his wife, three sons, and one daughter, had settled in Upper Alton. Soon after, the Lazarus Magee family purchased a farm near Shipman, in Macoupin County. By 1850 Lazarus Magee had accumulated property worth $1,000. According to Magee's autobiography, Lazarus, through the hard work of himself, his wife, and children, prospered. By 1860, on the eve of the Civil War, Lazarus and Susan and their children were living on a farm in Macoupin County, near Plainview post office. According to the 1860 census, the farm that Lazarus owned was worth $3,000, and he had $250 in personal property as well.
Ambitious for the welfare of their children, the elder Magees arranged for their children to attend the local township school with white children. Within a year or two, when some parents objected, officials forced the withdrawal of the Magee children; they and a few other black children were then provided with a "colored" teacher. Unfortunately, the teacher knew less than his students. The Magee children were withdrawn and sent to Racine, Wisconsin, where they were the only blacks in the school.
36
---
By 1860 the twenty-one-year-old Magee had completed all the public schooling he was to receive. In the fall of that year he became a teacher. He began teaching in a black Jerseyville, Illinois, school. It could not have been very large because only 109 African Americans lived in the county, according to the 1860 census. The following year he moved to Ridge Prairie. There he remained until the fall of 1863 when he was ordained a Baptist minister and was called to the Salem Church on Wood River. A year later he moved to the Piasa Church, but he remained only a short time before being called to the Zion Baptist church of Springfield. The church, however, already had a pastor who refused to yield the pulpit to Magee. Consequently, according to Magee, he resigned and accepted a call to a Baptist church in Atlanta, Canada, West.
While serving one of the largest black Baptist churches in Canada he continued his education. At the same time he taught Canadian African American children, many of whom were sons and daughters of veterans of the Underground Railroad, or those from the free states of the North who had moved to Canada because they feared kidnapping and sale into slavery. Magee did not, however, divorce himself from Illinois and the United States. Indeed, he maintained a lively interest, as did many of his contemporaries above and below the United States-Canadian border. African Americans were optimistic that they would soon be full participants in American politics. With the Union victory over the Confederacy and the emancipation of the nation's former slaves, Congress had ratified emancipation with the passage of the Thirteenth Amendment to the Constitution prohibiting forever slavery and involuntary servitude, save for the conviction for a crime. Already, Illinois blacks, under the leadership of John Jones of Chicago, had successfully lobbied for the repeal of the Illinois Black Laws. In August 1865 Magee returned home to attend a Missouri manumission celebration at St. Louis. He then went to Springfield in order to attend the annual meeting of the Wood River Colored Baptist Association. There he participated in one of his earliest important political acts. A committee consisting of James Poindexter (of Ohio) and R. J. Robinson, and himself, drafted a report, unanimously endorsed by the Association, calling upon the Illinois General Assembly to grant immediate suffrage to its black citizens. The address noted the contributions blacks had made in defending the country during the War of 1812 and still later their contributions—North and South—in the Civil War. Furthermore, the address noted that without the right to vote, blacks had no effective way to protect their newly granted freedom.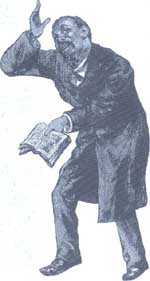 But Magee remained, essentially, a minister. For many Baptists in the mid-nineteenth century, evangelist Charles Haddon Spurgeon was recognized as the quintessential minister to emulate. Desiring additional theological education, Magee left for England in 1867 in order to become a better Baptist minister by studying at Spurgeon's Pastors College. After a year's study under the famous British Baptist evangelist, he returned home and accepted the principalship of the prep school associated with Roger Williams University (then called Baptist College) in Nashville, Tennessee. In 1869 he returned to Alton, Illinois, where he taught in Alton's colored school and served as pastor of the Alton Colored Baptist Church.
Eighteen months later he accepted a call to the Union Baptist Church in Cincinnati, Ohio, and became the pastor of the largest black Baptist Church in Ohio. He maintained his interest in education and politics while pastoring at the Union Baptist Church. He was becoming increasingly strident in his demands for quality education for African American children and continued to urge black participation in politics to assure that they would receive their fair share of tax dollars. He insisted that schools must continue to be vehicles for moral improvement at the public expense. He also remained active within the denomination and was considered one of the leading figures in the Ohio African American Baptist community.
Recognizing that he had already made a significant contribution to the African American political, educational, and religious community, Magee wrote an autobiography entitled The Night of Affliction and Morning of Recovery. Self-published, it was a combination spiritual homily and biography. He wrote it, he said: "to afford comfort to all who are afflicted, or who have known some of the sorrows of life, and it is hoped it will supply a long-felt want among our colored people for works from the pen of one of their own race." Despite his autobiography, he has remained largely unknown.
Unaccountably, Magee left Cincinnati for Metropolis, Illinois, where he earned $45 a month as the head teacher in the "colored school." White teachers in
37
---
Title page of Rev. James H. Magee's autobiography, The Night of Affliction and Morning of Recovery.
the same system earned $85 per month or more. While in Metropolis, he became increasingly active in politics. He emerged as a leader of Black Republicans within the Republican party. By 1878, probably with the support of Benjamin O. Jones, the leading White Republican and a representative from Massac County, he was elected to the county's Republican Central Committee.
By 1884 he was active at the state level. In 1882 he had been elected to the Republican State Central Committee, the first black so elevated. That same year, he was a delegate to the Republican State Convention. In a fierce rivalry for the Republican gubernatorial nomination, Magee chose to support Richard J. Oglesby, Civil War general, governor, and senator, who was again running for governor. Indeed, as early as February 1884, he had written Oglesby and volunteered to support him. "I am a colored man," he wrote, "and a member of the State Central Committee, the first instance of the kind on record in this state. I love the men who went to the front in the hour of our countrie's peril; for such the people delight to honor." Oglesby noted on the reverse of the letter that he "Ans'd affirmatively" on February 20, 1884. Magee responded to the encouragement by issuing a highly partisan broadside calling on Southern Illinois Blacks to vote for Oglesby. Widely in demand as a "race" speaker, Magee waived the "bloody shirt" vigorously. As a direct result of his work, Magee was probably the state's most important black leader outside of Chicago, the home of John W. E. Thomas, who would push the Illinois civil rights law through the General Assembly in 1885.
Magee's political activities in 1884 cost him his position as a teacher in Metropolis. As a result he turned to Oglesby and sought a state position as his reward. Although he asked for a position as a Canal Commissioner or member of the State Penitentiary Board, he was eventually offered a clerkship in the Railway and Warehouse Commission offices in Chicago. It was a position that paid $1,300 a year and gave him ample leisure to pursue politics in Chicago. Actually, Oglesby likely placed him there in an effort to counteract the influence of Carter Harrison, who was making Democratic inroads among Cook County's growing black population.
Certainly both Oglesby and Magee recognized the importance of working with the African American community to maintain Republican party leadership in the state and nation. African Americans had become a crucial part of the Republican party's strength, especially after President Rutherford B. Hayes's policy of reconciliation both encouraged the Democrats in some areas to appeal for their votes, while withdrawing their right to vote in the former states of the Confederacy through coercion, force, and restrictive legislation. Recognizing the erosion of African American participation in the political process, but at the same time the enticements of the Democrats to some African Americans, Oglesby and Magee discussed the proposed Illinois "Colored State Convention."
The Colored Convention movement was a time-honored tradition in the United States and had served as an important vehicle for African Americans to voice their concerns and promote the movement for abolition, educational, economic, and political participation across the northern United States.
38
---
True to his convictions, Magee continued to work in the interest of the Republican party, for the benefit of his black brethren, and championing their full integration into the larger society. While in Chicago, he took the leading role in founding "The Black Man's Burden Relief Association." Its stated purpose was: "Agitation with a view to create a sentiment throughout the Country that will secure humane methods and dealing with all classes of men, especially as applicable to the Colored people of the United States, to circulate a popular petition for the signature of citizens of Northern States, memorializing the President and Congress of the Nation, praying for the execution of such of our Constitutional laws which shall protect the Colored people of the United States and all citizens alike in life, civil and political liberty by suppressing the barbarous custom of lynching and burning Colored men for alleged crimes; such education of public sentiment throughout the civilized world that will relegate man's inhumanity to man to the barbarous ages which obtained in the Spanish inquisition." In support of the association, he may have published a book entitled The Black Man's Burden (ca. 1890), no copy of which has been located. For the rest of his life, Magee held patronage positions in state government. By 1901, he had moved to Springfield, where he held various positions under Secretary of State James A. Rose, a native of Massac County. Indeed, the relationship between Rose and Magee was so close that, at least according to newspaper accounts, Rose's death in 1912 so affected Magee that he suffered a heart attack and died the same day.
During the last thirty years of his life, Magee was one of the most influential blacks in the state. In addition to being a leader of the state AME Church, he was also actively involved in politics, education, and various self-help movements. He vigorously opposed any and all forms of segregation and worked actively to subvert it. In 1885 he vociferously opposed the holding of a State Colored Convention. In expressing that opposition in a letter to Governor Oglesby, he wrote:
Dear Governor, I want to ask your advice about a so called State Convention of colored men at Springfield in Sept. next. It is called by a few "would be leaders" of the colored people; but who in fact are the "sore head" "kickers," who think that all the capacity for office-holding is represented in them. Shall the colored men of this State, allow this self styled "Colored State Convention," to go on by themselves and pass their resolutions with a flourish of trumpets as the voice of the colored people of Illinois in Convention assembled etc? or shall we go there fight them on their own ground; and show them up; that they are only very "small potatoes and few in a hill?" I must confess that I have never been in favor of these separate conventions for colored men; for the reason that if we are anything, we are a part of the great body-politic represented by the one great Republican party. Hence I have opposed all distinctions of organized political bodies. I believe in straight goods in politics; and a unison of action and sentiment of all loyal republicans, irrespective of race, color, or previous condition of servitude. I suppose the convention refered to will probably represent 15 or 20 men in the state of like views; and to be candid I don't like to mix up with such company, yet I am willing to contest every inch of ground that belongs to the true and time tried Republican party. Awaiting your reply
I remain yours faithfully.
Oglesby and Magee met to discuss the convention, and later, after Oglesby had assured himself that the Convention would be harmless, encouraged Magee to attend. Magee did so, but reiterated his opposition to separate conventions in a powerful speech at the convention. In addition, he scathingly denounced those who acted independently of the Republican party or who supported the Democrats. How could they act other than with the Republican party, he asked, and then closed by saying: "The Republican party lifted us out of the horrible and degrading depths of bondage in which we were kept for 240 years. The Democrats fought to perpetuate slavery, and when slavery was abolished they bitterly opposed the passage of the Fifteenth Amendment."
But Magee did not limit his activity on behalf of his fellow blacks to keep them within the party of the "Great Emancipator." In 1890-91 he published Chicago Brotherhood, a weekly periodical devoted to various black fraternal

---
and self-help organizations. In 1898 he was the chairman of a Chicago group organized to raise funds for the pursuit of the Alton School desegregation suit being handled by former governor and senator John M. Palmer. In 1899, at the height of the lynching mania gripping the nation, he organized the Black Man's Burden Relief Association. This group actively campaigned for Congress to create stronger anti-lynching laws. He also lent his support and pen to a movement by a Nebraska congressman to provide a federal pension to all aged former slaves. As he noted, they had been unable to accumulate anything before 1865, and precious little after. Surely, they were at least as deserving as the Union soldiers who received pensions, and certainly as deserving as ex-Confederate soldiers who were pensioned by many southern states.
He compiled a record and lived a life that deserves to be remembered today.
By 1901 he had moved to Springfield where he was employed by James A. Rose in the printer's expert office in the Secretary of State's office. Here he quickly became a leader in the black community. He was an itinerant minister for the AME Church, supplied the pulpit throughout central Illinois, and was in great demand. In addition, he worked assiduously on behalf of his fellow black residents. He organized various cultural and self-help movements in the city and frequently lectured on a wide variety of topics. In 1905 he organized and became president of the Illinois Colored Historical Society. This group prepared papers and held meetings to help blacks understand their role in and contributions to society. It affiliated with the Illinois State Historical Society and Library, both headed by Jessie Palmer Weber, the daughter of John M. Palmer. Magee had long admired Palmer as only slightly less great than Lincoln and on a par with Oglesby. Ever anxious to promote racial progress, Magee actively encouraged the participation of Springfield black students in the public high school. He issued a pamphlet expressing his outrage when a black girl with the highest marks at graduation was denied the honor of being valedictorian. He helped found and became secretary of the "Stalwart Protective League for the betterment of the race along all lines."
For many years he was active in supporting the Ambidexter Institute, which provided vocational educational opportunities for blacks of all ages. Located in Springfield at Twelfth and Cass Streets, it held numerous classes at night and employed both black and white teachers, fully supported financially by black leaders. In 1906 he became its president. In all likelihood the Institute was a casualty of the 1908 race riot.
Despite his opposition to separate political institutions for blacks, he recognized realities of society in his day and actively participated in the separate social, business, and religious organizations. Throughout, however, he aimed to assist his brethren in acquiring the skills that would make such institutions superfluous in time. Despite his efforts, however, that day did not arrive in his lifetime. Indeed, racism was so pervasive that Springfield's blacks were not even welcome at the massive centennial celebration of the birth of the "Great Emancipator" in 1909, nor in the subsequent banquets of the Lincoln Centennial Celebration. Even in 1910, when the renowned Booker T. Washington delivered the principal address at the Lincoln Centennial Association's banquet, blacks were not welcomed, although many attended. Thus Magee organized another massive celebration under the auspices of the Colored Historical Society that was held on February 11, 1910, at the Union Baptist Church.
But Magee did more important things than simply celebrate Lincoln's birthday. In the last decade of his life, as the conditions of African Americans seemed to become more difficult, he continued efforts to help them improve their lot. He actively collected funds for the Alton School Case. He encouraged his fellow citizens to resist their increased marginalization by encouraging pride through such organizations as the Illinois Colored Historical Society. He continued to highlight African American successes and pointed out to all who would listen that past Illinois leaders like John M. Palmer, Richard J. Oglesby, and others had actively worked on their behalf.
When James H. Magee died on May 29, 1912, the Illinois African American community lost a dedicated leader who had triumphed over the adversity of his humble beginnings. He compiled a record and lived a life that deserves to be remembered today.
Click here for Curriculum Materials
40
---