T w i c e b l e s s e d
Society receives rare Altgeld oil portrait and free offer to restore it
Museums and historical societies rarely have the resources to maintain, let alone preserve, their art collections. Consequently, valuable and historic works are often lost or damaged due to neglect. But occasionally an angel comes along, and sometimes two.
Late this past winter, the Ronald Barnard Family of Chicago donated several items to the Society related to the 1947 statewide centennial celebration of Governor John Peter Altgeld's birth. Ronald Barnard's father, Harry Barnard, authored the only book-length biography of Governor Altgeld, Eagle Forgotten, published in 1938. Within the Barnard Collection was an oil portrait of Governor Altgeld painted in 1898 by renowned Chicago portrait artist Ralph Clarkson. More than a century old, the painting was in serious need of preservation.
Enter Barry Bauman of River Forest, an art conservator and founder of the Chicago Conservation Center. Within a month of receiving the Barnard gift, the Society got an unrelated call from Bauman, who, upon hearing of the Altgeld painting, offered his services to restore it—pro bono.
Bauman, who has thirty-one years experience as a painting conservator (eleven years at the Art Institute of Chicago and twenty years as head of the Chicago Conservation Center), is now offering his services free of charge to museums and not-for-profits "that are desperately in need of conservation assistance." After years in the private sector, Bauman, who likens his philanthropic endeavor to "Doctors Without Borders" for paintings, wants to focus his efforts on historical societies and museums.
The oil-on-canvas Altgeld portrait measures H. 30" X W. 25". The painting is signed and dated in the lower right corner, "Ralph Clarkson, 1898". According to Conservator Bauman, the paint surface was coated with two distinct films. A dirt and grime film layered and an older varnish. The natural-resin varnish may have been applied while the portrait was within a frame for the film was thinner to nonexistent at the edges.
The stretcher, Bauman observed, was original and in good condition, although the canvas support had weakened over time. There were two tears in the canvas: The first had been poorly repaired with a cotton duck patch, and was lifting at the edges; the second was a six-inch tear on the lower tacking edge. While the paint layer was intact it was heavily cracked throughout. A previous and amateurish restoration had resulted in large blanched areas above both shoulders and in the lower right and left quadrants. The varnish film had yellowed and darkened over time. This layer, coupled with the overlaying dirt and grime, robbed the portrait of its original color relationships and the illusion of three-dimensional space. Proper cleaning and structural repairs have returned the portrait to its intended appearance.
The restoration in several phases can be viewed online at www.baumanconservation.com.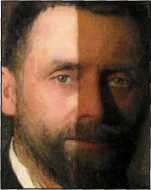 John Altgeld was born in 1847 near Wiesbaden, Germany. His family moved to the United States and settled in Ohio. He served in the Civil War and afterwards went on to become a lawyer. In 1884 he published Our Penal Machinery and its Victims which criticized the court system for discriminating against the poor. He was known as a reformer and served as a Cook County judge from 1886 to 1891 and then as governor of Illinois from 1893 to 1897. Under his guidance, Illinois established a board to settle strikes. He also established a commission that gave prisoners the right to parole and probation. As a champion of social rights, Governor Altgeld carries a rare distinction as one of Illinois' most distinguished political figures. He died in 1902.
Ralph Clarkson is one of Chicago's most important portrait artists, Bauman notes on his website. Born in 1861 in Massachusetts, Clarkson studied art in Boston and in Paris. He eventually came to Chicago in 1896 and became an instructor and governing member of the Art Institute. In 1898 he was a founding member of the Eagle's Nest Colony. The Colony acted as a summer retreat for a variety of artists including Lorado Taft and Hamlin Garland. Clarkson's work is currently represented in the collections of the National Academy, New York, and the Art Institute of Chicago.
26 |ILLINOIS HERITAGE
---