Roadside classrooms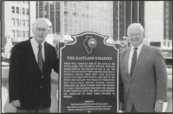 ISHS President David Scott and President Elect Marvin Ehlers at the Eastland Disaster marker dedication.
In talking with people about what more the Society could be doing, I find a lot of interest in direct involvement in the teaching and learning of history in our schools. We should do more than manage one awards program for teachers and another for high school students.
With this interest in the back of my mind, I spotted a publication titled "Marking Ohio's History" while visiting the gill shop of a museum in Marietta, Ohio, recently. It describes the content of 26 markers through the state with suggested classroom activities and sources of additional information related to the topic of each marker. Good ideas for new programs or the modification of existing ones can come from looking into the activities of other states. We can also learn much from other states about fund raising, financial management, and membership development.
Having recently been involved with two marker dedications, it occurred to me that one possible new program would be for our Society to develop materials for classes based on the persons, events, groups, and other historical phenomena (the prehistoric, the architectural, the natural or physical) cited in markers in their area. At the very least we could provide guidance for teachers to use markers as another tool to increase interest in their local history.
Such school activities relate to several "benchmarks" found in the Illinois State Board of Education's Illinois Learning Standards. The Society's education initiatives need to relate to one or more of the many benchmarks in Illinois Learning Standards to attract teacher interest.
There are two relevant benchmarks for the elementary level: (1) Ask historical questions and seek answers from historical sources such as biographies, old photographs, art work and other visual or electronic sources; and (2) Identify key individuals and events in the development of the local community. There is potential also to develop benchmarks for the middle and high school levels using categories of markers.
One category of markers is boat and ship disasters. While partially tied to the dock on the Chicago River, the excursion steamer Eastland, carrying passengers headed for a company picnic, rolled over into the river on July 24, 1915. More than 800 people, mostly women and children, lost their lives. On July 5, 1918, the steamboat Columbia, carrying passengers returning from an amusement park in Peoria, sank in the Illinois River near Pekin. Eighty-seven people died in that tragedy.
Potential classroom topics from the Eastland and Columbia disasters could include lessons about metropolitan industrial and social life and the pattern of group migration into and around Illinois in the early 20th century. Other topics could include how crises lead to reforms (increased safety regulations, for example and individual and group responses to disasters.
Although public agencies and private groups with historical interests are the usual initiators at the local level of markers, schools and classes have the potential to be significant sources for new markers.
Student exposure to the markers of their community may help them develop attitudes of good citizenship. Those who know the stories of their community are more likely to be aware of and concerned with issues that affect their locality. In the case of the Pekin and downtown Chicago markers, and others as well, students might discover a personal connection, relating the tragedies to the history of their own family or social group, a likely stimulus to an interest in history.
Historical markers are, of course, not intended to inform just youngsters in school. They are part of life-long learning, informing residents and travelers from other states—young and old—about significant aspects of Illinois' past. I would argue that markers are an incentive to people of all ages to read travel literature, to view historical programming on television, and even to explore historical articles and books.
Mark my word, there are ways to mesh our markers program and the Society's interest in promoting the teaching and learning of history in the schools.
David W. Scott, President
The Illinois State Historical Society has been involved with the placement of well over 400 -markers since 1934. For information on how the Society works with local groups and individuals in creating markers, write our office or phone (217-525-2781) and receive our recently revised brochure.
Illinois Heritage | 3
---