Small town, big dreams
Bill Thomas of Atlanta treasures his small town life. Yet he makes his living on the cutting edge of computer technology. Most staff of his Atlanta-based company, Teleologic Learning, live in other states. He communicates with them by e-mail and phone. To see clients, he's traveled to Tokyo, Washington, D.C. and Monterey, California. Yet he's proud to say he's never used an ATM.
"I refuse to," he said. " I would rather have to walk to the bank and deal with those individuals. I need to deal with those individuals."
Thomas grew up in the Fulton County town of Cuba, population 1,400. Among his relatives were the people who opened Dickson Mounds. At Cuba High School, he took four years of Latin from the same woman who'd taught his grandmother. At Eureka College, he majored in history, an early passion. Even in grad school at the University of Chicago he stayed true to his roots.
"When they asked me where I wanted to student teach, I said 'I want a small school because that's where I'm going to end up,' he said. "I got St. Thomas Aquinas on the south side 500 students, all girls, all black. It was wonderful.'
For six years, Thomas taught history, theater and political science in Stockton, population 2,000, about halfway between Galena and Freeport. There he met his wife, Christine. They now have three teenage children. Moving up to administration, he became principal of grade schools in Hopedale, population 900, and later Atlanta, population 1,600. Both are part of the massive Olympia School District, which covers portions of Tazewell, Logan and McLean counties.
"When I was principal, I was told we did a quarter of a million bus miles a year," Thomas said. That figure has certainly grown as the district's number of grade schools has shrunk from eight then to three next year. But still Thomas eagerly gets on his small town soapbox. He even brags that his daughter will be taking Latin next year, albeit online.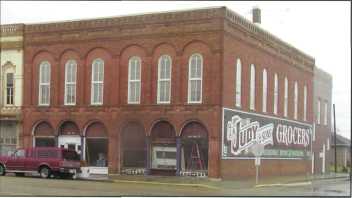 Bill Thomas' office is in a converted Masonic hall in Atlanta.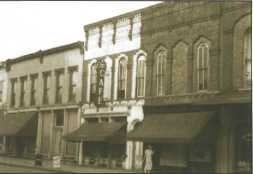 The former Palm's Grill in Atlanta is scheduled to be remodeled.
"Everything our society does to put up barriers that isolate us from other individuals is a step in the wrong direction," he said. "But in Atlanta, we have a shared common path, an authentic sense of community. That for me is the difference. We have multiple roles that we play with each other. I was principal here, but I was also a member of the church. Everybody saw me at the grocery store and the post office. Just being able to have those different levels of interaction makes my life much richer here."
Online and international
Even when his career took a sharp new turn 12 years ago, Thomas insisted on staying in Atlanta.
The Laurasian Institution, a not-for-profit group, had just started developing cross-cultural exchange programs between Japan and the United States. One of its founders was Philip Palin, a childhood friend and fellow Eureka alumnus.
"I got a call from Phil one day," Thomas said. '"Would you like to help us with a new not-for-profit educational foundation?' I'd been a principal for six years. I thought I might like to try something different. I said, 'Sure as long as I can stay in Atlanta.' He said 'Okay."' Thomas set up Laurasian shop in a one-man office across the street from the post office.
The exchange programs naturally put the institution in contact with Japanese language teachers in America. Having no professional association, they asked if Laurasian could help them develop some training courses.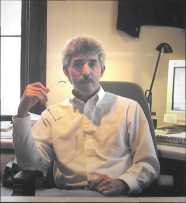 Bill Tomas
Illinois Heritage | 7
---
"We said 'Sure,'" Thomas said. "For Japanese expertise, we consulted with the Defense Language Institute in Monterey. Because our teachers were so scattered and there were so few of them, we decided very early on to develop courses that could be delivered online. We did a pretty good job of that. And this was really early in the internet days eight years ago. We got known. All of a sudden the government and the military were asking us to design programs for them. We had to say no because a not-for-profit organization can do only what's directly related to its business.
"Six years ago the Laurasian board said, "This is silly. Let's form a for-profit spin-off company that can capture this kind of work." That spin-off, Teleologic Learning Company, is now nearly four times bigger than its parent. Thomas and Palin are co-owners along with Laurasian.
Dewey was right
In philosophical and religious circles, "teleological" refers to the belief that an intelligent being with a grand design created the universe. But for Thomas, the word has a practical meaning, too.
"We focus on the aspect of the term that deals with knowing your purpose and achieving it," he said. "John Dewey got it basically right 110 years ago. We learn through experience. I'll pick up stuff if you lecture me. I'll sit there and think about what you're saying. But for me that's never been enough. People learn best when they are solving problems that are authentic and meaningful to them. That's how I was as a classroom teacher. And that's how we structure and design our programs at Teleologic, too."
Teleologic has designed online training programs for AT&T, Bristol Meyers, the US Air Force, the Naval Postgraduate School and Freightliner Corporation. Its biggest current client by far, however, is the Department of Homeland Security. Thomas and staff are developing a certification program for state level domestic preparedness chiefs. In conjunction with the Naval Postgraduate School in Monterey, they are also developing a masters degree program in homeland security.
"As educators as well as businessmen, we've always wanted diversification," Thomas said. "You don't want too many eggs in one basket. Well, we've got a couple of pretty big eggs in the Homeland Security basket. A new administration could change policies like that." He snapped his fingers for emphasis, but didn't seem worried. He doesn't have time for such thought.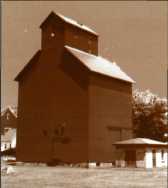 The Hawks Elevator in Atlanta marks its centennial this year.
Rebuilding old Atlanta
People who drive past Atlanta on the interstate may not notice much change, except for a water tower painted like a giant smiley face. But people who drive Old 66 through the heart of town will note a number of changes cosmetic as well as historical. As is his wont, Thomas has been elbow deep in all of them.
"Eleven years ago, a group from Atlanta attended a workshop at the Institute for Rural Affairs in Macomb," he said. "It was about strategic planning: where you want to go, what assets you have, how you're going to get there. We came home and formed the A-Team. I was its first chairman. In fact, I'm still the chairman."
The A-Team's first project was restoration of the Hawes grain elevator, a wooden relic from the early 20th Century. The structure is functional again and also on the National Register of Historic Places. Thomas is now trying to figure out how to staff it five days a week.
"The elevator was the spark that let several of us see what else could be done," Thomas said. "Until you have that first success, it's hard to tell." Now it's hard to see where things might end. For his business, Thomas restored a storefront across the street from the town's library. His office is on the second floor where the Masons used to meet. Then came the Letterheads and Wall Dogs.
Repainting it
Letterheads are a loose knit national fraternity of professional billboard and sign painters. Wall Dogs are a subgroup dedicated to the vanishing art of brick wall signs. Each year the fraternity gets together for a long weekend to do a community sign project. Two years ago they sent a letter to the Route 66 Association of Illinois volunteering to do one along 66. That letter wound up with Atlanta's Betty McLellan, one of the association's charter members. She took it to Thomas, whom she knew from church. It was good timing.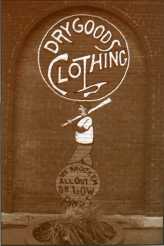 Volunteer professional sign painters from around the country recreated ads on Atlanta storefronts.
8 | Illinois Heritage
---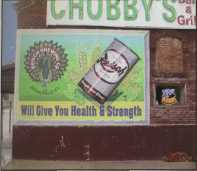 A recreated wall sign for a Springfield brewery.
"I'd been looking through all the towns old newspapers," Thomas said. "I kept seeing all these wonderful painted signs on the sides of buildings in Atlanta, especially along 66. And I thought 'Wouldn't repainting them be a nice way to dress up this stretch of the road?' Three or four years ago, we repainted one ourselves. Then we found out about the Letterhead people."
The A-Team sent an invitation. Thomas continued his newspaper research. He focused on signs from 1926 through the 1940s. Then on a weekend in the summer of 2002, the painters descended upon Atlanta.
"They came from all over the country Oregon, Connecticut, Alabama and painted their rears off for three days," Thomas said. "And we didn't pay them a thing. We fed them and we housed them. Ladies brought them lemonade and cookies while they were working. Ace Hardware even donated most of the paint.
"They felt so well-received that they came back in 2003, too. The first year, there were 30 of them. The second year there was a hundred." Atlanta now has five of their signs decorating its main street.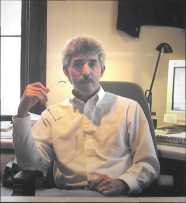 Bill Tomas
Bunyan and Palm's
For his contributions, Thomas recently received a Governor's tourism award. But not all of his ideas have yet to be so well embraced. A few doors north on the other side of the street, the Bunyan Giant shares a grassy plot with the towns war memorial. He's an 18-foot high fiberglass statue that used to stand in front of the Bunyan Drive-In in Cicero. There are several like him in Illinois and surrounding states. Only instead of a tire or an American flag, he's holding a giant hotdog. When his Cicero cafe closed last year, the Route 66 Association called Thomas about offering the statue a new home.
"I went to the mayor," Thomas said. "We both recognized it was going to be a sales job. We haven't sold everybody, but I hope he grows on folks. If there is any challenge to living in a small community, it's that sort of 'us and them' mentality. The Bunyan statue wasn't part of us in the first place and the folks are having to get used to him. But I supported the idea of bringing him here because I can see the bridge to what he's going to do for Atlanta. This town isn't just a town. It's part of Route 66 and I see the benefit of that."
Thomas' newest dream his newest problem for the community to solve has enjoyed readier support. He wants to restore the Palm's Grill building next door to his office.
I had no idea what fondness the community had for Palm's," Thomas said. "But it was evidently the place from 1938 to 1969. When the former owner passed away, he donated it to the library. They didn't know quite what they were going to do with it. For me, the wheels just started turning. I went to the library board.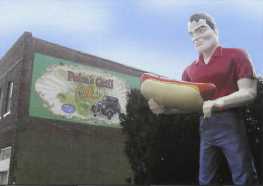 This giant statue once graced the Bunyan Drive-In in Cicero.
The Atlanta Museum is in their basement. If they moved it to the new' building, they would have more space for computers and books in the library. Then on the first floor of the new building they could recreate the interior of Palm's Grill. It would be an asset for the library, the town and the state."
It was the same problem-solving technique that Thomas has used for 25 years on students as well as clients. And the board bought it.
"Already we've applied for a state grant to stabilize the building and rebuild the facade," Thomas said. "I'll also apply for a couple of other grants. I'm pushing them in the direction of even opening the grill as a restaurant again at least during the summer months.
"Why not?"
The next challenge
Thomas, who's 49 now, wants to retire before he's 60.
Im doing everything I possibly can to make sure I'm ready," he said. "I might stick with one program at Teleologic. But I want the majority of my time so I can play with Route 66 and other projects. I'm not happy unless I'm doing something. I just want more choice in what I'm doing." Which leaves the road wide open. It could lead Thomas almost anywhere except to an ATM.
Illinois Heritage | 9
---