Lincoln or bust?
Rebecca Childers Caleel knows Abraham Lincoln's body like few others. The Westmont, Illinois-based sculptor has been creating Lincoln's image in clay and bronze for several years. And, unlike many who sculpt the sixteenth president, Caleel bases her likenesses on the life mask and plaster hands Lincoln had made before his 1860 election. The results are remarkable, perhaps the most lifelike pre-presidential sculptures anywhere.
"Lincoln and Tad," a clay maquette of the statue recently installed at the Oak Brook Public Library.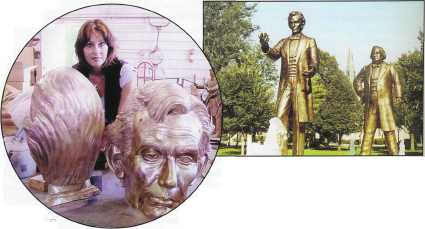 Above: "Lincoln and Douglas at Ottawa."
photo courtesy of Todd Volker
Left: Rebecca Childers Caleel in her Westmont studio.
That, at least, is the opinion of Dr. Wayne Temple, deputy director of the Illinois State Archives and author of numerous books about Lincoln and Illinois history. His most recent work, "The Taste is in My Mouth A Little..." Lincoln's Victuals and Potables (2004, Mayhaven Press), features Caleel's work on the cover and frontispiece.
"She's the best there is," says Temple, who encouraged Caleel to submit her "Lincoln and Tad' sculpture for consideration in a sculpture competition for the Abraham Lincoln Presidential Library and Museum. Unfortunately, funding for library art has been suspended due to budget cuts. Caleel's "Lincoln and Douglas at Ottawa," a sculpture commemorating the 1858 debates, was unveiled in 2003. Last month, The Oak Brook Woman's Society dedicated Caleel's "Lincoln and Tad" sculpture at the Oak Brook Public Library.
Caleel, who graduated from the Art Institute of Chicago and has studied the masterworks of sculpture in Europe, will be offering her Lincoln busts and reproductions for sale through the Illinois State Historical Society online bookstore and retail shop this fall. Watch for details in Illinois Heritage.
16 | Illinois Heritage
---