The pearl of Peru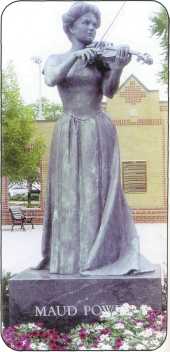 Maud Powell in bronze on the plaza in Peru.
Photo courtesy Rick O'Sadnick
Maud Powell played for millions, but her heart was in the Fox River Valley
Statues of notable women are rare in Illinois. Statues of musicians are rarer. Maud Powell was both, and her commanding presence in bronze, violin in hand, in the plaza that bears her name in downtown Peru, is nothing short of inspirational.
Powell (1867-1920) was the first great American solo violinist. She toured Europe with major symphonies, premiered the works of Tchaikovsky, Dvorak, and Sibelius for American audiences, and was the first musician to record her instrument in R.C.A. Victors Celebrity Artist Series. Yet she is virtually unknown today outside her birthplace (Peru) and childhood home (Aurora).
In recent years, however, the citizens of Peru and Aurora have taken strides to reintroduce Powells life and legacy to their communities and to the world. Inducting her into the Fox Valley Arts Hall of Fame was a good idea. Organizing an international "Maud Powell Music Festival and Institute" didn't hurt. And casting her in bronze was brilliant.
Springfield has Everett Dirksen with a donkey and elephant, but Peru has Maud Powell with a fiddle.
Maud Powell was born to William Branwell Powell and Minnie Paul Powell on August 22, 1867. Her father was an innovative educator, superintendent of Aurora public schools and later of schools in Washington, D.C. Her mother was an amateur musician and composer who gave up a possible career in music to raise a family. Maud's uncle, John Wesley Powell, was a Civil War hero and scientist, the first to explore the Grand Canyon (see Illinois Heritage, Fall 2001). He later helped establish the National Geographic Society.
The family moved from Peru to Aurora, Illinois, when Maud was three. She attended Center School and began taking violin lessons at the age of seven, studying with Professor G. W. Fickensher. Her parents were extremely supportive, exposing Maud and her younger brother, Billy, to as much fine art and culture as possible.
By the age of nine, Maud had outgrown the local talent pool and was commuting to Chicago for violin lessons from William Lewis. Lewis broadened Maud's musical horizons and taught her the flawless technique upon which her career was later established.
Soon Chicago could not contain her. At the age of 13, she sailed to Europe to study with violin masters in Paris, Berlin, and Leipzig.
But first her neighbors in Aurora held a benefit concert for their prodigy at Coulter Opera House on June 1, 1881. Maud performed the "Adagio" and "Finale to Ferdinand David's "Concerto No. 4 " with the local symphony, Stein's Orchestra.
Soon after, Maud and her mother left for Europe, her father remaining behind in rented rooms, the family having sold their house to finance Maud's studies abroad.
She did not disappoint her family. Maud completed her studies and made her New York debut at the age of 18, performing the Bruch "G minor Violin Concerto" with Theodore Thomas and the New York Philharmonic on November 14, 1885.
For the next 25 years Maud Powell played concertos and solo recitals across America, introducing new audiences to the works of old masters and performing the new music of contemporary composers such as Amy Beach, Marion Bauer, Henry Rowe Shelley, Arthur Foote, Victor Herbert, and others. She performed benefit concerts in hospitals and schools, and later for World War I soldiers, and was forever encouraging younger musicians to aspire to a career in music, just as she had been encouraged as a child. She returned many times to play in Chicago, Aurora, and Peru.
Powell was the first solo instrumentalist to record (1904) for the Victor Talking Machine's "Celebrity Artist Series," and her records were international best sellers by the standards of the day.
But Maud Powell's candle, like that of many artists, expired too soon. She died on January 8, 1920, of a heart attack while on a concert tour. She was 52. Upon her death, the New York Symphony published this tribute: "She was not only America's master of the violin, but a woman of lofty purpose and noble achievement, whose life and art brought to countless thousands inspiration for the good and beautiful."
The statue of Maud Powell was dedicated in July 1995. The sculptor, the Reverend Joseph Heyd, is a Benedictine monk and artist at St. Bede Abbey and Academy, Peru, Illinois.
- William Furry
18 | Illinois Heritage
---