HISTORIC PULLMAN'S OTHER ARCHITECT:
NATHAN FRANKLIN BARRETT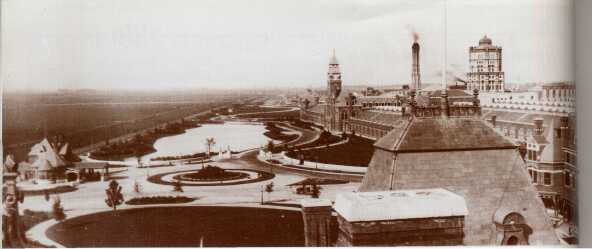 A view of Pullman, Illinois, with Lake Vista in the background.
Photo courtesy Arthur Melville Pearson
"I stepped from the cars. Beauty, grace and art met me on every hand. I had seen landscape gardening elsewhere. Here was also architectural gardening. Eye and taste at once [were] content and glad."
Stewart L. Woodford,
U.S. Attorney for Southern
New York and dedication
speaker for the town of
Pullman's Arcade Theatre, 1881
The Pullman clock tower with its twin construction shop wings. The Hotel Florence named for George Pullman's favorite daughter. Hundreds of picturesque rowhouses built for company craftsmen and their families. Much has been written about the Queen Anne-inspired buildings that Solon Spencer Beman designed for the town of Pullman, the late 19th century model company town, which now is a city, state, and national historic landmark on Chicago's far southeast side. Largely overlooked, however, has been the contribution of Pullman's "other architect," Nathan Franklin Barrett, whose town layout and landscape design were as important as Beman's buildings in moving one London newspaper to hail Pullman as "the most perfect city in the world."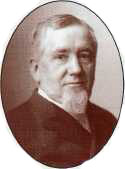 George Pullman
A passion for beauty
Barrett was born on Staten Island, New York, on November 19, 1845, one of eight children sired by John Thorndyke Barrett, founder of the successful dyeing firm of Barrett, Nephews & Co. Nathan Barrett was named for his grandfather, who captained a band of citizen patriots at Concord, Massachusetts, marking the start of the Revolutionary War. Continuing in the family tradition, 17-year-old Barrett enrolled as a private in the Union army at the very beginning of the Civil War. Surviving his wounds from the battle of Cedar Creek, he mustered out of the army as a second lieutenant following Lee's surrender at Appomattox.
Returning home after the war, Barrett spent the next four years in a practical course of self-study related to the then-fledgling field of landscape architecture. In addition to reading the works of Humphrey Rempton, A.J. Downing, Calvert Vaux, and Frederick Law Olmsted, he apprenticed himself to Daniel Reagan, superintendent of the 30-acre nursery Barrett's father and older brother, Clarence, had established on Staten Island.
20 |ILLINOIS HERITAGE
---
Barrett eventually entered into a partnership with his brother and from 1871 to 1876, "succeeded in influencing the improvements on the New Jersey Central Railroad from New York to Bound Brook, and also the Long Branch Division." In 1878 he struck out on his own and soon was recommended to George Pullman, who was looking to develop his oceanfront property at Elberon, New York. Barrett, in turn, recommended to Pullman an up-and-coming architect by the name of Beman, with whom Barrett had collaborated on several private estates. "Pullman was so satisfied with the house Beman designed that he asked [Beman] to come to Chicago to take charge of alterations which were then underway on his house at Eighteenth Street and Prairie Avenue in Chicago."
---

Nathan Barrett around the age of 51. The image is from Notable New Yorkers of 1896-1897: A Companion Guide to King's Handbook of New York City, where it appears alongside an image of fellow American Society of Landscape Architects founder Frederick Law Olmsted.

Image courtesy of the Milstein Division
of United States History,
Local History & Genealogy,
The New York Public Library,
Astor, Lenox and Tilden Foundations.

---
In December 1979 Pullman asked the two men to prepare preliminary designs for a new kind of company town, one in which beauty was to be as important as efficiency and economy. Their designs were accepted, the 1400-acre town footprint drained and graded by sanitary engineer Benezette Williams, and the crowning achievement of their young careers — Barrett was only one year into his own practice and Beman had just turned 26 — was about to begin.
Although blueprints for a number of Beman's Pullman buildings are archived in various Chicago libraries and museums, only one Pullman-related landscape drawing bearing the signature "N.F. Barrett" is known to exist. It sketchily portrays a proposed (but never built) canal that circumvents the Calumet River into Lake Calumet, along with a deep-cut channel across the shallow lake, providing ships direct access to the shoreline lumberyard of Pullman.
Of the few known representations of the town's original layout, the most accurate and certainly the most beautiful comes from a Hyde Park survey published in 1883. Oversized and hand water-colored in delicate pastels on linen paper, the survey portrays the grace and strength of Barrett's design for Pullman, particularly its "front yard." Unlike today, when most visitors to the Pullman National Historic District arrive from the east by car, those who thronged from all over the world to see the Epcot of the 1880s did so from the west by train. Accordingly, "the town was planned so that its most attractive view was visible from the Illinois Central (now Metra) tracks." In 1895, disembarking from a luxurious Pullman train car at the Florence Boulevard (now 111th Street) Station, the town's main port of entry, a writer for the Mercantile & Financial Times recorded his impression of the vista that greeted him:
The first view one gets front the platform after leaving the train is beautiful beyond description and without a parallel in any industrial centre in America, or the world. To the left, stretching away for perhaps a mile and a half, are long rows of great shops, not the undressed wooden variety, but fine ones, built of brick with stone trimmings. Surrounding these shops are white graveled walks and grassy lawns, studded with green shrubbery and set here and there with beds of bright hued flowers, while on the western border there is a basin of deep water, that altogether forms a picturesque scene that is as grateful to the eye as the freshness and fragrance of the atmosphere is to the nostrils and lungs. The residence part of the town is built around a central square, which has been cultivated to the highest degree of the landscape gardener's art. Chicago has a number of private parks, but none that will equal this public square in Pullman.
To affect this vista, Barrett employed an artful balance of open space features and strategic planting scheme that framed the view and invited one's eye to sweep unobstructed across the landscape. The primary open space feature lay immediately to the northeast of the train station. Aptly named Lake Vista, the "basin of deep water" referred to by the Mercantile & Financial Times writer served both an aesthetic and utilitarian purpose. In addition to reflecting the clock tower-capped administration building and its matching construction shop wings, the lake collected condensation from the largest steam engine of its day, which powered the manufacturing shops.
Extending straight east from the train station, a colonnade of Norway maple trees flanked Florence Boulevard, terminating at a bridge that led to man-made Athletic Island built into Lake Calumet. The island sported parks and ball fields and grandstands from which residents and the well-to-do could cheer one of the many Pullman company-sponsored athletic teams or regattas.
ILLINOIS HERITAGE| 21
---
Barrett designed this pastoral parklet, now known as Pullman Park, as a gentle buffer between the train station and the Hotel Florence. Photo courtesy Arthur Melville Pearson
A pastoral parklet
Directly to the southeast of the train station, Barrett incorporated a landscape feature championed by one of his mentors, Calvert Vaux. Known today as Pullman Park, the kidney-bean-shaped parklet originally consisted entirely of turf grass, providing for an unobstructed vista from the train station and affording a reposeful place for hotel guests to lounge or workers to eat their lunch. Vaux believed, and Barrett apparently concurred, "As the need for quiet repose in this work-a-day world is more constant than the need for vigorous stimulus — i.e. dense plantings — a lack of pastoral, meadow-like stretches of lawn in any public park will always be felt by the habitual visitor to be a serious disadvantage."
Barrett employed Vaux's pastoral concept in other community designs, including Rochelle Park, New York, where he made his home from 1890 until nearly the time of his death in 1919.
Another defining characteristic of Barrett's community landscape designs, one in ample evidence throughout Pullman, was his penchant for juxtaposition. Like most of Chicago, Pullman was platted on the Jeffersonian grid. All of the approximately 900 "cottages" are placed side-by-side — the majority actually connected - on uniform rectangular blocks. In stark contrast, Barrett dismantled the grid throughout the front yard in several ways. In addition to the kidney bean-shaped parklet, whose bowed eastern edge mirrored the gentle curve of the Hotel Florence parkway, Barrett rounded corners at cross streets, and in the middle of intersections he sited large traffic circles filled with formal, wedding cake-tiered arrangements of flowering annuals.
One of Barrett's favorite juxtaposition devices was a sinuous carriage path set against a conventional street grid. Perpendicular to ramrod-straight and formally planted Florence Boulevard, Barrett wound a macadam-paved carriage path through the front yard, accentuating it here and there with clusters of native forbs and shrubbery. Later, in New Decatur, Alabama, Barrett snaked Gordon Drive from one end of the town to the other, culminating in a park shaped like a serpent's head. Of Rochelle Park's main thoroughfare, reviewer Swift remarked, "The most charming feature of [Barrett's] plan is the Serpentine, which.. .adds just the desired factor of irregularity. Without the Serpentine, the design would lack imagination and reserve power. It would be too obvious, its possibilities too readily exhausted at a glance...[it] was a touch of the true science of the landscape architect."
For Barrett, juxtaposition of the formal against the informal applied to more than just hardscape features. The self-proclaimed first purveyor of formal gardens in America — citing such of his designs as the entryway garden for Ponce de Leon Hotel in St. Augustine, Florida — he had an abiding passion for contrasting formal gardens against what he called "the naturalistic instinct." "As an old English architect once said," Barrett related in a 1916 article entitled, Fifty Years of Landscape Modeling,
22 |ILLINOIS HERITAGE
---
There is no such thing as a matter of taste; it's either good taste or bad taste. Taste is governed by law. There is, however, such a thing as a matter of preference and human nature seems divided into two classes — those who are exact and formal and those who are picturesque and lovers of nature unadorned. It is my endeavor to classify my clients and then to persuade them to recognize the necessity of using the hitter to accentuate the sweet - shall we say the judicious -mixture of the salad dressing? A well-rounded character is one who recognizes the value of opposite opinions. The division as applied to my art means the formal gardens and the naturalistic instinct.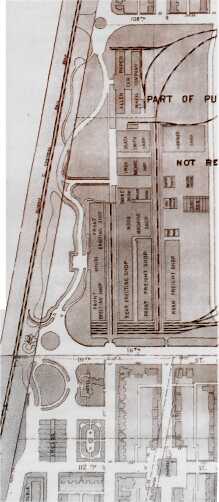 A blueprint of Pullman, which shows some of the features of Barrett's landscape designs.
Courtesy Arthur Melville Pearson
In all of his many designs, arguably nowhere was Barrett's skill in juxtaposing the formal against the naturalistic instinct more evident than in Pullman's Arcade Park, the town's central garden. Against a background palette of white crushed stone walkways, the interior of the abbreviated city block-sized space revolved around a triptych of circle beds massed with canna lilies and elephant ears at their centers and ringed uniformly with varying levels of flowering annuals. Surrounding these beds were four quarter-arc spans of lawn, each containing geometrically-shaped beds planted with yet more masses of flowering annuals — petunias, marigolds, geraniums, dusty Miller, snow-on-the mountain and many others - all trimmed by hand to a uniform height. The crowning feature of the design, however, was a dense perimeter planting of trees, shrubs and perennials that aped the wild, random arrangement one might expect to find in nature. The density and height of the naturalistic perimeter lent a cloistered feel to the formal interior; but not so high as to obstruct Barrett's overall vista - the spire of the Greenstone Church still was plainly visible from the Florence Boulevard train station.
Barrett extended his love of vistas and juxtaposition to his own garden in Rochelle Park. Described by the New York Herald in 1900 as "the most beautiful half acre in the world," the garden contained dozens of pocket gardens, ranging in style from Roman to Moorish to Japanese, "juxtaposed," as Swift concurred, "fantastically enough to cause exclamations of surprise." Even on so small a plot, "shrubbery is used with remarkable skill to provide little avenues and vistas." Barrett claimed his personal garden was the only one over which he exercised total control. However, unrestrained by client or collaborator, his ideas and execution appear to have run to excess. Swift concluded his review, "Unique is the only word strong enough and vague enough to apply to the house and grounds of Mr. Nathan F. Barrett. Notwithstanding certain admirable features, [the effect] is of a profusion and variety rather interesting than wholly fortunate."
The World's Most Perfect Town
Reviews of the town of Pullman decidedly were more favorable. Accolades poured in from all over the globe, including the 1896 award from the Prague International Hygienic and Pharmaceutical Exposition, citing Pullman as the World's Most Perfect Town. Even sharp social critics, such as Harper's writer Ely, who, early in his fifteen-page review commented, "Simply as a town, Pullman has no sufficient interest to justify a description of it in a great magazine," later in his review confessed,
Unity of design and an unexpected variety charm us as we saunter through the town. The streets cross each other at right angles, yet here again skill has avoided the frightful monotony of New York, which must sometimes tempt a nervous person to scream for relief. A public square, arcade, hotel, market, or some large building is often set across a street so ingeniously as to break the regular line, yet without inconvenience to traffic. Then at the termination of long streets a pleasing view greets and relieves the eye — a bit of water, a stretch of meadow, a clump of trees, or even one of the large hut neat workshops. All this grows upon the visitor day by day.
ILLINOIS HERITAGE| 23
---
Beman's buildings and Barrett's parks and gardens were Pullman's radical attempt to quell the virulent worker unrest of the times. Believing that beauty would ennoble and refine his "children," as he referred to his 12,000 workers, "the disturbing conditions of strikes and other troubles that periodically convulse the world of labor would not need to be feared" in Pullman. He was generally right for 14 years. At the conclusion of the Columbian Exhibition in 1893, however, a nationwide depression finally caught up with Chicago. Pullman laid off one-third of his workforce and reduced the wages of the remaining two-thirds by an average of 33 percent without lowering the amount of rents he charged for employee housing. Many employees ended up in debt to the company. Pullman refused any compromise. The ensuing Pullman Strike of 1894, a watershed event in the history of labor, spread like wildfire across the country and came to an end only when President Grover Cleveland sent federal troops to restore order.
Before the strike, Pullman was widely celebrated as a visionary capitalist. Afterward, he was increasingly vilified as a paternalistic tyrant for his hard line stance against the strikers, a number of whom were permanently blackballed from the entire railroad industry. Stung by this public criticism and the betrayal of his "children," Pullman successfully navigated his company through the post-strike years, but died on October 19, 1897, at the age of 66. Fearful that grave robbers would desecrate his corpse, he was buried in Graceland Cemetery under the cover of night in a grave reinforced with alternating layers of concrete and iron rails.
Utopia falls
With the death of George Pullman quickly followed the dismantling of Barrett's landscape. In the continuing fallout from the 1894 strike, the Illinois Supreme Court ordered the Pullman Company to divest itself of all non-industrial properties, ending corporate responsibility for housing, parks, gardens, and streetscapes. In 1907, Lake Vista was filled in and the winding carriage path eliminated. The concave edge of the kidney bean-shaped parklet was lopped off to accommodate the construction of Cottage Grove Avenue, which ran through the front yard of Pullman as straight and wide as the sets of railroad tracks it paralleled. Arcade Park became a field grass. To create more industrial land, the Pullman Company and other industrial interests began to fill in Lake Calumet, eventually shrinking it by two-thirds. While Beman's solid brick buildings weathered the new century's changes fairly well, in little more than a decade after George Pullman's death, the Barrett landscape was a shadow of its former glory.
Nonetheless, with his reputation made in Pullman, Barrett went on to design landscapes in virtually every state in the nation. Although little documentation of his professional career remains, it is known that in

24 |ILLINOIS HERITAGE
---
1887 he accepted a commission to lay out and design "the Chicago of the South," New Decatur (later Albany and still later Decatur), Alabama. A decade later, at the invitation of Samuel Noble, Barrett returned to Alabama to devise a plan of beautification for the town of Anniston. While there, he also designed plans for Noble's 140-acre estate and the grounds of other prominent locals. Notable among his other estate designs were portions of John W. Auchinsloss" Hammersmith Farm (where, in 1953, Jackie Onassis and John F. Kennedy would be married) and Joseph J. Choate's Naumkeag estate in Stockbridge, Massachusetts. Landscape architect Fletcher Steele would build upon Barrett's work at Naumkeag in the early 1920s, but wrote appreciatively of his predecessors work, "He had vision at a time when most landscape designers merely fumbled."
A mentor to the world
In 1896, Barrett, along with civil engineer John Bogart, provided the initial plans for the southern division of Branch Brook Park in Essex County, New Jersey. Although the design later would be modified and implemented by the Olmsted Brothers firm, it led to Barrett's appointment as a commissioner of the Palisades Interstate Park Commission from 1900 to 1915. Thereafter, he served briefly as the commission's landscape architect. In 1903, he served a year as president of the American Society of Landscape Architects, of which he was a founding member.
In Barrett's later years, "one of his chief delights was to sit over his pipe in long converse with a fellow practitioner, discoursing on the theories of landscape design, and relating the many interesting incidents of his career." But the wisdom of his experiences he reserved not just for colleagues. "I welcome the young women and young men and their seniors, who have not grown too old to be taught something, to come and study with me, my ambition being (which is not wholly selfish) to convey by all in my power to these young people the gospel of the existence of a distinct art." Never too old to learn something himself, he foresaw the future impact of the automobile and that "It is not fantastic to prophecy the connection of the different large growing cities of the nation with each other through selected routes for pleasure as well as convenience." At the time of his death in Pelham, New York on October 17, 1919, he was working on a means to improve and beautify signage along public roads. Barrett left his entire estate to his second wife, Clara. He also was survived by three of his eight children, the rest of whom died in infancy.
Restoring the legacy
Like many of his landscapes, Barrett has all but disappeared from history. Once a ranking pioneer in his field, astonishingly little information by or about him remains. But in the Pullman National Historic Landmark District, efforts are afoot to resurrect his legacy. Following the devastating clock tower arson in 1998, the Pullman Factory Task Force, chaired by former Governor James R. Thompson, recommended saving and restoring the clock tower and the Hotel Florence as a history center and cultural tourism attraction. The task force further recommended, "The 'front lawn' of the factory building should reflect the original landscaping design (including a water feature, like the original Lake Vista)." The Illinois Historic Preservation Agency has nearly completed first phase restoration of the clock tower. Concurrent with the restoration of the hotel, select elements of its original landscape design have been restored. These efforts, combined with a growing number of individuals restoring their homes and the community's public gardens to their 1880s appearance, continue to heal the original design intentions of both Beman and Barrett (and George Pullman), equal visionaries of the world's once and future most perfect city in the world.
A freelance writer and recent Illinois Arts Council Fellowship recipient in playwrighting/screenwriting, Arthur Melville Pearson lives in a workers cottage nearly identical to the one in which his grandfather lived during the time of George Pullman. Pearson is co-chair of the local stewardship preservation group, the Beman Committee of the Pullman Civic Organization, and is currently completing a biography of Rockford, Illinois native George Fell, co-founder of The Nature Conservancy and driving force loehind the establishment of the Illinois Nature Preserves Commission.
For further reading:
Nathan Franklin Barrett, "Fifty Years of Landscape Modeling," Art World, (December 1916)
Richard Schermerhorn, Jr., "Nathan Franklin Barrett Landscape Architect," Landscape Architecture, vol. X, No. 3 (April 1920)
Mrs. Duane Doty, The Town of Pullman (T.P. Struhsacker, 1893, reprint by Pullman Civic Organization, 1974 and Historic Pullman Foundation, 1991)
Stanley Buder, Pullman, an Experiment in Industrial Order and Community Planning 1880-1893, (Oxford University Press, 1967)
Liston Edgington Leyendecker, Palace Car Prince, A Biography of George Mortimer Pullman (University Press of Colorado, 1992)
Frank Beberdick and the Historic Pullman Foundation, Chicago's Historic Pullman District, (Arcadia Publishing, 1998)
Pullman Factory Task Force, Final Report to Governor George H. Ryan and Mayor Richard M. Daley (City of Chicago Department of Planning and Development, 2000)
ILLINOIS HERITAGE| 25
---