S t. S t a n i s l a u s K o s t k a
A brief history of a landmark Chicago church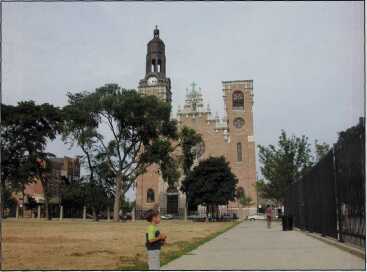 St. Stanislaus Kosta parish has served Chicago's Polish community since 1867. Photos courtesy Christopher Young
By Christopher Young
Motorists approaching downtown Chicago on the Kennedy Expressway will notice how the road swings around the rectory of a church just before the Division Street exit. As they pass by, a Christ image looking down upon
---
Patrick C. Keely
was the most
famous of Catholic
architects.
---
the bustling traffic welcomes all to the spiritual oasis that is historic St. Stanislaus Kostka.

The parish of St. Stanislaus Kostka opened in 1867. Bishop Foley put the Resurrection fathers in charge of the growing parish in 1871. As the flow of Polish immigrants continued into the neighborhood, a larger church was needed. In 1876 the current church, and second on the site, was begun. Patrick C. Keely of Brooklyn designed the church. He was the most famous of Catholic architects, and his accomplishments include Holy Name Cathedral. The church was modeled after a church in Krakow. In 1881 the church was dedicated and in 1892 the twin towers were completed. The towers stood 200 feet high. However, in 1964 one tower came down after being struck by lightning. The church is 200 feet long and 80 feet wide. The structure is built of brick. A veneer of stucco was added in 1923, along with a new entrance that enclosed the front stairs.

As one enters St. Stanislaus Kostka, the eyes are immediately drawn to the baroque altar standing at the end of the long center aisle. Choir stalls carved in oak flank the altar. From there the eyes move upward to a painting of Our Lady who is setting the baby Jesus in the arms of
---
Stained glass windows
that illustrate the
mysteries of the rosary
border the nave of
the church.
---
Stanislaus Kostka while instructing him to join the Society of Jesus. As the eyes continue to move upward they are stuck by the large painting in the Sanctuary dome. The work of Thaddeus Zukotynski, a Polish painter, depicts the resurrected Christ accompanied by the saints in Heaven. An inscription in Latin reads: "I am the Resurrection and the Life. Alleluia. And on the third day He arose as He said. Alleluia." The visual stimulation continues as one views the stained glass chandeliers that hang above the oak pews. It has been said that the stained glass lighting fixtures are the work of Louis C. Tiffany of New York. According to the current pastor of St. Stanislaus Kostka, Fr. Anthony Buu, these fixtures were originally exhibited at the Columbian Exposition held in Chicago in 1893. In fact, it was at the 1893 World's Fair in Chicago that Tiffany first showed many of the works that he produced for commercial purposes. The stained glass features in the historic church are not limited to the lighting fixtures. Stained glass windows that illustrate the mysteries of the rosary border the nave of the church. The windows are the work of EX. Zettler of the Royal Bavarian Art Institute in Munich, and were put into place in 1903.


18 |ILLINOIS HERITAGE
---
The lighting fixtures are not the only connection with the Columbian Exposition. While the fair went on regular tours were made from the lakeshore where it was taking place to St. Stanislaus Kostka, which is located on the near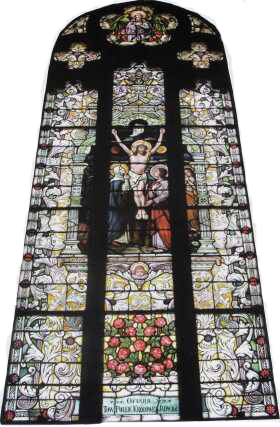 Detail from stained glass at St. Stanislaus Kosta.

northwest side of the city. Perhaps the reason for the tours was that by 1893 the parish population was exploding. Four years later, in 1897, St. Stanislaus Kostka parish became the largest parish in the United States, if not the world, with 8,000 families, totaling 40,000 people. The parish priests celebrated twelve masses each Sunday: six masses in the upper church and another six masses in the lower church.

During Vincent Barzynski's pastorate (1874-1899) St. Stanislaus Kostka became the mother Catholic Church of Polish parishes. As the twentieth century progressed, the neighborhood surrounding the parish began to change, a change perhaps best illustrated in the nickname of the area: what was once "Stanislawowo" eventually became "Kostkaville." (Sometimes Chicagoans identified their neighborhood by parish. However, parishes are part of larger neighborhoods. In the case of St. Stanislaus Kostka, it is located in Wicker Park.)

By 1981, the parish contained only 850 families. The drop in number was partly due to the building of the Kennedy Expressway in the 1950s, which gave many parishioners no choice but to move out of the neighborhood.

The original plan for building the expressway called for the destruction of the church. However, after petitions and other forms of political pressure, editions were made to the original plan by having the proposed expressway swerve around the church, and thereby saving the structure. Today, the rectory stands a mere foot and one-half away from the expressway. And during the summer months when the doors are open, parishioners can at times hear—and always see— vehicles moving along or sitting at a standstill on the Kennedy Expressway.

The neighborhood still contains some Polish people. However, Americans coming from a myriad of ethnic backgrounds, and an even larger number of Mexican-Americans, have eclipsed their numbers. The large number of Mexicans and Mexican-Americans has brought a new dynamism and vitality to the parish.

As one steps out of St. Stanislaus Kostka on a sunny Sunday morning during the summer and is greeted by a Mexican peddler serving fruity ice cream or elotes, one is reminded that Chicago is still a city of immigrants. The influx of Latin American immigrants over the last couple of decades have guaranteed that Chicago will remain at the beginning of the twentieth-first century what it was at the turn of the last century, one of the most Catholic of American cities.

Christopher J. Young is an assistant professor of history at MacMurray College in Jacksonville. An earlier version of this essay appeared in 2000 on stanislanskostka.org (now ststansk.com). Special thanks to Myriam Young.





For Further Reading

Fr. Anthony Buú, A Mother's Plea: Journey into the Light, (Stockbridge, Mass.: Marian Press, 2005)
George Lane and Algimantas Kezys, Chicago Churches and Synagogues (Chicago: Loyola University Press, 1981).
Donald L. Miller, City of the Century: The Epic of Chicago and the Making of America (New York: Simon & Schuster, 1996)
Ellen Skerrett, et.al., Catholicism, Chicago Style (Chicago: Loyola University Press, 1993).




ILLINOIS HERITAGE| 19
---