Lillian Snyder
guardian of Icaria
(1914-2005)
Dr. Lillian Snyder, 91, of Nauvoo, passed away November 2, 2005. She was a well-known regional, cultural leader, and professional in the social sciences.
Dr. Snyder was a founding member of the National Icarian Heritage Society, a member and past president of the Nauvoo Historical Society, and a member of the Illinois State Historical Society, Institute or Icarian Investigations, and the Communal Studies Association. Her love and devotion to Icaria, the nineteenth century French utopiain experiment that settled and thrived in Nauvoo from 1849-1860, provided her with a lifelong mission to preserve the society's heritage. A descendant of Icarian communalists, she was a driving force in the founding and developing of the Center for Icarian Studies at Western Illinois University, and in August 2004, supported its preservation through a gift for the Endowed Professor of Icarian and Regional Studies at WIU Archives and Special Collections. Dr. Snyder also bequeathed properties in Nauvoo to the Illinois State Historical Society to perpetuate the Icarian mission in the Nauvoo community.
Lillian Snyder attended high school at Hillsboro Community High School in Hillsboro, Illinois. She graduated from the University of Illinois in 1937 with a bachelor's degree in Agricultural Economics. She then received a Master's Degree of Social Sciences in Social Work from Smith College in 1939. She was awarded a Doctorate of Social Work from Columbia University School of Social Work in 1975.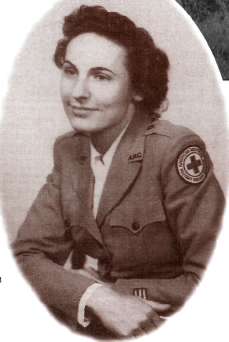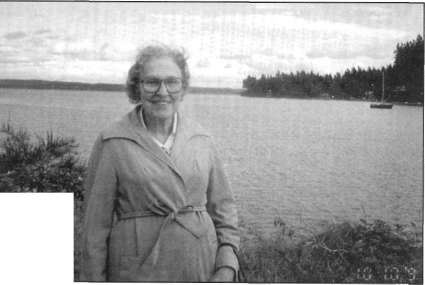 (Above) Dr. Lillian Snyder at Nauvoo in 1997. (Left) Lillian Snyder with the American Red Cross during World War II.
Dr. Snyder worked in the social work field in Missouri, Texas, New York, Virginia, and Maryland. She also served as an assistant field director and chief social worker in an army hospital with the American Red Cross from 1944 to 1946. She served as the Director of the Continuing Education program for Social Workers for the Department of Health and Mental Hygiene in Maryland from 1970-1973.
During her lifelong career of educating others, Dr. Snyder taught at the University of Texas Medical School, Galveston; Cornell Medical School, New York; University of Maryland Medical School, Baltimore; in Tours, France; and at Western Illinois University in Macomb. While at WIU, Dr. Snyder was instrumental in building the groundwork for the Social Work Program. An electronic classroom on Western's campus was dedicated in her honor in March 2003.
Dr. Snyder and her mother established the Lillian and Florence Snyder Scholarship at Western Illinois University to honor outstanding senior social work majors for their participation in community service and scholarship. She was a member of more than thirty social and professional organizations, as well as several church groups. Her memberships included the Academy of Certified Social Workers, AAUP, American Public Health Association, American Sociological Association, British Association of Social Workers, Council on Social Work Education, Midwest Sociological Society, National Rehabilitation Association, World Federation for Mental Health, and the American Association of Psychiatric Social Workers, serving as an officer in many of the groups. In the 1950s, Snyder served as Chairman of the Social Action Committee of the National Association of Social Workers, and gave testimony during hearings before the Welfare Committee of the U.S. Senate. She was born September 14, 1914, in Kankakee, to Dr. Robert and Florence (Baxter) Snyder, and was preceded in death by her parents; a sister, Mrs. Helen Whatley; and two brothers, John A. Snyder and Dr. Robert E.J. Snyder. She is survived by seven nephews and several cousins.
óWestern Illinois University News Service
Illinois Heritage 21
---
Illinois Periodicals Online (IPO) is a digital imaging project at the Northern Illinois University Libraries funded by the Illinois State Library