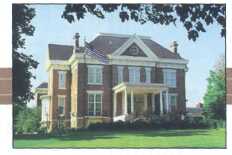 The Illinois State Historical Society
and the
Illinois Chamber of Commerce
present the
23RD ANNUAL
CENTENNIAL AWARDS RECEPTION
SATURDAY, OCTOBER 6, 2007
1:00 - 3:00 P.M.
At
THE EXECUTIVE MANSION
410 EAST JACKSON STREET - SPRINGFIELD, ILLINOIS

2007 Centennial Award recipients receive one complimentary ticket each. Additional tickets are $65 each. No tickets will be mailed—reservations will be held at the door. Reception reservations MUST be received by Sunday, September 23, 2007. Dress: business attire.
Lodging and Parking:
Lodging arrangements and parking are each individual's responsibility. However, the Mansion View motel (529 S. 4th Street), located across the street from the Executive Mansion, has set aside a block of guest rooms for Centennial Awards recipients and Society members at a special rate of $70 (plus tax) per night. To take advantage of this offer you must contact the Mansion View (529 S. 4th Street) no later than September 21, at 217-544-7411. To ensure these rates, make your reservations early and identify yourself as a member of the Illinois State Historical Society.

8 |ILLINOIS HERITAGE
---
---

Congratulations and welcome to the 2007 Centennial Awards Reception, the Illinois State Historical Society's 23rd annual celebration of excellence, durability, and tenacity in the business and public service communities. On behalf of the Society's directors, advisors, sponsors, and 2,000 members, I am delighted to receive you and your corporation into the Centennial fold, which now numbers more than 1,200 businesses and not-for-profit organizations.
Centennial Award recipients are everywhere in Illinois, from Chicago to Metropolis, Kankakee to Quincy, Galena to Golconda. They include multi-national corporations and mom and pop businesses, banks and libraries, restaurants and rest homes, factories and funeral parlors. The spectrum is as broad and colorful as the Illinois corporate landscape, limited only by human spirit and the entrepreneurial imagination. What unites them is their vision, hard work, and resourcefulness in the marketplace.
The 108-year-old Illinois State Historical Society knows something about longevity. A private not-for-profit educational organization based in Springfield, the Society is proud to recognize your businesses and organizations, which represent not only Illinois' marvelous corporate past but also its bright future.
And we are pleased to welcome you to the Executive Mansion, home to Illinois' governors since 1856, and one of the most beautiful and historic homes in the Midwest.
Be our guest. We hope your time with us is memorable and that your second century as an Illinois corporation is remarkable. We look forward to seeing you again in 2107.
William Furry
Executive Director
---
O Centennial Awards Program Committee O
Leah Axelrod, Highland Park
Elaine Egdorf, Homewood
Larry Hansen, River Forest
James Patton III, Leland Grove
Ted Wachholz, Arlington Heights
Pat Walton, Hanover Park
Doug Whitley, Batavia
Robyn Williams, Harrisburg

O Illinois State Historical Society Officers & Directors O
President: John Weck, Sycamore
Vice President: Mark Sorensen, Decatur
Treasurer: Arthur M. Martin, Chicago
Secretary: Russell Lewis, Chicago
Directors: Terms Expire in 2008
Alberta Adamson, Wheaton
Roger Biles, Normal
Lawrence Hansen, River Forest
Patricia Walton, Hanover Park
Randall Witter, Springfield

Directors: Terms Expire in 2009
Leah Axelrod, Highland Park
Herbert Channick, Highland Park
Redd Griffin, Oak Park
Dennis Williams, Quincy
Robyn Williams, Harrisburg

Directors: Terms Expire in 2010
Terri Cameron, Springfield
John Craig, Springfield
Larry Douglas, Belknap
Stu Fliege, Springfield
Dave Joens, Springfield
O Illinois State Historical Society Advisory Board O
Michael Batinski, Carbondale
Charles Burgess, Bethalto
Roland Cross, Springfield
Suzanne Dietrich, Edwardsville
Tim Draper, Sugar Grove
Elaine Egdorf, Homewood
Annemarie Erickson, Bloomingdale

Dow Grider, Sherman
Jeff Lightfoot, Springfield
Lisa Oppenheim, Chicago
James W Patton III, Springfield
John Pearson, Chicago
Shirley Portwood, Godfrey
Robert Swenson, Carbondale

Charles Titus, Charleston
Ronald Vasile, Downers Grove
Gary Vitale, Springfield
Theodore Wachholz, Arlington Heights
Doug Whitley, Batavia
Muriel Wilson, Chicago
O Staff O
William Furry, Executive Director
Mary Lou Johnsrud, Office Manager
ILLINOIS HERITAGE| 9
---
2007
Centennial Award Winners
Central Trust and Savings Bank of Geneseo, 1907
Citizens State Bank of Milford, 1907
City National Bank, 1907
Daily Southtown, 1906
Fisher Produce Company, 1907
Glen Ellyn Public Library, 1907
Flexible Steel Lacing Company, 1907
Jost & Kiefer Printing, Inc., 1907
J. Ralph Tobin & Son, 1907 Jobst Monument and Granite, 1903
Klinger & Associates, P.C., 1905
LaSalle County Historical Society, 1907
Mercantile Trust and Savings Bank, 1906
Oestreich Sales & Service, 1904
Pekin Woman's Club, 1892
Pittsfield Public Library, 1907
Sloan Valve Company, 1906
The Sorosis Chapter Number 39, Order of the Eastern Star, 1906
Township Officials of Illinois, 1907
Triangle Fraternity, 1907
United Community Bank, 1907
W.A. Whitney Manufacturing Company, 1907
Winch Floral Shop, 1880
10 |ILLINOIS HERITAGE
---



Centennial Awards 2007




Central Trust and Savings Bank of Geneseo opened its doors on February 23, 1907, with

opening day deposits of $44,893. The original stockholders were citizens whose names were synonymous with Geneseo's early growth and development— Robert D. Boice, George B. Dedrick, and John T. Greenwood. Ten years later, bank deposits totaled more than a million dollars. Jump forward 90 years and at year-end 2006, with 81 employees, five locations in the communities of Geneseo, Andover, Fulton, and Princeton, Central Bank deposits now total more than $209 million with total assets of $288 million. In 1990, a holding company—Central Bank, Inc.—became the sole shareholder of Central Trust and Savings Bank, which allowed the bank to maintain its competitive edge in the financial services industry. In 2001, Central Trust and Savings Bank of Geneseo shortened its name to Central Bank Illinois.

Citizens State Bank of Milford opened on September 23, 1907, with a capital of

$25,000. The owners—A.M. and E.S. Jones— remodeled and refitted their hardware store and installed a time-locking, manganese Steel Safe from New York. Newspaper accounts of the day called it "one of the finest banking houses in the county." Citizens State Bank received its Illinois charter on December 20, 1920, and has remained locally owed for a century. A full-service bank with twenty employees, Citizens State provides a wide range of financial benefits and services specializing in agriculture lending for local and regional farmers. The bank has been a good neighbor for the community, and the community has been good for the bank. On January 20, 2003, Citizens State Bank opened a branch in nearby Crescent City.


One hundred years ago this July, citizens of Massac County raised $50,000 in capital and opened City National Bank in a Metropolis storefront. Cyrus P. Treat became the bank's first president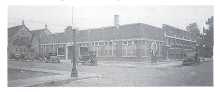 and the opening day deposits totaled more than $20,000. Within a year the founders were making plans for a new, permanent structure. That handsome building, constructed of Indiana limestone in 1909, had three entrances, and the bank shared the first floor with a beauty shop, and the second floor with a dentist. City National Bank grew and thrived during the Depression, and the postwar boom brought prosperity and expansion. Today City National Bank has assets totaling more that $193 million with $26 million in capital. In August 2006, City National opened a new 4,600 square foot branch facility, a state-of-the art, full-service bank to help take Metropolis and Massac County into the next century.

The Daily Southtown newspaper began as the Englewood Economist on September 11, 1906. The first edition was four pages and distributed free to 15,000 readers centered around 63rd and Halsted streets on Chicago's South Side. The original owners, brothers William and James Talcott and a silent partner named Tillinghast, sold the weekly paper in 1918, and it soon merged with two others, expanding circulation both south and west. Thus the Southtown Economist was born. By 1931, the paper had more than 86,000 subscribers and its readership continued to grow in the suburbs. The paper was sold several times over the next several decades, and became part of the Sun-Times News Group soon after moving to Tinley Park in 1997. The Southtown's commitment to being a watchdog for the community remains strong as it enters its second century.

Frank Hill opened his Fisher Produce Company on October 30, 1907. Originally a poultry processing business, Hill employed 25 chicken pluckers, who cleaned the birds and packed them in ice before shipping them by rail to Boston for distribution. Hill incorporated his business in 1927, and soon after the Ralson Purina Company came calling, asking if the Fisher Produce Company was interested in the feed processing industry. Thus began a partnership that has continued for 70 years. During WWII, Fisher Produce Company supplied poultry and eggs to the military and raised as many as 10,000 turkeys annually. After the war, however, the company switched from being a processing plant to a specialized feed and grain mill, serving the needs of farmers in a 100-mile area. Today the company has five employees and works with several private contractors to distribute its feed grain in Champaign, Ford, McLean, and




ILLINOIS HERITAGE| 11
---
The Glen Ellyn Public Library was legally registered with the Illinois Secretary of State on July 23/1907, but its history began a quarter century before that. The first subscription library in the community was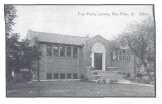 started in 1881 when 20 local residents purchased 100 books from a traveling salesman. The collection was stored in basement until local women secured a room on the 2nd floor of the Village Hall, purchased 40 new books, and established the Glen Ellyn Library Association. Soon the library moved to the 2nd floor of Boyd Brothers Hardware store, and was supported by an annual village carnival. In 1912, Andrew Carnegie donated $10,000 for the construction of a new library, which opened on September 14, 1914, and served the community for 80 years. On December 16, 1995, the library's newest facility, a 52,000 square feet facility in the English Tutor Style, opened. Designed to hold 175,000 volumes, the new Glen Ellyn Public Library features fiber-optic technology.

Flexible Steel Lacing Company was founded on March 27, 1907, in Chicago, when George E. Purple, Albert E. Beach, and Philip S. Rinaldo, purchased Olof N. Tevander's patent for a unique leather transmission belt fastener. Perfecting the "Alligator" Lacing design in 1909, the company went on to secure more than 200 additional patents. Today, the Flexible Steel Lacing Company— FLEXCO—is a privately held global corporation engaged in the design and manufacture of mechanical belt fasteners, tools, and accessories for conveyor systems. FLEXCO's products are used in mining, highway construction, hospitals, food processing, agriculture, recycling, and much more. With subsidiaries and manufacturing plants in Europe, Africa, Australia, and the United States, FLEXCO, now with corporate offices now in Downers Grove, has broadened its reach to provide greater service, stronger partnerships, and quality product and technical support throughout the world.

Jost & Kiefer Printing, Inc., today doing business as JK Creative Printers &

Mailing, was incorporated on November 18, 1907, at 631 Vermont Street in Quincy. Originally the Jost and Bohne Printing Company, the directors voted to change the name to Jost & Kiefer in 1912. Ownership changed again in 1970, when Charles Nobis purchased the company. In 1977, Nobis bought another company, Creative Printers, and merged it with Jost & Kiefer in 1993. To preserve the heritage of each company, the company's commercial name combined both; its official corporate name remains Jost & Kiefer Printing, Inc. The company built a new facility at 2029 Hollister-Whitney Parkway and has expanded the facility three times. JK Creative Printers & Mailing employs 43 full and part-time workers.

J. Ralph Tobin gave away tiny cow bells when his jewelry and optometry store, Tobin and Canham, opened on the south side of the Old Capitol Plaza in Springfield on April 20, 1907. According to newspaper accounts, more than 2,000 people came by car, by carriage, and even by train in response to the formal engraved invitations to the grand opening. 100 years later, J. Ralph Tobin & Son still attracts crowds—not with cow bells but with quality gems and jewelry. The store is owned and operated by Tobin's descendants, granddaughter Ann Tobin Hart and great grandson R. Evan Hart. An anchor business in downtown Springfield for more than 80 years, Tobin and Son left its long-standing home and moved to The Gables on the capital city's westside in 1994, where this 100-year-old business looks forward to its second century in Springfield.

Jobst Monument and Granite company of Ottawa has been making memorials

throughout LaSalle County since 1903, the year John Jobst Sr. opened his shop at 606 Columbus Street. To this day the business is family owned and operated. In 1933, John Jobst Jr. took over the company, and today his daughter, Jenan Jobst, is the owner. Jobst Monument and Granite has created some of the most prominent civic and individual memorials in LaSalle County, including the war memorial in Washington Park. The company has also contributed to the renovation of the Ottawa Township High School courtyard, as well as Marquette High School and the Earlville Country Club. From hand-carved birdbaths and benches to granite baskets, statues and planters, Jobst Monument and Granite continues its proud tradition of creating masterpieces.

The architectural and civil engineering firm of Klinger & Associates, P.C., was established in 1905 by Webster P. Bushnell, a former city engineer in Quincy. Bushnell, who was the drainage engineer for the Sny Levee District, specialized in helping farm communities form drainage districts and improving agriculture yields in bottomlands along the Mississippi and Illinois rivers and their floodplains. That work continued after he formed a partnership with Charles McCann in the 1920s. In 1936, McCann formed a partnership with William H. Klinger, who had assisted in designing the foundation for a new engine in the Hunt Drainage District near Quincy. Klinger took over the business in 1949, and his sons—John W Klinger and Michael D. Klinger represent one-half of the firm today. The principal associates are Stephen R. Wavering and William L. Wells.

The LaSalle County Historical Society was born on January 26, 1907, when 60 local citizens organized a countywide society to promote and preserve their community's history. That very night they adopted a constitution and elected Horace Hull of Ottawa as first president. The Society filed incorporation papers with the Secretary of State in 1924, although it had no formal home. That changed in the 1960s, when the Society obtained a lease on a




12 |ILLINOIS HERITAGE
---
1848 limestone warehouse along the Illinois and Michigan Canal in Utica. The historic building had been scheduled for demolition by the state, but the LaSalle County Historical Society intervened, inviting their neighbors throughout the county to help in the building's restoration. It worked. In 1966, the Society secured ownership of the warehouse and turned it into a museum. It is now one of the landmark gems along the I & M Canal Corridor.

Mercantile Trust and Savings Bank—"the bank that Quincyans built"— was

founded on April 9, 1906, and opened its doors the following day inside the Dodd Building on the northeast corner of Fifth and Maine streets in downtown Quincy. After fire damaged the original building, the bank remodeled and expanded in 1924, opening a new, identical five-story addition alongside the original structure, doubling its size. In 1960, Mercantile relocated across the street in a new, modern facility, and expanded again in 1982. Today the bank serves the financial needs of individuals, families, and businesses in the entire tri-state region. A wholly owned subsidiary of Mercantile Bancorp Inc., Mercantile Trust and Savings Bank is proud to be a part of a diversified financial services network with more than $ 1 billion in assets in community banks throughout the Midwest.


The Joliet locksmith company Oestreich Sales & Service, Inc., was founded by Theodore "Pete" Oestreich in 1904, although 2007 is considered the business's "official" centennial.

Founder Pete ran the business for 58 years, passing the business on to his son, Robert, after his death in 1962. In 1971, Pete's grandson, also named Robert, purchased the business with three long-time employees—Charles Rapson, Richard Zettergren, and Spero Ventsias. The partnership specializes in commercial and private security systems, and operates a fleet of six fully-equipped mobile lockshops. The company sells and installs various types of electronic and mechanical locking systems, as well as security cameras, video intercom systems, and safes. Every Oestreich locksmith is bonded and certified by the Associated Locksmiths of America, ensuring the very best in professional locksmithing services throughout Will County.

The Pekin Woman's Club met for the first time in 1892 as the Columbian Club, named in honor and anticipation of the World's Columbian Exposition, which opened in Chicago in 1893. The following year the Columbian Club became part of the Illinois Federation of Women's Clubs and officially changed its name. From the beginning this group of ardent women met twice a week in each other's home to explore the worlds of art and architecture, literature, and history. That tradition continues to this day. Although originally established as a "literary club," the club's mission has evolved through the years into a service organization, raising money for local charities, planting trees, and providing scholarships for students. Today the Pekin Woman's Club is 75 members strong and moving forward into its second century.

On February 1, 1906, the Pittsfield city council met in special session above the local drug store to consider a proposition from philanthropist Andrew Carnegie: would the city accept Mr. Carnegie's gift of $7,500 to build a free public library? Although 1/3 of the aldermen voted against the referendum, Pittsfield ultimately accepted Carnegie's grant and the new two-story Pittsfield Public Library, designed by Bloomington architect Paul O. Moratz, was official dedicated on May 9, 1907. Although the community had a subscription library service as early as 1855, the new Carnegie Library opened the door—and the world— to Pike County residents. That was a century ago. Earlier this year the library celebrated its centennial with a citywide celebration and by opening the original cornerstone. Today the centennial library has new windows and a new roof, and a renewed commitment to serving future generations of readers in Pittsfield.

William Elvis Sloan was an engineering genius. Though he left school after the fourth grade, Sloan developed a superior knowledge of electrical circuits and hydraulics, which led to a total of 64 patents under his name, one of which set the international standard for the plumbing industry. Sloan's Royal Flush Valve was the first and original product of Sloan Valve Company when it was incorporated on October 16, 1906. The first year Sloan opened his business in Chicago, however, he sold only one Royal flush valve. The second year he doubled his sales. A century later there are literally millions of Sloan valves in use around the world. The Royal valve is still the largest selling valve in the Sloan line. In the century the Sloan Valve Company has been around, dozens of competitors have come and gone. Today, only four remain, a testament to William Sloan's business acumen and perseverance. Today the Sloan Valve Company calls Franklin Park home, where it continues to set the standard in the manufacturing of plumbing products.

The Sorosis Chapter Number 39, Order of the Eastern Star, headquartered in Grayslake, Illinois, received its charter from the Grand Chapter in Illinois on October 15, 1896, in Lake County. The Order of the Eastern Star is the largest fraternal organization in the world open to both men and women. Founded on teachings from the Bible and open to people of all monotheistic faiths, the Order is an auxiliary and benevolent service organization of the FreeMasons with approximately 10,000 chapters in 20 countries. The Sorosis Chapter meets monthly in the Masonic Lodge in Grayslake and has more than 200 members. In addition to funding scholarships to students of theology and religious music, the Grayslake Order supports a hospital for the elderly in Macon, Illinois.

It all began on November 13, 1907, in Watseka, Illinois. A small group of highway commissioners and clerks, led by W. Rufus Kendall, organized the first meeting of the Illinois State Association of Highway Commissioners and Town




ILLINOIS HERITAGE| 13
---
Clerks. Their goal? To protect the township form of government from the state legislature and other elected leaders, who threatened to erode its authority. In 1932, supervisors and assessors joined the association, then trustees, and in 1945, the

organization was reborn as the Township Officials of Illinois. Today the Township Officials lend a hand to Illinois' 1,433 townships, providing training, legal advice, education, and legislative support to community officials in all 102 counties. With home offices in Springfield, Township Officials of Illinois works hard to promote highly qualified local government officials and to make them responsive in their home communities.

The charter chapter of Triangle Fraternity, a social and professional brotherhood of engineers, architects, and scientists, was established on April 15, 1907, by a group of undergraduate students at the University of Illinois in Urbana. Originally for Civil Engineering students, the fraternity quickly expanded to include all engineers, architects, and scientists at the U of I. Its mission was to "encourage professional improvement and to promote good fellowship among its members." Today the century-old Triangle Fraternity is a national organization with 32 chapters and more than 25,OOC members, 2,110 of whom are Illinois residents. For several years the fraternity resided in a house at 408 E. Green Street in Champaign, and later built a house at 112 E. Daniel. In early 1960 the Triangle Fraternity constructed a new modern facility on the site, where it carries on its service mission.

United Community Bank, formerly the Farmers' State Bank of Greenfield, was founded on iMarch 29, 1907 and chartered by the State of Illinois on June 10 that same year. Original capital stock was $25,000, divided into 250 shares among 11 directors. Farmers' State Bank and Greenfield survived the Great Depression together, and prospered and expanded in the 1950s and '60s. In 1973, Farmers' State Bank was acquired by United Community Bank (UCB), a cooperative of central and southern Illinois banks whose goal is to delivery excellence in customer service. United Community Bank, with corporate offices in Chatham, Illinois, conducts business in three counties—Sangamon, Greene, and Macoupin—and offers a full range of banking services, from small accounts and commercial loans to Internet banking and insurance products. With branches in Springfield, Chatham, Greenfield, Bunker Hill, Loami, Gillespie, and Pawnee, United Community Bank is poised for growth in its second century.

Rockford's W.A. Whitney Manufacturing Company received its charter on August 7,

1907. William A. Whitney, the founder, invented a series of hand tools for punching sheet metal that became the foundation of his namesake. Although Whitney left the company in 1909, he continued to produce new patents that the Whitney factory developed, produced, and marketed. In the 1950s, the Whitney Company introduced angle iron sheers and the first portable hydraulic sheet metal punches; in the 1980s it produced precision laser tables for cutting sheet metal, composite, and plastic plates up to 3/8" thick. Through vigorous global marketing, the company dominated the plate technology industry. Always innovative and on the cutting edge, W.A. Whitney opened a 250,000 square foot technology center in Rockford in 1998. In 2005, Whitney was sold to the MegaFab corporation but still remains a vital part of the Illinois industrial landscape.


Winch Floral Shop of Springfield was incorporated in 1905, but its history begins a quarter century earlier when Morris R. Winch, a former boilermaker, opened a greenhouse in southwest Springfield after losing an eye on the job. Two years later in 1882, a tornado forced him to relocate to a site five miles northwest of town. The business flourished and in 1928, Winch's son, John, opened a retail floral shop in the capital city, while nephew Frank continued to operate the greenhouse. Eleven years later the business moved down the street to 323 E. Monroe, in the heart of the historic district, where it has been for the last 68 years. Following the death of John Sr. in 1949, his son John Jr. took over the business, and today his daughter, Stacey Winch, is president and CEO. For four generations the name Winch has stood for flowers, bouquets, and excellence in Springfield.




14 |ILLINOIS HERITAGE
---
Illinois Periodicals Online (IPO) is a digital imaging project at the Northern Illinois University Libraries funded by the Illinois State Library