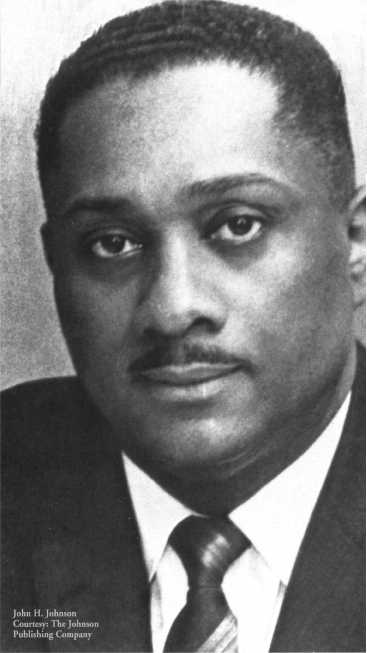 The Johnson Publishing Company
William E. Berry
Hisforical Research and Narrative
Anyone who travels along Chicago's Lake Shore Drive in the Grant Park area will see Lake Michigan to the east... Soldier Field, the Shedd Aquarium, and the Field Museum to the south ... the Lake Point Tower and John Hancock Building to the north ... and the Sears Tower and the "Ebony-Jet" Building to the west. The Ebony-Jet Building?
Since December 5,1971, when Johnson Publishing Company opened its new eleven-story headquarters building on Chicago's fabled Michigan Avenue across the street from Grant Park and one-half block south of the Chicago Hilton Towers, the words Ebony and Jet have become highly visible icons in the city's skyline along Lake Shore Drive. Those people who attend Chicago's "Taste" culinary emporium or drop in at either of the other weekly extravaganzas on the lakefront during the summer cannot help but see the illuminated Ebony-Jet marquee, a symbol of the first-ever office building in downtown Chicago that was built by an African American. By 2005 the Ebony-Jet brands and their parent company had become a communications dynasty and a major economic engine in Chicago and the state of Illinois, employing a reported 1,699 employees.
The Johnson Publishing saga began in Arkansas City, Arkansas, where company founder John H. Johnson was born on January 19,1918. His is a story of how that his family came to Chicago as part of the "Black Migration" of the 1930s and 1940s when African Americans from Mississippi, Arkansas, Louisiana and other southern states took the
13
---
"If I were a Negro"

railways and highways North, attracted by the lure of better-paying jobs in factories and allied industries. United States Census data and other research estimates that between 1900 and 1940 Chicago's African American population mushroomed more than six-fold— increasing from 44,000 to 274,000.
In The Beginning, There Was Negro Digest
After relocating from Arkansas to Chicago, Johnson attended Wendell Phillips High School and later DuSable High School, where his classmates included future movers and shakers in business, entertainment, and just about all walks of life, with Nat King Cole (singer), Redd Foxx (actor "Sanford and Son"), Dempsey Travis (mortgage banker), and Harold Washington (government, who in 1983 became the first African American elected mayor of Chicago) among them. Johnson excelled while a student at DuSable and served as president of the student council, president of his class, and editor of the school newspaper and class yearbook before graduating with honors. Following high-school graduation in 1936, Johnson enrolled part-time at the University of Chicago, where he had received a scholarship. To help his mother, Gertrude Johnson Williams, cover the family's expenses, he took a job at the Supreme Life Insurance Company, where he wrote and edited a monthly digest of news about African Americans for its president, Harry Herbert Pace. Increasingly, Johnson found himself to be more passionate about writing and editing the news digest for the president of Supreme Life than writing papers for college classes. His enthusiasm paid off, earning him an assignment to the company's monthly newspaper, The Guardian, first as assistant to the editor and then four months later as editor.
As he wrote in his autobiography (Succeeding Against the Odds, 1989) and has mentioned in numerous public speeches, Johnson felt himself drawn to the perils and promise of publishing and away from the security and predictability of a career in the insurance sector. He decided in 1942 that it was time to go independent and launch his own magazine. He named it Negro Digest, capitalizing on the notion that if Pace and other executives at Supreme Life had found his summary/digest of news about African Americans valuable and useful, there just might be a wider audience for similar information.
To make his vision of Negro Digest a reality, Johnson learned that he would need $500 capital. He pitched his business plan unsuccessfully to friends and co-workers. Convinced that there was a market for his product, Johnson decided to pursue his dream independently. However, no one would loan him the $500 that he needed unless he possessed collateral. Fortunately, his mother, a deeply religious woman who had prayed about his situation, believed in her son and allowed him to use her new furniture to guarantee the loan. That enabled Johnson to launch Johnson Publishing Company's first magazine in November 1942.
To stimulate sales, Johnson persuaded thirty of his friends to ask for Negro Digest at newsstands, creating demand. The strategy worked, and circulation climbed steadily. The magazine found a readership ready for stories that portrayed blacks in more favorable representations than the crime reports that were published in most newspapers. Also, to draw attention to his new publication, Johnson came up with the idea of running a series of articles written by prominent whites on the topic "If I Were A Negro," with the first article being written by Eleanor Roosevelt, wife of President Franklin D. Roosevelt. Almost overnight circulation jumped to 100,000.
Building on his success with Negro Digest, Johnson launched Ebony in 1945, modeling it after Life and Look magazines. Unlike most African American newspapers that, since the founding of Freedom's Journal in 1827, had envisioned themselves as advocacy instruments to champion the cause of blacks and protest injustice in the United States, Ebony proclaimed that it would reflect the more positive aspects of life. "We're rather jolly folks, we're Ebony editors," Johnson wrote in the inaugural November 1945 issue of the magazine. "Sure, you can get all hot and bothered about the race question (and don't think we don't) but not enough is said about all the swell things we Negroes do and accomplish." Johnson felt that America, particularly African Americans, needed a beacon to divert attention away from the stigma and stereotypes of racial prejudice to the achievements of blacks. In that very first issue of Ebony he promised: "Ebony will try to mirror the happier side of Negro life—the positive everyday achievements from Harlem to Hollywood."
In fewer than five years Ebony had distinguished itself as a major league player in magazine publishing, becoming the first African American publication to pick up advertising from mainstream corporations such as Zenith Radio. Confident that his company was on solid ground, in 1951 Johnson created another magazine—Jet— a pocket-sized weekly publication that focused on black celebrities and public figures and included news stories about the civil rights movement and race relations in America. Now that he owned both the leading monthly and weekly African American magazines, Johnson could focus his energies on
14
---
growing the business, and his track record during the last half of the twentieth century demonstrated an astonishing and astronomical run of achievements. The road from Arkansas to the Ebony-Jet building that overlooks Chicago's lakefront was paved with entrepreneurial steppingstones as Johnson advanced from an idea that began with a $500 loan in 1942 secured by his mother's furniture, to an empire that earned a reported $496 million in revenue in 2005.
In the magazine industry, "paid circulation" is the variable that separates winners from losers. Every fall, Advertising Age magazine publishes its much-anticipated "Magazine 300" report that ranks magazines by total advertising and circulation gross revenue. When Ad Age produced its sixteenth annual "Magazine 300" report in October 2005, the folks in the Ebony-Jet building had several reasons to celebrate. Ebony's 1,457,340 monthly circulation placed it among the top publications in the United States, many of which were founded earlier and with vast resources, such as Time, The New Yorker, and Better Homes and Gardens. Similarly, Jet's 941,530 circulation eclipsed that of better-known publications such as GQ, Esquire, Wired, and Harper's Bazaar.
From the beginning in 1942 through June 2006 when Black Enterprise Magazine recognized Johnson Publishing Company as one of the top ten African-American businesses in the United States, the company expanded from magazine publishing into broadcasting, cosmetics, and a mosaic of other businesses. In the magazine arena, while both Ebony and Jet found consistent, loyal audiences and soared, some Johnson titles were not so prosperous and eventually would close (Tan Confessions, Hue, Black Stars, Black World (originally Negro Digest), Ebony Jr! (a children's magazine), Copper Romance, EM (a men's magazine), E Style (a catalog venture with Spiegel) and Ebony South Africa were among the Johnson titles that eventually ceased publication.)
Disappointed though not deterred, Johnson continued introducing new products and services to satisfy the appetite of African American consumers who began to acquire more disposable income as racial barriers were removed, giving them access to better-paying jobs and other economic opportunities. On the communications front, the company created a book-publishing division and a book club; it bought (and later divested) radio stations in Chicago and also in Lansing, Illinois, a southern suburb of the city, and Louisville, Kentucky; and it also developed television productions for both network and syndication markets. To diversify its holdings, the company introduced Ebony-Jet Tours and Mahogany Travel Company (both travel service units); Ebony Fashion Fair (a traveling event that featured black models wearing apparel from both couture collections as well as African-American designers); Supreme Beauty Products Company; and Fashion Fair Cosmetics (an upscale product line carried in 2,500 exclusive departments stories in the United States, Europe, Africa, Bermuda, and the Caribbean).
Nonetheless, Ebony and Jet magazines continue as the crown jewels in Johnson's corporate empire. Ebony has modernized its typeface and graphics over the years to remain current with electronic publishing, but it has held onto many of its monthly features that readers have come to expect. In addition to publishing stories about black culture and achievement, throughout the year the magazine provides standby articles ranging from the homecoming queens at historically black colleges and universities to the much-talked-about "Eligible Bachelors" and "Eligible Bachelorettes" profiles. Also, readers can
15
---
John H. Johnson


JPC 50th Anniversary


Courtesy: JPC/Vandell Cobb 1992
count on Ebony to produce a series of "special" reports throughout the year about issues in health, economics, education, and public policy that affect African Americans.
Although Ebony and Jet magazines, Fashion Fair Cosmetics, and other Johnson Publishing Company products reached national and international consumers, both the city of Chicago and the state of Illinois benefited in significant and distinctive ways because the company's headquarters was located in the Windy City. The company contributed to Chicago and Illinois economically, culturally, educationally, and civically. As a case in point, when Black Enterprise magazine in June 2006 published its annual ranking of the "Top 100" black-owned businesses in the United States, Johnson Publishing Company was listed with an annual gross of $495.7 million in revenue. Johnson Publishing also reported a staff of 1,707—most of which work in the Chicago headquarters building and pay taxes in the city and state and contribute to the economic health of the communities where they reside. Moreover, because of Ebony and Jet, Chicago and Illinois continue to retain a presence as sites where national magazines are produced. At the end of 2006, Ebony and Jet remained the only major national magazines that were being edited and produced from Chicago. Indeed, despite their visibility as Windy City icons, both Playboy Magazine, whose corporate address is on North Michigan Avenue's Magnificent Mile, and "O, The Oprah Magazine," which is named for the talk-show host whose headquarters studio is located in Chicago, have editorial offices that are located in New York City.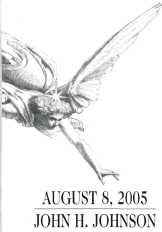 By the turn of the twenty-first century, fifty-five years after the first pages of Ebony rolled off the presses, and fifty years since Jet began appearing in nearly a million households each week, Chicago's Johnson Publishing Company found itself standing tall. Nevermind that several well-financed magazines such as Lear and Connoisseur ran out of oxygen and expired in the hotly competitive publishing industry, while Ebony and Jet saw their value rise in the marketplace. In June 2005 the company
announced plans to license branded merchandise bearing the name Ebony. At a Chicago news conference, chief executive Linda Johnson Rice envisioned a variety of products with the Ebony name: games and toys, clothing, and mobile technology products and financial products. Rice, Johnson's only daughter, was named president and chief operating officer of the company in 1987, the same year she earned a master's degree in business at Northwestern University. In April 2002 she was appointed chief executive officer, and she regularly volunteers her time and resources to a wide range of Chicago charitable and community organizations. That sense of civic responsibility extends the company's long-term commitment to public service, symbolized by the more than $51 million Johnson Publishing Company has donated since 1958 through its Ebony Fashion Fair to charitable causes, many related to education. But 2005 would prove to be a bittersweet year for the Johnson Publishing Company, despite the innovative and dynamic new strategies CEO Rice unveiled to retain its competitive edge. It was the year that Ebony would celebrate its sixtieth birthday during November. However, founder John H. Johnson was destined to miss that landmark moment in the company's history. On August 8, 2005, Johnson, 87, died of heart failure in Northwestern Memorial Hospital in Chicago following an extended illness. Exactly one week later, mourners packed into the fifteen hundred-seat Rockefeller Memorial Chapel on the campus of the University of Chicago to celebrate Johnson's life. The dignitaries, politicians, and celebrities who paid tribute to his historic success as a business leader included former President Bill Clinton, U. S. Senator Barack Obama, Illinois Governor Rod Blagojevich, Chicago Mayor Richard M. Daley, Motown founder Berry Gordy, actress Diahann Carroll, sports promoter Don King, radio personality Tom Joyner, and Reverend Jesse Jackson Sr. In a tribute to the late publisher, Clinton, a fellow Arkansan, who in 1996 presented Johnson the Medal of Freedom (the nation's highest civilian honor), said, "John Johnson had a vision of keeping hope alive
16
---

by showing black people faces of hope. I was honored to award him the Presidential Medal of Freedom. I liked John Johnson; I thought he was a strong, wise, straightforward, kind man." The business continues as a family affair, with widow Eunice Johnson holding the position of secretary-treasurer. While the Johnson Publishing Company story reads as a legend— a poor boy goes far because of hard work-its contribution to the communication field is both legendary and contemporary, a bridge to the past and a gateway to the future. Ebony and Jet enabled not only Americans, but also peoples throughout the world, to see and experience African Americans through multiple and diverse prisms, from jail to Yale ... from Morehouse to the United States House ... from Mississippi to Driving Miss Daisy ... and, yes, as John H. Johnson promised at Ebony's birth, from Hollywood to Harlem.

Elizabeth H. Miller
Overview
Main Ideas
John H. Johnson, the successful African-American publishing entrepreneur, was born in the South, moved to the North as part of the Black Migration, was a purposeful student, took advantage of available opportunities as a young man, and had a vision for the need of publications for the African-American community.
In 1942, with some practical writing and editing experience, Johnson decided to form his own publishing company which would focus on African Americans. His magazines would include positive presentations and examples of African American life in the United States, leaving negative representations to others.
Johnson's view of his audience was clearly on target, as his expanding list of magazines grew in respect and circulation. Several remain in publication today. In addition, Johnson saw the growing need to expand his original business to introduce new products and services to a population with an increasingly improved economic situation. Today, Johnson Publishing Company remains a well regarded family-owned and -managed Chicago business.
Connection with the Curriculum
This material may be used to teach United States history, African American history, Chicago history, or social studies. The narrative and activities may be appropriate for meeting the Illinois Learning Standards 14.D.3, 14.D.4, 15.0.2c, 16.A.4a, 16.D.2.C, 18.B.2a, 18.B.2.b, 18.A.3b.
Teaching Level
Grades 8-10.
Materials for Each Student
• The narrative portion of the article
• Activity handouts
Objectives for Each Student
• Learn and use skills to enable students to read the narrative with understanding.
• Investigate through the narrative how people create goals for themselves, and have the students reflect on how those examples can be applied to themselves.
• Create a "Statement of Purpose" for the Johnson Publishing Company at the time of its creation in 1942 based on evidence and ideas in the narrative.
• Work with a partner to share ideas and complete a joint assignment.
• Synthesize the narrative into original written expression.
• Speak before the class and be a respectful listener to classmates.
• Understand and appreciate the role of John Johnson and the publishing company in the economic, social, and political lives of African Americans and Chicago

Opening the Lesson
Ask the class what kinds of publications they or their family read. What do they expect to get out of the publications they read? Information? New ideas? Strengthening their own ideas? Examples to follow? Pleasure? In addition, ask the students to think about why newspapers and magazines are important for a democratic society. Have students share and discuss their ideas. Introduce the narrative as information about the achievement of one man who had a vision for a publishing company and the efforts he made to achieve that dream. Point out that John Johnson's achievements in publishing were especially important to African-Americans who often did not share the benefits of a democratic society. Before distributing the narrative, use Activity 1 to determine if any student knows about the Johnson Publishing Company and to have the students work together to create a list of questions they hope might be answered by the article. Begin reading the narrative in class; encourage the students to write down what they think are important ideas and information next to the paragraphs and to answer any of
17
---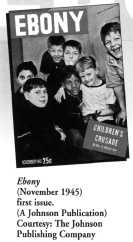 the questions they created. The rest of the narrative should be completed as homework, along with Activity 2 in order that the students can process the information in a format directing their reading. Younger students benefit and gain confidence when there is some structure to aid assimilation of the assignment.
Developing the Lesson
• Before proceeding with the remaining activities, review the questions created for Activity 1. Which questions were answered? What questions remain to be answered? Move to Activity 2.
• Activity 2 presents a structure for the students to create a time line and draw important information from the narrative about the challenges of starting a business. It also provides space to consider Johnson's achievements over a long period of time. The information drawn from this activity will be crucial to the success of the other activities. Also ask the students if they can think of what was happening in Chicago, the United States, and the world in 1942. Could these events have influenced Johnson's decisions and ability to succeed in business?
• Activity 3 requires the students to consider how to establish goals and values when "taking a big step forward" like Johnson did when he decided to create his own business. From the narrative, several ideas can be inferred about what Johnson's goals, purpose, and values were. Working with a partner, have the students create a Statement of Purpose for the Johnson Publishing Company in 1942.
Share them with the class.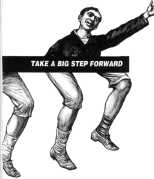 • Activity 4 challenges the students to choose causes for events and actions in the life of John Johnson and the Johnson Publishing Company. Point out that these causes can be either positive or negative or both, as events and situations in life are not simple, but complex, and can be interpreted differently by individuals.
• Activity 5 offers the students an opportunity to review the narrative, extract information, and present it in a new written format, providing a chance to express themselves factually and creatively. It also encourages the students to think about John Johnson as a role model of vision, perseverance, and success. Students should prepare a letter, in proper letter form to Johnson Publishing Company expressing their admiration for his accomplishments and those of his company. Have the students share their letters with the class. Please note that Mr. Johnson passed away in August of 2005.
From the letters the students write about Mr. Johnson, choose several you think the Johnson Publishing Company would like to receive and mail them to Ms. Latrina Blair, Johnson Publications, 820 S. Michigan Av., Chicago, IL 60605.
• All students should do Activities 1 and 2 to be sure the narrative is read and understood. Activity 4 requires critical thinking, drawing conclusions, and another way to process the narrative. Activities 3 and 5 require the students to reflect on Johnson's goals and values and express them in writing.
Concluding the Lesson
Review the narrative and have the students reflect on the contribution of this individual in making life better for people and the community. Can they think of other examples of people they know who make these kinds of contributions? How can these people serve to inspire the student in setting their own goals and dreams? Can a Statement of Purpose be made for one's own life? If so, can the students create their own?
Extending the Lesson
• Read your local newspaper looking for articles about how individuals and businesses are successful and also contribute to the community. Is this important?
Why or why not?
• Have copies of Ebony and Jet in the classroom for the students to peruse. Does the content of the magazines reflect the Statement of Purpose the student teams created for Johnson Publishing Company? What parts of the magazines particularly appeal to the students? Which ones do not? Why? Why not? Students can be required to write a critical paragraph or two with their opinion
Assessing the Lesson
• Individual and/or small-group assignments will be evaluated by the teacher. Determine if all students assumed responsibility for the completion of group activities and participated in class discussions. A quiz or test at the unit's end assessing the students' understanding of the narrative should include both factual questions and ones that require the students to draw their own conclusions with reasonable evidence to support their ideas.
18
---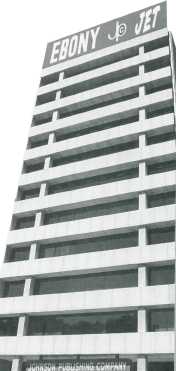 A) Do you have any knowledge of the Johnson Publishing Company? If so, what do you know?
B) It is a good idea to have some curiosity about a topic before you start to read. Being curious encourages you to think about what you hope to learn. With that in mind, prepare several questions you would like to have or expect to have answered in the narrative.
19
---

Read the narrative with the three column topics in mind. Fill in the columns as completely as you can. Use both sides of the paper if necessary.
John H. Johnson and the Johnson Publishing Company