Illinois History Teacher, Volume 16:1
CONTRIBUTORS' BIOGRAPHIES
Sarah Drake Brown is an assistant professor of history and director of the history department's teacher education program at Ball State University in Muncie, Indiana, where she teaches courses in content methods. An Illinois native, she was a history teacher at Naperville North High School in Naperville, Illinois from 1995 to 1998. She holds a B. A. in history from Purdue University and a Ph. D. in curriculum studies from Indiana University. Her current research emphasizes historical cognition and the history of education.
Andrew Hartman, is an assistant professor of U. S. history and history education at Illinois State University. He taught high school social studies for two years and is always looking for interesting ways to integrate fresh historiography into the curriculum. His book, Education and the Cold War: The Battle for the American School (Palgrave Macmillan) was published in 2008.
Richard L. Hughes is assistant professor of history at Illinois State University. A former high school teacher in North Carolina, Hughes teaches twentieth-century United States history and works in history and social science education at Illinois State University. As part of his interest in race in American history, he has published articles on such topics as minstrel music (The History Teacher) and United States history textbooks (The Social Studies). His current research includes study of the use of educational simulation games in the 1960s.
Lynn R. Nelson, associate professor of social studies education at Purdue University, began his teaching career in 1968 in East Maine District #63 (Illinois). Before his present responsibilities, he was the director of the Center for Economic Education at Widener University in Philadelphia, Pennsylvania, and associate professor at the University of Maine. A good deal of his research and writing is focused on the content and methods of history teaching. For the past five summers he has organized classes for undergraduate students in Russia, including summer 2008 study in Berlin and Magdeburg, Germany.
Monica Cousins Noraian, is the director of the History-Social Sciences Education Program at Illinois State University. Her duties include teaching the methods of teaching in "History and the Social Sciences II," as well as coordinating the student teaching experience. She holds a B. A. in history from American University, an Ed.M. from Harvard University, and a Ph.D. from Illinois State University. Before joining the Illinois State University Department of History, she taught history in the Chicago area at West Chicago High School and Adlai E. Stevenson High School.
Matthew Pinsker holds the Brian Pohanka Chair for Civil War History at Dickinson College in Carlisle, Pennsylvania. He is the author of two books, Abraham Lincoln (2002), a volume in the CQ Press American Presidents Reference Series, and Lincoln's Sanctuary: Abraham Lincoln and the Soldiers' Home (Oxford, 2003), a study of Lincoln's remarkable evolution as a leader and a man during his months in residence at a little-known wartime presidential retreat. Pinsker conducts regular K-12 teacher training workshops for groups such as the National Endowment for the Humanities (NEH), Gilder Lehrman Institute for American History, American Institute for History Education (AIHE), and the National Council for History Education (NCHE). He has most recently been named as a member of the prestigious Organization of American Historians (OAH) Distinguished Lectureship program.
Barry Schwartz is professor emeritus of sociology at the University of Georgia. His work on the Gettysburg Address is part of a broader interest in Abraham Lincoln in the American mind. His two books on this topic, Abraham Lincoln and the Forge of National Memory (2000) and Abraham Lincoln in the Post-Heroic Age: History and Memory in the Late Twentieth Century (2008), trace dramatic changes in Lincoln's image from 1865 to the present. Schwartz is a member of the U.S. Abraham Lincoln Centennial Commission Advisory Board, and he continues to conduct research on Lincoln's legacy in the early twenty-first century.
Jennifer L. Weber, is an assistant professor at the University of Kansas who specializes in the Civil War. She is the author of Copperheads: The Rise and Fall of Lincoln's Opponents in the North and a book for middle school students, Remembering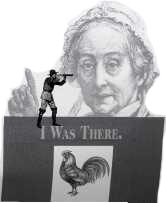 Gettysburg, which is scheduled for publication by National Geographic in 2010. A student of James M. McPherson at Princeton, her dissertation won the Abraham Lincoln Association's Hay-Nicolay Dissertation Prize in 2005. She is currently working on a study of how the Civil War drafts changed the outlook of people in the Union and the Confederacy.
Kenneth J. Winkle is professor and chair of the history department at the University of Nebraska-Lincoln. He received his Ph.D. from the University of Wisconsin-Madison and teaches nineteenth-century U. S. social, cultural, and political history. He is the author of The Young Eagle: The Rise of Abraham Lincoln (2001) and co-author with Steven Woodworth of The Oxford Atlas of the Civil War (2005).
Paul M. Zall, emeritus professor of American Studies at California State University, Los Angeles, is research scholar at the Huntington Library. With degrees from Swarthmore and Harvard he taught for forty years before retiring to write such books as Abe Lincoln Laughing (1983, 1995), Blue & Gray Laughing (1996), and Lincoln's Legacy of Laughter (2007). His current project is a series of profiles on Lincoln's obscure intimate friends.
---