By JOHN RACINE
East St. Louis:
What can, should state do?
Nothing seems to slow the crack dealers along Lincoln Avenue. Not the police and not even a car full of nuns driving through the north side of East St. Louis, where the business of crime is thriving. Sister Julia Huiskamp, a Catholic social worker in the public housing projects, recalls the day she and other nuns were flagged down by a man hawking a plastic bag of crack: "He kept asking us if we wanted to buy any. It didn't seem to bother him that we were dressed in full habit."
Criminals are so brazen that they stole the radio from the chief of police's squad car as it sat in front of city hall. The odds favor the criminals since city police can only put five officers at a time on patrol. And officers drive cars that run poorly with radios that do not work. A St. Clair County judge recently found the city guilty of criminal negligence for not properly equipping its police, the first time in Illinois that a city has been given a criminal record.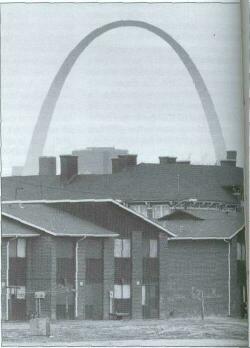 Photo by Eric Williams
Alderman Percy McKinney, a former East St. Louis police officer and chairman of the Public Safety Committee, says that police do what they can under the circumstances. The public says more needs to be done. "People don't have confidence in the local police anymore," says Sister Huiskamp. "The drug dealing is going on everywhere. You don't have to be Dick Tracy to find out who is dealing."
Crime is just one of a long list of problems that have plagued East St. Louis, tested its leaders, taxed its residents and brought harsh national media attention to the community that Look magazine named an "All-American City" 30 years ago. But the troubles in law enforcement show that local residents are angry with shrinking local services and fed up with those in charge. Most agree that it is up to the state to provide planning and money to fix the problems.
The effort has begun in a small way. Since July of 1986, 16 Illinois State Police troopers have patrolled East St. Louis streets at an annual state cost of $480,000. The U.S. Department of Housing and Urban Development, which took over the city's public housing after a 1984 scandal involving theft of federal rehabilitation funds, is negotiating with the state for up to nine undercover drug agents.
The state should take the lead in resolving problems in East St. Louis, says Jim Nowlan, a Knox College public policy professor who spent a month last summer studying East St. Louis for Gov. James R. Thompson. "Local governments are creatures of the state," says Nowlan. Besides its responsibility as sire of local governments, Illinois has some self-interest in East St. Louis. The state provides about 60 percent of the city's $6 million general funds budget. And the city owes state agencies an estimated $7 million in money borrowed or subject to repayment because it was improperly used.
For instance, the city owes the Illinois Municipal Retirement Fund (IMRF) $3 million, a debt that goes back to the early 1970s. Last year the fund refused to pay pensions to retiring city workers until a deal was worked out allowing the workers to draw pensions initially based on their own pension contributions. But Kathy O'Brien, chief legal counsel for IMRF, says that funds available for pensions will be exhausted in January
12/March 1990/Illinois Issues
---
if the debt is not paid. "The legislature could forgive that debt. It's certainly within their power to do that," O'Brien says. "But if they do, we won't be able to pay pensions to anyone in East St. Louis because we pay based on the available funds in each city's account." The IMRF has asked Illinois Comptroller Roland Burris to garnish state payments to the city to pay the debt. Burris went to court in June asking a judge to decide what he should do.
There are other debts, too. The Illinois Department of Employment Security is owed about $1 million for jobless benefits paid former city employees and not yet reimbursed by East St. Louis. The Illinois Department of Transportation has held up payment since June of more than $1 million of gasoline taxes owed East St. Louis, after audits showed the city had not spent $3 million on roads as required by law.
State officials had gotten their first peek at the financial condition of East St. Louis in 1985 when the city defaulted on bonds for the Martin Luther King Jr. Bridge across the Mississippi River. Illinois and Missouri bought out the bonds, took control of and renovated the bridge that had fallen into disrepair.
That bailout did not prepare the state for what happened in May of 1988 when an attorney for Walter DeBow, a Granite City electrician who was savagely beaten in a city jail cell, froze city assets to collect a $3.4 million jury award that East St. Louis had refused to pay. The move exposed East St. Louis's precarious financial position and nearly forced the city into bankruptcy.
It also highlighted the shortcomings of Illinois laws that require cities to balance their budgets but are not enforced. Some hope that the crisis will prompt the state to approve a distressed cities act that clarifies the state role in local fiscal crises. "Other states have the legislative means to address those kinds of problems," says Tom Berkshire, a policy analyst for Thompson. "I was surprised when the legislature did not pass one last year." The Illinois Municipal League supports the proposal as long as it does not allow the state to take over city operations. Larry Frang, director of fiscal programs for the league, says it would apply to few communities: "We're not talking about dozens of cities, but maybe a few."
The move to cut motor fuel tax payments prompted Gov. Thompson to form a task force to study East St. Louis. After nearly a year of work the task force hired a team of advisers. Illinois has pledged $300,000 to pay Ernst & Young, the nation's largest accounting firm, and M.R. Beal, a top management consultant, to determine how East St. Louis got into trouble and how to get it out.
Rev. John Rouse, the prominent East St. Louis minister who chairs the governor's task force, is tired of studies but sees some reason for hope in the latest efforts: "This is the first time we have people talking seriously and unbiased. I think something positive is going to come of this, and East St. Louis is going to be the model for the entire nation."
Larry Wilson, the quiet thirtysomething leader of the advisory team and point man for M.R. Beal, prefers to avoid publicity and politics in doing his job. A former deputy comptroller for the city of Chicago, Wilson started work October 16 in a bare office in a first-floor corner of city hall. "I don't see my-
| | |
| --- | --- |
| One of the major problems in East St. Louis is its housing. Much is in disrepair. The photos show examples from the Goose Hill and Lansdowne neighborhoods on the city's north side. The first privately developed housing in over two decades is planned for the far east side. Called Bluffview Estates, the $11 million project is the development of a not-for-profit consortium of the four East St. Louis banks, local union organizations and business groups plus individuals. | On the facing page is the Norman E. Owens public housing project with the St. Louis Gateway Arch in the background. One in seven people in East St. Louis lives in public housing. The federally managed public housing authority is in the middle of a two-year,. $38 million capital improvement project. Photos by Eric Williams |
March 1990/Illinois Issues/13
---
self as a savior," says Wilson, who chooses his words carefully. "The city will have to be the savior. I only hope to provide some advice."
Wilson's first assignment was to help the Aldermanic Council and Mayor Carl E. Officer, long-time adversaries, balance the 1990 budget. The result: a balanced $6 million general fund budget, praise from aldermen and a backlash from the mayor. Alderman Roosevelt Malone, who heads the city's finance committee, credits Wilson with being realistic: "We know we've got problems, and we know he [Wilson] can help us get help." But City Attorney Eric Vickers, who is also Officer's personal attorney, claims Wilson is not needed: "He's scared that if he gets involved, he's going to be accused of taking sides. ... I give him a D."
Although Wilson's job has placed him between feuding city hall factions, he does not want to take sides. He wants to study the problems and make suggestions. Observers expect him to ask for a combination of grants, loans, forgiveness of debts to state agencies and other help so that East St. Louis can restructure its long-term debt.
First, Wilson must figure out the East St. Louis financal position. That is not easy in a city where the last audit was done in 1985. Because some records are missing, or never existed, some advisory team members have suggested the audits may never be done. No one can say exactly how deeply in debt the city is. Officer says $8 million; the task force estimates at least $50.5 million.
Wilson says the city must put its house in order before it can attack underlying problems of high unemployment, few businesses, a shrunken tax base and the flight of black residents from
East St. Louis riverfront
Sixty years, several grand jury investigations and a national bond scandal later, plans to develop the East St. Louis riverfront are still the best bet for the future of the state's most notorious city. The idea of transforming 2,000 acres of blighted property along the Mississippi River in the shadow of the St. Louis skyline dates back to the 1930s, but experts agree it could finally happen in the next decade if the state plays a strong role.
Plans have been held up by a lack of comprehensive planning, lack of money and lack of control over the riverfront. "The railroads own just about all that property," says state Sen. Kenneth Hall (D-57, East St. Louis). "The city does not control it. This is the only place in the state where a city does not control its own riverfront and that has got to change." Even though East St. Louis has the power of eminent domain, the city has never had the money to purchase the property. An acre sells for $15,000 along the riverfront, making it some of the most valuable property in the state.
The problems of control, financing and planning are expected to be solved by the Southwestern Illinois Development Authority (SWIDA). Created in September of 1987, the agency has the power to issue state-backed bonds. "Our job is not to circumvent the city but to work with them and to help them with financing of the projects," says Earl Lazerson, president of Southern Illinois University at Edwardsville and SWIDA board chairman. "We want to help with reasonable projects."

Lazerson
Pursuing the spectacular has brought delay and embarrassment to the city. In December of 1985, East St. Louis, though heavily indebted, issued $473 million in tax-free municipal bonds to finance the construction of three projects: a $223 million port, a $125 million high-rise apartment project and a $125 trash recycling plant. Four years and $25.2 million worth of planning later, the city has not broken ground for the projects that Mayor Carl E. Officer promised would help restore his city's economic base.
The Internal Revenue Service will decide by April 15 whether to revoke the tax-free status of $348 million of the issue (the recycling plan and port projects). The IRS has already offered the city the opportunity to pay $17 million now, rather than see bond holders billed for $65 million in back taxes and penalties, an action that would almost certainly prompt lawsuits against the city.
A federal grand jury is investigating how the bonds were issued and the relationships between Matthews & Wright, the New York bond house that issued the bonds, Officer, other city officials and several no-bid contractors. The projects have also prompted civil suits. One former developer has sued East St. Louis and Officer, alleging that Officer fired them after they refused to pay him a $500,000 bribe. The mayor has denied the charge. Officer has not commented publicly on the projects since last fall, but had earlier maintained that at least the trash recycling plant can still be built because Metro East landfills are approaching capacity. State officials are skeptical about megabucks projects being the answer to revitalizing the city's economy.
Several other projects — all proposed by outsiders — could get underway in the next decade. Federal officials are moving toward implementing a 20-year-old plan to extend the Jefferson National Expansion Memorial, home of the Gateway Arch, to the Illinois side of the river. A private group is working through SWIDA to donate land on the Illinois side of the river.
The proposed Metro Link system, a multi-million dollar light rail system linking Illinois with St. Louis and Lambert Field, would cross the riverfront through downtown East St. Louis. And Rep. Wyvetter Younge (D-l13, East St. Louis) would like to see her community benefit from St. Louis's attempt to attract the Olympic Festival and World's Fair in 2004: "It is the kind of thing that would go well with a national park program for the entire riverfront. We need a comprehensive plan and Congress should get involved."
And, there is riverboat gambling. One of the Illinois-licensed boats that will carry gamblers up and down the Mississippi River will likely be based in East St. Louis. "I would hate to think that people are viewing the possibility of East St. Louis having riverboat gambling as the solution," says Jim Pennekamp, executive director of the Leadership Council of Southwestern Illinois. "It's not the cure-all. It's an opportunity."
John Racine
14/March 1990/Illinois Issues
---
the city.
Change without state help is unlikely, but no one knows how much the state will be willing to pay. State lawmakers say they cannot help East St. Louis until they know what the city needs. "The city has to set its own priorities first," says state Rep. Ron Stephens, (R-110, Troy) a frequent critic of Officer. Stephens says that the practice of paying police officers as bodyguards for Officer while citizens go without basic services must end: "Some things come first. Some things like police and fire protection." State Sen. Beverly Pawell (R-20, Glen Ellyn), a member of the governor's task force, says that change must come before help: "With the way the city has been operating, it would be like throwing money down a rat hole." But Fawell acknowledges the state must help East St. Louis. So does state Sen. Kenneth Hall (D-57, East St. Louis): "It's easy to say you can pull yourself up by the bootstrap, but first you have to have a bootstrap." But Hall predicts success: "East St. Louis will rise out of this."
The city is not the only East St. Louis area local government suffering and getting help. The East St. Louis schools, whose 15,000 pupils make it the fourth largest system in Illinois, was one of 14 districts put under extraordinary supervision by the Illinois State Board of Education in December of 1988. With day-to-day assistance, the district has cut us operating deficit in half, to $10 million, and reduced its patronage-rich payroll. State Community College, the only community college in Illinois that operates without a local property tax, has a new board. Thompson replaced the board in January because former trustees had not corrected longstanding shortcomings in accounting procedures, inventory control and overstaffing.
"Every unit of local government is suffering there," says Gary McCants, a Democratic staffer for the House Urban Redevelopment Committee that Rep. Wyvetter Younge (D-113, East St. Louis) chairs. "There are a lot of problems in East St. Louis, and everyone in charge knows that. But there are also problems in Chicago and a limited amount of money. East St. Louis has lost its political clout.''
There was a time when the General Assembly's Black Caucus took up the cause of East St. Louis where 98 percent of the city's 44,000 residents are black. But the coalition has been reluctant to get involved because of differences between the two state legislators from the city. Younge has supported Officer, while Hall has supported Gov. Thompson's efforts on behalf of East St. Louis. Last year Younge sought to have Officer come before the Black Caucus. Hall opposed the action, and Officer never testified.
Mayor Officer is one roadblock to more state help. Last year the mayor suggested that Thompson get mental help or resign after the governor had criticized Officer. Then Officer sued Thompson in federal court and charged that the state was preparing to send in the national guard.
Some say Officer does not represent East St. Louis and that the real problem is the perception in Springfield that he does. "People on the outside see Carl Officer as the soul and essence of East St. Louis, and I disagree with that," says Alderman McKinney, one of the five-member majority that defeated Officer-backed candidates in the May council elections.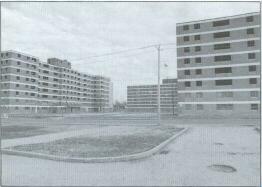 The Orr-Weathers apartments were to be renovated by the East St. Louis Housing Authority in the early 1980s, but authority officials ripped off the project. The officials were found guilty; the renovation was never done. The U.S. Department of Housing and Urban Development (HUD) took over the the East St. Louis Housing Authority, and Quadel Associates now operates it for HUD. There are no current plans for Orr-Weathers, which is now the site for drug sales. Photo by Eric Williams
Officer, the third and the longest-serving black mayor in the history of the city, now shuns the spotlight he had once sought. He has canceled weekly press conferences and refuses private interviews. When campaigning in 1979 for his first of three terms, Officer ran as a reformer who would run the politics-as-usual crowd out of city hall.
Today Officer claims to be the "best municipal manager in America," but his administration is saddled with the same allegations of mismanagement and corruption that beset previous mayors. Officer's detractors point to:
• Rev. Joe Davis, supported by Officer in last year's aldermanic elections, who was convicted of trafficking in cocaine and laundering profits through his Baptist church.
• Former Deputy Mayor LaMar Gentry who was indicted for illegally using city funds and resigned in 1988 after agreeing not to work for the city again.
• Kelvin Ellis, a long-time Officer aide, under federal indictment for fraud and extortion.
Critics acknowledge that Officer inherited most of the city's problems and debts but complain he has not addressed them. Like other cities. East St. Louis lost critical federal revenue sharing funds in the middle of the decade. A study by the U.S. General Accounting Office found that the flow of federal dollars to East St. Louis slowed during the Officer years. Grants and direct federal spending that once totalled $100 million per year have fallen to a quarter of that.
Riley Owens III, mayor of neighboring Centreville and a friend of Officer, believes that states must move to assist distressed cities like East St. Louis. But he also defends his friend: "When the industry left East St. Louis, they left it for the poor to run. What you have is the shell of a city. Who the hell can be responsible for wrecking a shell? "
John Racine is Illinois correspondent for the St. Louis Sun.
March 1990/Illinois Issues/15
---