By PAT HARRISON
Franklin County: searching for a better future
Jerry Hall reflects the past and present of Franklin County. He was among the thousands of southern Illinois coal miners who lost their jobs between 1979 and 1989, as coal companies mechanized operations. A former Zeigler resident, Hall is like others who had to leave the county to find a good-paying job with benefits.
The primary reason people migrate is job opportunity, said Cheng Chiang, a demographer in the governor's Bureau of the Budget (BOB). Franklin County's population was 43,200 in the 1980 census. The BOB says that 300 moved out in the first seven years of the decade, and in the last three years of the decade another 300 people were expected to leave.
In mid-October 1988, Hall — out of a job for 17 months and one check away from exhausting his unemployment benefits —got a job at Diamond-Star Motors in Bloomington. He works as a welder and maintenance man in the two million square foot plant that employs almost 3,000 people and produces the Plymouth Laser and Mitsubishi Eclipse. Hall, 48, says his pay is comparable to the $17 an hour he had earned in the coal mine. The job came at the cost of separation from his wife and children, Lara, 18, a senior cheerleader at Zeigler-Royalton High School, and Leon, 21. "My daughter wanted to graduate with her friends," said Hall, who lives in a trailer park in Normal, 235 miles from Zeigler.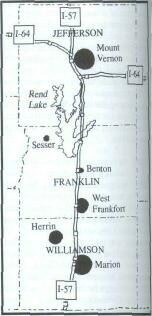 The future of the Hall family is more secure now, but the county's future is at a pivotal point. The unemployment rate was among the worst in the state in the 1980s, as was the number of those on welfare. Weakness in the farm economy depressed farm assessments, undercutting the county's property tax base. The county's major industry, coal mining, is ailing, which has caused some to throw up their hands and believe there is no future in Franklin County. But other residents and local politicians are attempting to make Franklin County and the area an attractive place to live.
Unemployment in Franklin County has been in double digits since December 1979. From 1982 through 1989 the figure never fell below 13.0 percent and ranged as high as 22.8 percent. In one seven-month stretch of 1982 and 1983 the jobless rate was over 20 percent each month. When rankings by county were first tallied in 1987 Franklin had the fifth worst unemployment rate in the state. In 1988 it ranked sixth and in 1989 ninth. There was no other industry to absorb the bulk of the unemployed miners.
The immediate problem for Illinois coal stems from its high sulfur content. Anticipated Clean Air Act revisions have made utilities wary of signing long-term contracts with Old Ben Coal Co., which for almost a century has operated mines in Franklin County. "We've got the reserves to start a mine or two if we could," said Bill Hake, vice president for Old Ben's Illinois division. "But that is contingent on the Clean Air amendments. You can't put down $100 to $150 million for a new mine if you don't have a 5- to 10-year contract calling for one to two million tons of coal a year." Hake said in early January that his company was selling coal below cost to keep operations going. In late January Old Ben announced that it would close a mine near Sesser in April, putting 337 people — 288 miners — out of work. Hake said that the $15 million needed to modernize the mine was not justified because of the pending Clear Air, legislation.
Further, the short-term prospect for technological reduction of high-sulfur emissions to acceptable levels is nil, says David Arey, assistant director of Southern Illinois University-Carbondale's Coal Research Center. "Any widely applied clean-coal technology that will save the bacon for the coal industry is five to 10 years away," he said.
Problems with the agricultural economy have devastated Franklin County's property tax base. In 1981 the state moved from market value to productivity in assessing farmland. The change combined with the relatively low quality of Franklin
18/March 1990/Illinois Issues
---
County farmland and the weakness in the economy's agricultural sector to reduce the equalized assessed value of Franklin County farms from $35.6 million to $17.1 million between 1981 and 1988, a decline of 52 percent.
In 1981 farmland accounted for 22.3 percent of the property tax base; in 1988 it accounted for 11.6 percent. Other property owners, including homeowners, are making up the difference. "It's going to reach a point where it's not advantageous to live in southern Illinois when it costs $200 to $300 a month [in taxes] to live in a home you've paid for," county board member Jim McPhail said.
The decline in jobs meant a rise in welfare; it also created problems for educators. Since 1982, the number of people in Franklin County receiving financial and medical assistance from the Department of Public Aid rose precipitously. It grew from 3,417 to 5,070 from December 1982 to December 1989. In the same period the number of people receiving food stamps rose from 4,588 to 5,102. Nearly one in eight county residents receives one or both forms of assistance.
---
'What we've got developing in southern Illinois is a rural ghetto, not of what you see but the attitudes. There's no self-respect'
---
The hard times make some wonder whether their futures are already behind them. The situation is taking a toll on the aspirations and goals of the young, said George Connor, superintendent of the Zeigler-Royalton school district and principal of its high school. "What we've got developing in southern Illinois is a rural ghetto, not of what you see but the attitudes. There's no self-respect." He sees students who believe there is no reason to gain an education: "The economic problems are causing a decline of hope. Many students don't think they need a high school diploma because their present goal is to get on public welfare. They're openly saying that in front of their parents. 'Don't need a high school diploma to get on welfare and that's what I want to do.'
"I'm spending more of my time working one-on-one with students to try to get them to accept the goal of being financially independent. Ten years ago, I had many more students who not only wanted to go to a four-year university or college, but were going. Now, those same 'intelligent-ability' students can't afford anything but two years at the area junior college. Then, they don't know how they're going to get the money to finish the last two years."
Forced to help out at home, more Zeigler-Royalton students are working. It leaves them less time to round out their education with extracurricular activities, such as science club or history club. "The participation has dwindled to a greater degree than the total student population," said Connor. Zeigler-Royalton's enrollment in grades 9 through 12 is 200, 70 less than three years ago. "We haven't had anybody move into this school district who has had a job in the last year or two. We've had people move in but they are on public aid," said Connor, who estimates 45 percent of his district's students are on welfare.
Local politicians, residents and economic developers are making efforts to revitalize the area and restore hope to the young and the unemployed. They acknowledge that for too long they expected coal and related businesses to carry the economy. "We sat here and figured the coal mines would work forever and everybody would make $16 or $18 an hour," Benton Mayor Charles Smith said. Now Smith and others are attempting to attract a diversity of small businesses and industries so that if one has a layoff, others can absorb the unemployed and prevent a migration of the best and brightest. Jerry Jones, state president of the United Mine Workers' Association, would like to see coal remain the cornerstone of the area's economy but conceded that if the economy of southern Illinois is going to prosper, diversity is a necessity.
To find that diversity local officials have devised a regional approach to attract business and industry. "We're trying to do away with the parochialism," McPhail said. "People can see they are not going to sell West Frankfort or Zeigler but they have a shot at selling southern Illinois because it has so much to offer.'' Adds Benton's Mayor Smith: "As long as we can keep a regional feeling and a regional concept, industry will see that. If we get something, it will help West Frankfort; and if West Frankfort gets something, it will help us."
A joint effort between Franklin and adjacent Jefferson County landed a 728-bed state medium-security prison in Jefferson County. The cooperative venture got its start when representatives from both counties sat down and discovered they were going to propose prison sites across the county line from each other. To gain the prison, the group — which included Jefferson and Franklin counties, and Mount Vernon and Benton —paid $310,000 to buy land and turn it over to the state. Additional acreage was donated by the Rend Lake Conservancy District.
Construction of the prison will provide about 250 jobs. Expected to open in the fall of 1991, the prison will have an annual budget of $15 million, $10 million of that in wages for the 350 to be employed there. The state will spend locally another $2 million each year on things like commodities, office supplies and the cleaning of uniforms.
The venture for the prison developed into the nonprofit Rend Lake Economic Development Corporation (RLEDC), which is comprised of the two county boards, the Rend Lake Conservancy District and the cities of Mount Vernon, Benton and Salem. Contributions from each governmental entity and from private donations provide the corporation's $100,000 annual budget.
The RLEDC, said director Mark Spizzo, is trying to attract any high-growth industry, such as computer and electronics firms and distribution industries, and to retain the industry it has. To attract new industry, it is attempting to sell:
• The connection to such markets as Louisville, St. Louis,
March 1990/Illinois Issues/19
---
Chicago, Kansas City and Cincinnati via interstates 57, 64, 24 and 55, the five railroads that serve the area and the airports at Mount Vernon and Benton.
• The availability of a workforce that is willing to commute within the region.
• The higher educational system of Rend Lake Community College in Mount Vernon, John Logan Community College in Carterville and Southern Illinois University-Carbondale.
• The recreational opportunities in the Rend Lake area include boat, fishing, golfing and camping. The area straddles Franklin and Jefferson counties and includes Wayne Fitzgerrell State Park.
Recreational activities are not only a selling point to business but create a business of their own. Rend Lake ranks 20th among the state's travel attractions. The Department of Commerce and Community Affairs (DCCA) estimates that in 1988 650,000 people visited Rend Lake. Nearby are the Shawnee National Forest and Giant City State Park. Those two sites ranked seventh and 11th respectively among the top travel attractions. Together they drew between 1.3 and 1.7 million visitors in 1988.
By cities, here are progress reports on efforts to gain jobs in Franklin, Jefferson and Williamson counties:
Benton: Mariah Boats Inc. began full production in a new industrial park in Benton on December 18. The plant currently has 65-70 employees and is making three boats a day, said president Jimmy Fulks. He said that during the spring and summer he will have about 150 employees, and production will be up to seven to eight boats a day. Like other boat factories, Mariah will experience seasonal layoffs in the winter, Fulks said. He hopes eventually to have over 400 seasonal employees and between 75 and 100 permanent ones. Currently workers are making between $5.50 and $10 an hour and have a major part of their health plan paid by the company, said Fulks.
To get Mariah, Benton leased it a 40-acre site at $1 an acre for 20 years. Benton also loaned Mariah $150,000 at 3 percent for 10 years. The money came from a revolving loan program the city established to attract new businesses. Mariah and other firms that move into the industrial park also get a water and sewer line and a road at no charge. City officials are seeking a $200,000 grant through DCCA and the Greater Egypt Regional Planning and Development Commission for the water and sewer lines and road. In addition, Benton and the county are co-applicants for designation as an enterprise zone.
West Frankfort: The 102,000 square foot Vanity Fair outlet mall will open in April, housing 12 businesses whose products will include clothing and luggage. The mall will provide 130 jobs, about 85 full time, said economic developer Larry Rollinson. Additional part-timers will be hired during Christmas and back-to-school periods. Rollinson said mall employees will earn an average of $5.25 an hour, be provided fringe benefits, such as hospitalization, and not be subject to seasonal layoffs.
He said those associated with the mall expect to generate $25 million worth of sales tax to the state after five years of business. West Frankfort's share would be $4 million, which would allow the city to recoup its investment in land and other amenities to attract the mall. To get the mall, West Frankfort provided at no cost the land, part of 25 acres the city had purchased for $700,000. The city also built roads, water lines and sewers to the mall. The cost for the infrastructure was $453,000. The city was able to offset $100,000 of that with a Build Illinois grant. Because DCCA designated it an enterprise zone, West Frankfort is able to provide a variety of tax credits to new businesses. Those tax breaks are: property tax abatements for five years, a one-time state corporate income tax credit of $500 for every new employee, and state sales tax deductions to contractors who buy materials in West Frankfort.
Marion: To the south of Franklin County, construction of a $165 million business-entertainment-apartment complex will provide 1,000 jobs beginning this summer. It is scheduled to open in August 1991 and will provide 2,300 new full- and part-time jobs, said Lester Bethel, director of the Marion Chamber of Commerce. Bethel and mall developers were unable to say how many of those would be full-time jobs. Bethel said the complex is expected to draw consumers from a 10-county area.
A shopping mall that will provide another 300 jobs — about 120 full time — will likely open in the spring of 1991, said Jon Browne of St. Louis-based Novus Development.
Mount Vernon: To the north of Franklin County, expansion of the General Tire plant and construction of a distribution center for Walgreen drugstores is underway. Both projects will provide 750 new jobs, Spizzo said, but to what degree those jobs will drive down the jobless rate in the immediate area is uncertain because hiring will be done in a 50-mile radius. Walgreen's distribution center is in the first phase of a three-phase construction program, a 350,000 square foot building that will be finished in June. The other two buildings will be 150,000 square feet each.
The prison, the new boat plant in Benton, and General Tire's and Walgreen's construction will mean a $100 million investment in buildings, equipment and improvements in the next 24 to 30 months, Spizzo said.
Some initial successes indicate economic hope for Franklin County, but a boom in the near future is not likely. Mike Vessell, a state labor market economist who has tracked southern Illinois' unemployment rate throughout the decade, points out that six times in 1989 the unemployment rate in Franklin County fell below 13 percent. The lowest was 11.5 in September. Vessell says the decline can be traced to the efforts of economic developers and area residents to sell southern Illinois to business and industry. Recognizing, however, that current job prospects still include seasonal layoffs, Vessell says the best scenario for Franklin County by 1995 is a jobless rate bouncing from 8 percent in the best months to 13 percent in the worst.
Reflecting on 1989's progress, Franklin County board member McPhail said: "If we have as good a year next year as this year, as far as industrial development, I see good things happening." Rollinson is optimistic but more cautious: "We're still trying to play catch-up economically, but I'm optimistic we can generate new jobs. If we all do our work, make the proper contacts and follow-up, turning things around in five years is not beyond the realm of possibility."
Pat Harrison, a former managing editor for the West Frankfort Daily American, is currently in the Public Affairs Reporting program at Sangamon State University, working as an intern in the Statehouse bureau for The Pantagraph in Bloomington.
20/March 1990/Illinois Issues
---