Names
New board to help streamline workers' comp process
Illinois workers injured on the job will be seeing quicker and more efficient settlement of their claims in the near future. The newly created Workers' Compensation Advisory Council, chaired by Chicago attorney and former Illinois Commerce Commission chairman Michael Hasten, is charged with streamlining the processing of claims and the delivery of benefits to these workers. The council creation was part of the workers' compensation reform package signed into law by Gov. James R. Thompson in mid-December.
The legislation, which was hammered out between labor and business leaders last spring, came in the wake of several studies. One study, written by Carol Hughes, director of workers' compensation policy for the Illinois State Chamber of Commerce, was released in December 1988. Among its recommendations was the creation of an advisory council, as well as a number of other reforms written into the final legislation. The other study, conducted by John Lewis, a nationally recognized expert in workers' compensation systems, found that cases in Illinois are not reviewed quickly enough and that the Illinois Industrial Commission (IIC), which administers the workers' compensation law, fails to analyze effectively the data it collects.
Other provisions of the legislation call for establishing a temporary panel of arbitrators to clear up the IIC's backlog of cases, expanding coverage for farm workers and requiring arbitrators to have more labor relations experience.
Besides Hasten, other members of the nine-member council appointed by Gov. Thompson in December include Lester W. Brann Jr. of Hinsdale, president of the Illinois State Chamber of Commerce; Ed Breen of Joliet, directing business representative for District 55 of the International Association of Machinists; Arthur Gottschalk of Flossmoor, president of the Illinois Manufacturers' Association; Daniel Ligurotis of Westchester, president of Joint Council 25 of the International Brotherhood of Teamsters; Jay Dee Shattuck, chief operating officer of the Associated Employers of Illinois (a division of the Management Association of Illinois); Barbara Sherman of Chicago, an attorney and former member of the Illinois Industrial Commission; Larry Suffredin, an Evanston attorney; and Rich Walsh of Springfield, president of the Illinois State AFL-CIO.
All appointments were effective immediately, require Senate confirmation and pay expenses only. Members serve four-year terms.
The Judiciary
The Illinois Supreme Court recently announced the following assignments, resignations and retirements:
1st District Appellate Court
• Named presiding judges of the court: Robert C. Buckley (1st Division), Gino L. DiVito (2nd Division), David Cerda (3rd Division), Mary Ann McMorrow (4th Division), Michael A. Coccia (5th Division) and Rosemary D. LaPorta (6th Division). All reside in Chicago.
The district's executive committee is composed of Anthony Scariano, chairman, and David Cerda, Mel R. Jiganti, Rosemary LaPorta, Francis S. Lorenz and Blanche M. Manning, members.
• Assignment extended: Retired circuit court Judge Joseph Gordon until December 3,1990. Conference of Chief Circuit Judges
• John W. Rapp Jr. of Mount Carroll, chief judge of the 15th Judicial Circuit, was re-elected to another two-year term as chairman. Elected vice chairman was Herman Haase of Joliet, chief judge of the 12th Judicial Circuit, Haase succeeds William Lewis of the 1st Judicial Circuit.
Cook County Judicial Circuit
• Assignments extended to July 1, 1990: Retired circuit court judges Morton C. Elden. Hyman Feldman, Philip A. Fleischman, John A. McElligott, Benjamin J. Nelson, Margaret G. O'Malley, Edward E. Plusdrak, Arthur A. Sullivan, Alfred B. Teton, Raymond E. Trafelet, Eugene L. Wachowski and Louis A. Wexler.
18th Judicial Circuit
• Retired: Associate Judge S. Bruce Scidmore of Wheaton, effective December 27, 1989. He had been a judicial officer since 1977.
20th Judicial Circuit
• Resigned: Carl H. Becker of Chester, effective December 28, 1989. He had been a judge since 1962.
New committee to set standards for evaluation and treatment of sex offenders
The incidence of sexual abuse is on the increase in Illinois, as it is in other states, according to Ken Klimusko, president of the Illinois Network for the Management of Abusive Sexuality (INMAS). Whether the increase reflects a growing number of individuals committing such crimes or is the result of greater
1990 Census: State wants a full count
Gov. James R. Thompson's first executive order in 1990, issued January 12, established an Interagency Council on Census Coordination. The council is comprised of representatives from 14 executive agencies and is charged with developing a comprehensive public information campaign that will encourage all Illinoisans to register in the 1990 census. The effort is being coordinated by the Illinois Information Service, a division of the Department of Central Management Services, but each participating agency is expected to develop an informational campaign specifically aimed at the citizens each agency serves.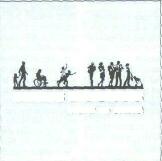 Illinois counts
Answer the Census!
Common to each campaign will be an emphasis on three main points:
• The census is easy. On April 1 short questionnaires will be sent to five of every six Illinois households. This "short form" will ask for such basic information as name, address, race and living arrangements. Completing it will require approximately five minutes. Every sixth Illinois household will receive a slightly longer form requiring a bit more time to complete and asking about ancestry, employment, education, income, etc.
• The census is confidential. The U.S. Census Bureau combines answers to produce statistical data for geographic areas. Individual answers are kept strictly confidential.
• The census is important. Data acquired in each decennial census are used to determine representation in the U.S. House of Representatives as well as in the state legislature. The data also determines the allocation of federal funds to individual states.
So, do your part and "answer the census.'' Participation (or nonparticipation) in the census will affect Illinois through the end of this century.
Continued on page 28
26/March 1990/Illinois Issues
---
Names
Continued from page 26
public and media recognition of these crimes is open to debate, he says.
Hard numbers are difficult to find, however. Alice Jones, state research chairman for INMAS and head of the Illinois Criminal Justice Authority's information resource center, says that the numbers that are available are "just the tip of the iceberg." This, she says, is because many sex offenses are plea bargained down to charges that do not carry such stiff prison sentences and because sexual offenses are often committed during the course of bigger crimes, such as murder, and are not prosecuted.
But prison time may not be the answer. Both Klimusko and Jones agree that incarceration by itself seldom "cures" a sexual abuser. Any hope of changing these individuals' behavior patterns, Klimusko says, is dependent on effectively evaluating and treating them. Clear standards for the initial evaluation of offenders and for the development of comprehensive treatment strategies are lacking in Illinois, however, he says.
INMAS, a coalition of professionals from the criminal justice, mental health and social services fields, is trying to remedy the deficiencies in this state's treatment of sexual offenders by developing a clear set of evaluation and treatment standards.
The group made a move in this direction at its annual conference last November by appointing a committee to develop a defined set of standards for both evaluating and treating sex offenders. Dr. Richard L. Grant of the University of Illinois Medical School in Peoria chairs the committee of experts from the treatment and justice professions. The group will present the first draft of its efforts at the network's annual meeting later this year.
Thompson heads county officials group
Lee County's treasurer, Sharon U. Thompson, is the new president of the Illinois Association of County Officials (IACO). She was elected to the post during the group's annual meeting in December. She succeeds DeKalb County Clerk Terry Desmond. Lee, who is serving her fourth term as Lee County treasurer, was selected Treasurer of the Year in 1987 by the Illinois County Treasurers' Association. She also serves as a member of the state comptroller's Government Advisory Board.
The 2,000-member IACO also elected other officers during its annual meeting including Thomas Setchell, LaSalle County auditor, first vice president; Bonnie R. Barton, Saline County supervisor of assessment, secretary; and Edward J. Rosewell, Cook County treasurer, as treasurer.
State chamber appoints staff vice presidents
The Illinois State Chamber of Commerce (ISCC) ushered in the new decade with four new staff vice presidents. The appointments were announced by ISCC President Lester W. Brann Jr.
Barry L. Kennedy of Schaumburg is the chamber's new vice president for marketing. Kennedy most recently had served as vice president of NFP Solutions Inc., a Schaumburg -based firm specializing in marketing, research, communications and management consulting for nonprofit associations. From 1984-86 he was marketing and research director for the American Osteopathic Hospital Association; before that, Kennedy spent two and a half years as senior marketing specialist with the National Association of Realtors.
The new vice president for administration is Geraldine Matuszak of Chicago. A staff member since 1969, she formerly served as the chamber's general manager.
Raymond J. Bodnar of South Holland is the new vice president for programs and director of human resource issues. He will oversee the ISCC's strategic planning process and administer the chamber's major program areas. Bodnar joined the ISCC staff in 1971.
Taking over the chamber's duties in Springfield is James H. Beaumont. He will direct the ISCC's lobbying efforts in the capitol. Beaumont has been a staff member since 1972.
Saving Illinois' oldest residence
The Pierre Martin House, located in the small community of Dupo in western St. Clair County, may be the oldest known residence in Illinois. That is the contention of the Prairie du Pont Preservation Society which saved the structure from demolition in 1981 and since then has been working with a St. Louis architectural firm, Luer and Associates, to preserve and restore the house.
Known locally as the Nicholas Boismenue House after its 19th and 20th century owners, it is the only remaining "post on sill" historic structure representing the upper middle class among those still in existence. The house was modernized in 1913 by adding a second story, but the original one-story transitional French Creole house constructed of upright grooved long walls remains. More than 80 percent of the original construction materials have been retained.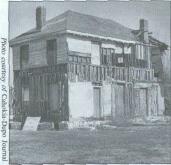 Photo courtsey of Cahokia-Dupo Journal
Although modernizing the second story provided some protection for the original structure, the Prairie du Pont Preservation Society erected a pole barn over the house last fall so that restoration of the roof and the rear gallery could proceed.
In December the Illinois Historic Sites Advisory Council recommended that the structure be listed in the National Register of Historic Places. According to Linda Hay of the Prairie du Pont Preservation Society, federal approval is nearly assured. "The tough part is done," she says.
But, restoration is not cheap. The society was recently awarded a federal grant of $12,500 (which it must match). All of this money has been dedicated to the development of restoration plans and an archaeological investigation of the area. Actual restoration money must be raised elsewhere. Hay says that there is little chance of raising funds locally because the house is in a low-income area. "The money is not there," she says. "It must come from interested and concerned people around the state."
For information about the restoration project, contact Hay at the Prairie du Pont Preservation Society, (618) 874-2088.
Illinois Farm Bureau stresses environment, education at annual meeting
While education funding remained a hot issue during the 75th annual meeting of the Illinois Farm Bureau (IFB), delegates this year zeroed in on agriculture and the environment.
Citing a recently conducted IFB survey, bureau president John White noted that more than one-third of the 1,000 respondents said that they had changed the way they farm over the past three years because of environmental concerns about groundwater quality. White also cited a study conducted by the University of
28/March 1990/Illinois Issues
---
Illinois that found that farmers had reduced their use of crop protecting chemicals by 30 percent in recent years. "We can and do continually adjust our methods of production to take the environment into account,'' White said. "But we cannot and will not abandon current methods of production until better ones are found."
John White of Elburn was reelected to his seventh one-year term as IFB president at the meeting. Elected vice president was Enid Schlipf of Gridley. A member of the IFB board representing Marshall, McLean, Putnam, Tazewell and Woodford counties since 1985, Schlipf replaced Kendall Cole of Virden.
Newly elected board members include Joe Sommer, a McLean County grain producer, and Kyle Wagenecht, a Whiteside County grain and livestock producer. Sommer, who replaces Schlipf as district director on the board, will represent Marshall, McLean, Putnam, Tazewell and Woodford counties. Wagenecht will represent Henry, Mercer, Rock Island, Stark and Whiteside counties. He replaced the retired Lowell Bjorling of Altona. Reelected board members include Allan Aves, DeKalb County; Paul G. Fiedler, Calhoun County; Rich Myers, McDonough County; Willard Severns, Macon County; Donald Stephen, Clark County; Bill Williams, White County; and Jack Young, DuPage County.
Michaelson to head governmental ethics group
Ronald D. Michaelson, executive director of the Illinois State Board of Elections for the past 15 years, was elected national chairman of the Council on Governmental Ethics Laws by his fellow members at the group's annual conference in New Orleans in December. He will also chair the council's steering committee. Michaelson will serve a one-year term.
Continued on page 31
Urban growth in the 1990s
Managing urban growth in the 1990s promises to be one of the decade's thorniest issues. Can open space and suburban development be compatible? How can responsible urban growth be planned, financed and managed? These questions and others will be explored at a number of upcoming conferences focusing on this issue.
The Open Lands Project, a nonprofit conservation organization formed in 1963 to preserve and improve public open space in the Chicago metro area, is sponsoring Finding a Common Ground: Redefining Today's Goals for Urban Growth. To be held March 23 at the Drury Lane Oakbrook Terrace, the one-day conference is aimed at real estate developers, conservationists, public officials, open space professionals and urban planners. It is cosponsored by the Homebuilders Association of Greater Chicago and The Hassinger Companies, with substantial support from the John D. and Catherine T. MacArthur Foundation.
Speakers will include Robert D. Yaro, executive director of New York City's Regional Plan Association; Tony Hiss, a staff writer for The New Yorker and author of the soon to be published The Experience of Place: New Ways of Replenishing Our Cities and Countryside; and George A. Ranney Jr., a partner with Mayer, Brown & Platt and chairman of The Regional Partnership.
The cost for the conference is $65 per person which includes meals and an extensive resource handbook that Open Lands hopes to develop from the conference proceedings. For more information, contact the Open Lands Project, 220 S. State St.; Suite 1880; Chicago, IL 60604; telephone (312) 427-4256.
Urban growth is also the theme of two conferences being sponsored by the Government Finance Officers Association (GFOA). Both are entitled Financing Growth: Tools and Techniques for the 90s. The first will be held March 26-27 at the Hyatt Hotel in Orlando, Fla.; the second will be at the Portland, Ore., Hilton on June 4-5. These conferences build on last year's GFOA growth conference and will feature presentations by nationally known speakers and a series of practical "Tool Box" sessions allowing a hands-on approach to the various issues related to managing economic growth.
Cosponsors include the American Planning Association, the National Association of Counties, the National Association of Home Builders, the Lincoln Institute of Land Policy and the Urban Land Institute.
Registration fee for either conference is $325. For more information, contact GFOA; Financing Growth Conference; 1750 K Street, N.W.; Suite 200; Washington, D.C. 20006; or telephone (202) 429-2750.
March 1990/Illinois Issues/29
---
Continued from page 29
Michaelson is the first and only executive director of the Illinois elections board since it was created by the 1970 Illinois Constitution. The Illinois board is the largest state agency of its kind in the nation. Prior to this he was an assistant to Gov. Richard B. Ogilvie.
The Council on Governmental Ethics Law includes members from all 50 states and Canada who represent agencies dealing with campaign finance, election laws, ethics and lobbying regulations. The council's aim is to promote and assure citizens' faith and confidence in the integrity of public officials and in the operation of governmental institutions.
Other appointments
• Stephen Schneider of Deerfield is the new assistant director of the Illinois Department of Insurance. He replaced Richard W. Carison who was named executive director of the Comprehensive Health Insurance Plan in December. Since 1984, Schneider had been director of government relations for Washington National Corporation in Evanston where he handled legislative and regulatory activity. From 1982-83 he was an analyst for the Senate Republican staff. Schneider's appointment was effective January 16. His annual salary is $49,376.
• After a year-long national search, Randy Myers was the top choice of the Department of Mental Health and Developmental Disabilities (DMHDD) for the post of statewide coordinator of services to hearing impaired persons. Myers' new responsibilities include making the mental health system in Illinois more accessible to persons with hearing problems. Myers has more than 10 years of administrative experience and direct service working with deaf and hard-of-hearing people. Most recently he worked for a community mental health center in Salem, Mass., where he coordinated mental health services for the hearing impaired. He previously worked with the hearing impaired in California and New York.
• The Association of Illinois Soil and Water Conservation Districts (AISWCD) has a new education coordinator, effective December 4. She is Janet Mathis. Originally from a farm near Fairbury, Mathis is a 1989 graduate of the University of Illinois. While a student, she completed internships with Dow Chemical USA and with the Illinois Department of Agriculture where she served as the agency's coordinator of the Illinois Agricultural Youth Institute. Mathis says the biggest challenge of her new job is trying to attune the public to the problems of soil and water conservation and to encourage urban and rural residents to work together to resolve these problems.
• Mark Hartelt is the new field agronomist for Pioneer Hi-Bred International's northern Illinois sales area. The Iowa native will provide agronomy and technical service to the area's farmers as well as provide agronomic training to Pioneer sales representatives. Hartelt, who is based in Peoria, will work with farmers in Bureau, Henry, Knox, Mason, Menard, Mercer, Peoria, Rock Island, Stark, Tazewell and Woodford counties.
• The new chairman of The Rockford Institute's board of directors is William Andrews, a partner in the Chicago investment firm of Stein, Roe & Farnham since 1977. Andrews, whose appointment to the post was announced in late December by institute president Allan Carison, has been a board member since 1986. He succeeded Clyde Sluhan, chairman of Master Chemical Corporation in Perrysburg, Ohio, who continues to serve on the board. The Rockford Institute promotes family integrity, individual responsibility, religiously based values, limited government, free enterprise, defense of the national interest and the highest moral and esthetic standards in literature, the arts and education through publications, conferences and public discussions.
DENR program saves BTUs and 2 million bucks
Over the past six years the Illinois Department of Energy and Natural Resources (DENR) has been snooping around state buildings looking for ways to improve each site's energy efficiency. During that time, staff from the agency's State Buildings Energy Program has surveyed 748 buildings at 28 state facilities. After identifying various energy conservation opportunities at each site, DENR staff work with each facility's operations staff to help implement the energy cutting techniques. The department estimates that the state has saved more than $2 million.
In recognition of these energy savings, DENR presented awards to five state facilities that have cut their energy costs by 10 percent or more after implementing the agency's conservation recommendations. The awards were presented during the 42nd annual conference for Illinois institutional engineers in November.
Those award-winning facilities showing the greatest energy savings included:
• Chicago-Read Mental Health Center which achieved 13.3 percent energy savings in the first year after the DENR survey.
• Vandalia Correctional Center which achieved a 12.8 percent reduction in energy costs since its DENR survey two years ago. Recent energy reduction efforts have included cutting propane consumption and adding insulation. Chief engineer Ed Oldham accepted the award.
• Dixon Correctional Center which achieved an 11.1 percent energy savings in its first post-survey year by eliminating 52,000
Concluded on page 35
March 1990/Illinois Issues/31
---
Continued from page 31
watts of security lighting and by reducing their makeup water by 9,000 gallons per day through replacement of 1,000 feet of condensate line. Chief engineer Gordon Dempsey accepted the award for the center.
• Lincoln Development Center which was surveyed three years ago by DENR and this year showed a 10.7 percent energy savings. Boiler preheaters were installed, summer temperatures were raised two degrees and 1,100 feet of steam pipe was eliminated. Ben Grisham, the center's chief engineer, accepted the award.
Receiving a special award for the most diligent pursuit of energy conservation was Jacksonville Developmental Center which has initiated a number of DENR inspired energy-saving ideas. Accepting the award were Ed Elias, the center's chief engineer, and Gayle McEvers, assistant chief engineer.
Historical society honors Bator, McCluggage and Salter
The Illinois State Historical Society named Joseph Bator of Galesburg, the late Robert W. McCluggage of Chicago and Mary Ann Salter of Crawfordsville, Ind., as winners of its 1989 historical research and writing awards. The announcement came during the society's 10th annual Illinois History Symposium in December.
Bator and Salter won the Robert P. Howard Award which is named for the late Chicago Tribune journalist, historian and former president of the historical society. Bator's article, "The Immigrants' Protective League in the Aftermath of the Restriction of Immigration, 1921-1929," examines the league's attempts to help the many European immigrants who arrived in the U.S. during the 1920s. Salter describes the economic hardships that befell a settlement of ill-prepared pioneers near Albion during the 1800s in "Bankrupts and Scoundrels: Some Minor Figures in the English Settlement."
McCluggage was honored posthumously with the Harry E. Pratt Memorial Award which is given each year to the best article published in the Illinois Historical Journal. McCluggage's research resulted in the identification of a class of frontiersmen who resisted all attempts at civilization. The professor emeritus of history at Chicago's Loyola University published his research in an article entitled "The Pioneer Squatter," which appeared in the journal's spring 1989 edition.
Minonk teen wins song-writing contest
"Whatever happened to my high school years . . . now I live in adulthood fears" is the refrain that echoes through a Minonk teenager's musical warning about the serious consequences of teen sexuality. Troy Beaver was one of 23 finalists who competed in the Parents Too Soon Rock 'n' Romance Song-Writing Contest, Volume IV. His entry, "Parents Too Soon," was the favorite of the eight-member panel of judges.
Finishing second was Krystal Franklin, a 13-year-old from North Chicago, whose rap tune is also entitled "Parents Too Soon."
Both teens got to record their songs in mid-January at Chicago's Seagrape Studios. The record will be distributed to more than 125 radio stations around the state.
The Parents Too Soon program was created by Gov. Thompson in 1983 to deter teenage pregnancy and to mitigate the negative consequences of adolescent childbirth and parenting. The program created the song-writing contest four years ago to encourage teens to teach their peers about the dangers and drawbacks of premature sexual activity. This year more than 350 entries were received from all over Illinois.
Syfert wins Justice Department award
Assistant U.S. Atty. Keith Syfert of Rockford received the Justice Department's highest award for federal prosecutors in December. Syfert was presented with the 38th annual Attorney General's Exceptional Service Award by U.S. Atty. Gen. Richard Thornburgh. The award is given each year to one federal prosecutor whose work has been exemplary.
Syfert, who has been a prosecutor with the Chicago and Rockford offices of the U.S. attorney since February 1980, was cited for his investigation of Sundstrand Corp., the Rockford-based defense contractor that pleaded guilty to defrauding the federal government. Sundstrand later agreed to repay more than $115 million. Also cited was Syfert's prosecution of a midwestern drug smuggling ring.
Prior to joining the U.S. attorney's office, Syfert was legislative counsel to U.S. Rep. Tom Railsback (R-19, Moline) from 1977-79.
Adams to Iowa
The General Assembly's Illinois Economic and Fiscal Commission's top local government analyst resigned from his post in December. Len Adams is now manager of the economic development program for the city of Davenport, Iowa.
Adams had been with the commission since 1986, working primarily on local government tax issues. He authored several commission studies, including a forthcoming one on property taxes. Before joining the commission, he was a lobbyist and senior research associate with the Taxpayers' Federation of Illinois for five years. Prior to that Adams was an assistant professor of history at Sangamon State University.
March 1990/Illinois Issues/35
---