By PAT HARRISON
Recycling and other efforts to save landfill space
Six days a week, Carl Affrunti opens the door to a small hut at the corner of Ninth and South Grand streets in Springfield and accepts people's used aluminum cans, glass bottles and newspapers. The cans and bottles are weighed to determine payment to the customer. The cans go into separators, with magnets diverting bimetal cans into one bin, while aluminum cans drop into another. The cans from each bin go into a crusher that shoots them into a trailer. The trailer, which can hold 11 tons of crushed cans, is then hauled to the Aluminum Company of America's Belleville plant. There they are remade into containers likely again to contain soda pop.
From another trailer comes the sound of breaking glass as an employee pounds it into fine pieces with a sledgehammer. Affrunti soon will have a machine to pulverize the glass more quickly and finely. That, he said, will allow him to get 33 percent more glass into a trailer and reduce his freight costs. Affrunti ships 30,000 pounds of glass a month to Owens-Illinois in Streator where it is remade into bottles that may come back again to be pulverized.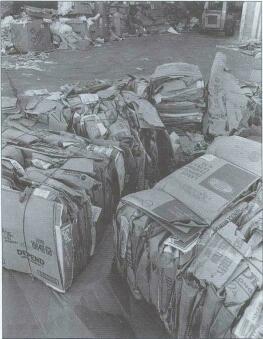 If Gov. James R. Thompson's goal for the year 2000 is met, half of the old newspapers, aluminum cans, glass and other wastes now going into Illinois landfills will instead be recycled back into the economy to make new products. This is one recycling center in Illinois, operated in Peoria by I. Eriichman Co. Inc. Photo by Paul Beaty
Yesterday's newspapers, 20,000 pounds to a trailer, find their way to American Cellulose in Minonk. There they are made into insulation, firelogs, bedding for animals and mulch.
What occurs at Affrunti's three-year-old non profit Clean 'n Green Recycling Center is repeated thousands of times a day throughout the state. Recycling centers take someone's waste, process it and sell it to a firm that converts it into a usable product.
A key benefit of recycling is the saving of landfill space. It also can cut down on the toxicity of waste, prevent disease, offer a substitute energy source and conserve energy (for example, it takes less energy to melt down aluminum cans than to manufacture them from ore). Recycling centers also provide local jobs and can return to the community thousands of dollars from the sale of recyclable materials, as they have done in Naperville, for example.
Under the Solid Waste Planning and Recycling Act Illinois state government has set a recycling timetable for local governments to reduce wastes put in landfills. By the year 2000 all counties must recycle 25 percent of the waste generated within them. By March 1, 1991, each county with a population of over 100,000 and each municipality with a population of over 1 million (Chicago) must submit to the Illinois Environmental Protection Agency (IEPA) a plan for recycling its waste. Counties with populations of less than 100,000 have until March 1, 1995, to devise a plan. Whatever category a county falls under, it must be recycling 15 percent of its waste within three years of implementing its recycling plan. At the end of five years, each county must be recycling 25 percent of its waste. The law also requires that communities promote recycling, educate the public about it and identify potential markets for at least three re-
April 1990/Illinois Issues/17
---
cyclable materials.
The act, passed in 1988 and amended in 1989, was preceded in 1986 by the the Solid Waste Management Act, which set fees for "tipping" or disposing of waste in landfills. The intent is to extend the lifespan of Illinois landfills, which are disappearing at an accelerating rate. According to an IEPA study, most areas of the state will run out of landfill space between 1992 and 1998, and 29 of the 102 counties do not have landfills to accommodate the solid waste they generate.
While counties and cities are working on plans to meet the deadlines for reducing their wastes, other state laws aimed at recycling specific wastes and keeping them out of landfills will go into effect.
Beginning July 1, 1990, landscape waste intended for disposal at a landfill cannot be mixed with any other waste (a 1989 amendment to the Environmental Protection Act). Landfill operators cannot accept yard waste unless the landfill has a separate facility to compost the waste and the composted material is used as a vegetative cover for the landfill or for another soil conditioning purpose. Homeowners must place all yard waste to be sent to landfills in biodegradable containers.
---
Some cities and counties did not need state grants or laws to prod them into recycling. Some, like Naperville and Champaign County, prove that recycling can reduce a community's wastes by the percentages set by the state. But some municipalities are resisting, especially the July 1 yard waste ban
---
Beginning September 1, 1990, batteries containing lead and sulfuric acid are banned from landfills and incinerators, and recycling is required (a 1989 amendment to the Environmental Protection Act). Lead can break down the central nervous system and the functions of the kidneys; sulfuric acid can cause respiratory problems. Under the law, those who sell batteries must accept used ones for recycling. For each new battery sold retailers are required to charge a recycling fee when a customer does not return a used battery or to provide a credit when a customer does return a used battery. The recycling fee or credit may not exceed $5.
Beginning July 1, 1994, tires are banned from landfills unless the landfill;
• has equipment to shred and chop tires and does so prior to disposal and
• implements a program to seek alternative uses for tire scraps so as to cut down the need for landfill disposal (a 1989 amendment to the Environmental Protection Act).
The intent is not only to conserve landfill space but to prevent disease and promote the use of tires as a substitute energy source. When buried in landfills, tires tend to rise to the top, and many landfills do not accept them. If left in the open, they fill with rainwater and become a breeding place for mosquitoes, including the Asian Tiger species which migrated to Illinois from Texas more than two years ago. It carries encephalitis.
Old tires can be recapped and reused, but they have other uses, according to Dave Buckner, deputy director of the Department of Energy and Natural Resources (ENR). They can be shredded and mixed with asphalt as a base for road pavement. Because of their high BTU content, tire chips can be mixed with coal at a 1 to 10 ratio and burned as fuel.
To promote comprehensive local recycling, the state set up a grant program through ENR when it passed the Solid Waste Management Act. Over the last three years, ENR has handed out $1.8 million to local governments, nonprofit organizations and for-profit businesses. Efforts to grant more were stymied when landfill operators went to court claiming that the fee established in the act, which was to provide funds for the grants, was unconstitutional. A settlement was reached last fall, freeing up $9 million held in escrow for three years, according to ENR recycling specialist Debbie Havenar.
Some cities and counties did not need state grants or laws to prod them into recycling. Some, like Naperville and Champaign County, prove that recycling can reduce a community's wastes by the percentages set by the state. But some municipalities are resisting, especially the July 1 yard waste ban. They contend that compliance is too expensive.
Ken Alderson, chief lobbyist on environmental issues for the Illinois Municipal League, explained the problems with yard waste. Many municipalities neither pick up waste nor operate landfills, and some communities are bound to contracts that don't require the hauler to separate household waste from yard waste. Some haulers don't have access to yard waste facilities or don't have a composting operation. "The law says that landfill operators can't accept the waste," Alderson said. "The scavenger says he's not going to pick it up and that leaves the municipality to take care of it." The burden then falls on the municipality to buy equipment and land to dispose of the waste. Alderson believes the legislature did not take into account the costs needed to fund the changeover nor grant sufficient time for municipalities to comply.
"Everybody is in agreement as far as saving landfill space," Alderson said. "The General Assembly, perceptually, has solved the problem. But we'll see what happens in the real world July 1 to see how many can meet the letter of the law." Alderson said the Municipal League is planning to survey its members to find out how many communities might be unable to comply with the July 1 deadline and why. He expects legislation to be introduced allowing a municipality to complete its contracts with waste haulers before being forced into compliance.
But Bill Uffelman, manager of the Midwest region of the National Solid Waste Management Association, said he knows of composting site operators who have purchased upwards of $3 million worth of equipment in anticipation of the law's going into effect. To retract the law now, said Uffelman, "would go down very hard." He said, "The haulers support the law
18/April 1990/Illinois Issues
---
and are renegotiating contracts. Landfill operators are getting composting equipment. Haulers are making adjustments and homeowners will have to separate yard waste from other garbage."
ENR's Buckner said that he doesn't foresee any problems with municipalities' meeting the July 1 deadline. "There may be some glitches, but the response across the state to get in compliance is overwhelming," he said. "I think the majority of the communities are moving ahead. There is no sound argument to change the law." He pointed out that to help communities comply, ENR held four workshops on composting. In addition, ENR has awarded $2.2 million in grant money to 26 communities to start composting programs. Another $1.4 million in grants will be awarded to another 25-30 communities this spring. Those 50 communities will represent over half the state's population, Buckner said.
One municipality that has had to make an adjustment is Alton. City officials expect to lose $80,000 in fees for yard waste dumped at its landfill. Now they are seeking a grant to buy equipment so they can sell compost. "We're making an attempt to come up with something," Mayor Ed Voumard said. "We don't want to be out in left field when the ball game begins."
Naperville has shown that a composting program can save a community money and divert yard waste from the landfill. The city collected more than 6,000 cubic yards of grass clippings and leaves from 1,000 houses between June 1 and September 30, said Steve Kaar, the city's superintendent of operations and maintenance. On an annual basis yard waste accounts for 25 to 30 percent of the waste dumped in the city's landfill, he said. Once the waste was composted, he said, the city used a substantial part of it for lawn restoration of its property, allowing Naperville to save $15,000 in purchases of pulverized black dirt and peat.
Naperville is among the cities that have taken the lead in conserving landfill space through recycling. The city, which has had a recycling center for almost 20 years, is diverting about 15 percent of its waste away from its landfill, according to Kaar. "We're showing it can be done," Kaar said. "If you remove 15 percent of everybody's waste stream, it would have a tremendous effect."
Recycling of state government's paper
State agencies are also affected by the recycling laws. In 1988, an amendment to the Solid Waste Management Act required paper recycling programs for five state buildings. As of March 1990, 37 state buildings, mostly in Springfield's Capitol Complex, were recycling waste paper.
The state has gone one step further: It is a seller in the marketplace and will also become a buyer. In the first eight months of the current fiscal year, the state made $57,756 through the sale of waste paper; projected sales for the entire year, ending June 30, are $113,600.
The act requires the state to purchase 25 percent of its total volume of paper in recycled materials by June 30, 1992; the percentage goes up to 40 percent by June 30, 1996.
Pat Harrison
Besides recycling the three waste products that have the best market — newspapers, aluminum and glass — the nonprofit Naperville Area Recycling Center (NARC), which employs 22 people, is also recycling household appliances, motor oil, car batteries, some forms of plastics, corrugated cardboard and chipboard. "We have made a commitment to recycling rather than just newspaper, glass and aluminum," said Mike Cusick, the center's treasurer. "We're making a profit on newspaper, aluminum and glass, but we're getting killed on everything else."
NARC has also returned to the community some of the money generated from the sale of recyclables. Anne Aitchison, chairman of NARC's 15-member volunteer board, said $6,000 was given to the city, which used it to build recreational paths. Another $28,000 was used for charitable work, such as food baskets, she said.
Champaign County is also ahead on recycling. Through efforts of individuals, the University of Illinois and the private and public sectors, the county is recycling 23,000 tons — just over 15 percent — of the 150,000 tons of waste generated in the county annully, according to Mark Loughmiller, director of the Community Recycling Center (CRC). Founded in 1978, the CRC today recycles glass, aluminum, newspaper, tin and bimetal cans, plastic milk jugs and motor oil. Loughmiller said that in 1989 CRC marketed between 6,200 and 6,500 tons of recyclables.
Education has played a key role in keeping waste out of Champaign County's only landfill. In rural areas, CRC personnel pick up waste at nine towns. Six of those sites were added between November 1988 and March 1989 following an education program about the landfill crisis and the benefits of recycling, explained Lissa Radke, education coordinator for CRC. She said that from February to March 1989 the amount of recyclables collected from the nine towns more than doubled, from 32,000 pounds to 74,000 pounds. Radke has made presentations to grade and high school students and civic organizations, explaining the difference between what is garbage and what is a resource.
The CRC has about 20 full-time employees. But for the first two years it operated with volunteers, students from the University of Illinois and homemakers from Champaign and Urbana, said Radke. "They saw a lot of problems with landfilling," she said. "They were people who said 'There's no crisis yet, but now is the time to start thinking about this stuff.' "
It's time for all Illinoisans to start thinking about this stuff, keeping separate garbage containers for aluminum cans, newspapers and glass. For now it may mean taking them to somebody like Carl Affrunti, whose operations are basic — five trailers, two scales, a few machines and less than five employees. Pressure on landfills may make more comprehensive operations like Naperville's NARC and Champaign County's CRC more common. Illinoisans will have to think about what they throw away and perhaps about what they buy today that they'll throw away tomorrow.
Pat Harrison is in the Statehouse bureau of The (BIoomington) Pantagraph, serving as an intern via the Public Affairs Reporting program at Sangamon State University.
April 1990/Illinois Issues/19
---