By TOM ANDREOLI
Elgin: Suburb or city?
Mike Alft found a home in Elgin. Thirty-seven years ago, the Milwaukee native put down roots in this tidy industrial satellite of Chicago, the quintessential midwestern company town. He came to teach at Elgin High School; eventually served a term as village president; even wrote a history of Elgin, commissioned by the local newspaper. Four are kept in a locked glass case at the Elgin public library. "I went to 10 different schools before I graduated from high school," says Alft, 64, wearing a thin black tie with a brass clasp shaped like a locomotive. "I never had a hometown. So when we came here I said to my wife, 'This is our hometown.' That's what it's been."
Yet the city Alft found is vanishing. Telltale treeless sub-divisions are sweeping inexorably toward Elgin from Chicago's northwestern suburbs, and they are popping up in the cornfields west of town. Elgin's economic engine, the Northwest Tollway, juts through miles of cool new corporate parks. The largest single employers now are service industries, Sherman Hospital and First Chicago Corp.'s credit card division. No one under 30 really remembers the Elgin National Watch Co., whose manufacturing operations put the city on the map. Downtown is quiet now. To shop, residents drive to malls in nearby Schaumburg or West Dundee.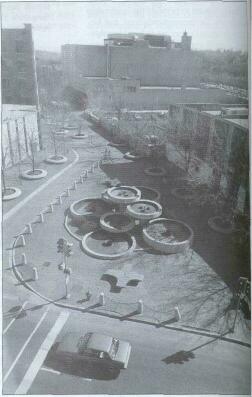 By every indication, Elgin is poised to become Chicago's next big northwest suburban boomtown. It's the first exit off the toll-way west of the Cook-Kane county line and the only logical stepping-stone for development. Over the past four years, Elgin has seen 290 new businesses or expansions of local companies, creating a total of 4,600 jobs. In 1989 alone, the city issued $100 million in building permits.
There's more growth to come. By the mid-1990s, an expressway will link Elgin to Illinois Route 53 at Itasca, perhaps even directly to O'Hare International Airport. And Sears, Roebuck and Co. will have relocated its 5,500-employee merchandise group to nearby Hoffman Estates. During the decade, Elgin expects to gain 5,900 housing units, 71 percent of those single-family homes. All that and more will be needed for the 37 percent increase in population, to 95,200 residents, projected over the next 20 years.
The economic vitality — the money — is always welcome. Elgin, in fact, owes a great debt to the rapid suburban growth pumping investment into the region. Yet Elgin — as its natives insist — really isn't a suburb. Elgin was its own city way back when Chicago was a two-day ride. It's got its own water system, its own daily newspaper, its own schools, even its own symphony. Elgin prides itself on being racially mixed amidst all white neighbors; the city is 89 percent white.
Indeed, Elgin is having an identity crisis. Is Elgin really still its own city? Or is Elgin fast evolving into just another Schaumburg, overbuilt and wholly dependent on Chicago for any sense of character. Elgin appears to have the chance to enjoy the best of the city and the suburbs: to be a city, with its own social and cultural institutions; to show economic, ethnic and racial diversity at the same time it exercises the economic muscle closely associated with suburban growth. Whether Elgin can achieve this elusive paradigm is the big question.
For Leroy Clemens, executive editor and 30-year veteran of the Daily Courier News, the changes in Elgin have been as obvious as his own bottom line. In 1970, the Courier News had 38,000 subscribers and delivery routes running all the way to the Wisconsin border. That same year, the paper was running a promotion to push circulation to 40,000. It never got there. The Courier News today has 32,000 subscribers.
The reason, according to Clemens, is simple demographics.
10/May 1990/Illinois Issues
---
"Thirty years ago, three-quarters of this town were native born or had lived here a long time," he says. "Today, if you had 15 percent of the people like that it would surprise me." In Clemens' view, people living near Elgin no longer associate themselves with the city, but rather with Chicago. Virtually all of the loss in circulation at the Courier News can be accounted for outside the Elgin city limits, Clemens says.
The paper's coverage has changed, too. "When I came here, the principal complaint about out sports page was that it didn't contain enough local coverage," Clemens recalls. "We simply couldn't put enough local news into the sports page. Today, it's the reverse. There's a strong objection if we give too little attention to the major professional sports, the Bears and the Bulls and the Chicago Cubs." It just makes sense that the newcomers wouldn't much care about the Elgin High School Maroons, Clemens reasons.
Even the letters to the editor have taken a 180-degree turn. Traditionally, the typical complaint was that the business leaders weren't doing enough to promote Elgin. No one ever mentioned the "quality of life" as something separate from a stronger economy. "Today," Clemens says, "we receive no letter from the chamber of commerce that's not promoting the community, and very few letters from people that don't out-right reject the growth."
To be certain, Elgin residents are worried over the usual side effects of development. More traffic and less open space make grating everyday reminders. The locals also see the threat of increasing "city" problems. Municipal taxes are on the rise to pay for infrastructure repairs and redevelopment of Elgin's downtown. Ominously, gang-related crimes in Elgin have increased 200 percent to 80 episodes over the past two years.
What little affordable housing is available locally, Elgin's got it. That's good news for the service workers who very likely can't afford the $120,000-plus homes sprouting in nearby suburbs and on the outskirts of Elgin. By the same token, however, Elgin and Aurora offer the only public housing available in Kane County.
At the extreme, there is the perception that Elgin alone along its stretch of the Fox River will be left to serve the poor and society's other disadvantaged. Instead of rebirth as a boomtown of the '90s, Elgin will be hemmed in, effectively transformed into a satellite central city, which its affluent neighboring suburbs will try their best to ignore.
For Alft, the threat seems quite real. "I worry about it all the time," he says. "I worry about Hoffman Estates. That's
Photos by Jon Randolph
Changing Elgin. On the facing page is downtown Elgin's pedestrian mall. At the lop of this column is the new ramp under construction for the Northwest Tollway (Interstate 90) at Randall Road on Elgin's northwestern edge. Above is the Valley Creek Development at Randall Road and Royal Street (just south of the new tollway interchange). At right is one of Elgin's older neighborhoods at North Porter and Division streets.
May 1990/Illinois Issues/11
---
the craziest kind of suburb. They get all their revenue from building permits. All they're interested in is expanding. Well, they've expanded to practically the Elgin border. And those people are so far removed from wherever the center of Hoffman Estates is supposed to be that they are going to be leaning on Elgin's facilities — our hospital, our auditorium, our charitable organizations, too.
"And those [people] are all going to be upscale suburbanites. So what Sears is going to do, because Sears has to be an integrated employer, is say to their blacks and Hispanics, 'Well, of course, you can't afford to live in Hoffman Estates, but there's this Elgin over here. . . .' " Sears, in fairness, isn't blind to the lack of affordable housing in Hoffman Estates. "It's certainly something we've taken under consideration, at least for our own employees," a Sears' spokeswoman says. As yet though, she was unaware of any formal company plan for helping to house or transport Sears workers.
There is no escaping the question of race. Elgin's minorities accounted for 80 percent of the city's population growth from 1970 to 1980, according to the last census. That trend is likely to be borne out by the 1990 census as well. Elgin's minority population is concentrated on the older east side. Unquestionably, Alft says, some white middle-class Elgin residents believe that the increasing size of the city's minority population could dampen real estate values. Whether there is any real correlation between race and property values in Elgin is open to question. That reaction, however limited, smacks of racism just as mean as the variety in Chicago, and its effect on the community is just as painful. "It's a real ethical dilemma," Alft reflects. "Now it doesn't bother me so much, I'm not property-value conscious. I live in a little house. I read books. I'm with Asian and Hispanics and blacks every day. You want to live next door to me. It's OK. But it does bother some people."
Alft, in fact, sees opportunity in Elgin that suburbs may not provide: "I like to think that some Asian kid or some black kid might get a chance in Elgin that he wouldn't get in Chicago. And he's going to make it. Say to himself, 'I'm glad I lived in Elgin.' Which no kid from any suburb is going to have the chance to say. The suburban attitude is, 'We don't have problems here because we keep them out.' Well, that's ridiculous.''
Equally offensive was a racial incident early this year at an assembly honoring Martin Luther King Jr. at Elgin school district's Larkin High School. The negative reaction of a half-dozen students to the assembly precipitated an off-campus brawl two days later, which was broken up by police. The ordeal resulted in "minor suspensions," according to the district's West Area Supt. Lowell Antenen. Antenen is somewhat hesitant to discuss the matter, worried that it could be blown out of context. "There were no fights in the hallways or the commons," he says. "For the most part it occurred outside the building." Previously, the most recent racial incident at an Elgin school was in the early 1970s, according to Antenen. As a whole, the district is 74 percent white, 13 percent Hispanic, 7 percent black and 6 percent Asian.
Elgin has good schools. Nine of 10 graduate. Elgin's District 46, with 27,000 students, is the second largest in the state next to Chicago. In many ways, the district represents a throwback to the days when Elgin played big city to the region.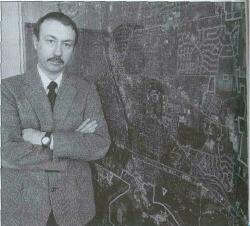 Roger Dahlstrom, Elgin's planning director, shown in his office where wall-sized map indicates the expansion of both suburbs and city.
The district has a 90-mile service area encompassing Elgin, South Elgin, Bartlett, Streamwood, Wayne and portions of Hanover Park and Carol Stream. At its three high schools — Larkin, Elgin and Streamwood — students score above the state average on standardized tests.
For the district, the population growth in the region means an additional 500 students each year. Rather than expanding the current district, the school board has investigated the possibility of downsizing into a number of independent smaller units. But so far the board has seen more costs than benefits in such a plan, Antenen says. Instead, the district is considering building a fourth high school to serve Bartlett-area residents.
The public schools hold much of Elgin's appeal for its residents. And Elgin property owners pay dearly to keep up the schools. The educational tax rate in Elgin is $4.16 per $1,000 of assessed property value, 27th highest of the 433 comprehensive districts in the state. The ongoing development, particularly commercial projects, promises to alleviate somewhat the tax burden on Elgin homeowners.
Elgin's public housing also is indispensable for hundreds of the city's families, according to Sue Malone, project manager for the Housing Authority of Elgin (HAE). Malone manages HAE's seven family townhouse complexes, whose 150 units are scattered throughout the city. In addition, HAE administers 415 units of federal "section eight" housing. For either public housing or section eight apartments, rent is set at 30 percent of household income.
"People just assume that just because it's public housing, it's for the lower classes," says Malone, who lives with her family in an HAE townhouse. Across Elgin, though, the demand for housing has pushed mortgages and rents well beyond the means of many workers, Malone says. HAE's townhouses are 100 percent
12/May 1990/Illinois Issues
---
occupied; the waiting list for section eight housing is 600 names long. "I don't make bad money, myself," Malone says. "But to go out and spend $600, $700 a month for an apartment, and then support a family, is frightening."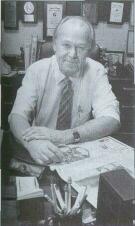 Leroy Clemens, executive director of Elgin's Daily News Courier.
Echoing Malone is Stuart Wasilowski, executive director of Neighborhood Housing Services (NHS) in Elgin: "I like to think of myself as a white-collar guy, but you're talking to a guy who could not beg, borrow or steal enough to buy a $130,000 home." At NHS, Wasilowski draws on a handful of local and federal programs designed to help low-income Elgin residents rehabilitate older housing, while keeping rents or loan repayments down. The newest, kicked off seven months ago, is a $400,000 pool for low-interest second mortgages funded by the First National Bank of Elgin, Union National Bank and the city. A similar first mortgage program is in the works, Wasilowski says.
"You've got to create loan pools and special mortgage financing for the people who are going to contribute to the community," Wasilowski insists. Without some form of subsidy, there will be few places Elgin's new workers can afford to live, he says. "I'm a big believer in the 'lifeboat theory,' " Wasilowski adds. "Sure, there are people you just can't reach, who will never contribute to society. But those two-income families, fighting hard to stay afloat, must be served. Those people must be grabbed now."
The key for Elgin is to balance the old and the new, Wasilowski says. "If we see growth happening without taking care of our old neighborhoods, if we forget the people living on the east side, then we'll be no better off than we were before. Elgin's only as good as its worst neighborhood."
Or, perhaps, as vibrant as its downtown. As in other older cities, Elgin's urban renewal efforts — most recently a $4.3 million bond issue five years ago — have produced a moribund pedestrian shopping mall and 21 acres of mostly vacant city-owned land. "It hasn't been for a lack of effort," says M. Edward Kelly, executive director of the Elgin Area Chamber of Commerce. "But if you can't get the local merchants to locate [downtown], it's very difficult to see others coming in."
Elgin's City Center Redevelopment Committee currently is in the process of choosing a consultant to write yet another downtown redevelopment plan. But Kelly expects no miraculous resurgence in the downtown area, which once served as the shopping hub for the upper Fox River Valley. Then again, Kelly adds: "It's not like you see boarded up buildings and bums living on the streets. It's an old looking downtown. Granted, it's not all shiny and new, but we're not in any dire straits."
Where Elgin is growing is at the periphery. In the past seven years, Elgin has expanded geographically by 10 percent to 22 square miles, all through annexations. In the past two years alone, Elgin has annexed 250 acres along the Northwest Tollway for commercial development, with another 155 acres pending.
From a strategic perspective, the city's future lies to the west, says Elgin's Planning Director Roger Dahlstrom. Obviously, the growth pressures overtaking Elgin are originating to the east in Chicago's suburbs. And Elgin's chances to expand toward Chicago are fairly limited. "Ultimately, the west will be the principal growth corridor for the city," Dahlstrom says. Take away the west, he concedes, and opportunities plunge for the city of Elgin to benefit from new development.
This strategic significance is reflected in two ongoing lawsuits involving annexations at Elgin's western fringes. To the northwest, Elgin has won the first round of a legal battle with neighboring Gilberts and Sleepy Hollow over 155 acres at the tollway on either side of Randall Road. To the southwest, Elgin has lost in circuit court to South Elgin over a disputed eight acres out of a total 153-acre annexation at Randall and Hopps roads. Both cases are under appeal. Both parcels also are vital to Elgin, according to Dahlstrom. The corporate parks planned for the tollway parcel are needed to broaden the city's tax base. A 330-home subdivision in the southwest parcel will bring in new and fairly affluent residents.
Annexation lawsuits are a fact of life in hot real-estate markets. "It's all part of the game," Dahlstrom observes. "It's land as a commodity. The price, though, is what the city is willing to pay in terms of rendering basic services, based on what the city believes it can get in return."
To most Elgin residents, all the changes that are happening so quickly may seem remote from drawn-out lawsuits and strategic plans. Many cherish Elgin's past. Many hope for its future. Will Elgin change so it continues to be a diverse city in the middle of the more homogenous suburbs — but without big city problems?
Karen Maki used to live on the southwest wide of Chicago. Eight years ago, she and her husband moved to Elgin, where she's deputy director of the Gail Borden Public Library. On the job she runs into friends and neighbors, or their children. ' 'I like being away from the city but being close enough to everything Chicago has to offer," Maki says. "And we're lucky that Elgin is a community with a real history. It's getting more congested than I'm comfortable with, though." But Maki wants some changes: "I'm hoping we'll get a movie theater. I can't believe a town of this size can't support a movie theater. And more good restaurants, with an emphasis on the good. And a bookstore. I just hate having to drive to the mall to get a book."
Tom Andreoli is a Chicago writer.
May 1990/Illinois Issues/13
---