By MICHAEL D. KLEMENS
Cronson speaks from the bowels of government
Robert G. Cronson, the only person to hold the Auditor General's office created in the 1970 Constitution, announced in November that he was taking advantage of the state's new early retirement program and would leave office on December 31. For 17 years Cronson's auditors have been enforcing accountability Illinois government, poking around in the bowels of state government looking for waste and abuse. "At least one of the mandates is to expose all this stuff to public vision because sunlight is the best disinfectant," Cronson quips. Cronson shared his 17-year views on his office, state government and Illinois politics in a pair of November interviews.
When the General Assembly named Cronson to a 10-year term as auditor general in 1974 his first task was to determine what to do with the office that the 1970 Constitution had moved from the executive to the legislative branch. In place was a staff that contracted with accounting firms to produce certified financial statements, statements that showed how much money came in and how much was spent. "That really doesn't do you much good," Cronson says. What government needs is a way of seeing whether the results of spending are being achieved.
The system that Cronson and his staff settled on produces three types of audits: (1) Financial compliance audits, the certified financial statements with overviews that look "broadly but thinly" at compliance with statutes like the state's Purchasing Act. Each state agency is audited every two years and some are audited annually. (2) Performance audits, examinations of econmy, efficiency and effectiveness of a particular agency or program. Such audits are based on a resolution of either chamber of the General Assembly or of the Legislative Audit Commission. (3) Informal inquiries, "quick and dirty" probes of some aspect of state government operations, not done to auditing standards. Inquiries will be done at the request of a single legislator. Requiring a request for performance audits and inquiries guarantees an audience for the product and also limits the auditor general's power.
Cronson's audits have produced a host of findings over 17 years. (He was named to a second 10-year term in 1984.) Some, like mental hospitals with two years' supplies of asparagus, are relatively insignificant. Others, like critiques of revenue collections by the Department of Revenue have gone largely unnoticed. Still others, like the lottery employee who quit, was paid for unused sick leave and vacation time and was then immediately rehired, have prompted policy changes. Much of the criticism directed at Cronson has been that audits are nitpicking. He contends they should be. To be sure that a government official is not taking care of his friends requires injection of cumbersome and disagreeable controls. "You can't control government if you don't know what it's doing," Cronson insists.
Cronson argues that the system has worked: "I think what we have designed is a good, useful, functional effective system of providing useful information for legislative oversight and public information." The auditor general sees successes on a couple of levels. First, there have been changes. Cronson's favorite example is elimination of two agencies that used to consume taxpayer
Cronson: his background
Robert G. Cronson was born in Chicago on December 23, 1924. His father, Berthold Cronson, a Republican, was Chicago's 4th Ward alderman during the 1920s and 1930s.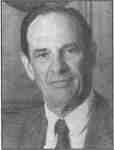 Cronson, who served with the U.S. Marine Corps, holds a bachelor's degree in economics from Dartmouth College in Hanover, N.H. He received his law degree from the University of Chicago Law School in 1950.
His early career was as Illinois securities commissioner and as administrative assistant to Senate President pro tem Arthur J. Bidwill. From 1958 to 1964 he served as assistant secretary of state under Charles Carpentier.
In 1964 he left state government and founded and served as senior vice president of The Chicago Corporation, an investment banking firm. He taught public administration at Roosevelt University in Chicago and at Sangamon State University in Springfield.
In 1974 he was named by the General Assembly to a 10-year term as the first auditor general in this legislative office established by the 1970 Constitution. In 1984 he was reappointed unanimously to a second 10-year term. While auditor general he was active in numerous governmental auditing associations.
Cronson and his wife Agnes live in Springfield. They have three sons and two daughters.
December 1991 /Illinois Issues/25
---
dollars, the Illinois Building Authority and the Armory Board. The two units were holdovers from the days when the 1870 Constitution prevented the state from selling bonds. Instead the agencies sold the bonds and erected the buildings. In turn they leased the buildings to the state, which used annual General Assembly appropriations to make the lease payments. The agencies retired the bonds with the lease payments.
Cronson says that audits found that the agencies had enough cash available to pay off the bonds and that the state could cease its annual appropriations. Otherwise the agencies would have stockpiled the money and when the bonds were repaid the surplus would have been returned to the state treasury. "You and I both know what happens when the legislature gets its hands on $300 million for which there's no obligated purpose," Cronson says.
---
When an audit forces a politician to choose between the interests of his or her constituents and the interests of the state, lawmakers nearly always choose for their constituents
---
The second success has-been in raising awareness among state agencies of sound financial practices. Cronson says that early in his administration audit reports routinely found financial duties in the hands of a single person and not segregated so that the ability to steal money would be inhibited. A woman at East St. Louis Community College opened the mail, kept the books and wrote the checks; she disappeared to South America with $700,000, Cronson recalls. Such findings are now rare, either because of respect for the system or fear of being criticized in the newspaper.
There have also been disappointments, primarily over the impact of the office. Over his 17 years in office Cronson has seen waning legislative interest in accountability and in policy. There has been a growing trend to focus on the politics of the situation rather than its governmental aspects. "There were fewer people in 1974 who were willing to jeopardize accountability in the interests of political accommodation," Cronson says. Audits are designed for governmental, not political, interests, Cronson says. When an audit forces a politician to choose between the interests of his or her constituents and the interests of the state, lawmakers nearly always choose for their constituents. "In a lot of cases I see the results of the audit process being ignored not because of governmental consideration but either for political or partisan considerations."
Cronson says that to remain effective his office must be credible. He has tried to do that by keeping a low political profile and by providing reliable information. Cronson says that criticism will come. "After 17 years in office and three governors, I've now been accused of partisanship by a Republican governor and a Democratic governor. I think that's a fairly good indication." Cronson claims never to have jiggled an audit finding in 17 years. To have done so once would have sparked demands for other accommodations and soon undermined the office, he says,
To avoid being tagged as just another politician, Cronson has tried to remain above the partisan fray. He does not hold press conferences, issue statements or take policy postures. He cautions future incumbents against becoming media stars. In the short run an auditor general who played to the press would generate attention and probably change, Cronson says. In the long run, the office and any reports that it produced would be labeled by the public as political. "Once this office reaches that level of recognition, it will have effectively destroyed itself," Cronson says.
That's not to say that Cronson's efforts have not been labeled political. A 1989 program audit of the Department of Commerce and Community Affairs (DCCA) identified internal policies that were being ignored and required documentation that was not in place. It also suggested that DCCA was overstating the benefits derived by the money it spent. The audit prompted Gov. James R. Thompson to criticize "Cronson and his band of auditors," Thompson suggested that if Cronson wanted to run DCCA, he should run for governor. Cronson calls Thompson's response a "political cheap shot," He says that DCCA, which was supposed to serve the state's economic development interests, also served local politicians by giving them the ability to provide "goodies" to their constituents. And because it served politicians well, there was no reason to reform it and plenty of reason to hush up any criticism.
When Cronson's audit suggested things were amiss, it brought public pressure to bear on the issue. Nothing happened immediately, but DCCA made its way onto the gubernatorial campaign agenda when Democrat Neil F. Hartigan proposed to abolish it, and Republican Jim Edgar promised to cut it back. In Gov. Edgar's first budget in March of 1991, he reduced DCCA funding. Cronson says it remains too early to tell what will result from DCCA changes. He believes the audit was the impetus: "I gotta believe that if it wasn't for the DCCA audit, nothing would have been done."
All in all, Cronson has seen interest in specifics decline in the General Assembly. Lawmakers have been unwilling to determine what is a state agency, to define what is public money and to legislate which funds should be audited. Cronson says that laws are now drawn as fuzzy as possible ("that way everybody can vote for it"), and the courts are left to deal with the ambiguities.
Such fuzziness occurred with the $17 million lease and rehabilitation of St. Anne's Hospital in Chicago as a place to put patients while the Illinois State Psychiatric Institute was being rehabilitated. Lawmakers asked Cronson to determine whether the Department of Mental Health and Developmental Disabilities had authority to enter into the arrangement. Cronson reported that the only authorization he could find was in the agency's appropriation bill to spend money for the ordinary and contingent expenses (OCE) of the department; he said he could not determine whether the rental and repair were ordinary and contingent expenses. A lawmaker told Cronson he should tell them
26/December 1991/Illinois Issues
---
Cronson v Supreme Court:
at issue is whether all funds of the judicial branch are
public funds subject to review by the auditor general
Auditor General Robert G. Cronson's low-profile administration grabbed headlines when he took on the Illinois Supreme Court.
It was 1977 and the Supreme Court's turn to face Cronson. His office routinely requested the records it needed, including those of the Attorney Registration and Disciplinary Commission (ARDC) and the State Board of Law Examiners (SBLE), both agencies under the Supreme Court. The SBLE administers the bar examination, and the ARDC supervises yearly registration of lawyers and investigates any cases of attorney misconduct. They operate with the money collected from attorneys as licensing fees. The question: Are these state agencies, and do they use "public" funds?
"The Auditor General shall conduct the audit of public funds of the state" according to Article VIII, section 3b of the Constitution. "Fine," said the Supreme Court: "Our appropriated funds for adminstration of the court system are public funds — go ahead." But the court said that the money of the SBLE and ARDC is collected from attorneys, is not appropriated and is not kept in the state treasury; hence it does not consist of "public funds." Furthermore, the two agencies are judicial, and poking into their books by an agency of the legislature would constitute an impermissible breach of the separation of powers.
Cronson pointed out that the major part of the funds his office investigates is derived from nonappropriated sources such as other licensing fees. Here the court made a fine distinction: These are fee structures established by the legislature, unlike those of the ARDC and SBLE. If Cronson ever gets any guff from another branch's agency, the court evidently will back him up!
Subsequent skirmishes in this battle have almost had elements of farce:
• In 1978 The Legislative Audit Commission passed a resolution asking for an audit but did not try for any legislation. The court agreed to a private audit. The audit found no reason to complain. Cronson pointed out that use of private auditors was precisely what the creation of his office was meant to avoid. He also said that the auditor didn't have access to all the pertinent records (the court has been coy about some aspects of the records for fear of revealing confidential information about individual attorneys).
• The feds have been all over the map. In 1973 the ARDC tried to cover employees under Social Security and were turned down by the Department of Health, Education and Welfare. Its successor, the Department of Health and Human Services, said in 1980 that ARDC is part of state government. ARDC went to court, with Cronson filing as amicus, and finally in 1984 a federal court said that ARDC is part of state government for Social Security purposes.
• In 1980 Cronson refused to audit any portion of the judicial system, arguing that his office could not do a proper job only on part of it. In 1986 William Madden, acting director of the Administrative Office of the Illinois Courts, filed for a writ of mandamus ordering Cronson to audit the regular accounts of the court. The Supreme Court ordered Cronson to audit its books. Cronson fought this one clear up to the U.S. Supreme Court, which said in October 1987 that this was Illinois' cat fight and refused to touch it.
• Cronson's office finally audited the court's appropriated accounts. It issued a report October 5, 1989, covering the two-year period to June 30, 1987, and another on April 16 for the period ending June 30, 1989. The first found 25 questionable practices while the second found 72. Both sides issued playground-like "I did not-you did so" statements, with the court suggesting that Cronson may have acted out of "petty pique." The court did agree to comply with all but two of the first batch of criticisms and asked for more time to study the remaining two.
• In 1982 the Chicago Bar Association (CBA) took Cronson to court, arguing that his office should not have access to attorney files held by the SBLE and ARDC. When this reached the state Supreme Court in June 1989, Cronson repeated an argument raised as early as 1982 that the court would be hearing its own case. He suggested that four of the justices should withdraw (the legal term is "recuse themselves") because of bias demonstrated earlier. The four refused to recuse, the court refused to hear the case and refused to reconsider. Cronson appealed yet again to the U.S. Supreme Court on the recusal issue, and again, in January 1990, the court refused to hear the case.
• The legislature has responded predictably — with outrage but with no effective action. In 1979 it heard three suggestions from Cronson and one from Rep. Dwight Friedrich (R-58, Centralia) but did nothing. Everyone went public with statements.
In 1981 the House passed (134-3) HB 760, which included authorization for an audit of the two court agencies. The bill never became law.
In 1987 the Senate Judiciary Committee reported out a bill (SB 873) requiring fees of the two agencies to be deposited in a special account in the treasury and to be subject to legislative appropriation. A House committee killed that one.
In 1988 the Senate killed Senate Joint Resolution-Constitutional Amendment 94, redoing the constitutional definition of public funds in a manner to allow audit of the two agencies.
In May 1990 the Senate defeated Senate Joint Resolution 72 proposing a constitutional amendment expanding the definition of "public funds."
• At the October 1987 anniversary meeting of delegates to the 1970 Constitutional Convention, the members adopted a resolution signifying their original intention that the auditor general have authority to audit all state books, including those of the two court agencies.
• In January 1990 the Supreme Court requested a meeting with legislative leaders, but this had to be postponed in May because Chief Justice Thomas J. Moran was recovering from surgery.
Nothing has happened since.
F. Mark Siebert
December 1991/Illinois Issues/27
---
whether it was OCE spending; Cronson replied that the legislature should determine that. "After some discusssion among a bunch of them," Cronson recalls, "they came back to me and said, 'We don't want to do that. It would interfere with flexibility.' " Cronson snaps, "It sure as hell will and it ought to."
He lays the blame for fuzziness on money, the media and the politicians themselves. Politics has become so expensive that politicians must always worry about financial resources and the possibility of endangering contributions. The media uses the "sports announcer school of political reporting." They talk about a candidate's family life and hobbies. "They tell you he is now hitting the other guy with a left and he just blocked a right, but they won't tell you what the fight's about." At the same time, he says, scandal has become more important than news reporting, in part because it is not as boring as what happens in state agencies.
---
If Cronson could make one change in the way Illinois operates, he would do away with 'government by conference committee'
---
The shennanigans of today's lawmakers fly in the face of Cronson's favorite political quote, a 200-year-old statement by Edmund Burke: "Your representative owes you not his industry, but his judgment. And he betrays rather than serves you if he sacrificies it to your opinion."
If Cronson could make one change in the way Illinois operates, he would do away with "government by conference committee." He abhors the spate of conference committee reports that are promulgated in the closing days of the session. They are put together in the back room, handed to lawmakers 20 minutes before a vote, and it is months before everyone finds out what was in the report. "If we're really going to have representative government, that's nonsense." Cronson says.
What the evolution of state politics means to Cronson, who got into politics believing that changes must come from the inside, is that today change will have to come from the outside. He believes the manifestation will be in term limitations, one way to prevent lawmakers from getting so invested in the system that their first thought is to preserve the system. He believes that political systems like Illinois', with myriad elected officials, were intended to act as a brake on the bureaucracy. "Today, the elected officials are bureaucrats. ... One of these days the public's going to get up in the morning and say the only way to deal with these guys is to get rid of them periodically."
Cronson sees a similar reluctance to grapple with fundamental questions about state finances and the state's fiscal condition: "It is literally smoke and mirrors." Cronson notes that from 1981 to 1990 state operating revenues covered operating expenses only once; in the other nine years the deficit was made up by the sale of bonds. Pension system underfunding, first addressed by auditors in 1979, has continued. Another $5 billion is committed to long-term obligations like leases and installment purchase contracts that don't show up on the state's books. "All this stuff's going to come home to roost one of these days, and I don't think it's very far away," Cronson says.
Cronson does not believe a tax increase is politically feasible, which means that spending cuts will have to be made. Cronson blames former Gov. James R. Thompson and the four legislative leaders for the state's poor financial condition. "There's sort of an unspoken conspiracy not to talk about it because it splashes on everybody," he suggests. He says that although it was not his job to make political speeches about the state's fiscal condition, his office did produce the necessary information. "The fact that nobody wanted to use it indicated that everybody is hoping it will go away. I don't think it's going to go away."
Cronson says that the solution to the fiscal problems will mean tough decisions: "We can't keep doing it with mirrors." Spending cuts will be difficult, he says, because making the Department of Public Aid more efficient will not save billions of dollars. And Cronson says the spending cuts that must be made will be difficult: "You are going to save billions of dollars by being willing to take a hard look at things like the Illinois Arts Council. ... We're going to have to look at the individual agencies on questions of whether they are spending money on things that have a direct relationship to the purpose sought to be achieved, even if they have some political advantages for somebody or other. These are hard decisions that nobody wants to make."
Tight money will call into question the future of the auditor general's office. The operation saw a $600,000 (5 percent) cut in its budget this year. Cronson says that the legislative leaders, who wear both partisan and institutional hats, are not enamored of his office. He sees the cuts not as an attempt to punish the office, but as the result of lawmakers' failure to recognize its importance. Cronson notes that California lawmakers, forced to cut the size of legislative staffs by referendum, abolished the auditor general's office. "Among the politicians today there is really not any great dedication to public accountability," he says.
Cronson sees tight financial times sparking calls for reduced spending in his office. There will be impetus to run government like a business: "That's the one that's going to kill us all because you can't run government like a business because it ain't a business." Attempts to run government like a business produce things like DCCA, he says. "If we were running it like a business, this business would have gone out of business," Cronson says.
Where the auditor general's office is headed will depend both on whom the legislature picks to replace Cronson and on the resources devoted to the office. Cronson sees temptation to deemphasize the office so that lawmakers won't have to deal with unpleasant information. "I think that would be a tragedy," Lawmakers and citizens need the view from the bowels of government. Cronson believes that although the auditor general's office was not created to generate outside pressure, it has produced such pressure: "I hope that doesn't get changed. "
28/December 1991/Illinois Issues
---