Names
---
Lennon leaves Illinois for Pennsylvania

J. Michael Lennon, 49, of Rochester is leaving his post as executive director of Sangamon State University's Institute for Public Affairs and publisher of Illinois Issues in January. He will become vice president of academic affairs at Wilkes University in Wikes-Barre, Pa. "After working here 20 years, I found this to be the most difficult decision in my life," he said when he made the announcement in October. But he also feels that there is a strong element of continuity. Wilkes University President Christopher Breiseth was a professor of history at SSU from 1971-84 and shares Lennon's interest in the linkage between the liberal arts and public affairs.
Like SSU, Lennon says, Wilkes University has professional schools and aspirations, but libral arts is at the heart of its curriculum. Like SSU it is a regional school interested in dealing with the issues of the region and in reflecting the new diversity of students coming into higher education. And according to Lennon, politics in Pennsyvlania are just as hot as they are in Illinois. "I've been told it's closest to Illinois both in population and partisanship," he said.
As vice president for academic affairs, Lennon will be in charge of both academic and student affairs at Wilkes. Among his tasks are getting the university more involved in public affairs, including public policy publications. His appointment followed a nationwide search and is effective January 16.
A national authority on Norman Mailer and James Jones, Lennon came to SSU as an assistant professor of literature in 1972. He was one of the founding staff members at Illinois Issues in 1975 and became publisher in 1977. In 1983 he was named director of SSU's Office of Public affairs Communication and in 1988 he became head of the Institute for Public Affairs, which includes the university's public affairs research centers and internship programs as well as Illinois Issues, WSSU-FM and the SSU television office.
Governor's appointments in labor and transportation
Gov. Jim Edgar announced two reappointments in October: Jerry Banning as assistant director of the Department of Labor and Susan Leonis as assistant secretary of the Department of Transportation. They have served in these posts since 1988. Banning, 66, of Springfield receives an annual salary of $51,549. Leonis, 33, of Chicago makes $63,004. Both appointments require Senate confirmation.
In addition, Department of Transportation Secy. Kirk Brown named David S. Williams Jr. as the director of public transportation, effective October 21. Williams, 46, of Chicago, replaces Linda Wheeler. Formerly, Williams was commissioner of public works for the city of Chicago. He has an extensive background in transportation and planning.
Federal courts
White House staff announced this fall that President George Bush plans to nominate Joe B. McDade of Peoria to a new federal judgeship in the central district of Illinois created last year. McDade has been a judge of the U.S. 10th Judicial Circuit since 1982. As of November 12 the U.S. Senate had received but not yet acted upon the nomination.
Federal Judge Nicholas J. Bua of Melrose Park retired effective November 4. A judge of the Northern District of Illinois since 1977, he is now an attorney in private practice with the firm of Burke, Bosselman and Weaver in Chicago. As of November 12 a successor had not yet been appointed.
Illinois judiciary
The Illinois Supreme Court announced the following assignments, appointments and resignations/retirements.
Committees
• The Supreme Court changed the Legislative Committee of the Judicial Conference to a Supreme Court committee and appointed its membership effective September 26 for undetermined terms. The committee advises the court on pending legislation that might involve the judiciary.
Appellate judges appointed were: Tobias Barry of Ladd (3rd District), Alan J. Greiman of Chicago (circuit judge assigned to the 1st District), Kent Slater of Macomb (3rd District) and Robert J. Steigmann of Urbana (circuit judge assigned to the 4th District).
Circuit judges appointed to the committee were: Everette A. Braden and Michael C. Close of Chicago (Cook County Circuit), John W. Countryman of Sycamore (16th Circuit), William Cousins Jr. of Chicago (Cook County Circuit), Clarence A. Darrow of Rock Island (14th Circuit), Michael Galasso of Wheaton (18th Circuit), Albert Green of Chicago (Cook County Circuit), James J. Heyda of Indian Head Park (Cook County Circuit), Aaron Jaffe of Evanston (Cook County Circuit), Daniel Lynch of Chicago (Cook County Circuit), John W. Rapp Jr. of Mount Carroll (chief judge of the 15th Circuit), Stephen A. Schiller of Chicago (Cook County Circuit), Roger M. Scrivner of Belleville (20th Circuit), John P. Shonkwiler of Monticello (6th Circuit), Rolland F. Tipsword of Taylorville (4th Circuit) and Michael R. Weber of Hillsboro (chief judge of the 4th Circuit).
• Reappointed to the Appellate Court Administrative Committee for a term expiring May 31, 1994: Calvin Campbell of Chicago, judge of the First District Appellate Court. The committee looks into ways to improve the appellate process and recommends changes in Supreme Court rules.
• Reappointed to the IPI (Illinois Pattern Instructions) Criminal Committee for a term expiring May 31, 1994: Thomas P. Durkin of Chicago, judge of the Cook County Circuit. The committee formulates the patterns of instructions that judges give to juries in criminal cases.
11th Circuit
Assigned to duty September 30 to November 30, 1991: retired circuit judge Robert L. Thornton of Lincoln.
15th Circuit
Appointed associate judge by the judges of the 15th Circuit: Victor V. Sprengelmeyer of East Dubuque. He was formerly in private practice.
18th Circuit
Chief Justice Benjamin K. Miller accepted the resignation of Circuit Judge Carl F.J. Henninger of Wheaton, effective November 2. Henninger, 61, had been a judicial officer since 1975. He was chief judge of the 18th Circuit from 1984-89 and most recently served as presiding judge of the Chancery Division.
19th Circuit
Associate Judge George W. Pease of Waukegan died October 1. Pease, 52, had been an assistant state's attorney for Lake County from 1967-68 and was in private practice from 1968-72. In 1972 he was appointed Lake County public defender, a post he held until 1982 when he was named associate judge.
Financial Institutions' credit union division

Sarah Dee Vega was appointed supervisor of the Department of Financial Institutions' credit union division by department director Gilbert G. Ruiz, effective October 7.
Vega, 28, of Chicago is a former legal adviser in the securities department of the Illinois
(Continued on page 34.)
December 1991/Illinois Issues/31
---
Names
---
(Continued from page 31.)
Secretary of State's office. She replaced acting assistant supervisor Bruce Garrett.
The credit union division is responsible for chartering, examining, supervising and regulating the state's 636 credit unions. Assets range from $7,156 at the Services Corporation Credit Union in Naperville to $1.873 billion at the United Airlines Credit Union in Arlington Heights.
Illinois gets Medicaid funds for independent living program for disabled
Gov. Edgar announced in October that Illinois is one of eight states selected by the federal Health Care Financing Administration to implement a program called Community Supported Living Arrangements (CSLA). Twenty-seven states had applied for the program. CSLA is designed to teach developmentally disabled individuals how to live in a community setting. Aside from teaching participants the activities of daily living, it will also provide employment training and assistance to make homes handicapped accessible.
The Department of Mental Health and Developmental Disabilities will implement CSLA in Illinois. During its first year the program will be funded solely with Medicaid monies. In subsequent years additional state funds will be needed to gain federal aid. The program is a step towards providing Medicaid funding for developmentally disabled persons who wish to live in community settings rather than specialized care institutions. The anticipated federal Medicaid revenue for CSLA is $12 million over a period of four to five years.
The goal is to help a large portion of the developmentally disabled population in Illinois. This includes individuals who are in state-funded Community Integrated Living Arrangements (CILAS) and are not eligible for existing Medicaid funding, persons who are reaching adulthood and can no longer live in youth institutions, as well as persons who are ready to move from institutions to less intensive community settings. During its first year CSLA will serve 300 people already enrolled in CILAS, plus 30 new persons. In its final year the project should be serving 517 people.
New headquarters for Illinois Student Assistance Commission
The Illinois Student Assistance Commission (ISAC) announced in October that it is purchasing a new headquarters in the Arbor Lake Centre development in Deerfield. The new building is expected to open in late 1992 and will house approximately 570 staff. It will have 124,000 feet of office space, an increase of 36,000 feet over ISAC'S current headquarters on Wilmot Road in Deerfield.
A lease-purchase agreement between the state and the Alter Development group is expected to save the state over $750,000 the first year and more than $30 million over the 20-year lease-purchase contract. This is the first time the state has entered into such an agreement: The state is purchasing equity in the building rather than paying only for use of the space.
The 33-year-old ISAC administers student grant and scholarship programs, guaranteeed student loans and the operation of a secondary market for guaranteed student loans. It deals not only in the business of granting loans but also in loan collection. The majority of staff growth in the past 10 to 12 years has been in the area of loan collection. Currently ISAC serves about 250,000 students a year and administers annual funds of $1.5 billion.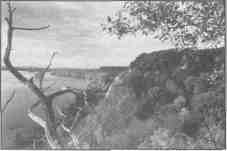 Photo by Grelchen Bonfen Yonkausti
Sentinel Nature Preserve,the state's 200th, was dedicated in October. Illinois nature preserves now protect more than 30,000 acres of high quality natural land.
200th state nature preserve
The Illinois Department of Conservation dedicated Illinois' 200th nature preserve October 11. The 48-acre Sentinel Nature Preserve, named after a towering column of limestone, is located in Mississippi Palisades State Park. The preserve is unique because of its variety of natural features, including an old-growth oak and hickory forest, a hill prairie and rock outcrops and cliffs. The area is also home to three state-endangered plants: the Canada violet, American bugbane and ill-scented trillium.
Nature preserves can be owned by the state or a private entity and are managed to protect fragile ecosystems. Nature preserves do not offer such amenities as water fountains and




34/December 1991/Illinois Issues
---
playgrounds; public access is limited to foot traffic, and no recreational vehicles or motorcyles are allowed.
At the dedication botanist/wildlife manager George B. Fell received a Lifetime Achievement Award from the Illinois Nature Preserve Commission for his work in preserving natural areas in Illinois and throughout the nation. Fell, a native of Rockford, served as the first executive director of the Nature Conservancy in Washington, D.C. He returned to Illinois in 1958 to establish the Natural Lands Institute, an organization dedicated to acquiring and preserving natural areas. His work has been recognized nationally by the Sierra Club, the National Association of County Park and Recreation Officials and by the Daughters of the American Revolution. Fell is the second person to receive the lifetime Achievement Award. Gaylord Donnelly received the first award in 1988.
Governor's committee approves capital projects
The Governor's Spending Control Committee approved 75 capital projects on October 9. The cost was $84.5 million coming from five ads: Capital Development, Build Illinois, General Revenue, Parks and Conservation, and Coal Development. This is the third group of capital projects approved by the committee, bringing the total to 200 projects and more than $116.9 million in state funds.
The most expensive item approved was $8.7 million from the Capital Development Fund for the Department of Central Management Services to renovate what was originally an old high school building in Des Plaines for use by the Illinois State Police and for field offices of various state agencies. Currently some of the agencies are already using the building. (Another million was appropriated in fiscal 1992 to design the second phase of renovation, which incudes putting in more State Police offices and labs at an estimated cost of $16 million.) The cheapest item was $1,100 from the Park and Conservation Fund to the Department of Conservation to complete a maintenance building at White Pines State Park. Other expenditures include: $3.6 million from the Coal Development Fund to the Department of Enery and Natural Resources to help the Rochelle Muncipal Utility convert from natural gas to a clean-burning technology using Illinois coal; $2.9 million from Build Illinois to the Department of Conservation for the Donnelly Hall lease/purchase payment at McCormick Place and $947,000 in Capital Development and General Revenue funds to the Department of Corrections to renovate bathrooms, doors and locks at the Illinois Youth Center in St. Charles.
The committee, established last January, helps Gov. Edgar manage the state's capital program and reduce fiscal 1992 bond sales. Committeee members are Sally Jackson, director of Government operations in the Governor's Office; Joan Walters, director of the Bureau of the Budget, and Stephen B. Schnorf, director of the Department of Central Management Services
Photo by Fermlab Visual Media Services
The High-Amperage Solid State Switch (HASSS) won a prestigious R & D Award in September. The publishers of R & D Magazine present this award annually to recognize new technology. The switch, invented by Fermilab engineer Abe Visser, can continuously carry direct currents as high as 10,000 amperes and can switch them off in less than 150 microseconds. This switch is vital to the successful operation of Tevatron, Fermilab's superconducting magnet test program. The HASSS switches the energy stored in the magnet to an external resistor when a fault is detected. The HASSS is unlike conventional circuit breakers in that it has no mechanical parts and therefore can be used over and over again.
Guardianship and Advocacy Commission reorganizes
The Illinois Guardianship and Advocacy Commission consolidated its regional offices effective October 1. The reorganization is designed to avoid further staff layoffs and to maintain services in the wake of budget cuts. Eliminated were the commission's Springfield regional office and the south suburban regional office in Chicago Heights. Counties previously served from Springfield are now served by offices in Fairview Heights, Peoria and Champaign. A newly consolidated Chicago Metro Regional Office now serves all of Cook County. The reorganization does not require caseworkers to be at the regional offices on a daily basis and does not disrupt guardianship workers' practice of leaving from their homes to make required visits to their wards. The emergency after-hours, on-call telephone number remains the same: (217)785-0465.
The Guardianship and Advocacy Commission provides guardianship services for adults with disabilities; it also offers legal advice and
(Concluded on page 37.)
December 1991/Illinois Issues/35
---
Names
---
(Continued from page 35.)
representation and human rights investigation services for both children and adults with disabilities. The commission has 61 full-time caseworker positions. Eight caseworkers (not all of them full-time) work in the regional offices as human rights coordinators. They supervise volunteers who investigate alleged violations of disabilities laws by nursing homes, state institutions, hospitals and other facilities that care for the mentally ill, the developmentally disabled, the senile elderly and the severely handicapped. In fiscal 1991 327 complaints were investigated; 247 recommendations for correction were made, and 75 percent of these were acted upon.
The commission has 55 full-time guardianship caseworkers. They serve 6,400 adults who are wards of the state, usually residing in long-term care institutions for the mentally ill or the developmentally disabled. The caseload has been growing steadily. Among guardianship workers it averages 145 cases per worker. In the Chicago area the caseload is higher and more complicated. The commission would like to get the caseload down to 100, but this is unlikely in the near future.
Like other state agencies, the commission took an across-the-board budget cut of 5 percent on June 30, amounting to $701,500 below its fiscal 1992 budget request and $384,700 below its fiscal 1991 appropriation. Twenty-one positions were cut; 11 staff people were laid off, none of them caseworkers; the remaining positions were eliminated through attrition and early retirement.
NSCIA-Illinois wins award
The National Spinal Cord Injury Association, Illinois Chapter (NSCIA-Illinois), based in LaGrange, received the nation's "Most Outstanding Chapter Award" in August. Founded in 1979 by a group of both able-bodied and disabled people, NSCIA-Illinois is one of the most active chapters in the country. This is the fourth time it has received this award.
NSCIA-Illinois also received a one-year $50,000 grant from The Prairie Foundation, a statewide philanthropic organization. The grant allows it to expand services, increase staff, recruit and train volunteers and establish support groups at several locations throughout the Chicago area.
The NSCIA helps newly injured persons and their families adjust, advances spinal cord research and helps those with spinal injuries live full, productive lives. The association also educates junior high and high school students in an effort to reduce the number of accidents each year.
From 8,000 to 10,000 traumatic injuries occur per year throughout the United States, with 325-350 of these in Illinois. Males account for 82 percent of the injuries; females 18 percent. Spinal cord injuries are most prevalent among young males between ages 16 and 30. Motor vehicle accidents cause 48 percent of these injuries, falls 20 percent, violence 15 percent and sports 14 percent (two-thirds of these are diving injuries). Overall, more than half of all spinal injuries result in quadriplegia.
Illinois Press Association elects officers
Members of the Illinois Press Association (IPA) elected executive officers in October. They will assume their posts in January. New officers are: Clyde Willis, publisher and editor of the Metropolis Planet, elected as president; Byron Tracy, editor of the Robinson Daily News, as first vice president; Tom Mathews Jr., publisher of the Wayne County Press in Fairfield, as second vice president; Howard Hay, a Chicago Tribune vice president, as third vice president; and Bill Garth, publisher of Chicago Citizen Group, as treasurer. Dave Bennett, IPA executive director, serves as secretary to the board.
Miles Davis eulogized around the world
Jazz trumpeter Miles Davis, 65, died September 28 in Santa Monica, Calif. He had recently performed in Chicago at the 1991 International World Music Festival held in Grant Park. A dentist's son, Miles Dewey Davis III was born in Alton and grew up in East St. Louis where he began a musical career that spanned five decades. He explored bebop, acid funk, fusion and Third World music, influenced generations of musicians and never stopped innovating.
"He was to jazz what Picasso was to painting," said the Jornal do Brasil in Rio De Janeiro. "Miles' talent was in always managing to be in the right place at the right time in order to dictate, to bring together, to give things a shape, to be," said Serge Loupien in Liberation in Paris. "You could always tell when the man with the horn came back to visit.... there would be neighborhood crowds and the whole community would be buzzing," said Pure News publisher T.C. Christian Jr. of Springfield, who grew up with two of Davis's sons in the Goose Hill neighborhood of East St. Louis.
Staff contributors include Margaret S. Knoepfle, Jennifer Smith, Dawn Seifman and F. Mark Siebert.
December 1991/Illinois Issues/37
---