C U R R I C U L U M M A T E R I A L S
Laura Crane Lewis
Overview
Main Ideas
Material culture studies is not so much an academic field as a subject where many different academic fields come together. Material culture historians borrow from the expertise of historians, art historians, geographers, archaeologists, anthropologists, psychologists, and sociologists. When those different fields come together, their combined research can illuminate the complicated interactions between people and things. Yet the roots of material culture studies are not complicated but lie in the simple, everyday objects that clutter people's lives—from books to cities.
Museums celebrate the power of those ordinary objects to tell a story about who made them and why through exhibits. It is the job of museum experts to discover, identify, and classify objects of material culture and then analyze and interpret those artifacts for the public in a cultural context. Museum exhibits provide the visitor with a framework for interpreting material culture artifacts. An exhibit such as At Home in the Heartland can offer insights into the lives of people who have left artifacts and few, if any, other records. By exploring material culture artifacts from the present, the exhibit also asks visitors to view their own lives within a cultural and historic context.
7
---
Connection with the Curriculum
Material culture studies have the potential to integrate the disciplines of social studies, geography, language arts, fine arts, and even mathematics and science for the secondary school student. The practice of material culture studies involves critical thinking, problem-solving, and hands-on research. The methods for studying material culture build on a rigorous and systematic examination of the evidence that proceeds from discovery, identification, and classification of material culture to the thoughtful analysis and interpretation of those artifacts within a cultural context. The object or artifact becomes the linchpin on which a student can form an understanding of the interrelationships between the academic disciplines, the past and the present, and people and things.
Teaching Level
Grades 6-12
Materials for Each Student

• A copy of the narrative portion of this article

• Activity handouts, pen or pencil, paper

• A dictionary and encyclopedia for student use
Objectives for Each Student
• Understand the methodology that is used in the study of material culture— discovery, identification, classification, analysis, and interpretation of artifacts in a cultural context.
• Recognize the importance of primary and secondary sources in establishing the history of an object.
• Encourage critical thinking and problem-solving skills through the analysis of objects.
• Demonstrate the ability to write expository materials, such as object labels.
SUGGESTIONS FOR
TEACHING THE LESSON
Opening the Lesson
Distribute the narrative portion of this article, which describes the study of material culture and examines the exhibit At Home in the Heartland as a case study. A discussion of the article's narrative should follow the reading. Ask students to define material culture in their own words. Discuss the methods used for studying material culture and ask students to find examples of that process from the article. Such a discussion might provide insight and a better understanding of the range of objects and materials that constitute material culture.
Developing the Lesson
• This lesson may be done individually, in small groups, or as a whole group.
• Activities can be assigned in class or given as homework.
• In the first activity, students will analyze catalog cuts from the 1890s to 1920s as they answer a series of questions designed to help them organize the visual and written material so that they can begin to analyze the objects.
• In the second activity, students will read the object label that was written for each of the catalog cuts. Students must determine what information came from the catalog description and what information came from other sources. Encourage students to think about the variety of sources that could have been used by the curator—from the actual object to history books.
• The third activity builds on Activities 1 and 2. Students are given the photo of an object, its donor history, and museum catalog record. Using these three sources students are asked to develop their own object label. Encourage students to move beyond a description of the object to an interpretation of how the object was used and its significance as a symbol of status. Students might want to consult other sources to learn more about 1860s society.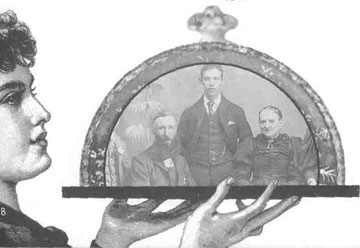 8
---
Concluding the Lesson

• Grade the students' final object labels.

• Review and summarize the method of material culture studies.

• Discuss where to find sources to help establish the history and cultural context of a material culture artifact.
Extending the Lesson

Writing Object Labels

A. The teacher provides objects, and students write object labels. The objects could pertain to a certain historical era or literary theme depending on the class. For example, if your class is studying immigration, you might bring in objects from other countries that can be identified with an immigrant group. Students might use history books, atlases, and encyclopedias to find out more about an object's country of origin.

B. The local history museum provides objects, and the students write object labels. If you have a local history museum or historical society in your area, contact it in advance about the possibility of bringing a group of students to the museum to view objects from their collections. Students can examine the objects and record their observations through notes, drawings, or photographs. In the classroom, students can write the object labels after they have studied their notes or consulted books for additional information.




C. The students provide objects and work in small groups or teams to write object labels. Select a group of students to bring in objects. Students can select the objects according to their own criteria, or the class can choose a theme around which to work. Students bring in objects. Split the class into groups of 2 or 3 students. Each group selects an object and creates an object label. Encourage students to use secondary sources in writing their labels. Have them turn in a bibliography of sources with their finished labels.

Class Exhibit

Build from the above activity. Have your class create an exhibit. The exhibit can consist of several objects or just a few. As a class, select a theme for the exhibit. Based on the theme, students will develop a storyline for the exhibit, an overall title for the exhibit (as well as secondary titles if needed), wall labels, and object labels. Encourage students to think as much about the overall presentation of the objects as about the content of written materials. Depending on how elaborate the exhibit becomes, you may want to display it in a public space within your school building instead of your classroom. If students decide to create an exhibit about their own families and communities, you may want to involve parents and grandparents as sources of information or as the subjects of oral histories.

Visit a Local History Museum

Visit a local history museum and critique an exhibit: Is there a central theme or story? How are the labels organized? Are there aspects of the exhibit that students would change? Help students measure their own learning through a K-W-L anticipation activity using the theme of the exhibit or museum you will be visiting. On the chalkboard or overhead projector, record what they know in a column headed K. In a second column, headed W, have students indicate things they "want to know" about the exhibit theme. A third column, headed L, is left for students to record what they have learned from the exhibit.

Visit the At Home in the Heartland Online Website

If you have an Internet connection and a World Wide Web browser (Netscape or Microsoft Explorer), you can access dozens of activities that have been developed for your age group from the exhibit At Home in the Heartland. The site can be accessed at: http://www.museum.state.il.us/exhibits/athome/welcome.htm
Assessing the Lesson
All of the activities are designed to require student products. Those can then be assessed to determine student understanding. They can also be used to evaluate student skill levels in researching, writing, speaking, and creativity. Students can judge each other's products as well.
9
---

These questions are commonly asked in identifying objects. Answer as many questions as you can with the information provided in the illustrations (catalog cuts) below.
What is it used for?

Who made it?

When was it made?

Where was it made?

What is it made of?

What is the style, type, or pattern?

How was it made?

Who was it made for?

What size is it?

How much does it weigh?

How much did it cost?

Where was it purchased?

Source: Montgomery
Ward Catalog, 1895



Source: Sears, Roebuck and Co.
Catalog, 1919



Source: Montgomery
Ward Catalog, 1895


10
---

Highlight or underline any information that you think came from sources other than the catalog cuts in Activity 1. What might those sources have been?
SHOE LASTS AND STAND, ca. 1394
Eclipse model
Iron
A set of iron shoes lasts, used for making or repairing shoes, sold for 65 cents in the Montgomery Ward catalog of 1895. Wooden lasts were much less durable and sold for only 30 cents. Catalog advertising for a set of lasts read, "No family should be without one as it saves time and money." They were sold along with items such as a cobbler's hammer, sewing awl, leather, and oak soles. These lasts belonged to Pancratz Boll, a shoemaker who immigrated from Germany to settle in Greenville, Illinois, in 1856.
Gift of Mr. and Mrs. Howard Riser, Springfield, Illinois (1989.28.4)
MANTEL CLOCK, ca. 1919
Made for Sears, Roebuck and Co., Chicago, Illinois, by Waterbury Clock Co., Waterbury, Connecticut
Gilt, marbleized, and black lacquered wood; bronzed metal
Duncan Bennett of Rockford, Illinois, ordered this clock to give to his son Andrew P. Bennett as a wedding gift. Over the years he gave a similar clock to each of his children when they married. This clock had to be wound every eight days and would strike each half hour. The black enamel of the clock's case and the variegated green of its columns were highly polished in imitation of fine marble. A similar clock sold in the fall 1919 Sears catalogue for $10.29.
Gift of the Andrew Bennett Family, Peoria, Illinois (1990.1.1 a)
WING COLLARS, ca 1904
Made by Cluett, Peabody & Company, Inc.
Linen, celluloid
Because laundry was such an ordeal before plumbing and washing machines, shirts were worn for several days to a week. Collars and cuffs were detachable so they could be changed more frequently. These collars were worn by P. W. Wemple of Waverly, Illinois. Similar collars were 13 cents each or $1.35 per dozen in the Montgomery Ward catalog of 1895.
Gift of Ann Wemple Henry, Jr., Flossmoor, Illinois (1979.28.2)
11
---
Donor History
745/072
Walnut secretary. (1865) Maker: Ernst F. Gehlman, cabinetmaker and builder, who came from Germany to Sangamon County ca. 1846.

Ref: Past and Present Springfield, Illinois and Sangamon County, Illinois- p. 1171-2; Sangamon County Atlas, p. 79.

Affidavit attached.

Made for the Wellington Birthier Huffaker mansion, "Fancy Point," near New Berlin, Sangamon County. Secretary made after the mansion's completion in 1865. (Huffaker built the mansion and many Springfield homes.) Original price $200.00 - Constructed in two sections: Glass doors and shelves above, drawers below with center pull-out for writing. Cubby-hole cabinet below with secret drawers.



Museum Catalog Record
OBJ: NAME: Secretary ACC:NO 1972.2
CLASSIFICATION: Furniture CAT: NO 745072
MAKER: Gehlman, Ernst F.
DATE: 1865
COUNTRY: USA DESIGNER STATE: IL CITY: Springfield
TECHNIQUE:
MATERIALS: Walnut COLOR:
STYLE, TYPE, PATTERN: Renaissance Revival
SIZE: 118"hx76"wx26l/2"d
DESCRIPTION: Walnut secretary desk with bookcase top, 4 glass doors, heavy pedimented top, center drawer and 3 drawers on each side of bottom desk. Made for the Wellington Birthier Huffaker mansion in New Berlin for $200. Center drawer pulls out for writing.
ASSOCIATION: Huffaker, Wellington Birthier
SOURCE: Huffaker, James C. Family
SOURCE: ST 114 Lake Glen Drive
SOURCE: LOC Carson City, Nevada GIFT, PURCHASE.LOAN: G
DATE: ACQ 9-1972 NEG: No SLIDE: No
COND: CODE G
LOCATION ex: AT HOME CONDITION: VALUE 0 VALU: DATE
DATE: ENTRY 1-31-89 ENTERED BY: Jan Wass
IN EDIT CTL-R BACK CTL-C FORWARD CTL-W RETURN TO . 4756
Photo courtesy of Illinois State Museum, photograph by Marlin Roos
12
---

Object Label
Title:
Made by:
Made of:
Style:
Interpretation:
Donor:
Click Here to return to the Article
13
---