Could the south rise again?
The state's population growth is centered around Chicago
and legislative control has shifted northward, possibly forever
by Jim Getz and Patrick E. Gauen
Photographs courtesy of the Illinois Historical Library
As the 1975 legislative session dawned, Clyde Choate of Anna had wheeled, dealed and served with distinction in the Illinois House for 28 years and the speakership was approaching his grasp.
Minority leader in 1974 when the Watergate backlash swept Democrats everywhere into power, Choate was poised to capture the post held for three terms by a fellow Democrat and southern Illinois giant, the legendary Paul Powell.
Nobody in the Statehouse could know it was the end of an era.
"Old man Daley agreed to back Clyde for speaker, but Gov. Walker pulled off enough Democrats to form a holdout group that prevented Clyde from getting a majority," recalls Mike Lawrence, then a reporter and now with the Public Policy Institute of Southern Illinois University at Carbondale. "It was the most ballots ever taken."
Indeed, the clash of the titans between Chicago Mayor Richard J. Daley, an organization Democrat, and Gov. Dan Walker, an upstart Democrat, turned into a war over power that lasted for weeks. The intraparty chaos — compounded by Choate's deals with Daley, his long history in the House and Walker's encouragement of independence among young Democrats — came crashing down on Choate. "It was," recalls former state Rep. Mike McClain, a Quincy Democrat, "like the stars lined up against him." The stalemate was broken on the 93rd ballot by Republican Lee Daniels, today House minority leader, who crossed party lines to cast the winning vote for Bill Redmond from the Chicago suburb of Bensenville. Redmond was Daley's backup candidate.
Though that battle was generational rather than geographical, it effectively shifted legislative control northward, possibly forever. Choate's defeat was a formal recognition of the handwriting that had been scrawled on the Capitol walls five years before. That was when Powell, by then secretary of state, died, leaving $750,000 in unexplained cash in his hotel suite and a bad rep for his region. And that was when Delyte Morris, the empire-building, 22-year head of Southern Illinois University, was forced out by a controversy over spending almost $1 million on a new president's residence.
But if an era was passing, it was mainly because a new state Constitution, approved in 1970, required legislative districts to reflect population primarily, not politics. With growth centered in Illinois' northeast corner, experts doubt we'll see the south rise again.
Not since Madison County's Ralph Smith left the speaker's chair in 1969 has a southern pol landed among the "Four Tops," the collective name given by the media to the House speaker, Senate president and minority leaders of both chambers. "It's been a long dry spell for southern Illinois," says Lawrence, whose road from journalism to academia led through a career as press secretary to Jim Edgar when that Republican from the small downstate town of Charleston was secretary of state and governor. "And it's likely to be a lot longer."
The remap of legislative districts — once the product of the brand of back-room maneuvering downstate pols had mastered — has, since 1970, been the province of cold U.S. Census figures. And those numbers have not been kind to southern Illinois. In 1960, the first census year after the first Illinois remap in half a century, 51 percent of the state lived in the Windy City and 11 percent in its five collar counties of DuPage, Kane, Lake, McHenry and Will. Census 2000 reveals that Chicago's proportion has fallen to 43
30 May 2001 Illinois Issues http://illinoisissues.uis.edu
---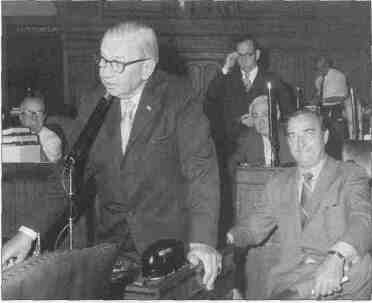 Southern Illinois powerhouse Paul Powell is speaking from the floor of the Illinois House of Representatives. Fellow southern Illinoisan Clyde Choate is seated beside him. In the background between them is John P. Touhy of Chicago, who served a stint as state Democratic Party chairman. The photograph was probably taken sometime in the 1960s.
percent, but the percentage in the GOP-dominated 'burbs has doubled to 22 percent. Thus, 96 Illinois counties outside the Chicago area comprise only 35 percent of the state's population.
Regional differences are made even more stark by comparing growth rates during the 1990s. While the collar counties around Chicago ballooned by 830,000 people, or 11 percent, the five Metro East counties of Madison, St. Clair, Jersey, Monroe and Clinton, situated across the Mississippi River from St. Louis, gained only 10,000 souls, an anemic 2 percent.
Those 830,000 new bodies in the northern reaches of the state could mean a shift of eight House seats to the collar counties when new legislative lines are drawn over the next few weeks — or months. With the region below Interstate 70 losing about 100,000 people, and the number of House seats fixed at 118, one of them is likely to migrate from deep southern Illinois.
That region could never compete with Chicagoland for population, of course. But what it lacked in people, it offset with the leadership skills and craftiness of its representatives. Monroe Flinn, a Democrat who represented Cahokia in the House from 1971 to 1995, says such strong characters as Choate and Republican C.L. McCormick were essential to help downstate hold its own. "It was necessary to have somebody like that because of Chicago," Flinn says. "Even after I got here, the original Mayor Daley would appoint the school board and then he'd head to Springfield to demand the money, and the money had to come from somewhere."
Though they were from tiny towns — Choate from Anna, and Powell and McCormick from Vienna — they strode through the Capitol, doing their own Olympian horse-trading with Daley. Powell was the last state rep to be elected speaker while the opposing party held the majority. Choate was admired for the heroism that got him a Medal of Honor for single-handedly destroying a Nazi tank.
McCormick was remembered by many for a spellbinding speech about, of all things, state dollars for mosquito control in his neck of the woods. "You got a vision of mosquitoes so big that they could carry people off," Lawrence remembers. "It was a very interesting speech, but it was also effective. He got the money."
Taylor Pensoneau, who reported on the Statehouse for the St. Louis Post-Dispatch from 1965 to 1978, remarks, too, on the effectiveness of the wily southern Illinois caucus. "There was this assumption from folks in the upper part of the state that southern Illinoisans and their political leaders weren't very smart — certainly not as sophisticated as those from other parts of the state," he says. "There was a tendency to
http://illinoisissues.uis.edu Illinois Issues May 2001 31
---


The Illinois State Fair has always been a favorite place to celebrate and promote the political parties. This Democratic tableau includes (from left to right) Michael Hewlett, Richard J. Daley, Paul Powell, Sam Shapiro and Paul Simon.
underestimate." And that was a mistake. "They were just schooled in hard-knock, basic political backgrounds because local politics can be brutal in southern Illinois," Pensoneau says. "They were sometimes more outspoken, certainly more plain-spoken, wearing their hearts on their sleeves. But if they were dumb, it was like the proverbial fox."
Chicagoans learned in particular to not underestimate Powell, who, during his early tenure as speaker, held up action on the once-dominant University of Illinois budget to ensure that SIU, near his home, got its due.
If the southern Illinois pols were sometimes colorful, the dominant color was often green. In those days, before campaign disclosure and the mantra to "follow the money," the money followed them. A sizable part of the $3 million estate Powell left, for example, was attributable to his investments in the horse-racing industry, a constituency he was sure to take care of in the legislature. It simply responded in kind.
Pensoneau notes that Powell — and other larger-than-life southern Illinois figures — flourished in the 1950s and 1960s, a different time for pols. "You went around and people would just stuff money in your pockets," he recalls. "That's the way it was done. And of course, [Powell] collected money from his employees, willingly or not."
Lawrence, Pensoneau and others speak of the period from the late 1940s to the early '70s as a Golden Age of southern Illinois politics. It's more than coincidental that the same period saw the rise of SIU from a backwater teachers' college to the major institution it is today, with essentially separate universities based at Carbondale and Edwardsville. Powell and Choate, neither of whom attended college, were determined to put a first-rate university in their backyards. They joined forces with SIU President Delyte Morris, who was overseeing just 3,000 students when he arrived in 1948. "Delyte Morris had a lot of vision, but it would have been only vision if it weren't for Paul Powell and Clyde Choate," Lawrence says.
By the time Morris died in 1982, the Carbondale and Edwardsville campuses had a combined enrollment of 35,000. There was a law school in Carbondale, a medical school in Springfield and a dental school in Alton.
But as SIU reached maturity, the Golden Age passed into what could be called the Silver Age. Choate left the legislature in 1979 and became a lobbyist for SIU. McCormick, after helping his neighbors in Vienna secure a second state prison, retired from the General Assembly in 1983. He died four years later.
If southern Illinois once roared in the legislature, its voice in modern times was a good bit weaker when it came to the statewide constitutional offices. That's true, as well, for all of downstate. Jim Edgar, who was governor from 1991 to 1999, hailed from the east central city of Charleston, of course. But he built his political base primarily under the tutelage of Gov. James Thompson, a Chicagoan. The last "southern" governor was John Stelle of Hamilton County, who moved into the Governor's Mansion in 1940. And he only got the job by happening to be lieutenant governor when Henry Horner of Cook County died.
Southern Illinois has not provided an attorney general in almost a half century and never a comptroller. (Before comptroller, there was a post called auditor of public accounts. Orville Hodge, a Democrat from the Metro East town of Granite City, did a memorable job of that in the 1950s.
32 May 2001 Illinois Issues http://illinoisissues.uis.edu
---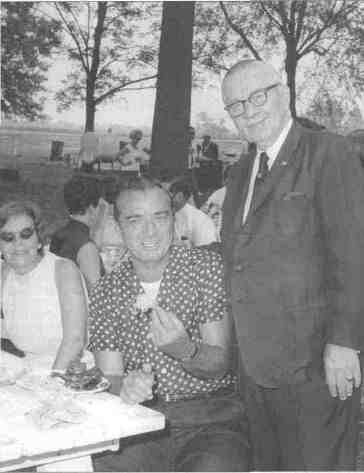 Clyde Choate and Paul Powell take in a barbecue, a great place to grin and grip potential voters and the party faithful. Powell, it seems, seldom posed without a suit coat on.
Unfortunately, it was memorable because he pleaded guilty to embezzling about $600,000 in state funds.) The region's most recent lieutenant governor, Dave O'Neal of Belleville, is remembered oddly, too. It's not for any dishonesty, but for quitting in frustration after finding the job lacked enough spring to bounce him into the U.S. Senate after he won the GOP nomination in 1980.
Alan Dixon, a back-slapping master of political detail from Belleville, was the Democrat who won that U.S. Senate race after serving effectively in the General Assembly and as state treasurer and secretary of state.
The wonkish, bow-tied Paul Simon was another star from the southern region to leave state government for Washington, D.C. Simon lived in Troy when he served as lieutenant governor from 1969 to 1973 — as a Democrat elected with Republican Gov. Richard Ogilvie before the new constitution made such mismatches impossible. Simon ran for governor in '72, losing the primary to Walker and, in a way, sealing Choate's failed bid for speaker. Thereafter, Simon served in the U.S. House and the U.S. Senate, and ran in the presidential primary of 1988. He works with Lawrence at SlU's policy institute now.
Losing the skills of Simon and Dixon was one kind of blow to southern Illinois influence in Springfield. The Legislative Cutback Amendment in 1980 was another. Prior to that constitutional change, three Illinois House members were elected from each state Senate district, with no more than two from any party. The voter-approved cutback, which chopped the size of the House by one-third, divided each of the 59 Senate districts into two one-member House districts. Without the guaranteed election of political minorities, mainstreamers replaced mavericks. "You don't have the diversity there," Pensoneau says. "You don't have the broadened
http://illinoisissues.uis.edu Illinois Issues May 2001 33
---
---
"How many prisons are there in Chicago? None. How many downstate? Forty. If you talk to the Republicans in the collar counties, when their schools get only 15 percent of the state school budget and downstate gets 40 or 50 percent, they say they don't get their fair share. It all depends on whose ox is gored."
---
interests you used to have." And you don't have the one-of-a-kind characters from southern Illinois.
Mike McClain, who represented the west central Quincy area from 1973 to 1983, believes the House better served Illinoisans under the old system. "Minority views of life got to express their opinions more often than not," he says. "When you have only single-member districts, the members have to be more pluralists."
So, has southern Illinois entered a political Bronze Age? Among others, Jim McPike of Alton, who was Democratic majority leader for a dozen years during his 1977 to 1994 tenure, says no. The clout is there. It's just managed differently. "You just have to look at who gets their fair share of the dollar amount," McPike suggests. "Just look at the Department of Corrections. How many prisons are there in Chicago? None. How many downstate? Forty. If you talk to Republicans in the collar counties, when their schools get only 15 percent of the state school budget and downstate gets 40 or 50 percent, they say they don't get their fair share," he says. "It all depends on whose ox is gored."
Frank Watson, a Republican state senator from Greenville who has been in the General Assembly since 1979, says fighting for Metro East and southern Illinois interests has not been easy. But he's especially glad of two things: the willingness of Chicago and collar county legislators to negotiate, and the cohesiveness of southern Illinois lawmakers, particularly those from the Metro East area. "Every governor I've worked under — Thompson, Edgar and [George] Ryan — has said that the Metro East has its act together, that we speak with one voice."
That unity has paid off handsomely in recent years. For example, Metro East, with only one-twentieth of the state's population, hauled in $1 billion, one-twelfth of the initial money under Gov. Ryan's Illinois First public works program.
Lawrence believes it helps that so many southern Illinois Democrats are social conservatives who could just as well be Republicans somewhere else. Consequently, incumbents are less secure from challenge at election time. It means, he says, that the area gets special attention from party leaders working to keep — or gain — a legislative majority. In last November's election, the two parties spent about $800,000 in each of three competitive House races. When the smoke cleared, the incumbents held on. "Southern Illinois legislators have power within their caucus to bring home the bacon because their leadership wants to keep them in power," Lawrence says. In any event, an era has ended for every region of the state. The nature of Illinois' lawmakers has changed.
"There aren't that many colorful characters in the legislature today," Lawrence says. "We've evolved over the past 30 years to full-time legislators. They carry briefcases and have staff. The main goal for many of them is to get re-elected, and they don't want to jeopardize that."
The modern legislature may now be more about professionals and less about personalities. But back in '75, when personality mattered more, Choate showed the whole state just what it meant.
"After he lost that battle for speaker, he still had magic," Lawrence says, recalling a vote over redistricting legislation the same year. "For two and one-half hours, there was maneuvering back and forth. A couple of people who supported Clyde eventually voted against it. He was orchestrating the whole thing from a restaurant in Springfield. This really was his hour of revenge because Old Man Daley really wanted the redistricting proposal badly. The governor and the mayor of Chicago really wanted it, and [Choate] was able to orchestrate [the opposition] from a phone booth and beat them."
Jim Getz covers regional issues and politics in southwestern Illinois for the St. Louis Post-Dispatch. Patrick E. Gauen writes an Illinois column for that newspaper.
34 &nbsp&; May 2001 Illinois Issues http://illinoisissues.uis.edu
---