PARKS &
IllINOIS RECREATION
Volume 33, Number 5 • September/October 2002
Features
Who's Transporting the Kids? 19
Protect your district from liability issues before an accident
— by Robert W. Rolek, Esq. and Darcy L. Proctor, Esq.
2003 Conference Preview

21
What's new and what's fun for the 2003 IAPD/IPRA Annual Conference where "Together We Serve"
Special Focus
The Calling 24
A young professional shares his thoughts on the changing face of parks and recreation, plus seasoned commissioners and professionals consider "What's Changed?"
— by Michael J. McNicholas, CTRS
Special Circumstances

30
Is the SRA boom of the '70s and '80s headed for a bust?
— by John N. McGovern
Antiquated Boundaries

36
Three park districts in the northwest suburbs no longer use the term "non-resident"
— by Debbie Carlson, CPRP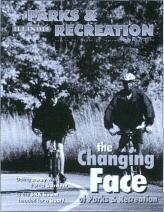 Welcome, fall! On the cover, courtesy of the Decatur Park District, is a photograph of teens Drew McClure and Phillip Washington of Decatur, biking along on a prairie grass bordered stretch of the six-mile Fairview Park to Rock Springs Park Trail. The trail links the Macon County Conservation Districts Rock Springs Environmental Center and Decatur's popular Fairview Park with spurs to two additional parks in Decatur's west end neighborhood. The trail was funded in part by a series of grants from the Illinois Department of Natural Resources and the Illinois Department of Transportation. Photo by Dennis Magee.
Departments
Are You on Board? 6
Board/executive expectations
Eye on the Profession 8
Helping us heal...preparing the future
Partnerships 11
A wireless solution saves money in Buffalo Grove
Statehouse Insider 14
Youth license plate signed into law
Mixed Media 39
Communicating in a crisis, part 2
Our Natural Resources 41
Animal tracks, plus IDNR newsbriefs
People and Places 47
Scenes from Awareness Days and the Legislative Golf Outing