---
---
By BERNARD SCHOENBURG
---
Demuzio and Adams:
a limelighter and a backbencher
---
Don W. Adams and Vince Demuzio share little in common other than the title "state party chairman. "
Adams, the leader of the Republican party apparatus in Illinois since 1973, seems almost to shun the spotlight as he tries to make sure things go smoothly for his candidates and the party's good name. "We're like the mother of a big family," he says.
Demuzio, who began his Illinois Senate career in 1975 as part of a faction of dissident Democrats, still seems drawn to a good fight. Friends have told him, he says, that seeking the party chairman's post after the Democratic primary win of two Lyndon H. LaRouche followers last spring was "like applying to be the captain of the Titanic after it had already hit the iceberg.''
Bernard Schoenburg, former Statehouse reporter for The Pantagraph of Bloomington and now with the Associated Press in Chicago, interviewed Adams and Demuzio before and after the unique election of 1986 in Illinois. Here is what he found in talks with the two leaders.
To listen to Don Adams and Vince Demuzio talk about the results of the November 4 election, it would seem that both sides won.
"I think in Illinois, it was a great reelection victory of the governor, lieutenant governor and . . . secretary of state," says Adams, brimming with party pride. With the victories of Jim Thompson to a fourth term as governor and Jim Edgar to a second full term as secretary of state, he said, the GOP has retained "the two major jobs in the state."
Demuzio gloats because Democrats held their own despite the pitfalls presented when Lyndon H. LaRouche enthusiasts Mark J. Fairchild and Janice A. Hart snuck onto the Democratic ballot and made off with primary victories.
"We averted a disaster is what we did," Demuzio says. "We cut our losses, and frankly, we didn't lose anything. We gained two seats on the board of trustees of the U of I, and all the constitutional officers are intact. We still control the House and the Senate. We did well."
Adams does admit to a downside for the GOP, which some thought could have a banner year because of the confusion caused by Hart and Fairchild. "It's unfortunate [that] we didn't get a majority in one of the [legislative] houses," he says, "but we'll live with that and try again next time." Despite a $1 million Republican push to get control of the Senate, the party failed to change its numbers by even one net seat. Democrats maintained their same Senate majority, 31-28; they also held onto the same majority in the House, 67-51.
Adams says he is "disappointed" that the rest of the ticket didn't fare as well as Thompson and Edgar. They all trailed far behind their incumbent Democratic opponents. Adams blamed their losses on voters' general preference this year for incumbents with familiar names. "[T]he people of Illinois like to split tickets — no question about that," says Adams.
While Democratic incumbents for statewide offices profited from the propensity to split tickets, the unofficial Democratic party challengers to Thompson and Edgar did not. Demuzio is not surprised that Adlai E. Stevenson III lost to Thompson, but he says he had entertained the thought that Thompson could be toppled. After Stevenson declined the Democatic primary nomination in order to not run with Fairchild, the winner of the lieutenant governor nomination, the state party continued to bad Stevenson, running under the label of a new party, Illinois Solidarity. "I may have held a glimmer of hope at some point during the campaign, but I knew it was an uphill battle," Demuzio says.
With Demuzio spearheading the party's effort, the Democrats tried to explain how to split a vote between the straight-party Democatic punch at the top of the ballot and the two punches necessary to vote for Solidarity candidates Stevenson, his running mate Michael J. Howlett Jr. and the secretary of state candidate Jane M. Spirgel. That effort, Demuzio says. wound up uniting the Democratic party. To get that punch-three message out, Demuzio's organization put out 700,000 pieces of literature — and supplied precinct instruction sheets to local party organizations that could pay costs. Hindsight says such an effort before the primary might have saved the party from the surprise nominations of the two LaRouche supporters. Many local Democratic groups complained after the primary that they received no outside help from the party.
Although the punch-three campaign failed to elect Stevenson, Demuzio thinks it was successful in the long term: "With out that punch-three [campaign] ... we would not have done the mailing, we would not have unified the party, we would not have done a lot of things that we did to become competitive with the Republicans. . . . That's given us an opportunity now to build for the 1988 presidential election knowing full well that Illinois is a key state."
10/January 1987/Illinois Issues
---
Adams is just as optimistic for his party. "We're stronger than we were before the election," says Adams. "We proved that our voter name list programs and our voter registration and all those nuts-and-bolts basic political tools are sharp, and we'll be ready to put them in play for the next election."
Then there's the 1990 campaign, when both parties will focus on the legislative races since those elected will be in charge of reapportioning election districts.
The key to winning elections — beyond the obvious of fielding good candidates — is technology, according to both leaders. Both boast of their efforts to perfect their lists via computer technology that makes constant updating feasible.
Adams, who estimates that the state GOP spent about $1 million on the election, says the one expensive but worthwhile proect is the party's active list of about six million voters. This computer list, to be updated with new demographic information available from more than 100 election jurisdictions in the state, forms the basis for direct mail attacks and telephone bank barrages. Adams' opinion of the Illinois GOP list: "I think we may have the best program in the United States.'' Keeping that list up to date and making it available to all Republican candidates fits what Adams sees as the role of the party: to favor no candidates but to do things that help all party candidates.
Demuzio echoes Adams on the need for a good voter list. At the party helm after the March primary, Demuzio moved quickly to get his own voter list programs up to speed through alliances with machinery already in place in the Illinois House and Senate Democratic campaign committees. House Speaker Michael J. Madigan (D-30, Chicago) headed into the 1986 campaign with a reputation for running an efficient and technologically modern campaign machine. The wins of the LaRouche candidates, however, kept Madigan from legend status. Senate President Philip J. Rock (D-8, Oak Park), who was Democratic state party chairman for a year and half before he ran and lost in 1974 for the party's nomination as U.S. Senate candidate, has worked hard to modernize the party's campaign process.
despite rumors that Demuzio has at times been coveous of Rock's Senate presidency, and despite the resentment of many in the Senate of Madigan's manipulation of the legislative process across the rotunda, Demuzio says he was able to work "very cooperatively and very effectively" with the two leaders. Consequently, he says, the voter file is now " up to date and as complete as we want it to be." The voter file program, according to Demuzio, was one reason the Democratic party raised more than ever before, about a half million dollars. Included, he says, were union donations: $10,000 from the United Auto Workers, $10,000 from the machinists and $5,000 from clothing workers. Demuzio explains: "They even make it clear: 'Let's go with the voter file. Let's not give it to individual candidates.'. . . They're also looking ahead to 1988." He adds that the state Democratic party may not have ever raised much money before because nobody was asking. He says he has changed that. He wants to put the fund-raising program on a year-around basis.
Although the next statewide election is two years off, Chicago's is imminent. Republicans hope a crack appeared in that Democratic stronghold with the election November 4 of Republican James O'Grady as Cook County sheriff. He beat 16-year veteran Democrat Richard Elrod. O'Grady's win opened a floodgate of speculation as Republicans scrambled to find a contender for mayor of Chicago. Adams thought the O'Grady win was energizing, but he will wait and see if it signals the beginning of a long-term shift in Chicago voting patterns. "The O'Grady win was very significant," he says. "It does give us hope." But with an overwhelming vote for Elrod in some Chicago wards, he points out that the city is still "the weak link in the Republican chain in Illinois."
Demuzio says that Elrod's narrow loss was probably helped by the confusion of the punch-three campaign and a breakdown in the effort by Democrats in the city.
Republicans have been savoring a chance to break into city politics in a big way since Harold Washington came on the scene in 1983. If a little-known state representative like Bernard Ep-ton could give him a run for his money in the general election that year, just think what a well-known candidate could do. The mayor's own party, representing different factions in the city, sees the same possibility of bumping him off in a one-on-one contest.
So what will Demuzio do in the mayoral election as chairman of the party? Generally speaking, stay away
Although Adams says he talked to some possible Republican mayoral candidates, he was leaving much of the recruiting to the GOP's Cook County chairman, Don Totten. "We wish him well and want to be as helpful as we can, but that's a tough one," says Adams.
Demuzio knows that the "council wars" in Chicago have been a leading factor in the perceived breakdown of the Democratic party in Illinois. Cook County Democratic Chairman Edward Vrdolyak's "anybody but Harold" campaign against Washington is evidence that personality and race are having much more to do with Chicago politics than loyalty to party.
So what will Demuzio do in the mayoral election as chairman of the party? Generally speaking, stay away. "The party ought not to stick it's nose in every municipal problem in Illinois," Demuzio says, lumping Chicago with the likes of Danville or, perhaps, Peru. "That simply is not our bag."
Actually, Demuzio knows that if it were not for the decline of the party structure in Chicago, and the wins of Hart and Fairchild, he would not have ascended to his top party post.
With six congressional districts in Chicago having enough weighted votes on the Democratic State Central Committee to produce a majority, a united Chicago would have been unlikely to elect a downstater as chairman. Demuzio thinks the state party has been subservient to Chicago interests for too long and was virtually inactive downstate in recent years except for the
January 1987/IlIinois Issues/11
---

Dan Adams, the dean of states' GOP chairs
Don Adams' early environment was as Republican as Demuzio's was Democratic. Raised in Springfield, he was born into a setting that pushed him into politics. His uncle, Bill Yates, was GOP county chairman. "That sure sparked my interest," he says. Even before he turned 21, the legal age to vote in 1956, he circulated petitions and got elected as precinct committeeman. Adams has been active in the party ever since. The wall in his Springfield office is covered with photographs of the party contacts he has made over the years. The one of Ronald Reagan has a personal note from Reagan that starts "Dear Doc," calling Adams the nickname he has had on and off since childhood.
Adams' rise in the party structure was quick and has put him in a national position of prominence in the GOP though he rarely makes headlines in Illinois. First elected to the Republican State Central Committee in 1966, he won the chairmanship in 1973 when Victor Smith of Robinson stepped down after an 11-year stint. Adams is now the dean of GOP state chairmen.
By virtue of his chairmanship, he has been on the Republican National Committee since 1973; he has also been chairman of the caucus of state GOP chiefs. More than once he has received appointments from Reagan, including a spot on the transition team after the 1980 election. He has also traveled to Canada, Europe and China to represent the party.
He has been in the public eye in Illinois, at least to the public interested in the State Board of Elections. When the board was new, Adams was nominated as one of two Republicans between whom Gov. Walker had to choose. Adams says, "He chose me because he hated the other guy.'' Adams was vice chairman of the new board from 1973 to 1978.
Except for his college days studying business at Southern Illinois University, he's lived in Springfield where he owns a small shopping strip called Lincoln Center on North Grand Avenue. "Two things you want to get involved with in Springfield [are] politics and something to do with Abraham Lincoln," he says. But Adams, a divorced father of four whose youngest child is a college freshman, says he spends most of his working time on party business.
Adams, 51, seems to enjoy what he is doing almost as much as he relishes the short drags on the thin, brown cigarettes he smokes. And he is secure in his chairmanship, at least through 1990 when his current term expires.
"I have no great desire to be a candidate or a public official myself," he says. "It's a high honor to do that; it's just that my interests lie more with the party work." He adds, with obvious
awareness of the behind-the-scenes nature of his role, "I'm happy to allow our major candidates to take credit for everything."
Where does he see the GOP heading? Upward in popularity. "If we graph the Republican party in Illinois over recent history, it shows a constant upgrowth. I think that will continue. . . . Illinois used to be a stronger Democratic state than it is now. Certainly, it's much more even. No Democratic candidate for president has won in Illinois for 22 years. That's a telling point in my mind."
He also talks of young people gravitating to the GOP. "In the last six or seven years, [in] that 18 to 32 group, over 65 percent of them identify with Republicans, and that's one of the best things we have going for us."
year and a half when Rock was its state chairman. "The Cook County Democratic party in years past . . . never wanted strong [statewide] party," he says. "The party didn't do any thing except slate candidates, basically."
He lauded Rock's efforts to better the party's fundraising an use of technology, and said that Rock "opened up the part somewhat" to interests from across Illinois. But Rock left and Calvin Sutker took over in 1974.
Demuzio saw his chance March 18, when the two LaRouch backers won his party's primary and when an unknown canididate with an ail-American name, Jeff Smith, defeated Sutker in his reelection bid to the Democratic Central Committee. Sutker did survive nomination and election to a full term in the Illinois House, but Demuzio says Sutker as party chairman had been a "nice guy" who did little and was controlled by Cook County interests.
Demuzio's bid for the chairmanship "was more spontaneous than anything else," he says. "But I felt that if this party was going to be competitive with Republicans . . . because of the debacle that happened . . . March 18 . . . there should be a chairman outside of the county of Cook to get outside this fray."'
Ironically it turned out that Demuzio's main competition for the post was Chicago Treasurer Cecil Partee, who was president of the state Senate in Demuzio's first term. As a freshman in 1975 Demuzio banded together
with seven other Democrats as the so-called "crazy 8." The group included Sens. Dawn Clark Netsch of Chicago and Terry Bruce of Olney, who has since been elected to Congress. The crazy 8 demanded rule changes and a place in leadership for Bruce before they would give their votes to Partee for the presidency. The deal was cut and Partee became the first black to be elected Senate president
Demuzio claims no enmity between himself and Partee in either contest. "Cecil Partee and I are very dear friends,'' he says if the "dear friends" business has a familiar ring, it's probably because it sounds like the state's senior senator — Alan J. Dixon. Democrat Dixon creates another irony in Demuzi's rise in the party. Demuzio took on Dixon for secretary of state in 1976 at the urging of former Democratic Gov. Dan Walker There was a risk, of course, of burning bridges by taking on Dixon, who is the party's top votegetter. Demuzio doesn't say much about that challenge. "Any time you lose it's a mistake,' he allows.
Agencies such as the one he ran in Carlinville before his first election fit right in with the philosophy he says makes him a Democrat — a philosophy consisting of scribbled notes on an old piece of paper that he keeps at the ready when he's on the speaking circuit. "I don't think that the Democratic party should ever have to apologize for representing poor people or middle class people, or people who cannot do for themselves,'' he says Republicans, he says, "simply represent those who 'have." He admits that some Democrats also "have," but "they ascribe to the principles and philosophy of the party."
Adams does not see his party as the bastion of one class He sees it as a promoter of freedom. According to Adams, "there's a difference" between parties. "I you want to narrow it down, Republicans believe in less government rather than larger, bigger government."
12/January 1987/Illinois Issues
---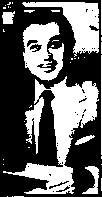 Vince Demuzio,
'just a little old
state senator
down here in Carlinville'
Vince Demuzio's Democratic roots are deep. He says he became a Democrat almost by osmosis. The son of an Italian-born coal miner, he says, "We just grew up in a Democratic environment." His father was good friends with former state Sen. Bill Lyons. Deanna, his high school sweetheart turned wife and mother of his two children, was the granddaughter of Edgar Fees, who for 23 years was Democratic chairman of Macoupin County.
Born 45 years ago in Gillespie, he says he worked hard as a young man, interspersing college clases with jobs as a yard clerk with a railroad, a lay teacher in a Catholic school and an insurance broker. He finally got a college degree in education and social services at Sangamon State University, and he's working on a master's in political science.
Perhaps his break into state goverment began in 1967, when he became executive director of the Illinois Valley Economic Development Corporation at Carlinville. The organization was in its infancy, and Demuzio became adept at applying for and receiving government grants. By the time he left in 1974 he had raised the corporation's annual budget from $24,000 to more than $3 million, helped establish a Macoupin County health agency, set up workshops for the mentally handicapped and established a senior citizens' nutrition center.
Demuzio, who has taken to chewing an unlit cigar like a healthier version of party kingpins of the past, may not be party chairman forever, but a public life seems almost a certainty. "I don't think that I would use this office as a means to rise," he says, "but I would suggest to you that anyone in public life who does not want to go up the ladder will probably not do as good a job as those that do."
Demuzio claims that he is not seeking a power base through his party work. He says he is "no boss" and has spread out party responsibilities, including formation of committees to work on sections of the party platform. "I'm only one person," he says. "I don't order people around. You try to find common ground. All I'm attempting to do is provide the tools out there to bring about an effective party." One of those new tools may be a new suburban Chicago party office, an idea suggested by U.S. Sen. Paul Simon that Demuzio wants to implement.
While Adams talks slowly and deliberately, Demuzio sometimes gets up and paces, or goes by a shelf behind his desk, where pictures and gifts include a small figure of an elephant under the hind side of a much larger donkey.
He admits that politics consumes him. "I work at this. I work at it 365 days out of the year, 24 hours a day, seven days a week." But through it all, he claims that representing his district is still at the top of his list: "I'm just a little old state senator down here in Carlinville."
When he discusses the GOP in Illinois, he does not deviate much from the line that all's right with the party. He does admit that there were some excesses in the 1986 campaigns on behalf of Republicans, especially among Senate Republicans. For example, the Republican State Central Committee's name was on a brochure called "The Pat Welch Story." The GOP had targeted Democrat Welch's 38th Senate District as one of its best bets to gain a seat, and the brochure was part of the ammunition. Welch won, and some think that brochure helped Welch rather than his GOP challenger. The pamphlet, which was issued by Senate Republicans who had permission to use the central committee's name to get a bulk mailing rate, showed a young Welch with long hair and linked him to the radical Students for a Democratic Society. Welch denies any tie to the group.
Adams was not pleased with the brochure or some of the other negative tactics used in Senate GOP campaigns, but he's not sure what effect the Welch piece had. He denies that there is any split between the state party and campaign committee officials, and he does not plan to deviate from a policy of giving a free hand to House and Senate campaign committees and to statewide candidate campaigns. He did say there would be a reevaluation of the brochure policy. "We feel mass mailings are an important tool of modern campaigning," he says. "Hard-hitting pieces seem to pay off in many areas."
Adams is proud of his party for not going through the slating process as the Democrats do. While the GOP takes no official positions in primary races, Adams as an individual did urge former U.S. Rep. Tom Corcoran to run for the U.S. Senate against incumbent Dixon. That's not inconsistent, Adams says; Corcoran was his personal preference early on. "We don't slate, but we do encourage qualified candidates to consider running for office," he says. "I never discouraged Judy Koehler. We're happy to see women get involved, too."
Adams doesn't talk much about the "could have beens." Would Corcoran have done better against Dixon, who beat state Rep. Koehler with a 65-34 percentage margin? "Ah, who knows," answers Adams.
Demuzio went out on a limb early, too, only to have it break. Before he was party chairman, he backed Atty. Gen. Neil F. Hartigan's abortive run for governor. "When Hartigan announced [for governor] the perception was we had more than an excellent chance of beating Jim Thompson," Demuzio says. But it was Stevenson instead of Hartigan who ran for governor in the ill-fated Democratic primary. Demuzio doesn't blame Hartigan's withdrawal for the LaRouche wins; he blames Stevenson and other party leaders for not spending enough money or energy on the primary and for looking ahead to the general election too soon. "I always run one race at a time," he says. He also blames the press for not telling more about the LaRouche candidates who were on the Democratic primary ballot. Is Stevenson all washed up? "I wouldn't want to comment," Demuzio answers.
What he did say was that Stevenson did just the right thing in declining the Democratic nomination after Fairchild and Hart won. "He had to make that decision," Demuzio says. "It would have been a catastrophe," he says, if Stevenson had stayed on the Democratic ticket. Voters would not have gone straight
January 1987/Illinois Issues/13
---
Democratic if there were not a way for them to cancel out votes for the two LaRouche candidates, according to Demuzio, and without the Solidarity party in the general election, "other [Democratic] candidates would not have been able to survive." On the lighter side, Demuzio, who seems like the type who could tell a good joke and lead the laughter himself, has his personal story about Stevenson's absent-mindedness during the campaign. Not long after Stevenson inadvertently called Demuzio "Vic" at a meeting of Democratic county chairmen in Springfield, there was a gathering to open Stevenson's Springfield campaign headquarters. Demuzio ended up next to Bob Benjamin, Stevenson's press secretary. "I said, 'Bob, would you please tell Adlai tonight that if he introduces me as Vic, that I intend to introduce him as Dagwood Bumstead,' " Demuzio recalls.
Adams says it is an 'incorrrect perception' to think that Thompson is not a good party man
Adams, on the other hand, does not admit to calling Thompson names. Thompson, after all, has given his party control of much of state government for a decade. While others have criticized Thompson in the past for being a go-it-alone TV candidate not beholden to the GOP, Adams has no complaints. It does seem that Thompson has drawn closer to the party in recent years, and Adams says it is an "incorrect perception" to think that Thompson is not a good party man. "He cares about the Republican party," says party chairman Adams. "He has been a darn good governor as far as we're concerned. He doesn't hesitate, when we ask him to do something for the party, to be helpful. He wants a strong Republican party in Illinois. It's to his advantage, too."
Jobs are the issue for both parties, and the more down-to-earth job issue in government is patronage hiring. Adams is glad of Thompson's policy of placing Republicans in jobs if their qualifications are equal to Democrats
seeking the same job. "It's a matter of life, and I'm glad Republican officeholders [that includes Secy, of State Edgar, too] have the majority of jobs," says Adams.
He adds that the GOP party structure is not dependent on state patronage jobs. "Most of the good precinct workers are motivated not because of patronage," he says.
"They're motivated for other reasons. If you believe in your candidate or you believe in your party, you're a good precinct worker — not just because you want a job or you want to keep a job." Demuzio disagrees: Jobs are important to a party. "A governor makes over 20,000 employment decisions a year," he says. "That means that there's 20,000-times-10 decisions that have not been too favorable [to his party during the Thompson years]," he said before the election. During the campaign, Stevenson attacked the patronage hiring system, but that didn't upset Demuzio. In his view, the system wouldn't have change much if Stevenson had been elected. He explained during the campaign: "What [Stevenson] is saying is that he wants good qualified people in state government, and if they're good, quaified Democratic people that applied, he would look favorable upon them." Demuzio also said that patronage jobs definitely help the GOP. "They've got people tromping all over the place," he said during the campaign, "and that's because they'reemployed someplace."
Until the morning of March 19, the Illinois 1986 campaign was just another campaign. Adams recalls his reaction: "It was a surprise," he says, with an easy laugh showing the enjoyment he must have felt while watching the Democrats fall into the LaRouche mess. Adams says it was a perfect example of a breakdown in "Democratic leadership" and that it is some thing that could almost never happen in the GOP in Illinois. "We go to great ends to make sure all of our local organizations are aware of the Republican candidates who are running and encouraging our candidates to get out and campaign."
Demuzio recalls that he was worried that the Democrats face disaster in the general election. His worries intensified as he went around the state preaching the punch-three gospel. Even when the pitch was made to dedicated party advocates, there were still blank stares and questions. "People feel almost that this is like sticker shock," he said late in the campaign. "I you haven't bought a new car in five years, and all of a sudden you go into the dealership and, Gosh!, cars have really gone up. Now we come into the election booth and say, 'Gosh Where'd Adlai Stevenson go?' "
Many voters, epecially older ones, had the old cumulative voting method committed to memory, Demuzio explained be fore the election. They were used to punching twice: once for the Democratic party, and once for a state representative, which before the 1980 cutback amendment gave three votes to on House candidate. As he explained, two punches was not the problem; the third punch was.
Demuzio feared the lure of "that goofy box" on the ballot where it said "no candidate" for governor on the Democratic ticket. That box, it turns out, got 298,841 votes, or 6.6 percent. Stevenson, who polled just under 40 percent of the vote still wouldn't have won with those votes.
To Adams the extra good news from the election was the un expectedly strong GOP showing in some areas of the state, such as St. Clair County where the Jim Thompson-George Ryan team beat the Stevenson-Howlett team by more than 7,000 votes There were also disappointments, most notably the second defeat of Republican Randy Patchett by incumbent Democrat Ken neth Gray in the 22nd Congressional District. Polling had shown dissatisfaction with Gray, according to Adams, and he'd ok viously counted on Patchett's winning. "It was hard for me to understand that one," Adams says.
In the end, only 3 percent of the voters cast Democratic straight-party ballots, and 14 percent Republican straight-part ballots. In 1984 each party got 20 percent. Republicans suffered a drop even though the official party message, led by President Reagan and echoed by Adams, was that a "safe" vote was a Republican straight-party vote.
14/January 1987/Illinois Issues
---
Illinois Periodicals Online (IPO) is a digital imaging project at the Northern Illinois University Libraries funded by the Illinois State Library