By WEN HUANG
Ag Director Doyle:
nontraditional choice for traditional agency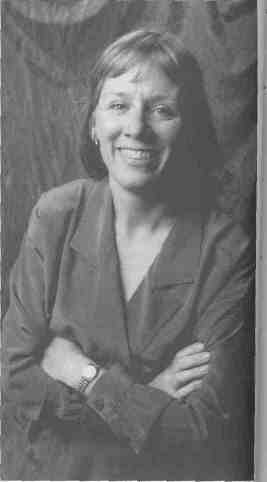 Photo by Terry Farmer/Showcase Photography
Rebecca Doyle
Except for the Illinois State Fair's two-week run, the fairgrounds on Springfield's north side provide a peaceful spot for the Illinois Department of Agriculture. That calm was shattered in January when a 37-year-old Macoupin County woman walked into the director's office and took over the state agency charged with boosting Illinois's No. 1 industry. To most of the farm community, Becky (Rebecca Carlisle) Doyle, the first woman to head the Department of Agriculture, was an unknown quantity.
Doyle was well-known to residents of House District 98. In 1986, prodded by friends from agricultural organizations, Doyle had embarked on a campaign against incumbent state Rep. Gary Hannig (D-98, Benid). At the time, Doyle was raising two sons and helping her husband. Ken, with their Gillespie hog and grain farm. She also ran a mail-order business that featured gift baskets of Illinois products. And she had been actively involved in agricultural issues as Macoupin County Farm Bureau chair.
For Doyle the elective foray was a logical progression: "There are only about 2 percent of the population directly involved in agricultural production, and my friends convinced me that we need more people with the knowledge of both agriculture and the government system. What is more, I was home with two boys, and hoped for anything to get me out of the house."
She campaigned hard, learning all she could about issues including education, welfare and rural health care. Her University of Illinois degree in agriculture communication and her other agricultural involvement helped. Rep. Karen Hasara (R-100, Springfield), who was running in the adjoining district in 1986, recalls: "Becky Doyle was very knowledgeable and intelligent and fit in very well in her district. . . . She was the kind of person people were looking for to represent them in the General Assembly."
Doyle lost by 1,195 votes (3.6 percent), but she didn't feel despondent: "It was a wonderful learning experience. I met and got to know a lot of good people." One of those people was then-Secretary of State Jim Edgar who campaigned for the novice GOP challenger. "It was a big help because he was very popular in my district, and it gave me credibility to have the secretary of state campaigning with me," Doyle says.
The small towns in the 98th District were far apart, leaving Doyle and Edgar time to talk while driving between campaign stops. One topic, Doyle recalls, was agriculture. Edgar describes her as "well-organized, enthusiastic,
10/July 1991/Illinois Issues
---
articulate and a fast learner."
The impression lasted, and when he was elected governor last November, Edgar invited Doyle to join his transition team. Her performance as chair of the agriculture subcommittee prompted Edgar to appoint her as director of the agriculture department.
"Becky has good qualifications and the personality, and she represents the new crop of young farmers who are going to make a difference in Illinois agriculture," says Edgar. The governor is confident that Doyle's background in agriculture, her marketing experience and her involvement with trade issues will make her both a good salesperson for agriculture in Illinois and a strong spokesperson who can act as an intermediary between agricultural interests and other state agencies, while also building bridges between farmers and nonfarmers.
Doyle realizes the importance of the two-fold mission. Illinois is second in food production in the nation, Doyle says, and developing markets for Illinois products is vital to the viability of the Illinois economy. Two months after she took office, Doyle created the Bureau of Food Marketing and Promotional Events. The bureau combines expertise in market development with food promotion at state fairs. Doyle sees the new bureau promoting Illinois' food industry, helping spot the potential markets and serving as market consultant to smaller domestic food companies.
To Doyle, the bureau should aim not only at domestic markets, but also at potential overseas markets. "In the past, traditionally, Illinois ag producers and businesses have not been active in overseas marketing development, and we should encourage and help them,'' says Doyle. While studying at Washington University, Doyle took an interest in international trade and economics. Trips to Europe and the Soviet Union several years ago further enhanced her belief that Illinois farmers have a lot to gain from free trade with both Canada and Mexico: "We have a lot of products to sell." Doyle says that ag finance, ag management and computer technology are on the threshold of booming: "If we can market overseas, the foreign countries can benefit from our knowledge and our technology and expertise."
Doyle sees in free trade both new markets for Illinois agricultural products and a better standard of living in underdeveloped countries. "If we can help a country develop and feed its people, their policymakers will become socially conscious just like us. Any opportunities we have that we can help a country develop through being a trade partner with them, we should take," Doyle says.
Doyle supports the fast track authority with which Congress must vote up or down a whole package of trade agreements. In that way, Doyle says, other countries will have confidence that the agreement is either going to be the way they negotiated it or it won't go through at all. "If they don't have the fast track authority, then Congress can put an amendment on it and can change the whole intent of a whole package . . . then we lose credibiltiy with the people we negotiate with," Doyle says.
Besides trade and market development, Doyle devotes much of her time to opening lines of communication between the agriculture community and state government, between farmers and nonfarmers. "Doyle has her education background in communication, and she is very good working with all kinds of groups and putting them together," says Hasara.
Developing good relationships with the Illinois Environmental Protection Agency and the Department of Conservation tops Doyle's agenda. In the last few years, farmers have been depicted as opposed to environmental causes. Doyle argues that farmers were environmentalists before it was popular because of the importance of soil, air and water quality to their way of life. Besides, farmers are consumers too: "We don't want to eat pesticide-tainted food or anything. Even though we use pesticides and other chemicals, we try to do it in the best management style, to minimize the use so that there isn't carryover and residues left that could be harmful."
One issue that will require work with other state agencies is the preservation and protection of Illinois' farmland. "We are losing primary farmland not only through soil and water erosion but also urban sprawl. It is really a serious problem. Illinois has been the lead state in soil conservation, and we don't want to lose that," Doyle says.
Doyle defines another aspect of her mission as communicating messages either from the governor to different farm groups or from them to him. Since January Doyle has traveled to different parts of the state and talked with farm groups. "I tell them that I am here, and if you have problems, I would be glad to talk to you, or if I don't have the answers, someone in the department does."
One agribusiness group worried about state government is the Illinois Chemical and Fertilizer Association, which has long complained about multiple regulations from different agencies in the last few years. "We all realize there needs to be some laws and some regulations, but we just don't want the pendulum to swing too far. Now we can't take one step without having a regulation." says Lloyd Burling, the association's president.
Doyle says she understands their dilemma. She says the state mandates on secondary containment — the required concrete structures designed to contain spills from burst tanks — are expensive. This is a burden when farmers have lots of tanks and an even heavier burden when sales are dropping. "We want regulations, but we want those that are necessary in protecting the environment, not somebody's whim," she says. Since farmers would rather be regulated by her agency, Doyle says that it should have an adequate and fair regulatory enforcement program. "We have to be firm, but on the other hand make sure they understand the regulations before they are excessively fined or even put out of business."
Her tours and talks have impressed some favorably. "She has a good handle on ag issues," says Bob Brauer, president of the Illinois Pork Producers Association. "It is very important for the person in that position to understand our point of view.'' The Illinois Farm Bureau noted that Doyle's excellent understanding of production agriculture and the respect and support that she has from the governor will be key elements in her effectiveness.
Doyle recognizes that it is not enough to talk only to farm-
July 1991/Illinois Issues/11
---
ers. In Illinois, only 2 percent of the population are involved in agricultural production; that means that 98 percent are less concerned about agriculture. Most of the farm organizations feel the strong need to get their messages across to the general public, to dispel the mysteries and misperceptions about farmers. Doyle reads their minds.
Mike Baise, assistant Illinois director of agriculture, says that Doyle's efforts to convince the public that the department serves more than farmers distinguishes her from previous directors. Doyle has talked with nonfarm groups like Leadership Illinois, a group of women who hold public and private leadership posts. "If the agency is to survive, much less to be prosperous, you need to help people understand that the department actually serves 100 percent of the population," says Doyle.
Doyle says most of her department's regulatory programs are consumer protection. Meat inspection, for example, requires that animals be killed in a humane way and that meat products be processed in a clean and wholesome environment. The department affects all state motorists with its regulation of gasoline stations. Doyle explains: "We measure the volume of gas the pumps put out, to make sure if you buy 15 gallons of gas, you actually get 15 gallons of gas." According to Doyle, the department recently initiated a pilot project to test the octane rating of gasoline.
Changing public attitudes also includes getting urban legislators interested in agricultural issues. "There is a geographical segment in the General Assembly who have a difficult time understanding why ag is so important, and Becky will be good at doing that," says Hasara. Doyle says that creating the Bureau of Food Promotion is important for legislators: "Most of them don't realize how much we impact on people in their districts."
And Doyle has her own way of persuasion. "What we have to do is not to tell people what we want them to know but to find out what they want to hear and give them the information they want. We have to put it in terms that they understand." Citing the importance of funding ag research, Doyle says the research makes farm production more efficient and keeps food costs down, thus benefiting urban low-income families. "If we could put them in those terms, it would mean something to the urban legislator who has a lot of low-income families in his or her district. [Then] they may favor legislation for putting state dollars into ag research."
For Doyle, dealing with a government agency with more than 700 employees and a budget of $59 million is different from managing a hog farm. She takes it as another learning experience. "What I want to do right now is try to learn as much as I can about our programs and then find out whether a slightly different structure or some personnel changes are needed. I want to make sure I know what I am doing before I do anything."
Doyle designed a survey for department employees, asking for their problems and advice. "Some of the people have worked day-to-day for 30 years. It is important for me to get their input into what directions the department goes. A lot of them have good ideas for making programs better, and maybe nobody is listening to them yet. I hope some good ideas surface and maybe pinpoint some problems." Doyle says she won't do any reorganization until she has reviewed the survey.
Like other state agencies, the ag department is facing a 5 percent slash in its budget for the fiscal year that starts July 1. "It is frustrating to come in as a new director and try to improve yourself, but you don't have any money to do anything." According to Doyle, most of the cuts fall on ag research, like the funding of a biological center in Peoria, which is important to the future of Illinois agriculture: "We don't want to be a hindrance to their progress, so we hope to restore full funding to the program soon."
In light of the current fiscal situation, she says most of the emphasis will be on preserving the basic services and making programs more efficient. "What we need to do is analysis. So far [early June] we haven't had to submit a layoff plan to the governor's office, but we are not filling positions as people retire. We will probably end up with a few less people around here and still get the same amount of services, so we need to find out what is important."
Almost half a year has passed since Doyle became the ag director, and the initial reviews of her performance are mixed. After Doyle's appearance at an Illinois House Agriculture Committee hearing, chairman Bruce Richmond (D-l 16, Murphysboro) says that her answers to the legislators' queries about her plans were routine and that he didn't see any sparks of "fresh ideas." Over in the Senate, Sen. Ted Leverenz (D-26, Maywood) made the same remarks after the Senate appropriation hearing: "She is the most unequipped of any directors that I have seen in the entire history of my 17 years serving in the General Assembly. ... It is one of the Edgar administration's most embarrassing moments so far in state government."
Despite the sharp criticism, legislators are willing to help. "I am certainly not at cross purpose with the administration just because I am not in the same party," says Richmond. Senate Agriculture Committee Chairman William L. 0'Daniel (D-54, Mount Vernon), who disagreed earlier with Doyle's decision to terminate a long-time contracted lawyer for the agriculture department, says he will give Doyle the benefit of the doubt and hopes the department will remain a strong voice in the General Assembly.
Finally, there is the question of gender; some farm organizations perceive Doyle's appointment as a challenge to the male-dominated farm industry. "Becky is a nontraditional choice for a traditional agency," says the Illinois Farm Bureau's Jon Scholl. "I think a professional well-educated and well-spoken person will help further lower the barrier, and hopefully we can come to a point where it is not going to be an issue."
Doyle agrees. "Ever since ag began, women have been very active, driving parts of ag. So anytime any of us gets a chance to accept the recognition I think we should take it. Whenever we get a chance to take one more step for women in ag, I feel the obligation to do so." She adds, "... we need to start to look to women and young people in the industry for some ideas, rejuvenation and energy, and ask how we can help them to get in a postion to help ag."
Even so, there will be a certain amount of initial skepticism among the "good old boys," says Baise. To gain the confidence and trust of farmers, it is not what she says that counts but what she does to invigorate Illinois agriculture.
12/July 1991/Illinois Issues
---