---
By JAY FITZGERALD
---
Gary LaPaille: Madigan's 'no' man and state Democratic party chairman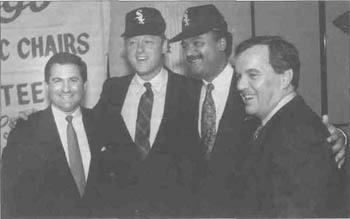 Photo by Richard Foertsch/Photoprose
In Chicago late last year for state party chair meeting are, from left, Illinois State Party Chair Gary LaPaille, Arkansas Gov. Bill Clinton, National Democratic Party Chairman Ron Brown and Mayor Daley.
It was an ambitious young politician's dream come true: Last November, he gets on the phone, calls a meeting in Chicago of 1992 Democratic presidential wannabees — and the candidates answer his summons. As a bonus, Gary J. LaPaille, 37, the youngest chairman in the history of the Illinois State Democratic Party, gets a stream of favorable media coverage.
Also last year, his ability to grab headlines with his wisecracks prompted Republicans to hire Eugene Reineke as executive director of the state GOP, in part to counter LaPaille's media savvy and political organization skills. Then just last month, LaPaille announced he will run for the Illinois Senate from Chicago's 11th Senate District, prompting Democratic incumbent Frank Savickas to immediately withdraw from the race.
Gary LaPaille is a man on the way up, with Democrats and Republicans alike viewing him as a natural candidate for statewide office. However, despite his recent political successes, LaPaille remains a man patronized by those who contend that he is merely House Speaker Michael J. Madigan's means to control the state party apparatus and its $1 million war chest. LaPaille has been dogged by that accusation for two years, ever since he unseated state Sen. Vince Demuzio (D-49, Carlinville) as state party chairman.
LaPaille remains the target of such criticism because he continues to serve, as he has most of his adult life, as Madigan's chief of staff in the Illinois House. Even if LaPaille becomes a senator and quits as Madigan's strong right arm in the House, speculation will continue about whether he's doing Madigan's bidding in the Senate. It's not a totally unfair question to ask because of LaPaille's long association with Madigan, a man LaPaille says he doesn't even have to talk with to know what he wants. The son of a Chicago 13th Ward alderman, LaPaille cut his political teeth as a teenager while an office clerk to Ward Committeeman Madigan. LaPaille and Madigan to this day live only blocks away from each other, and LaPaille considers Madigan not only as an employer, but also as a mentor, confidant and even the older brother he never had. Madigan is godfather to LaPaille's only son, Joseph.
Fully aware of the sniping about him, LaPaille has confidently plunged into his new role as party chairman, asserting that he sought the post on his own and takes no orders from Madigan on party matters. However, at the same time, LaPaille openly boasts of implementing tactics at the state level that he learned from Madigan.
"I know it's synonymous to print after my name a comma, saying 'Gary LaPaille, chief of staff to Michael Madigan,' " says LaPaille, whose aggressive, extroverted personality contrasts with Madigan's reclusive nature. In the Statehouse, LaPaille is known as the super loyal, even ruthless "no" man (LaPaille's description) who keeps the Democratic staff and membership in line while Madigan quietly keeps tab on matters from behind his closed Capitol door. LaPaille is known to make people work long hours, even on holidays. He recalls that he and Madigan once campaigned in Chicago on Christmas morning: "If it was good enough for us, it's good enough for them."
Of his relationship with Madigan, LaPaille says, "I don't see that as a negative at all. Mike Madigan has probably done more to help the state Democratic party and candidates at all levels, both downstate and in Cook County, over the past 10 years ....
12/February 1992/Illinois Issues
---
He has got a great reputation. He's just a great person. To suddenly cut him off as an adviser and a friend would be ridiculous.
"But I'm 37. I do have some time to develop my own identity. I think I'm doing that now by moving around the state on my own as party chairman. I'm beginning to develop my own constituencies, my own supporters throughout the state."
Two years ago critics from both parties eagerly painted LaPaille as a political hack grabbing power at Madigan's behest. Today there are fewer critics, and those who remain are grudgingly tempering their remarks. Although these critics turned critic-admirers do not believe LaPaille's assertion that Madigan doesn't have his finger in the state party pie, they see LaPaille emerging from Madigan's shadow.
"I view Gary as a very tough and formidable opponent," says Reineke, LaPaille's GOP counterpart. "I think Gary is in the position he's in now because of his mentor, Michael Madigan. But I also think Gary does indeed have his own ambitions. I don't view it totally as Gary being a front man for Madigan."
There are many similarities between what LaPaille has done with the state Democratic party and what Madigan and LaPaille have done in the Illinois House. LaPaille has been busy raising money and organizing the state committee along the lines of Madigan's disciplined and well-financed legislative machine. It may be too early to tell how successful LaPaille will be, but 1990 wasn't such a bad year for Democrats. Their candidate, former Atty. Gen. Neil F. Hartigan, barely lost the gubernatorial race to Jim Edgar. Democrats won three statewide constitutional offices, retained their majority on the Illinois Supreme Court, won an additional University of Illinois trustee seat, reelected U.S. Sen. Paul Simon, maintained their majority in the Illinois Senate and added five new seats in the Illinois House.
Democrats did well in local races, too. LaPaille implemented a "coordinated campaign" approach that melds the constituent mailings, advertisements and fundraisers of statewide and local candidates. LaPaille calls the effort "regional targeting" and claims it helped Democrats knock off 60 Republican incumbents in 1990 including county sheriffs and county clerks. The state party now plans a pilot program in which it will target vulnerable local Republicans, then recruit candidates and manage their campaigns.
Such a tactic would mirror the Madigan approach to legislative races, whereby the speaker dispatches pollsters, staff and money to viable Democratic House candidates from southern Illinois to suburban Cook County. The tactic has allowed Madigan, who became speaker in 1983, to build a 72-member, veto-proof majority in the House. Coordinating those past legislative campaigns was LaPaille, known as a bare-knuckled, hard-driving political tactician willing to go for the jugular when necessary. In 1986, former state Rep. Sam Panayotovich, a Democrat-turned-Republican in Chicago's 5th district, was targeted for defeat by Madigan's staff. LaPaille dredged up Panayotovich's voting, travel and contract records as a way to "set an example" so that other Democrats would not be tempted to switch parties. "We had to go in with guns blazing and spend $150,000 to unseat him, which we did," says LaPaille.
Likewise, LaPaille has been known to abandon the wounded when a cause looks lost. In 1990, the Madigan-LaPaille team targeted for defeat state Rep. Art Tenhouse, a freshman Republican from Liberty, in west central Illinois, and backed Quincy Mayor Vern Hagstrom as the Democratic candidate. When polls showed Hagstrom doing poorly in early October, Madigan and LaPaille yanked their staff and money out of the race upsetting Hagstrom and local supporters.
LaPaille is determined to try to transfer that same disciplined and successful formula to local races, orchestrated by the state central committee he now heads. Others question whether such "ward style" politics will work when the gulf between managers (at the state level) and candidates (at the local level) is so great. "It's a good theory they're using," says Pam McDonough, former chief of staff to House Minority Leader Lee A. Daniels (R-46, Elmhurst). "I think they're thinking in terms of ward reorganization, something Republicans don't do very well.... But the theories may be there, but not necessarily the dynamics."
Regional targeting has nevertheless caught the eye of other Republicans, who were impressed enough with LaPaille's 1990 effort to copy it in 1992. "We can learn some things from the Democrats," says the state GOP's Reineke, noting he was impressed with the unified way Democrats spent their money and staked out their positions in 1990.
There's no top-heavy staff in the Democratic state party. LaPaille is molding the state party apparatus after Madigan's "lean and mean" House operation. To free up funds for campaigns, LaPaille cut staff from 25 full-time employees to just four. Last election cycle the state party raised $2 million, which LaPaille had a major say in spending. As executive director of Madigan's two campaign committees, he also had a say in spending another $2.4 million on House races.
LaPaille cannot take credit for all the successes of the state Democratic party. Downstater Demuzio had become chairman in 1986, when the party was suffering the ravages of racial divisions in Chicago and the embarrassment of Lyndon LaRouche followers' winning the Democratic nomination for lieutenant governor and secretary of state. Under Demuzio, the party began reorganizing its fundraising, mailing and voter files. Then LaPaille took over. Demuzio and others believe that LaPaille and Madigan grabbed control of the central committee to get their hands on the machinery that Demuzio had built, particularly the computer records of every voter in the state. Previously, only Madigan's campaign committee had such a comprehensive record. Now, with LaPaille in control of the party, it can be argued the Madigan team still has exclusive control of such records. "We took a dormant party and did what we could do," says Demuzio, still smarting over his ouster. "Once we put the party back on track, they [LaPaille and Madigan] decided to take it back."
LaPaille also has borrowed a page from Madigan by using his power as chairman to maintain party harmony and squelch divisive interparty fights. That's precisely what LaPaille did when minority and female committee members balked at endorsing U.S. Sen. Alan J. Dixon over his primary opponent, Cook County Recorder of Deeds Carol Moseley Braun. Sensing a brawl and subsequent media feeding frenzy, LaPaille convinced both
February l992/Illinois Issues/13
---
Dixon's supporters and opponents that a divided vote would do more harm than good and that no endorsement should be made. "I think Gary has shown a lot of initiative, a lot of willingness to listen to different perspectives," says Chicago Alderman Bobby Rush, a central committeeman who "leaned toward" Braun. Both Rush and Braun are African American. "I think Gary is well equipped to keep the party out of any fight," says Rush.
Again, Madigan provides the model for LaPaille. During the 1980s, Madigan successfully kept the House from becoming bogged down in Chicago's racially divisive Council Wars when Harold Washington was mayor but the City Council majority was led by Alderman Edward Vrdolyak. "I've learned from the speaker that we only win by addition," says LaPaille, who recalls blocking controversial bills and amendments filed in the House by both sides of Chicago's Council Wars. "If I'm only working for one group versus another, we're not going to win, we're not going to keep it together. My job is to make sure they [central committee members] are not battling with each other, as Madigan did here in Springfield by making sure House members weren't battling each other."
LaPaille, like Madigan, must also hold together a geographically diverse party with strong interests both downstate and in Chicago. In the House there have been constant grumblings by downstaters about not getting enough legislative goodies, but there's no indication of deep-seated resentment toward Madigan. LaPaille is quick to flash his downstate credentials. He says that he lived full time in Springfield from 1976 to 1988 and still owns a house there. LaPaille says that he's worked in numerous legislative campaigns throughout the state. "I've even worked on agriculture issues in the legislature," brags the born-and-bred Chicagoan.
---
'I've learned from the speaker that we only win by addition'
---
"The fear when I became party chairman was that they [downstaters] would never see me because I was going to be the 'Chicago ward-style chairman' of the state Democratic party. I think all of those allegations have been totally set aside," LaPaille says. So far, there has been no flood of complaints about LaPaille's distribution of party resources. About the only criticism from downstaters is done off the record and in hushed tones, hardly indicative of a downstate revolt.
Perhaps the greatest challenge that LaPaille has had to face hasn't come from minorities, women or downstaters, but from a fellow Chicagoan: Mayor Richard M. Daley. In an unusual display of animosity, a steaming Madigan last July blasted Daley for getting overly involved in legislative matters during the General Assembly's 19-day budget impasse. Accusing Daley of making secret deals with Republicans, Madigan told the mayor to mind his own business when it came to General Assembly matters. The media, ever watchful of a rift between the two Irish-American titans, had a field day with the squabbling. LaPaille downplays the blasting that the speaker gave the mayor. "I think the media kind of overplayed that," says LaPaille but admits that he was a "little nervous for a month or so" until it was evident all was quiet between the two. What would LaPaille do if the two continued battling? "It would make life more difficult," he says.
Besides smoothing over differences between Madigan and Daley, between Chicago and downstate and between blacks and whites, LaPaille must develop a fit between the Illinois party and the national party. LaPaille, like Madigan, views himself first and foremost as a political strategist. LaPaille boasts of his nuts-and-bolts accomplishments: fundraising, coordinated mailings, outreach programs, negotiations and compromises, cuts in staff. The national party has been urging state committees across the country to adopt a more unified "coordinated campaign" in preparation for the 1992 presidential election, and LaPaille says his party is ready.
However, many critics feel the national party is overly influenced by liberal interest groups, which have a large say in nominating presidential candidates who then get trashed in general elections by a more moderate electorate. A "coordinated" campaign between the state and national parties could suffer if Illinois Democrats nominate moderate candidates, while the national party nominates a presidential candidate to the left of the political mainstream.
LaPaille's roots, like Madigan's, are in the traditional wing of the party. Both view political issues as a means to an end: getting more Democrats elected. LaPaille says that he learned from Madigan that a leader has to manage the issues and not let the issues manage him. "We know that we've lost votes to the Republicans over the last 10 years," says LaPaille. "People don't want any politician or any party to be out wanting to raise taxes and spending more money. People feel that, 'By God, we give enough money. They should manage it better and give us more and better services.' So I think that is what the Democrats have got to do in the future, start talking about managing money better and use it better.... But at the same time, while we try to move the party back towards maybe more of the middle, you can't lose some of the base of support you've always had — unions, women's issues, minorities. So it's a delicate balance you have to do."
It may be a delicate balancing act, but the bottom-line philosophy for LaPaille, as well as Madigan, has always been: Win. That's what LaPaille learned as a teenager working for Committeeman Madigan in the 13th Ward. That's what he learned as Speaker Madigan's chief of staff. That's what he's implementing on his own at the state party level, as he increasingly cuts his own political image separate from that of Madigan.
Says LaPaille, the state party chairman, "We're about defeating Republicans." As long as LaPaille is winning, little else matters.
Jay Fitzgerald is a Statehouse reporter for the State Journal-Register in Springfield.
14/February 1992/Illinois Issues
---