The state of the State
Election results:
Good-bye status quo
By AMYLLEN L. BODILY and MICHAEL D. KLEMENS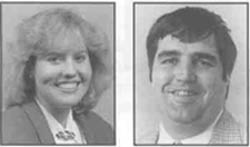 Carol Moseley Braun's upset of entrenched U.S. Sen. Alan J. Dixon and well-financed challenger Albert F. Hofeld drew most political analysts' attention following the March 17 primary. There was more to the election than Braun's upset in the Democratic primary. Voters ousted veteran state lawmakers and congressmen. Voters also nominated a woman for a seat on the Illinois Supreme Court, where no woman has sat before.
Supreme Court vacancies created by the resignations of Justice William G. Clark (First District) and Justice Thomas J. Moran (Second District) and by the death of Justice Horace J. Calvo (Fifth District) drew 21 candidates to the primary contests. If elected in November, the First District Democratic nominee, Mary Ann McMorrow of Chicago, would become the first woman elected to the state's highest court. McMorrow, an appellate court justice, was slated by Cook County Democrats. She bested her nearest opponent, Michael Howlett Jr., by more than 50,000 votes.
In November McMorrow will face Republican nominee, veteran Appellate Judge Robert C. Buckley of Arlington Heights. He got more than three times as many votes as his opponent, Themis Anagnost, who at age 78 had to go to court himself to stay on the ballot because of the mandatory retirement age.
Buckley, making his second bid for a high court seat, lost in 1990 to Charles E. Freeman, the first black elected to the Illinois Supreme Court. If Buckley wins, he will make history as a Republican justice elected from Democratic Cook County; if he loses, he will be a footnote to Illinois political lore and the answer to a trivia question: What candidate lost both to the first black and to the first woman on the Illinois Supreme Court?
The Democratic primary in southern Illinois' Fifth District produced a decisive win for Moses Harrison II of Caseyville. An appellate court judge, Harrison out-polled three other candidates. He ran the most agressive campaign, outspending his opponents (with money he lent himself) and outhustling them for endorsements.
Winner of the Fifth District Republican nomination by a two-to-one margin, Don W. Weber of Edwardsville, an attorney in Collinsville, had name recognition as prosecutor of the Paula Simms kidnapping case and ran a more aggressive campaign than his opponent.
In northern Illinois' Second District, no Democrat filed for nomination, but the Republican primary was a four-way contest for the traditionally Republican district. Appellate Court Judge John L. Nickels of Maple Park beat his closest opponent by almost 20,000 votes. Finishing third was George Unverzagt, who was endorsed by DuPage County GOP Chairman James "Pate" Philip. Democrats may still recruit a candidate to run against Nickels. Ron Michaelson, executive director of the State Board of Elections, says that the party committees have 60 days after a primary to fill any candidate vacancy.
Ironically, two of the five seeking election to the Supreme Court are pushing to change the rule which prohibits candidates from talking about issues. Supreme Court Rule 67 bars candidates from discussing issues they may later be asked as justices to decide and effectively prevents debate on all but administrative matters during judicial campaigns. Nominee Buckley filed suit charging that the rule is unconstitutionally vague, overly broad and a violation of a candidate's right to free speech. Nominee Weber also drafted a challenge to the campaign gag rule.
New districts drawn with Republican penmanship for all Illinois House and Senate seats changed the odds for some
8/April 1992/Illinois Issues
---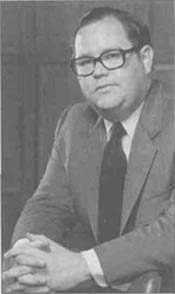 Michael H. (Mike) Hudson
In Memoriam Michael H. Hudson
Michael H. Hudson, 50, Illinois Issues board chairman since November 1985, died unexpectedly February 28 in Park Ridge. His strong leadership will be greatly missed at Illinois Issues and in all the other arenas where Mr. Hudson provided so much of his time, energy and vision.
He was vice president of public affairs at Illinois Tool Works Inc., which he joined in 1969. Among his many activities, Mr. Hudson was a member and former president of the Chicago Area Public Affairs Group, a trustee of the Foundation for Public Affairs, a trustee of the Taxpayers' Federation of Illinois and a member of the executive committee for the Illinois Ambassadors. He was also a behind-the-scenes adviser in Republican politics. Mr. Hudson was a native of Vicksburg, Miss., and a 1963 graduate of Mississippi College.
Joining the Illinois Issues board in April 1981, Mr. Hudson immediately contributed his special talents to the magazine. Under his leadership as chairman, Illinois Issues set a goal to increase its subscriber base by 50 percent — and achieved it. Under his leadership, the magazine accomplished another critical goal: publishing a textbook for junior and senior high school students that "really" explains Illinois government and politics, entitled Governing Illinois: Of the People, by the People, and for the People. He also led Illinois Issues' efforts to establish the Illinois Legislative Internship Hall of Fame and the induction of its first members in November 1990.
But Mike Hudson would never have claimed all the credit. He was that kind of person — always willing and extremely capable of directing these efforts by staff and board with his kindly nudges and astute judgment for overcoming all obstacles.
Mike Hudson will be sorely missed. Former Illinois Issues publisher, J. Michael Lennon, says: "He was a political junky and an appreciator of good writing. He threw himself into the problems and challenges of Illinois Issues with ferociousness, and he was particularly adept in bridging the worlds of business, labor and academe and had many friends in all these areas."
Samuel K. Gove, Illinois Issues charter board chairman, says: "He was a great person who was concerned about important issues. He made a difference. The saddest part is that he left us so early when he could have done so much more."
Mr. Hudson is survived by his wife, Linda; their son, Buell; and his mother, Beulah.
Caroline Gherardini, Editor
incumbents. The prospect of running in new districts discouraged several veteran lawmakers from attempting reelection; but the same new districts emboldened challengers to come forward. The result will be the greatest turnover in membership in over a decade.
In the Senate, where no incumbent had suffered electoral loss since 1986, 16 senators this year either chose to seek other offices or not to run at all. In the House, 15 incumbents sought Senate seats, and 11 others sought nothing.
The primary toppled 16 incumbent lawmakers. The Democrats lost 10, and Republicans, even with their own maps, lost six veterans in the primary. Six of the 10 Democrats fell in head-to-head incumbent matchups, including five in Chicago:
3rd Senate District. African-American Sen. Margaret Smith, a state lawmaker since 1981, bested Sen. Pam Munizzi, who is white and was a House member until appointed in February to the Senate seat vacated when John Daley was appointed to the Cook County Board.
5th House District. The contest was between an incumbent and a "barely" incumbent. Rep. John M. McDonough, appointed to Munizzi's House seat less than a month before, lost narrowly to Rep. Lovana S. "Lou" Jones, a House member since 1987. McDonough is white; Jones is black.
14th Senate District. The battle between two veteran lawmakers was won by Sen. Emil Jones Jr., previously a House member and a senator since 1983. He defeated Sen. Howard Brookins, a senator since 1987 after serving in the House since 1983.
15th Senate District. Rep. William "Bill" Shaw, a five-term black representative, outpolled a white incumbent, Sen. Richard F. Kelly Jr., by 2,000 votes. Kelly has been a senator since 1983 and before that a House member since 1973. Finding a seat for Kelly was one of the hangups last June when Democrats attempted to forge a redistricting plan.
24th House District. Rep. James Phelan, a white freshman lawmaker, defeated Rep. Paul L. Williams, a three-term black representative, by more than 1,000 votes.
Only one downstate race pitted two Democratic House incumbents against each other. In the 76th House District, Frank Mautino of Spring Valley, who was appointed to his father's seat last fall, bested first-term Rep. Tom P. Walsh of Ottawa.
Four other Democratic incumbents fell to primary challengers. All were in the House, and all involved Chicago districts:
17th House District. Carol Ronen, an assistant Chicago housing commissioner and former Daley campaign aide, bested seven-term veteran Lee Preston by less than 1,000 votes.
28th House District. Thomas Dart, who is white and on the staff of the Senate Judiciary Committee, defeated Rep. Nelson Rice Sr., a five-term black incumbent, by about 400 votes.
33rd House District. Rod Blagojevich, an attorney and son-in-law of Chicago Alderman Richard Mell, defeated Rep. Myron Kulas, a seven-term incumbent, by about 4,000 votes.
34th House District. Nancy Kaszak, a Chicago Park District attorney who fought lights at Wrigley Field, defeated Rep. Al Ronan, a seven-term incumbent well-known for his independence from House Speaker Michael J. Madigan, by more than 2,500 votes.
But the effect of new districts cut across
April 1992/Illinois Issues/9
---
The state of the State
partisan lines as six Republican incumbents fell to primary challengers:
37th House District. Carl J. Vandenberg, a Tinley Park trustee, beat freshman Rep. Manny Hoffman of Homewood by 1,500 votes. Hoffman attributed his defeat to Republicans taking Democratic ballots to vote against incumbent U.S. Rep. Gus Savage in the 2nd Congressional District.
44th House District. Thomas Walsh, a public relations executive and Water Reclamation District commissioner from LaGrange Park, defeated four-term incumbent James Stange of Oak Brook by more than 1,000 votes in a three-way contest.
55th House District. In a rematch of the 1990 contest she lost by six votes, Rosemary Mulligan, a paralegal from Des Plaines, bested Rep. Penny Pullen of Park Ridge by 1,200. An eight-term representative, Pullen is an assistant minority leader and an outspoken opponent of abortion. Mulligan staked out an abortion rights position both in 1990 and 1992.
56th House District. Carolyn Krause of Mount Prospect defeated five-term incumbent Rep. David Harris of Arlington Heights by more than 1,500 votes in a four-way race. Challengers had anticipated that Harris would run for the Senate.
87th House District. Dan Rutherford, a businessman from Pontiac backed by former U.S. Agriculture Secretary John Block, won the Republican nomination. Finishing last in the three-way race was Rep. Les Conkling, appointed last summer to replace Tom Ewing who replaced Ed Madigan in Congress.
88th House District. Businessman William E. Brady of Bloomington was the apparent winner over Gordon L. Ropp, a seven-term incumbent from Normal. Brady's unofficial eight-vote margin will likely be challenged in a recount.
One other Republican incumbent lost when Rep. James Kirkland of Elgin sought nomination in the new 33rd Senate District. The five-term veteran fell to Elgin businessman Steven Rauschenberger by less than 1,000 votes.
The purge of incumbent state lawmakers is not over. At least five others will fall in November contests between incumbents of opposite parties. Others may lose to challengers.
Four Illinois incumbent U.S. representatives — all Democrats — fell in the Illinois primary elections. One did not run — Chicago Democrat Frank Annunzio. Complicating incumbent reelection were the loss of two Illinois seats to reapportionment and the creation of a new Chicago Hispanic district. In two districts incumbents faced incumbents; in two others, challengers beat incumbents.
1st Congressional District. Challenger Bobby L. Rush, a Chicago alderman and one-time Black Panther, beat third-term incumbent Charles A. Hayes by 4,000 votes. Rush questioned Hayes' effectiveness, and Hayes was not helped by the revelation that he had bounced more than 700 checks on his bank account with the U.S. House.
2nd Congressional District. In his third attempt as challenger, Mel Reynolds upset six-term incumbent Gus Savage in a one-on-one contest, receiving more than 60 percent of the vote cast.
3rd Congressional District. Five-term incumbent William O. Lipinski beat nine-term incumbent Martin A. Russo by 20,000 votes in the contest that included two other challengers and lots of mud-slinging.
19th Congressional District. Two-term incumbent Glen Poshard of Carterville and four-term incumbent Terry Bruce of Olney squared off in a district that contained a lot of new territory for each. Poshard won by 20,000 votes, staying close to Bruce in the northern end of the district and burying him in his home territory of deep southern Illinois.
Redistricting is cathartic for political systems but brings change too slowly for many. When the 88th General Assembly convenes in January there will be many new faces. In 38 House districts and in seven Senate districts there are no candidates with previous service in the General Assembly.
Some attribute the turnover to the electorate's throw-the-bums-out mood. Voter turnout figures belie that assertion. Even with Illinois Democrats' hot U.S. Senate contest, a presidential nomination not yet decided and new candidates running in new districts for the General Assembly, voter turnout in Illinois was about the same as in 1988.
More than anti-incumbency, the 1992 primary election reflected the orderly and incremental change that is a hallmark of the American political system.
Correction: The announcement of Michael J. Wynne's appointment as chief general counsel for the Department of Revenue in February "Names" should have stated that he became an assistant attorney general in 1985. He was named deputy chief of the Illinois Attorney General's Revenue Litigation Division in 1988. He left the Attorney General's Office in 1989 to join Price Waterhouse. Illinois Issues regrets the error. Editor
10/April 1992/Illinois Issues
---