---
By DAVID K. FREMON
---
Evanston revisits wet v dry issues at edge of big 'bad Chicago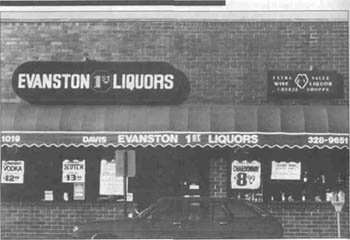 Photo by David K. Fremon
Evanston First Liquors was the first store granted a license to sell packaged liquor in the city of Evanston in the mid-1980s. It has one competitor plus some downtown restaurants with liquor licenses in Evanston, a traditionally "dry" city.
Howard Street, a modest thoroughfare, separates Chicago and Evanston. Though the street itself is not wide, a cultural chasm divides these two neighbors. South of Howard Street lies historically wicked and sinful Chicago, "the town that Billy Sunday couldn't shut down." North of Howard is staid, puritanical Evanston, a town with so much moral rectitude that it once forbade the sale of ice cream sodas on Sundays. That ban reportedly led to the invention of the ice cream Sunday (changed to "sundae" so as not to blaspheme the sabbath). Chicago was Al Capone laughing at Prohibition. Evanston was the Women's Christian Temperance Union (headquartered there) and Frances Williard cheering it.
This article won't discuss whether or not Chicago has gotten any less sinful. But in recent years, demon rum definitely made inroads into Evanston business establishments. Community leaders, fearful of the consequences of increased liquor availability, are mounting efforts to stop it. Others are fighting to increase it, so that they will not be at a competitive disadvantage with neighboring municipalities. It's a battle between the "wets" who think Evanston's liquor laws are hopelessly antiquated and "drys" who claim that the emergence of a teetotaler governor in Illinois is only a symbol of a move away from alcohol that is spreading throughout the nation.
Evanston was incorporated in 1863 as a "dry" community. For many years, that standard was rigorously and unabashedly enforced. As a result, the Women's Christian Temperance Union (WCTU) was formed here in 1873. Although the WCTU also fought on behalf of other women's issues of the time (suffrage, an eight-hour work day, immigrant aid), the temperance issue was the one that gave the organization (and the city) a "little old ladies in tennis shoes" image.
The city remained dry until the early 1970s, when economics began to wrest control from temperance ethics. A Holiday Inn wished to move into downtown Evanston but would not do so without being allowed a liquor license. The City Council yielded, and the hotel was permitted inside the city with the aforementioned license. Soon afterwards, the liquor law was loosened so that alcoholic beverages could be served with meals in restaurants.
"Since that Holiday Inn, there have been four or five amendments to the city's liquor code. Each one has broadened the scope of the ordinance. There have been increases in the number of categories eligible for licenses and also in the number of licenses. Every step has been wise, very measured," says 15-year City Council member Jon Nelson.
In 1984 the city proceeded with the next logical step, a store that sold packaged goods. "We developed legislation to allow for two downtown stores to sell liquor," notes City Council member
22/April 1992/Illinois Issues
---
Ann Rainey. "Evanston First Liquors was and is very successful. About 1987 or so, along came Osco. They wanted a license. We told them, 'You cannot be part of another building. You need a freestanding store.' So they knocked off the walls of the neighboring building, put in their store and got their license."
Since 1987, that has been the status quo in Evanston — two downtown liquor stores and a few restaurants with liquor licenses. Even that limited quantity of alcoholic drink paid dividends. "The City of Evanston tax revenue from the liquor tax was $427,000 in 1991. There's gold in them there bottles," Rainey commented.
But a new development challenged existing liquor regulations and may ultimately expand the number of licenses. A building put up for sale by its owners, Bell and Howell, is in the southwest corner of the city. Rumors abounded as to the possible uses of the site, but there were no firm offers until last July when a development group that included the Dayton-Hudson Corporation (owners of Marshall Field's) offered to buy and develop the site into a 275,000-square-foot shopping center. They planned to place a Target store (a discount department store also owned by Dayton-Hudson) and a large, as yet undetermined supermarket on the Bell and Howell site. There was a catch. The developers wanted a city subsidy for the project — and they wanted a liquor license.
The latter demand sparked vocal opposition from Evanston's southwest side residents. Some came out specifically against the liquor provision. Others made it part of a protest against the proposed shopping area in general. Many of the latter are members of the South West Evanston Associated Residents (SWEAR).
---
'Across the street in Chicago, liquor is available. I don't see any difference between Evanston and Chicago selling it'
---
Southwest Evanston residents got an unexpected ally in Chicago's 50th Ward alderman, Bernard Stone. He claimed his interest wasn't so much the liquor license as the possible traffic that would disrupt the nearby residential neighborhood of his ward. "If I lived across the street from a 1,200-car parking lot and stores that would be opened 24 hours a day, you bet I'd fight it. I'm fighting on behalf of my constituents." Stone said he planned to introduce ordinances that would build a six-inch-high divider on the Chicago side of Howard Street from Kedzie to California preventing shopping center traffic from going eastbound on Howard. He would also create cul-de-sacs, to prevent outside entry to residential streets that now lead into Howard and Kedzie. Stone also claimed that he would use his influence to scuttle the chain store's plans. "I intend to meet with Dayton-Hudson and discourage them from going forward with the project. They want two Target stores in [Chicago]. We could discourage them very easily."
Evanston leaders largely dismiss Stone's threats and rhetoric, but they at least planned to prevent the liquor license. This decision came after the Evanston City Council ruled in late January that a license could be issued to a grocery facility greater than 60,000-square feet in area (a size that would eliminate all but the proposed southwest side facility).
The anti-liquor forces are joined in their opposition to the ordinance by unlikely partners — owners of other supermarkets in Evanston who resent a license being granted to a new store while they go without. Carl Tednes owns the Asbury Street Market, a south Evanston store close to the proposed shopping center. He says, "I think I speak for most grocery stores. If the city's going to give a license to the guy right behind me, I should be able to have one too. If nobody's going to have a license, that's fine and fair. But you can't hand to one person and not to another. We've been here 10 years. We should have as much right to sell alcoholic beverages as they do."
---
'Besides, we have gang and drug problems. Until we stop these, we shouldn't add liquor to the list of problems'
---
But some groups have made a proposal unacceptable to the grocery store owners. SWEAR members and others are working on a referendum that would prohibit the granting of any additional package goods liquor licenses outside of the center of the city. A City Council vote in January barely defeated a proposal by Alderman Rainey for an advisory referendum to appear on the March ballot which would have asked residents if they favored the sale of warm beer and wine in the city's larger groceries. Bested in this referendum effort, anti-liquor organizers are working to place the question on the November ballot in a binding referendum. This referendum would ask residents to support the status quo, allowing package liquor sales in the central business district but not elsewhere. Their main expressed concern is the effect liquor sales would have in their community, particularly in nearby James Park.
So far, the exact language of the referendum has not been determined, according to SWEAR referendum chairman Judy Fradin. Nor is there any certainty that a referendum will make the ballot. "For a liquor referendum, we need the signatures of one-quarter of the city's registered voters," she claims. "There are about 39,000 registered voters in Evanston; therefore we need about 10,000 signatures."
Fradin and the SWEAR activists have one staunch ally, the Women's Christian Temperance Union. "We won't be organizing but we will be supporting SWEAR. What they are saying is that
April 1992/Illinois Issues/23
---
they don't want alcohol in their neighborhood," says Rachel Kelly, WCTU president. "We believe the city is really behind this referendum."
Whatever the "city" feels, many city officials have not taken the anti-liquor crusaders' side. Evanston Mayor Joan Barr claims, "I think we did the right thing in making the commitment to the development. Evanston needs a general merchandise store. It also needs the revenue that would come in from additional property tax, sales tax and liquor tax." When asked about the liquor issue she commented, "Across the street in Chicago, liquor is available. I don't see any difference between Evanston and Chicago selling it. We're talking about a grocery store in a shopping center. We're not talking about taverns. Those are available in Chicago. All in all, the shopping center, even with liquor being sold, is a great boon for the community." Nelson adds, "There are two liquor stores, plus bars and restaurants on the Skokie side of the border. They are as near as the proposed grocery store to James Park. But there is no evidence so far of an adverse or deleterious effect from those establishments."
Liquor license advocates for the store also point out a threat reportedly made by Greg Hummel, an attorney for the development team. Hummel (who could not be reached for comment) reportedly stated that the liquor license was "an absolute condition" for the construction of the center. Those on opposing sides of the issue approached his ultimatum differently. "Hummel says the deal is no-go without the license. I believe him," stated Barr. WCTU's Kelly dismissed the statement as "bluster."
Whatever the outcome of the referendum (if indeed one takes place), the rhetoric already is starting to heat up. Fradin says, "I think the proposed shopping center would be successful with or without liquor. Besides, we have gang and drug problems. Until we stop these we shouldn't add liquor to the list of problems."
Kelly adds, "No matter what the revenues from liquor sales, the total amount won't be worth the problems. Last year in the United States, revenue from liquor taxes came to about $13.5 billion, but the cost to society in terms of illness, lost jobs, etc. came to $147 billion."
Barr, on the other hand, points out, "Alcohol is sold in grocery stores in most places in the country. Residents here drink alcohol. They buy it, pay sales tax into neighboring communities and complain about how high the property taxes are here."
The Evanston mayor even says that the City Council may expand the number of liquor licenses that Evanston may offer. "I think it will come to pass that we'll permit liquor sales in stores under some conditions. No matter what happens, no package liquor will be sold outside the central business district for at least a year. That gives us time to discuss other licenses and conditions. I think there would be a majority vote in the Council for extending liquor licenses, But is it a sure thing? No, nothing is a sure thing."
David K. Fremon is a Chicago writer.
24/April 1992/Illinois Issues
---