---
By MANUEL GALVAN
---
Bobby Rush and Mel Reynolds
defeat incumbent congressmen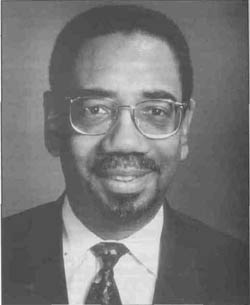 Bobby Rush, winning Democratic candidate, 1st Congressional District
Their congressional campaigns were carefully molded to fit their brawny, sprawling south side districts. When the shouting and shooting were over, a former Black Panther and a Rhodes scholar had replaced a pair of senior incumbents, signaling a new era of black politics in Chicago.
The odds on beating an incumbent congressman in the March primary were — as always — enormous. But in the heavily Democratic 1st and 2nd congressional districts, it's the only game in town. Democratic winners here are virtually assured of victory in November. The Democratic nominees are, however, worlds apart from the congressmen they replace.
Bobby Rush, former Panther and now 2nd Ward alderman known for pushing environmental reforms through the Chicago City Council, edged out U.S. Rep. Charles Hayes in the 1st Congressional District. Mel Reynolds, who had lost twice before to the incumbent but in crowded fields, finally ousted U.S. Rep. Gus Savage from his 2nd Congressional District seat as the single challenger.
Both incumbents played "us and them" politics, angrily uniting supporters against enemies and wrongs. Hayes, a union man, believed "in rewarding friends and punishing enemies" in a world where you had to be one or the other. Savage came from a similar world with no middle ground. In his case the distinction was usually decided by color. Critics were racists and criticism a racist ploy. Both men took strong pride in their support of the civil rights movement. But the significance of that action diminished with each passing decade, as residents vainly searched for new accomplishments.
Hayes, 74, a long-time labor leader, served as the international vice president and director for Region 12 of the United Food and Commercial Workers Union from 1979 until 1983, when he became Mayor Harold Washington's handpicked successor in Congress. A large and friendly man who now finds it difficult to walk, Hayes quickly learned all the perks of his job as soon as he got to Washington. Ironically it was one of these perks that led to his defeat.
Savage, 66, a journalist for a quarter of a century, served as editor and publisher of the Citizen Community Newspapers from 1965 until 1979. The following year he was elected to Congress, replacing retiring Morgan Murphy, who had beaten Savage in the 1970 primary. Savage has done very little in Congress except embarrass colleagues and voters with his antics. Short and wiry, the Detroit native is as rude as the Motor City's basketball team.
Reynolds, who had said in his earlier campaigns that it was no longer enough just to have taken part in civil rights marches, had a clear message: "You had to be doing something for your constituents — now." Reynolds views his nomination, along with that of Rush, as a "watershed" for a new era of politics with younger, black politicians who possess a public service spirit. "Chicago was one of the last cities to catch onto that," Reynolds said, adding that the list includes Carol Moseley Braun, who upset incumbent U.S. Sen. Alan J. Dixon for the Democratic nomination. "Rush, Braun and myself are all post-war babies," he said.
Rush, 45, was born in Albany, Ga., the fifth largest city in the Empire State of the South. His parents separated, and his mother moved to Chicago with her five children. Rush
14/May 1992/Illinois Issues
---
was a bright child who scored above average on scholastic tests in grade school. He attended John Marshall High School on Chicago's west side and played football, but he dropped out in his junior year. Rush, who later got his GED and graduated from Marshall in 1964, said he was "aimless in high school" and needed to help support his family.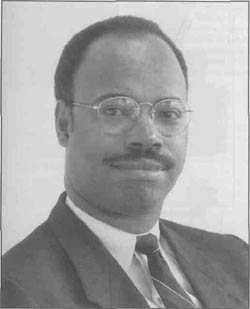 Mel Reynolds, winning Democratic candidate, 2nd Congressional District
The impetus for Rush to change was the assassination of President John F. Kennedy in 1963. Nine days later Rush joined the Army, sending much of his pay back home. In 1967, while stationed in Chicago, Rush joined the Student Nonviolent Coordinating Committee, working to help the civil rights movement. He left the Army in April 1968, stunned by the slaying of Dr. Martin Luther King Jr. and troubled by the stark racism he encountered in the military. On November 17 Rush helped found the Illinois Black Panther Party and became its deputy minister of defense.
Of the Panthers, Rush said, "Some people have a perception that's totally in error." The Panthers eventually moved away from militancy and toward peaceful goals such as achieving full employment for blacks. He said, "We had an ideology program. We were a disciplined political organization of young people who sought to empower poor and oppressed communities and the black community."
In 1974, as the Black Panthers began to nationalize in Oakland, Rush chose to stay in Chicago, graduating with a political science degree from Roosevelt University. As the local Panther party dissolved, he turned his attention toward politics. In 1975, Rush ran against 2nd Ward Alderman William Barnett, and Rush says he had him beaten until the final week of the campaign when the Daley machine rolled out the sound trucks and the ubiquitous posters. In 1978, Rush missed a runoff election by 300 votes for state representative in the 22nd District, but he never lost again.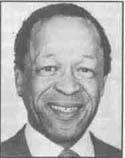 1st District U.S. Rep. Charles Hayes lost to challenger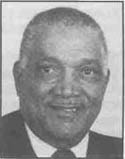 2nd District U.S. Rep. Gus Savage lost to challenger
In 1983, he beat the three-term Barnett to become alderman. During "Council Wars," Rush was a staunch Washington ally. But unlike some of his more vociferous colleagues, Rush was a gentleman. As vice chairman of the energy and environmental committee, he sponsored the city's toughest toxic waste legislation and heating cost disclosure laws for incoming tenants. Reelected alderman in 1987 and 1991, he beat Barnett again in March, this time to keep his 2nd Ward Democratic committeeman post.
Since becoming involved with politics, Rush has campaigned for all the congressmen in the 1st District, starting with Ralph Metcalfe in 1976 and Harold Washington the following year. He had supported Hayes until this election. Rush said, "As an alderman I started to focus on the federal government's callous regard for urban problems. In Charlie, I saw someone who had not provided meaningful direction for the district."
The 1st Congressional District is a contorted U-shape, touching or taking in more than a third of the city's communities and a handful of suburbs. African Americans account for 69 percent of the population and nonminorities for 25 percent with Hispanics at 3 percent and Asians at 1 percent. "If Illinois is a microcosm of America, then the 1st District is a microcosm of Illinois," the congressman-to-be claims. "They're third generations of public aid recipients to senior partners in law firms."
Less than three miles south of the Loop, the 1st District includes crime-torn, public-housing high rises and mansions once belonging to the Jewish elite of Chicago society, long replaced by upper-class African Americans. The massive and majestic Doric temple that housed Chicago's first Jewish congregation is now home to Operation PUSH, a focal point for residents of the city's black south side, most of whom live in the 1st District.
Kenwood, on Lake Michigan and in the central portion of the 4th Ward, includes both struggling and comfortable residents. It was home to many of Chicago's most notables, such as business executives John G. Shedd, who donated the city aquarium, and Max Adler, who provided funds for the planetarium. Architect Louis Sullivan lived here, as did author Edgar Lee Masters. Jazz greats, like Count Basie, Duke Ellington and Dizzy Gillespie, played the clubs along 47th Street. Operation PUSH, the forum for many a gifted speaker, has its headquarters here.
Directly south of Kenwood, just taking in the upper portions of
May 1992/Illinois Issues/15
---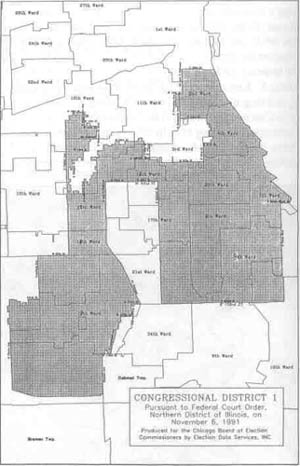 Illinois' 1st Congressional District, in Chicago
the 20th and 5th Wards, lies Hyde Park. It boasts the site of the 1893 World's Columbian Exposition, the gothic University of Chicago and the Museum of Science and Industry, the oldest, largest and most popular of its type in the nation. Hyde Park was home for Clarence Darrow and Mayor Washington.
Continuing south for the rest of the 20th Ward and most of the 5th, Woodlawn has had its share of urban blight, but it has also witnessed community groups like the Woodlawn Organization working to provide better housing and a more stable neighborhood.
Chatham is centered along the dividing line between the 17th and 21st Wards and continues into the heart of the 6th Ward. It is in the middle of the black south side and enjoys a rich record of success stories. A low-lying swamp during the Civil War, the area built up over the years into a very stable community with stately homes being passed from one relative to the next. A who's who of black businesses has its roots here, including Johnson Products, Seaway National Bank of Chicago and Ultra Sheen Hair Products.
The biggest help for Rush in winning the 1st District nomination was Hayes' involvement in the U.S. House of Representatives check-cashing scandal. As recently as January, a Rush poll had shown him trailing Hayes, 36 percent to 21, with several other candidates far behind. The victor would be the one who could win over the undecided vote, which was more than 30 percent of those polled. Just days before the primary Hayes was revealed as one of the worst abusers of the House bank, having bounced 716 checks. Hayes never recovered from the damage, and his arrogant excuse of "everybody did it" apparently eased the minds of few voters. Rush won 42 percent to 39.
Reynolds' family also comes from the South. He was born in Mound Bayou, Miss., 40 years ago, and his family moved to Chicago's west side in 1960. Like Rush, he attended Marshall for part of his high school years. But Reynolds says the Chicago City Colleges were his turning point in education because they were small enough to focus attention on him and improve his work as a student.
---
Reynolds, who first ran against Savage in 1988, said he felt Savage 'wasn't doing the job. He wasn't really representing the people he claimed he loved so much'
---
In 1974, he graduated with a degree in philosophy and economics from the University of Illinois at Urbana-Champaign and was selected to study at Oxford as a Rhodes scholar. Reynolds is currently completing his master's degree in public administration from the Kennedy School of Government at Harvard. Reynolds has worked as a teacher and most recently as executive director of the Community Economic Development and Education Foundation.
Reynolds, who first ran against Savage in 1988, said he felt Savage "wasn't doing the job. He wasn't really representing the people he claimed he loved so much." Reynolds says he chose Congress for his first political run because his work on presidential campaigns had exposed him to national issues. He worked for the presidential campaigns of Sen. Edward Kennedy in 1980, Jesse Jackson in 1984 and Michael Dukakis in 1988. He wanted to tackle national issues if he could benefit the community. In addition, he saw other young men in national politics like Sen. Albert Gore of Tennessee and Vice President Dan Quayle of Indiana, and he didn't see the point in waiting.
Reynolds has waited four years to beat Savage. He lost to Savage in 1988, 52 percent to 14, and in 1990, 51 percent to 43, largely because multiple candidates split the challenge to the incumbent. He won this time in the one-on-one contest and in a newly drawn district that included new constituents in suburban areas.
The 2nd District formfits the 1st on Chicago's far south side, sharing several communities such as historic Pullman, poverty-ridden Roseland and prominent Beverly, known
16/May 1992/Illinois Issues
---
for its hills and homes. African Americans make up 65 percent of the population, nonminorities 30 percent and Hispanics the remaining 5 percent. "We've got poor and upper middle class," says Reynolds. "It's a true city-suburban district."
Perhaps the district's most controversial city section is Hegewisch, proposed site for Chicago's Lake Calumet Airport. But the district also includes parts of many well-known suburbs outside the city, such as Blue Island, Calumet City and Park Forest. The district takes in the wealth of Flossmoor and Homewood, as well as the poverty of Robbins and Phoenix.
Chicago Heights, in the southeast corner of Cook County, is in the district. It was an established setting for industry that contributed to the city's growth and welfare.
Harvey, southwest of Lake Calumet, has declined as a transportation and business center in recent decades. It is rich in history with stories about residents like Albert Spalding, founder of the sporting-goods firm, who failed in his attempts to create a community named after himself, and Lucy Page Gaston, known a century ago as a fighter against whiskey and cigarettes, who tried to get property deeds forfeited if the land was used for a saloon. If the Lake Calumet Airport is a success, Harvey will be one of several suburbs to prosper.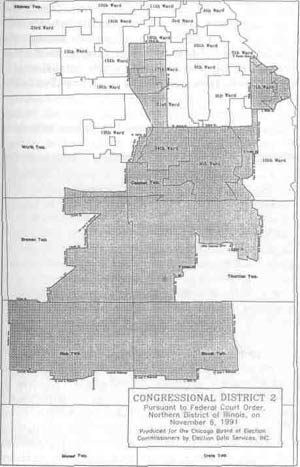 Illinois' 2nd Congressional Distrct, in Chicago and Cook County suburbs
Reynolds worked these suburbs outside Chicago very hard and chose not to conceed the Chicago part of the district to Savage. The strategy paid off for Reynolds, giving him nearly a 4-1 margin in the suburbs over Savage and 63 percent of the total votes.
Redistricting helped Reynolds. Savage had assumed the suburbs would vote Republican and he could still win with his city vote. But Reynolds says the Savage people never looked at the numbers, showing strong Democratic pockets in poorer and middle-class suburbs. And Savage strategists sorely underestimated the number of Republicans who would cross over.
Election night offered a good look at Charlie and Gus and Bobby and Mel. Hayes was slow to concede, Savage quick to react, saying, "We have lost to the white racist press and to the racist reactionary Jewish misleaders." Rush was softly eloquent, and Reynolds, wearing a bandage on his forehead to cover a graze from a drive-by shooting, thanked suburban voters for their help, indicating that he would not ignore any constituents.
Both Democratic nominees are looking forward to the future. In the November 3 general election, Rush has a Republican opponent, attorney Jay Walker. "Between now and November, I have to convince people that I will fight for their future in Congress and that I have the prerequisite skills, experience and ability to build a consensus," Rush said. "Two years from now, they're going to marvel at what a congressman can do and is supposed to do."
---
Rush said, "Two years from now, they're going to marvel at what a congressman can do and is supposed to do'
---
No GOP candidate filed for Congress in the 2nd District, although the party by law can still nominate one. Looking to his future as the probable new congressman, Reynolds said, "My first goal is to establish a good constitutency office. This is supposed to be a service office, not one for a king to sit in." He also hinted at action, noting that the 2nd District has the highest mortgage foreclosure rate in the state. He proposes a revolving loan fund, made up of corporate and foundation donations that would allow residents to take out short-term loans during temporary financial emergencies.
Whereas Hayes and Savage concentrated on a core of constituents to carry them through elections, routinely dismissing those who questioned them, Rush and Reynolds campaigned to all segments of their districts and now seek to address their concerns.
Assuming they win in November, Rush and Reynolds will be two-thirds of the Illinois congressional delegation's black caucus, joining Rep. Cardiss Collins (D-7, Chicago), who steamrollered yet another opponent in the March primary.
Manuel Galvan is a Chicago writer and marketing consultant.
May 19921 Illinois Issues/17
---